This delicious and slightly sweet simple brioche bread recipe will leave you wanting seconds. Maybe even thirds! This recipe is so versatile and perfect to share with family and friends for the holidays, or for just a simple brunch on a Sunday after church.
Sourdough bread recipes have been exploding on the internet over the past several years. If you have a favorite type of bread, there is probably a sourdough version posted on the internet or written in a book.
The only thing is, I have found that many of the "go-to" recipes online, are tedious and time consuming. Which can oftentimes be deterring for the beginner baker who wants to take their baking skills to an artisan level.
As a result, my quest to create and share simple, no-fuss sourdough recipes on our blog, was birthed. We still have a LONG ways to go, but one recipe share at a time! (wink)
THE START OF MY SOURDOUGH BAKING JOURNEY
Sourdough bread making at home, has really made a come back in the last few years.
I first tried my hand at making sourdough bread back in 2009. It was fun learning new techniques for making homemade bread and trying new recipes with my first sourdough starter that I received from a friend during a Titus 2 women's bible study at her historic home, in upstate NY.
Her ministry impacted my life in so many ways. She was also the first person to challenge me to consider homeschooling. You can read about our homeschool journey and how the Lord has been moving in a mighty way through it, here.
GREAT EXPECTATIONS
Although I had great aspirations for making and baking all things sourdough, I never really felt like I had mastered the art of sourdough making. We definitely didn't let my sourdough "flops" go to waste, though. They were still a healthier choice because of the long fermentation process. But they definitely needed more fine tuning.
So, I took a break. But I also continued to experiment with my sourdough discard in the kitchen. I quit chasing the perfect artisan loaf and just enjoyed the process of creating something delicious, healthier, and beautiful for my family.
Several years and many discard recipes later, a sweet high school friend and I reconnected on FB and IG. I discovered that she had a fabulous food and travel blog and enjoyed baking from scratch and maintaining her own sourdough starter as well. She even gave her starter a name. She named her "Ida", which in German means labor or active. How appropriate, right?
"Ida" was a rye based sourdough starter. Seeing her beautiful creations, gave me hope to keep trying. She dried some of her hardworking starter and sent me an envelope to revive in the hollow. As much as I wanted to bake with "Ida," it was a busy and challenging time in our family's life and so Ida suffered the same fate as my original starter that I had received in upstate NY, several years prior.
PERSERVERANCE PAYS OFF
Thankfully, my sourdough making story didn't end there, in defeat.
Long story short, I was not going to give up and I began experimenting with my own sourdough starter. As a result, something finally clicked.
No longer were my loaves and discard recipes falling flat. Literally and figuratively! To my family's delight, I had finally found my sourdough making groove!
So, whether you are just getting started on your own sourdough making journey, or are a seasoned sourdough veteran, enjoy the victories and learn from the failed attempts.
There is just something so satisfying about pulling out that freshly baked warm homemade sourdough bread.
WHAT MAKES SOURDOUGH BRIOCHE DIFFERENT FROM OTHER BREAD?
Contains butter, milk, and eggs.
Enriched bread, making it a richer and softer bread than traditional flour, water, salt, and yeast loaves.
Contains a small amount of sugar for a sweet taste.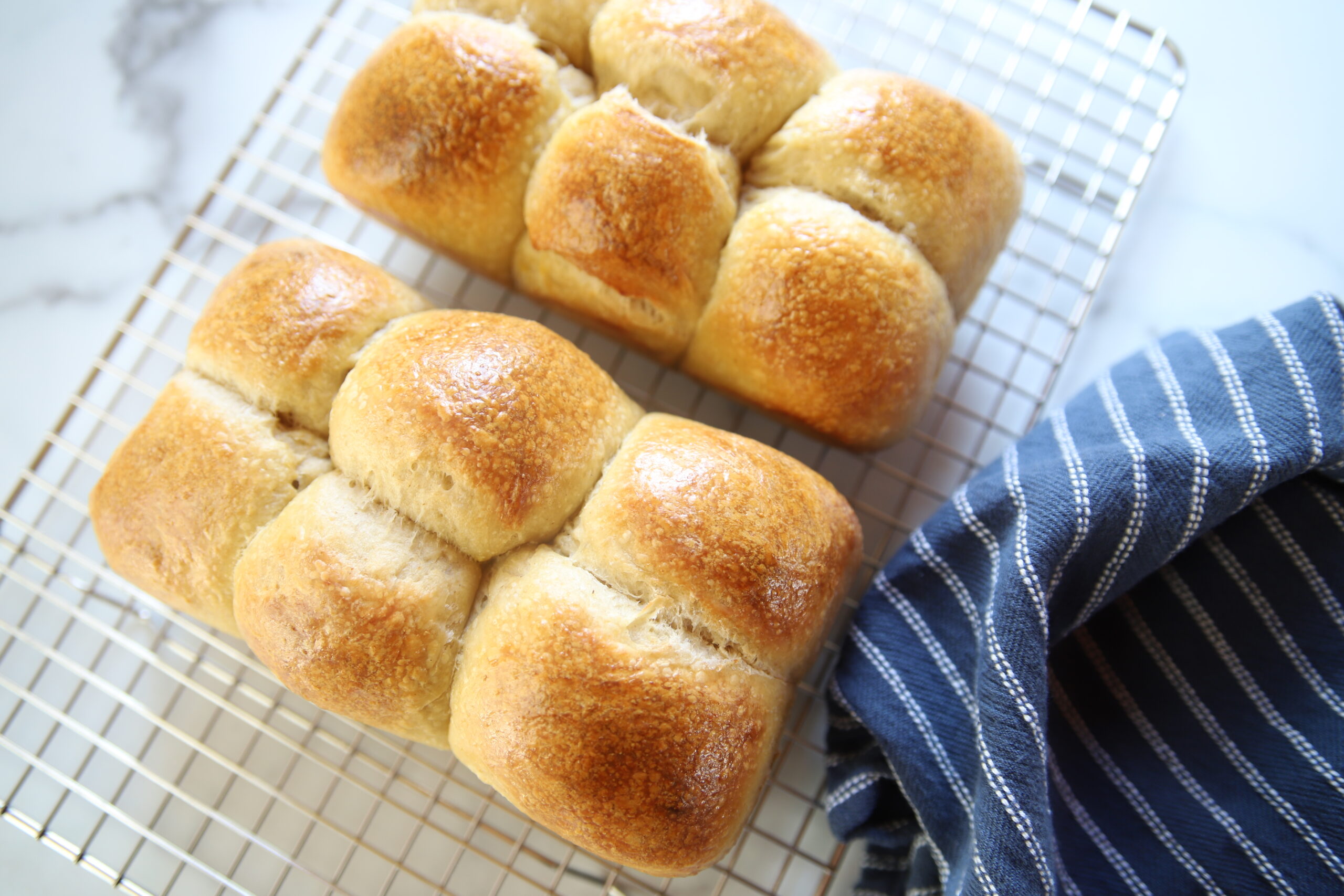 WHY SOURDOUGH?
Traditional sourdough bread is fermented for periods of 8-12 hours and in some recipes, for longer than 24 hours.
The long fermentation process allows for the yeast and bacteria to have time to thoroughly digest the natural sugars and carbohydrates present in the flours.
This is why some folks who have gluten issues find that they are able to tolerate sourdough without any flareups or negative issues.

**This post contains affiliate links. Please see full affiliate disclosure here.
PIN IT FOR LATER:
SUPPLIES AND TOOLS YOU MAY NEED
HOW TO MAKE SIMPLE SOURDOUGH BRIOCHE BREAD AT HOME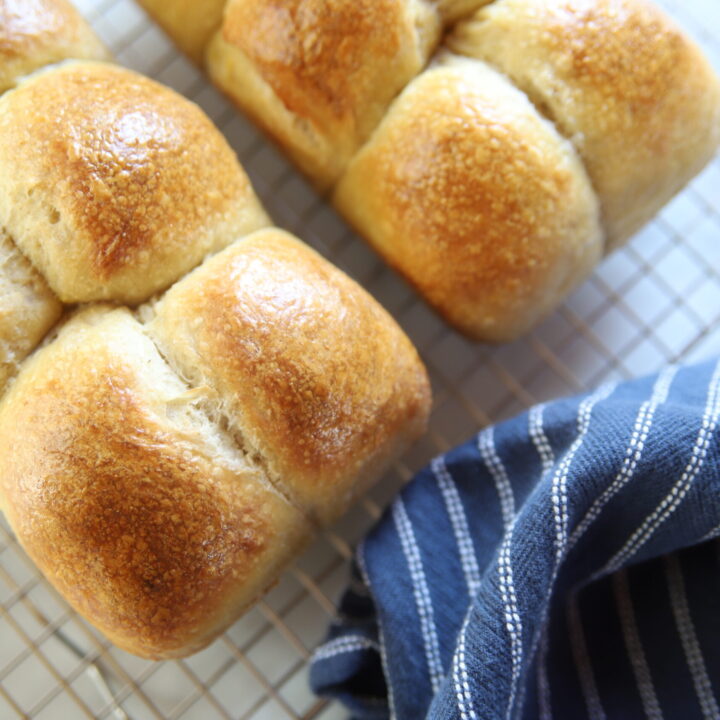 Simple Sourdough Brioche Bread
This simple brioche recipe is so versatile and perfect to share with family and friends for the holidays, or for just a simple brunch on a Sunday after church.
Ingredients
1 and 1/4c sourdough starter (active and bubbly)
4c all-purpose flour
1/4c pure organic cane sugar
3 medium eggs (room temperature)
1 tsp sea salt (we use Himalayan Pink sea salt)
1/2c whole milk
8T unsalted butter (cold)
1 egg (for egg wash)
Instructions
The evening before, combine all ingredients in a stand mixer and knead on medium speed until the dough pulls away from the mixing bowl. (about 10-12 mins)
Dough will be wet.
Cover with a wet tea towel to prevent the dough from drying out.
Place in a warm spot overnight and until doubled in size (about 6-8 hrs)
To make dough more manageable, place dough in fridge for a couple of hours to stiffen.
Prepare bread pan by buttering the inside bottom and sides of pans.
Remove from fridge and divide in half with bench scraper.
Continue to divide into six dough balls in each pan.
Cover with wet tea towel and allow to rise an additional 6-8 hrs
Place loaves into pre-heated 425 degree oven and bake for 20-23 mins or until top is golden brown.
Notes
This makes a very wet dough. Remember, be patient when kneading. It will eventually start to come together and be easier to work with.
Avoid the urge to add more flour to decrease the wetness of the dough. In doing so, you may lose some of the softness in the final product.
Trust the process.
If you make this recipe and love it, I would be thrilled if you gave it 5 stars!
IDEAS FOR USING SOURDOUGH BRIOCHE
French toast
Sandwiches
Sliders
Hamburger buns
Grilled cheese
This brioche recipe makes the softest, most delicious French toast we ever tasted. It has become a family favorite for sure!
Remember to tag me on Instagram @gracefully_home with your yummy sourdough brioche creation.
FIND MORE OF OUR FAVORITE SOURDOUGH RECIPES