If you love making homemade sourdough bread at home, like I do, you probably are very familiar with those loaves that just don't quite turn out right. Or maybe you have some leftover pieces that have been in the fridge for more than a few days and are less appealing than those fresh-out-of-the-oven loaves that we all can't get enough of. This simple blueberry sourdough French toast casserole recipe will easily become a family favorite.
WHAT TO DO WITH SOURDOUGH LEFTOVERS
So, what do you do with those misfit batches and left over rock-hard pieces?
Well, don't fret or waste them!
There are several options out there and this simple casserole version of French Toast, happens to be one of our favorites.
AWAKEN YOUR TASTE BUDS
You're in for a fun TREAT!
For our friends in upstate NY, this recipe will be a familiar taste if you have ever spent any time in Sackett's Harbor. We loved eating brunch out after church when we were stationed in upstate NY. It was a time when we were just starting out and our family was still young and growing.
There was a popular restaurant called, Tin Pan Galley that was one of our favorite spots to visit. The wait time was ridiculous, but the food was soooo delicious that we kept our complaints to a minimum. (smile) I don't know whether they survived the chaos from the past couple of years. (sigh) I sure hope they did!
One of their signature dishes was a delicious and creamy stuffed sourdough French toast with blueberry syrup. Good golly, Miss Molly! It was so good! Served up with a side of yummy bacon and it totally had that "sweet and savory" vibe that Joanna Gaines is ALWAYS talking about on her Magnolia Table Cooking Show.
MAKE YOUR FAVORITE RESTAURANT BRUNCH MEAL INTO A HOMEMADE CLASSIC
It's been years since we have been back to that special place in our family's story.
Our three oldest children were all born up there and that is where we became a family. It's also a place where we added to our DiY skills. We loved that old 1920's bungalow craftsman house. It was one of those diamonds in the rough and holds so many memories!
If you have ever been in that area of NY, you know why it is such a special place. The country sides, the history, and the architecture alone, make it a great place to visit.
No doubt you have your own special places that bring back fond memories. I'm guessing many of those places in some way have delicious food, fellowship, or beautiful scenery attached to them. Am I right?!
Food and fellowship are some of the integral parts of living a content and joyful life. Throw in love, faith, basic necessities, and a vegetable garden, and you are living the dream! (wink)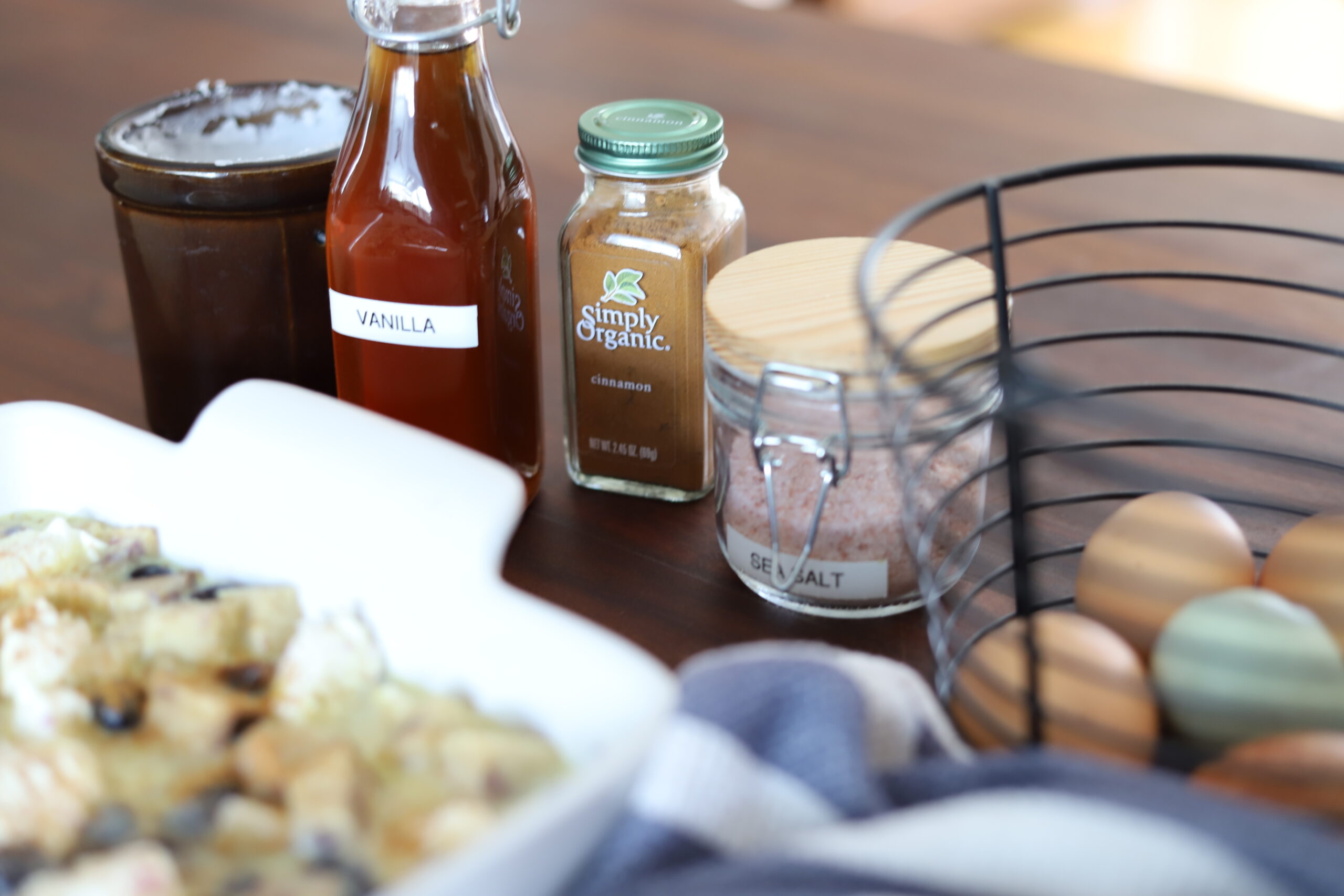 This recipe has simple ingredients and definitely falls under the "comfort food" category for our family. We don't have sourdough French toast often, but when we do, it is wonderful and filling!
With this recipe, you can substitute store bought sourdough bread, but typically store bought sourdough forgo the long fermentation process. Making the nutrients less bioavailable and less nutritious than the homemade long ferment version.
You can read more about the health benefits of sourdough in our post here.
**This post may contain affiliate links. Please see full affiliate disclosure here.
SHOP THIS POST
HOW TO MAKE SOURDOUGH BLUEBERRY FRENCH TOAST CASSEROLE
Sourdough Blueberry French Toast Casserole with Cream Cheese
Yield: 8-10

Prep Time: 20 minutes

Cook Time: 40 minutes

Total Time: 1 hour

Save those older sourdough loaves or sourdough batches that just didn't quite turn out right, for this simple and delicious breakfast and/or brunch treat.
Ingredients
1 loaf of sourdough bread, cubed
8 eggs, whisked (we use our farm fresh eggs)
2c whole organic milk
1/2c pure maple syrup
1/2c coconut oil (melted)
1c blueberries (frozen or fresh)
1 8oz cream cheese (cubed)
2 tsp pure vanilla extract
2 tsp cinnamon (we use Saigon cinnamon)
Dash of sea salt (we use Himalayan Pink)
Powdered organic sugar for dusting to garnish
Instructions
Cut sourdough into cubes and set aside.
Mix all the wet ingredients together in a bowl.
Prepare your casserole dish (standard size) with some butter or coconut oil, to prevent sticking.
Take cream cheese block and cut into 1 inch (doesn't need to be exact) cubes and set aside.
Next, add your sourdough cubes into your casserole dish and add the blueberries.
Then add the cream cheese cubes, evenly spaced around the casserole dish.
Pour the wet mixture over the sourdough bread, blueberries, and cream cheese. Make sure all the bread gets thorougly soaked.
Allow to soak for a minimum of 10 mins before placing in a preheated 375 degree oven. You can also soak overnight if you'd like.
After the soaking time, place in the oven and bake for 35-40 mins.
Once baking time is complete, let the casserole set for 5-10 mins on the counter, before serving.
Lightly dust with organic powdered sugar or raw turbinado sugar and drizzle with pure maple syrup before serving.
Notes
Allowing the bread time to soak up the wet ingredients is very important for the success of this type of casserole.

Make sure all the bread cubes are soaked before placing in the oven.

You can soak the bread in the wet mixture overnight as well.

You may need to gently smear the melted cream cheese after baking to evenly coat the casserole pieces.

Don't have your own sourdough starter? No worries! Learn how to make your own here.

PIN FOR LATER: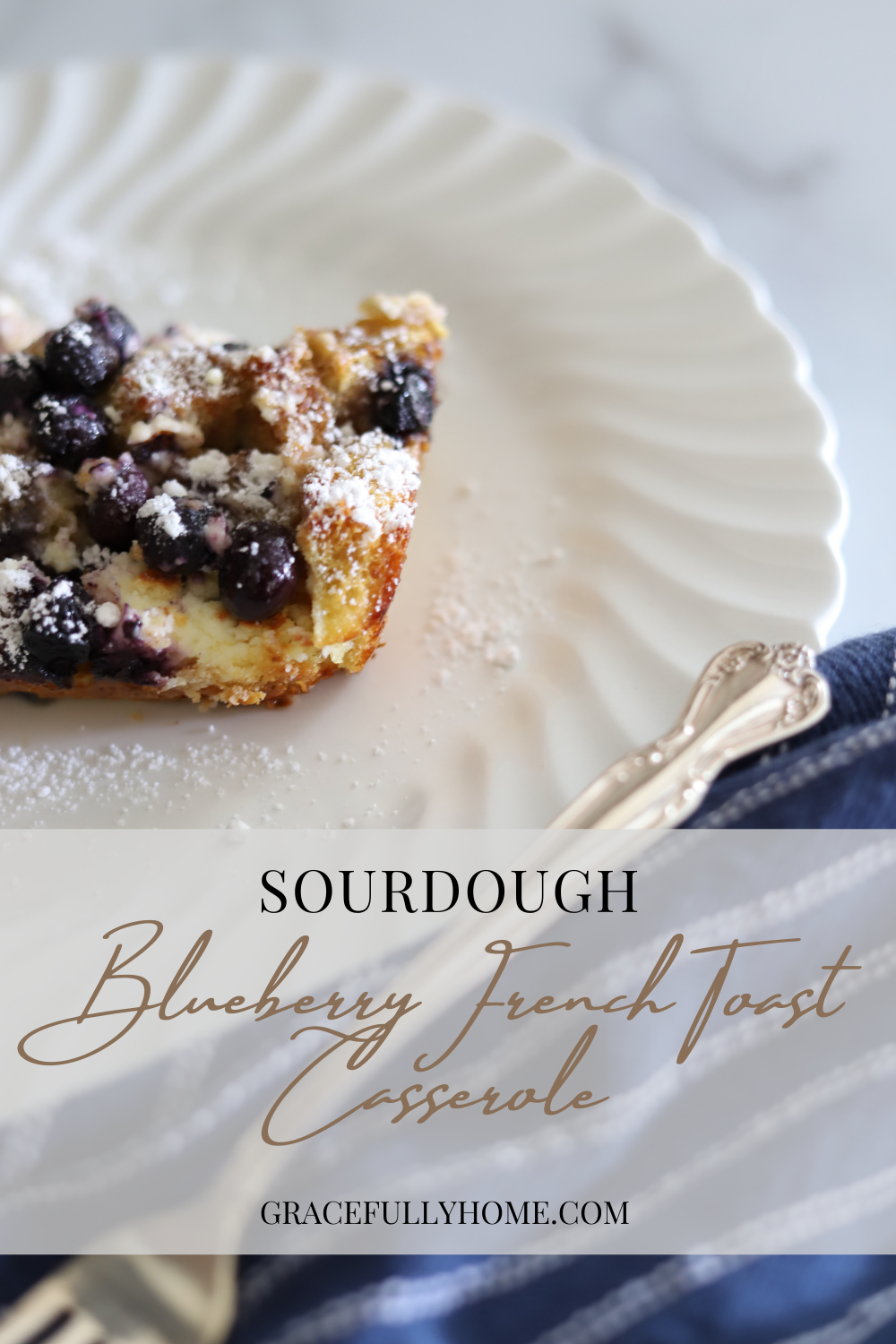 Taking what some may just discard and turning an old favorite into a "healthier" homemade version, is a fun way to add new flavors and variety to your family's weekly menu planning tool box.
FOR MORE SOURDOUGH DISCARD RECIPE INSPIRATION