Kamut chocolate chip cookies offer a buttery, nutty flavor and are a healthier alternative to using modern day wheat flour. Come see why these are a favorite afternoon treat.
WHAT IS KAMUT?
Kamut (Khorasan) is an ancient grain that has not been hybridized or genetically modified, making it a healthier choice than the conventional all-purpose flour that has been stripped from a lot of the nutrients that our body needs.
It is organically grown and offers more vitamins and nutrients than conventional store bought flour. Because it is a variety of wheat, it has a nutty and buttery taste with the familiar texture that wheat is known for.
IS KAMUT THE SAME AS WHEAT?
No, because Kamut is an ancient grain and has not been touched by modern processes, it has less gluten and more protein than store bought wheat flour.
THE BENEFITS OF USING KAMUT FLOUR
Kamut provides more proteins and has anti-inflammatory and antioxidant properties in the way of polyphenols. These are those molecules that help prevent degenerative diseases commonly seen today.
It also supports bone health and aids in digestion, as well as detoxing the body.
**This post contains affiliate links. Please see full affiliate disclosure here.
TOOLS YOU WILL NEED TO GET STARTED
Stand mixer (we have the professional KitchenAid stand mixer similar to this one here) (optional)
Mixing bowl
Measuring cups
Measuring spoons (I love this affordable wooden set here)
Silicone spatulas (you can't have too many of these on hand)
Cookie scoop (I have one like this here) (optional)
Wire cooling rack (like this one here)
Cookie sheets
Parchment paper
HOW TO MAKE KAMUT CHOCOLATE CHIP COOKIES
Kamut Chocolate Chip Cookies
Looking for a healthier cookie dough alternative to using all-purpose flour? Try this simple Kamut Chocolate Chip cookie recipe and say hello to a new familly favorite.
Ingredients
4c Kamut flour (I used our freshly milled Kamut wheat berries)
1 tsp baking soda
1 tsp Himalayan sea salt or Celtic sea salt
1c melted (slightly cooled) organic butter
1/2c organic coconut sugar
1/2c organic cane sugar
2 large pasture raised eggs
2 1/2- 3c dark chocolate chips
2 1/2 tsp pure vanilla extract
Instructions
Place flour, baking soda, and salt in a mixing bowl. Mix and set aside.
Melt butter in a sauce pan or double boiler. Let cool slightly.
Using your stand mixer or bowl and wooden spoon or spatula, mix butter and sugars together.
Add vanilla and eggs. Mix until well combined.
Slowly add dry ingredients to the wet ingredients and mix. Do not overmix, just until it forms a dough ball.
Fold in chocolate chips.
Use cookie scoop or hands and form dough into small balls.
Transfer dough balls to a lined cookie sheet and space about 1 inch apart.
Preheat oven to 375 degrees.
Carefully flatten the dough balls to the size of a medium sized cookie.
Place in oven and bake for 12-15 mins.
Cool on wire rack and serve.
Notes
Baking times may vary based on range and altitude.
Chilling the dough is not necessary before baking. I found with Kamut dough, it is best to not chill, but flatten a bit before baking.
Store in an airtight container for up to 5 days.
PIN IT FOR LATER: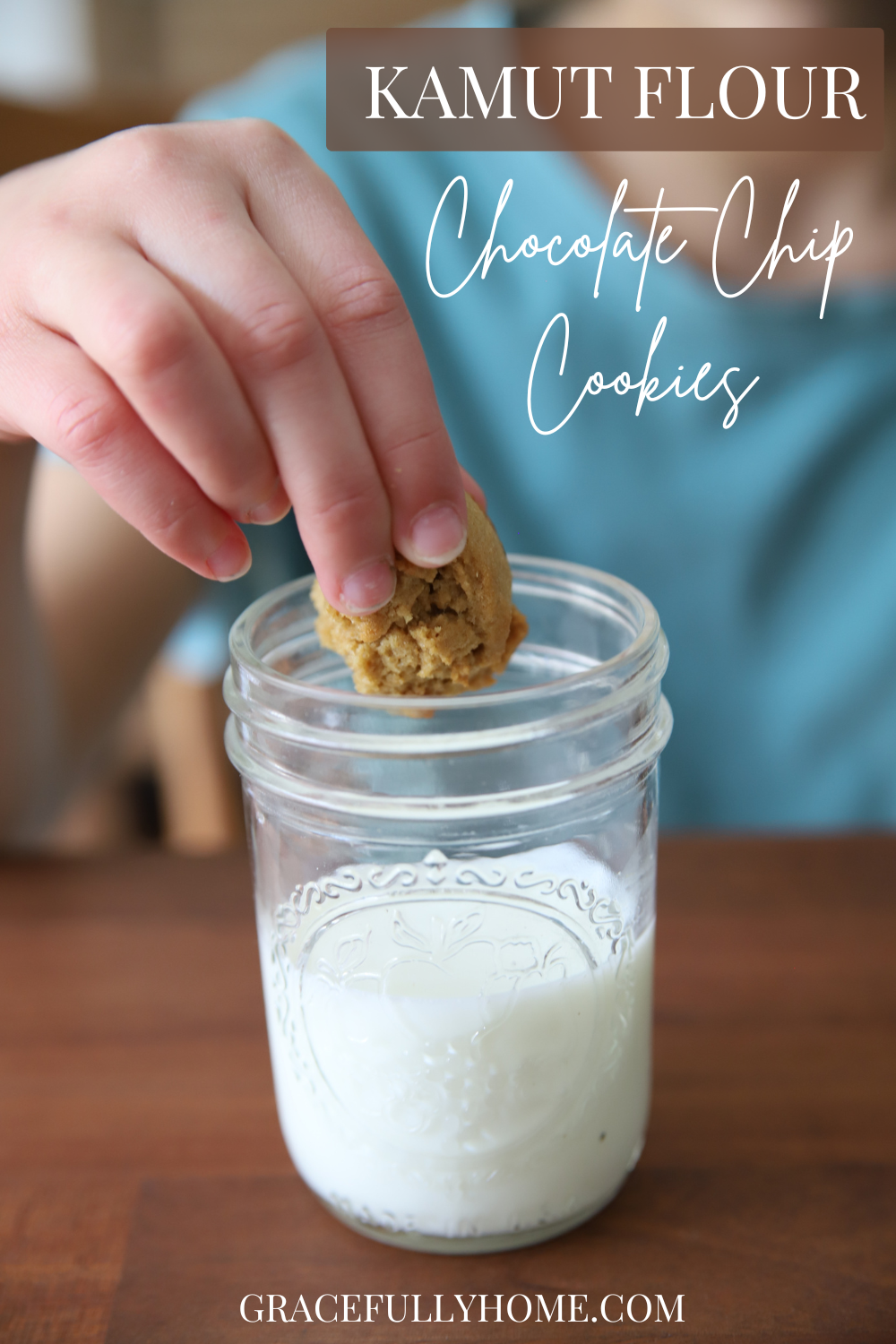 TIPS FOR MAKING KAMUT CHOCOLATE CHIP COOKIES
Typically I recommend chilling your cookie dough for a minimum of 15 minutes before baking to help keep your cookies from flattening out. However, in this case, when I chilled these Kamut chocolate chip cookies, they ended up being more like super tiny bite sized tea cookies.
Flattening the cookie dough into a circle with your hands will make for a traditional sized cookie.
Lining your cookie sheets with parchment paper or a Silpat silicone mat make for a faster cleanup.
Using a cookie dough scoop (we have one similar to this one here) to portion your dough will help make your cookies more uniform in size and will help with more even baking times.
VARIATIONS
Add peanut butter for a nice blend of chocolate and peanut butter goodness.
For a sweet and savory treat, sprinkle with coarse sea salt immediately after removing from the oven.
Use white chocolate chips and dried cranberries for a nice week day treat.
FIND MORE DELICIOUS DESSERT IDEAS