Who doesn't love a good bowl of hot chicken noodle soup with a side of crusty artisan bread? I know our family loves it and not just when we're feeling under the weather. Learn how we love to make this easy homemade chicken noodle soup classic.
A FAMILY CLASSIC
Many families from across the globe have been making chicken soup recipes for generations. It is not only simple to make, with simple ingredients, which are most likely staples already in many homes, BUT the health benefits have made this simple soup a household favorite.
Whether you grew up in the city, like I did, OR you grew up in the country like my husband, you probably have your own fond memories of this simple and classic meal.
VARIATIONS
There are so many variations to this simple classic soup. My grandmother and mother used to make a delicious chicken soup with rice noodles, onions, and fresh tomatoes. I have an old friend who would make the best Thai chicken soup with a kick from the chili paste she would add at the end.
Whatever style chicken soup you make, you can't beat chicken bone broth for the gut-supporting, immune boosting health benefits or the flavor that it adds to any soup/stew recipe!
Last summer, we started to attend a church that we were visiting in our local town, pre-Covid. We were so excited to be able to find a church so close to home that we all could get plugged into and finally start serving our local community!
The Lord did not create us to be permanently isolated or alone! He made us to be relational people who thrive and grow with others. With all the fellowship we have been enjoying lately, we have also been catching more of the sniffles and congestion.
Enter our homemade chicken noodle soup recipe finally making it on to the blog! (smile)
**This post may contain affiliate links. Please see full affiliate disclosure here.
TOOLS
HOW TO MAKE QUICK AND EASY CHICKEN NOODLE SOUP FROM SCRATCH
Quick and Easy Homemade Chicken Noodle Soup
This simple chicken noodle soup has so much flavor and is so nourishing to the body that you'll want to serve it up even when we're passed cold and flu season.
Ingredients
2 T extra virgin olive oil
2 large carrot, peeled and chopped
1 medium yellow onion, chopped
2-3 stalks of celery, chopped
6-8 c of bone broth
2 c of shredded or cubed cooked chicken
1 T Italian seasoning
salt and pepper to taste
1 bag of egg noodles (16 oz)
Juice from freshly squeezed lemon (optional)
Top with chopped green onions just before serving.
Instructions
Remove cooked chicken from fridge and set aside.
Gather all the veggies and start chopping to the size of your family's liking.
Place the stock pot or dutch oven on the stovetop burner and add oil and heat on medium.
When the pot is ready, add the onions first and saute for 2-3 mins or until translucent.
Next, add the carrots and continue to saute for an addtional minute or two.
Then add the celery. Make sure to not overcook.
While the veggies are cooking, add your spices and herbs.
When the veggies are cooked to your liking, add the bone broth, water, and stir to deglaze pot.
Bring to a boil and stir in the cooked chicken and egg noodles.
Then reduce to medium low, place lid on and simmer until the egg noodles are cooked. Typically about 5-6 mins.
Sprinkle with freshly chopped green onions and serve with crusty sourdough artisan bread.
Notes
Whenever we have leftover chicken from a whole IP chicken, this is one of my go-to recipes to use up those leftovers.
You can also cook the egg noodles in a separate pot if you wish to drain the pasta liquid out, before adding to the main soup base.
This is one of those classic recipes that you can easily tweak and make your own.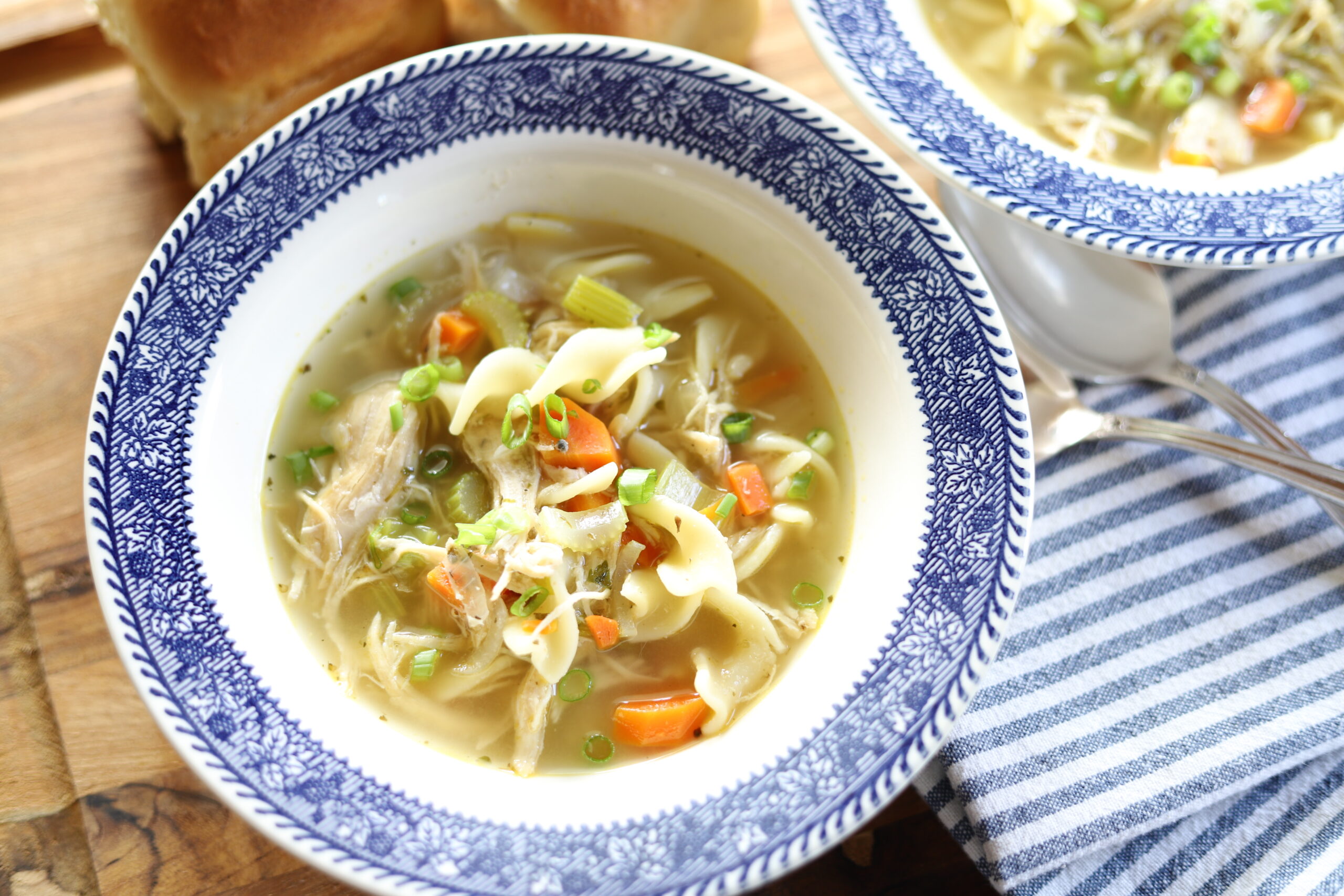 For an Asian spin, add some liquid aminos. It will taste like a wonton soup base.
If you don't have any egg noodles, you can always add some white rice or barley to give you more options. Cooking times will vary.
PIN IT FOR LATER: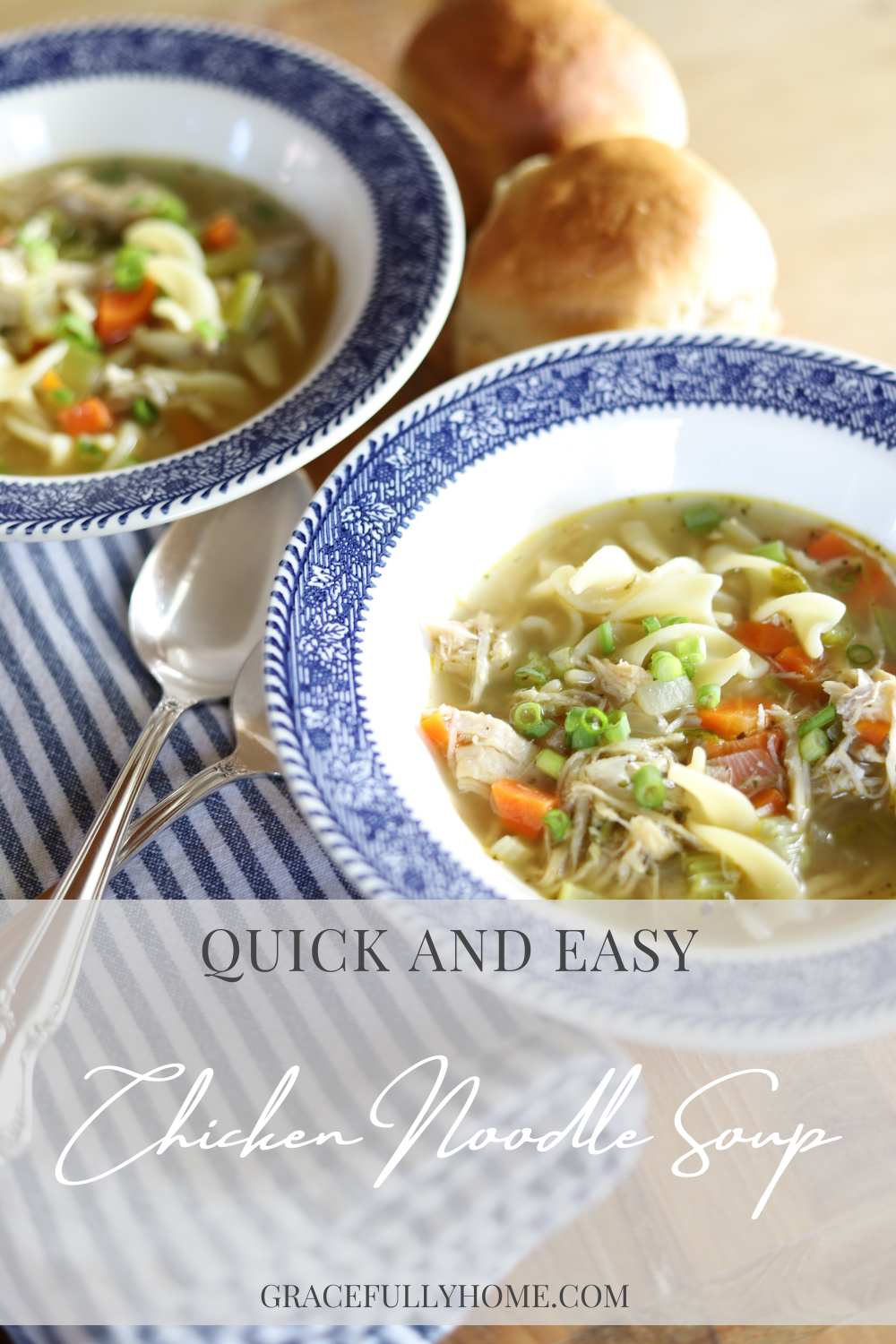 When it comes to cooking meals from scratch, simplifying the process with basic and quality ingredients, can go a long way!
FIND MORE FROM SCRATCH INSPIRATION