Sourdough coffee cake is a favorite breakfast treat in our farmhouse. Reserved for special occasions, this recipe is somewhere between a heavy dense pound cake and a soft and buttery vanilla cake. With a cinnamon swirl filling and a coconut sugar walnut crumble topping, this holiday sourdough coffee cake makes for a delicious and special treat.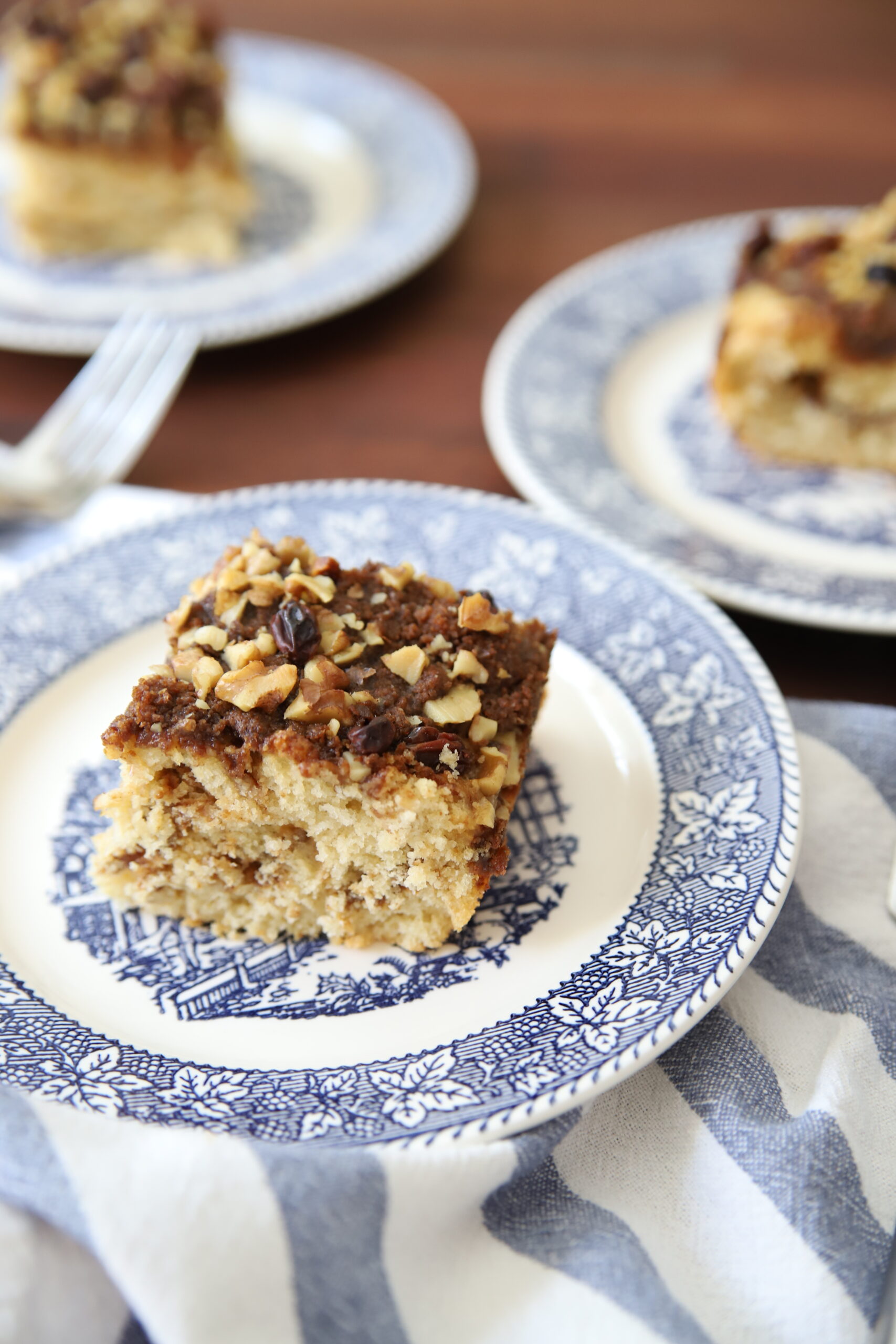 Sourdough coffee cake finds its way on many a birthday menu here in the hollow. But this year, I changed things up a bit and decided to whip one up for our Christmas morning brunch.
A FUN FAMILY TRADITION
Although I didn't grow up with a lot of coffee cake memories in our house, my husband has many fond childhood memories of eating coffee cake at his grandparents' farmhouse in northern Indiana.
I didn't start making our own coffee cake until after a memorable Thanksgiving trip to Pennsylvania. Some military church friends had invited us to spend the holiday with their extended family in Pennsylvania. I was pregnant with my fifth child. Our young son was still able to enjoy his childhood without any health struggles impeding his joy.
Good food, beautiful fellowship, and sweet memories stand out the most for me during that trip.
Our friend's mom made the most scrumptious coffee cake breakfast. From that moment on, I was a coffee cake fan!
TIPS ON HOW TO MAKE THIS SOURDOUGH COFFEE CAKE
This recipe can be made without the long ferment.

This can be made with discard or active bubbly sourdough starter.

Can be stored in the freezer for up to three months.

Place a clean tea towel over bowl while fermenting over night.

Make sure to butter your baking dish well to prevent sticking.
If you're new to sourdough and would like to learn how to make your own starter at home, check out this post here.
WHAT IS COFFEE CAKE?
I used to think that coffee cake contained coffee. But in fact, it doesn't have any trace of coffee in it, at all!
It is essentially a yellow cake that is said to have first found its way on the scene back in the 17th century.
It's believed that Europeans in the northern and central regions began to pair sweet cake with coffee.
Over time, this delicious combination found its way into coffee houses all across the globe.
**This post may contain affiliate links. Please see full affiliate disclosure here.
SUPPLIES AND TOOLS YOU MAY NEED
Casserole baking dish (9×13)
AN EVOLVING RECIPE
This recipe has evolved from my friend's mom's Mennonite recipe.
Now, it not only offers that classic sourdough tangy taste, but it also has the added benefit of breaking down the phytic acid present in the grains; making it a little more easily digestible.
Sounds like a winner to me!
WHY FERMENT?
The simple overnight process helps unlock the health benefits and makes it more readily available to digest.
To learn more about the benefits of sourdough and long fermenting grains, read our post here.
PIN IT FOR LATER:
HOW TO MAKE SOURDOUGH COFFEE CAKE
Holiday Sourdough Coffee Cake
Sourdough coffee cake is a delicious breakfast cake with a cinnamon filling and a crumbly coconut sugar topping.
Ingredients
Cake Batter-
3.5c all purpose flour
3 tsp baking powder (aluminum free)
1/2 tsp sea salt (we use Pink Himalayan sea salt)
3/4c pure maple syrup
1/2c coconut oil (melted)
3 large pasture raised eggs
1c whole organic milk
1/2c filtered water
2 tsp pure vanilla extract
1/2c sourdough starter (active or discard)
Filling-
1/2c coconut sugar
2 tsp ground cinnamon
4T Einkorn or all-purpose flour
Topping-
1/2c coconut sugar
2 tsp cinnamon
4T Einkorn or all-purpose flour
5T butter (melted)
1/2c chopped walnuts (optional)
1/4c organic raisins or currants (optional)
Instructions
Melt coconut oil in cast iron pan.
Mix dry ingredients together in stand mixer.
Pour melted coconut oil over dry ingredients.
Beat eggs well in a separate mixing bowl and add milk and other liquid ingredients. Mix well.
Next, combine the liquid mixture with the dry ingredients and set stand mixer to medium and mix until well incorporated, but do not overmix.
Remove bowl from mixer, place on a counter and cover with a tea towel. Allow to ferment overnight.
Next morning, the cake batter should be bubbly and ready to go. Add your baking powder and give it a few more stirs, until all combined.
Prepare your casserole dish by buttering the bottom and sides well with real butter or coconut oil.
In two separate bowls, combine the ingredients for the filling and then for the topping. Set aside.
Pour half the batter into baking dish and cover with filling mixture.
Next, pour the other half of the batter on top.
Sprinkle evenly with crumble topping, chopped nuts, and raisins over the whole length of casserole dish.
Place in a pre-heated oven of 375 degrees and bake for 35 mins or until a knife comes out clean.
Allow to rest for about 20 mins before serving to enjoy the blended flavors.
Cut in squares and serve with your choices of brunch or breakfast sides.
Sourdough coffee cake is a delicious treat for birthday brunches and the holidays.
If you try this recipe and love it, I sure would appreciate you giving it five stars and passing it along to your family and friends.
PIN IT FOR LATER:
FIND MORE DELICIOUS BREAKFAST AND BRUNCH RECIPES