Learn how to make this simple overnight "no boil" sourdough bagel recipe a try and enjoy homemade bagels with wholesome ingredients.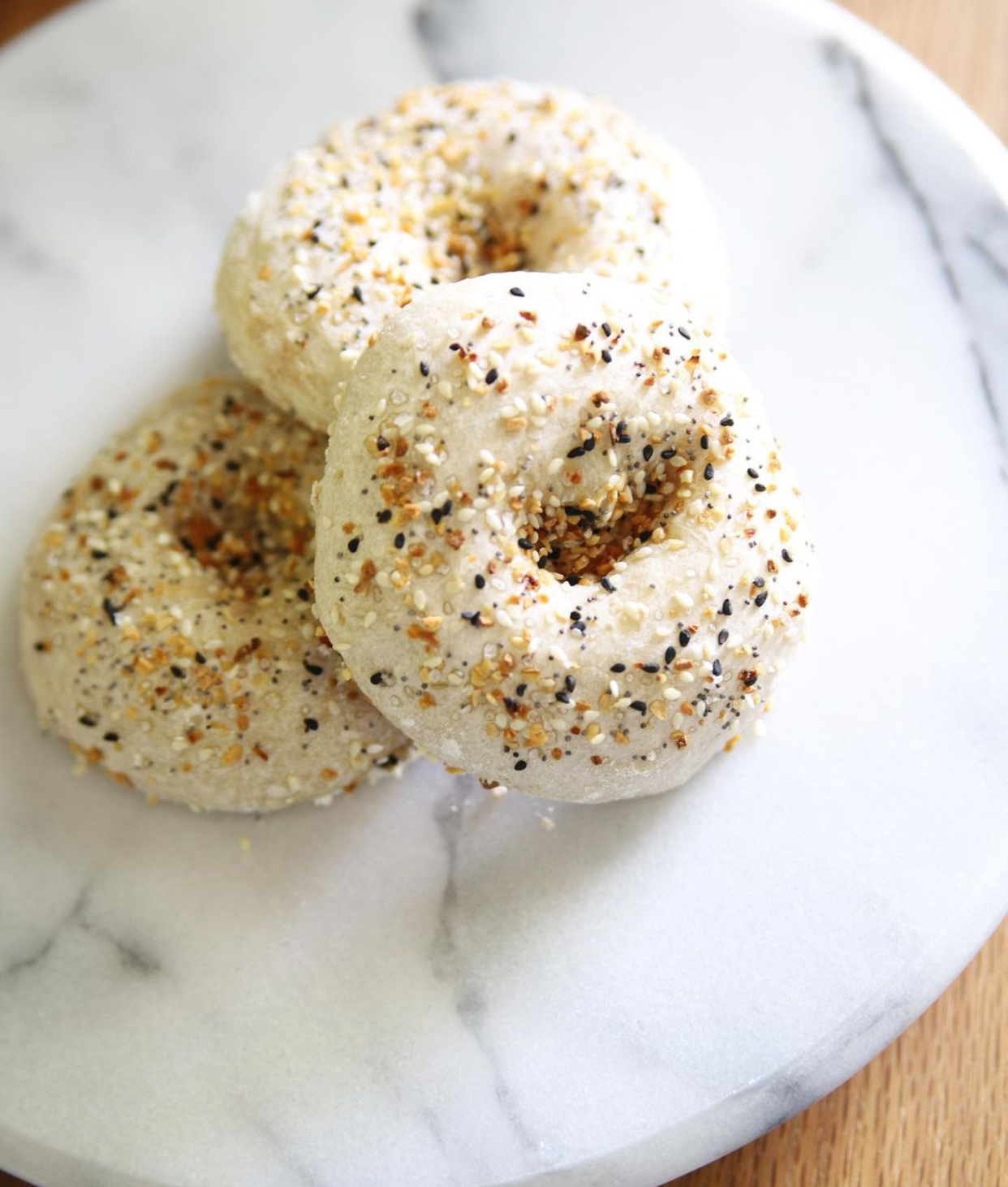 Who doesn't like a good bagel? Bagels make a great on-the-go breakfast. Especially when you add wholesome ingredients into the mix.
But before you grab that bag of bagels off the grocery store shelf, you may want to give this simple overnight "no boil" sourdough bagel recipe a go.
THE DIFFERENCE BETWEEN STORE BOUGHT AND HOMEMADE
Store bought bagels tend to use fast acting yeast to speed up the rise time. They may add some sourdough starter that offers that tangy taste that everyone loves. But without the long ferment process (at least 8-12 hours), the health benefits greatly diminish.
Making bagels from scratch can be a lengthy and involved process, especially with the extra added boiling step. When I first started making homemade sourdough bagels at home, my family was thrilled. The end product was so delicious and worth the extra effort, but as much as I understand that the process requires patience, many of the bagel recipes out there made it less desirable to make on a regular basis for this busy homesteading and homeschooling mama. Perhaps in a different season of life.
Don't get me wrong! It's definitely worth it, but sometimes fewer steps can make all the difference in making the regular effort to make a favorite recipe from scratch.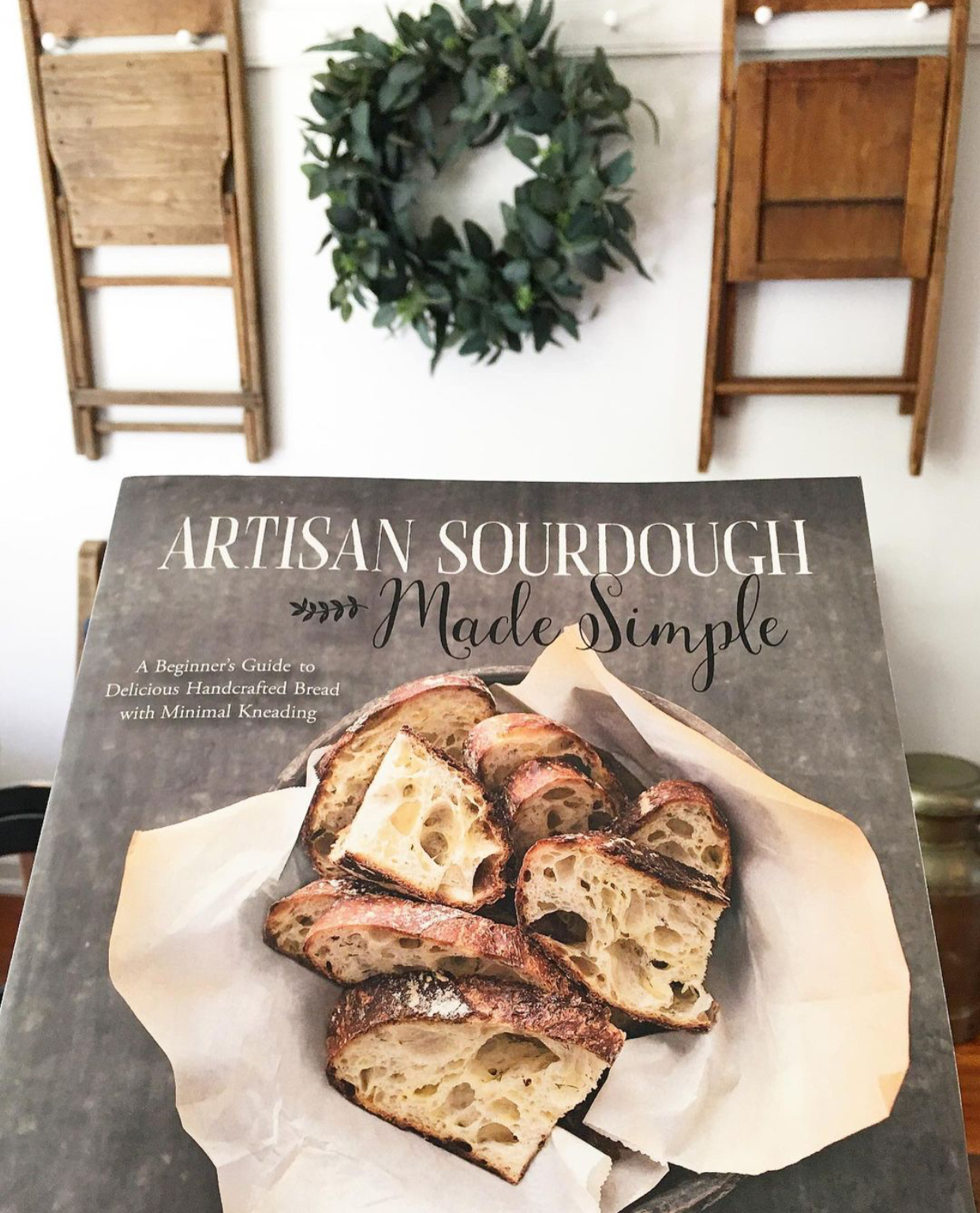 When I was hosting a natural health event in our 1840s log cabin for some local friends from church, I wanted to make it special and make some sampling's of healthier recipe options. This "no boil" overnight bagel is a spin off the sourdough bialys recipe from my favorite sourdough recipe book by Emilie Raffa, called Artisan Sourdough Made Simple. It is a great resource for sourdough beginners.
WHY SOURDOUGH
Sourdough is basically leavened bread without the commercial yeast packets. It is the way our ancestors would have prepared their ancient grains. It is tangier, hence the name "sour" dough.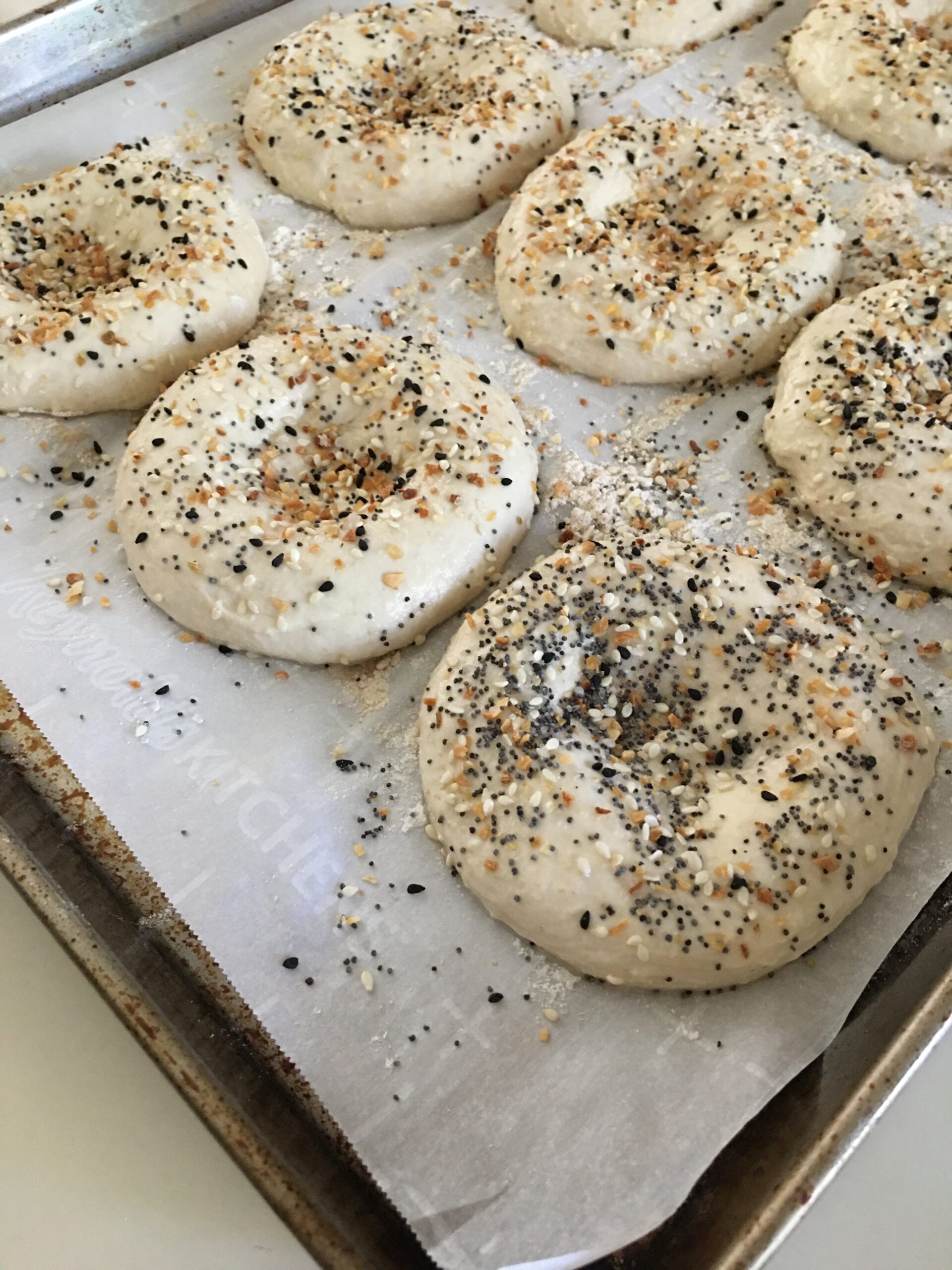 HOW IS SOURDOUGH A HEALTHIER OPTION
Due to the long fermentation process, it naturally preserves the bread from spoiling quickly, helps make the digestion process easier on your gut bacteria, which leads to your body absorbing more of the healthy nutrients that grains were created to provide.
**This post contains affiliate links. Please see full affiliate disclosure here.
SUPPLIES YOU MAY NEED
•Mixing bowl or stand mixer
•Baking sheet
•Spatula or wooden spoon
•Tea towel
•Measuring cups and spoons
•Basting brush
•Dough scraper or knife
•Parchment paper
**Using your stand mixer can simplify the kneading process (by about 10-12 minutes), but not necessary. Kneading by hand works just fine and can work your forearms, biceps, and triceps. I count it as a mini upper workout for the day. Ha!
HOW TO MAKE SIMPLE OVERNIGHT "NO BOIL" SOURDOUGH BAGELS
Recipe Box: Simple Overnight "No Boil" Sourdough Bagels
Total Time:
8 hours
37 minutes
Bagels make a great on-the-go breakfast. Especially when you add wholesome ingredients into the mix. But before you grab that bag of bagels off the grocery store shelf, you might want to give this simple overnight sourdough bagel recipe a try.
Ingredients
1/2c active sourdough starter
1 and 1/2c + 2T filtered water
4 1/3c organic or non-gmo all purpose flour
1 and 1/2 tsp pink Himalayan sea salt or Celtic sea salt
Everything bagel seasoning to taste
Instructions
Before bed, combine starter and water in stand mixer bowl or large separate mixing bowl.
Add flour and sea salt. Mix on medium speed until well incorporated and forms a ball.
Cover with wet tea towel for a minimum of 30 mins to an hr.
Re-feed and hydrate your starter and set aside.
After the resting period, knead the dough into a ball and is smooth and elastic.
Next, cover with wet tea towel and place on kitchen counter at room temperature and ferment between 12-14 hours. The dough should double in size by the next morning.
The next morning, prepare your baking sheet by placing a sheet of parchment paper on it.
On a lightly floured surface, remove dough from bowl and divide into twelve equal pieces, using your dough scraper.
Gather the ends of each ball and fold under itself. Repeat until all twelve pieces are formed into a smooth ball shape.
Place newly formed dough onto previously prepared baking sheet.
Cover the dough with a wet tea towel and let sit for an additional 1-1.5 hrs or until slightly raised.
When second rise is complete, lightly dust some flour on the dough balls and begin making an indention with your fingers in the center to form a concave in the middle of the dough.
NOTE: I like to make the indention go almost all the way through to form the classic bagel hole. This gives the dough the look of a classic bagel, without losing some of the topping through the hole.
Repeat until all dough balls have the indentation.
Take a pastry brush and lightly brush water on the top and sides of the dough and sprinkle with the everything bagel seasoning.
Bake in a preheated oven of 450 degrees for 10-12 minutes or until slightly browned. Cool on wire rack.
Notes
If everything bagel is unavailable, you can easily make your own by combining equal parts of poppy seeds, toasted sesame seeds, dried garlic, dried onion, and course Celtic sea salt.
These do well in the freezer for those busy days when you need breakfast to go.
Best enjoyed within 1-2 days. If they last that long.
EVERYTHING BAGEL MIX
Combine equal parts of poppy seeds, toasted sesame seeds, dried garlic, dried onion, and Celtic sea salt. Mix to combine and keep in an airtight container.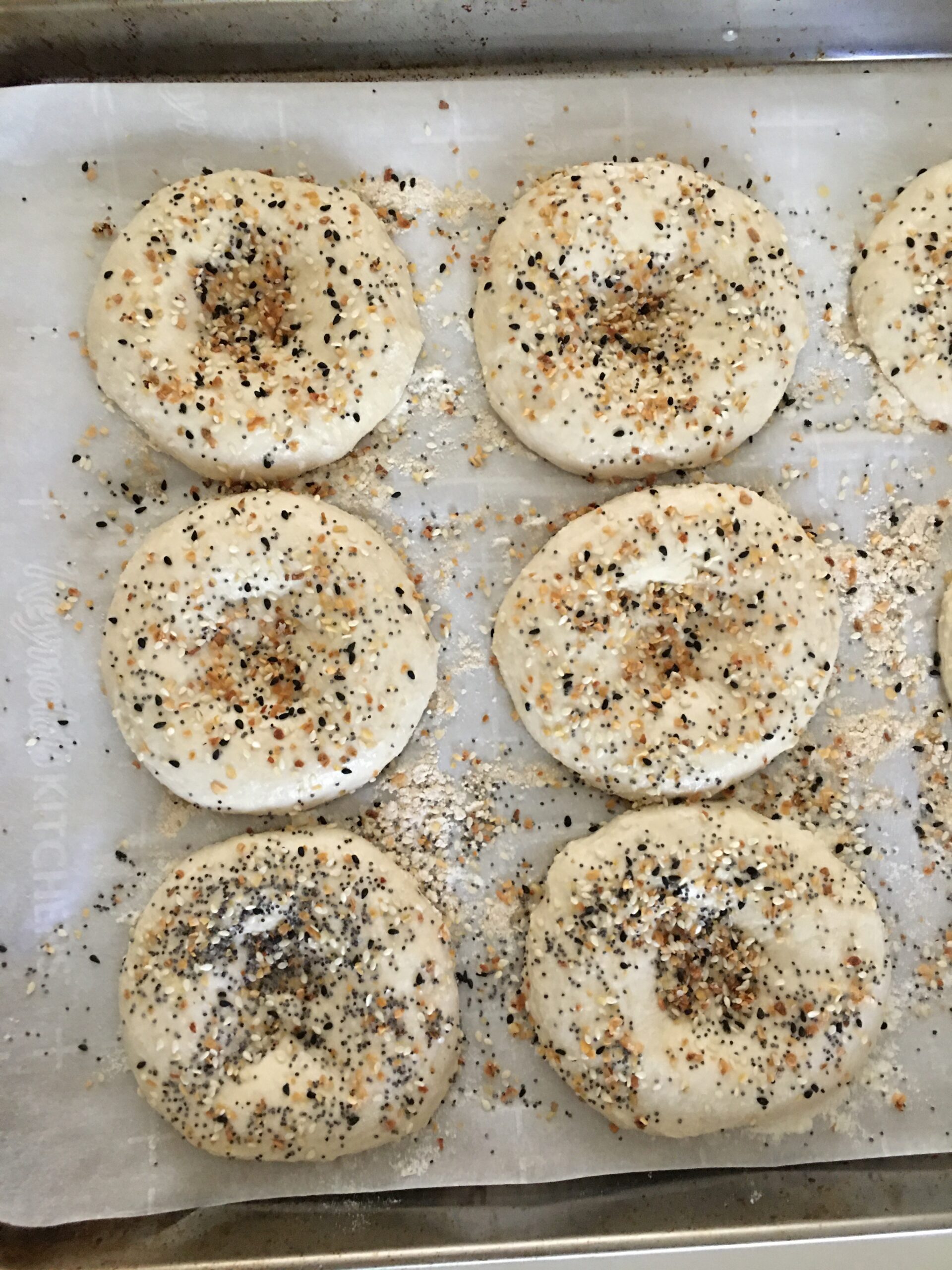 SOURDOUGH VARIATION IDEAS
•Sprinkle cheese on top just before baking.
•Add blueberries just prior to forming the dough into balls.
•Sprinkle with onion flakes before baking.
•Add chopped chocolate just before baking for a sweet treat.
SERVING IDEAS
•Add ham and cheese for a breakfast option.
•Add scrambled eggs, cheese, and top with baby spinach or broccoli sprouts.
•Smear cream cheese on slices and top with smoked salmon, capers, and pea shoots for a light brunch.
•Smear cream cheese on slices and thinly slice fresh strawberries for a refreshing midday snack or light breakfast.
•Add almond butter and homemade strawberry jam for a fun picnic option.
•Place a dollop or two of homemade chicken salad and top with freshly sliced avocado for a filling lunch or light dinner.
•Serve with grass fed butter for a simple, but delicious option.
PIN IT FOR LATER:
FIND MORE DELICIOUS SOURDOUGH RECIPES
The possibilities are endless. Use this simple recipe as a springboard to create every day meal options that your family will love.