Sewing reversible fabric bowl covers is a great way to save money and reduce waste. Learn how to sew reversible fabric bowl covers at home for a fraction of the cost of store bought.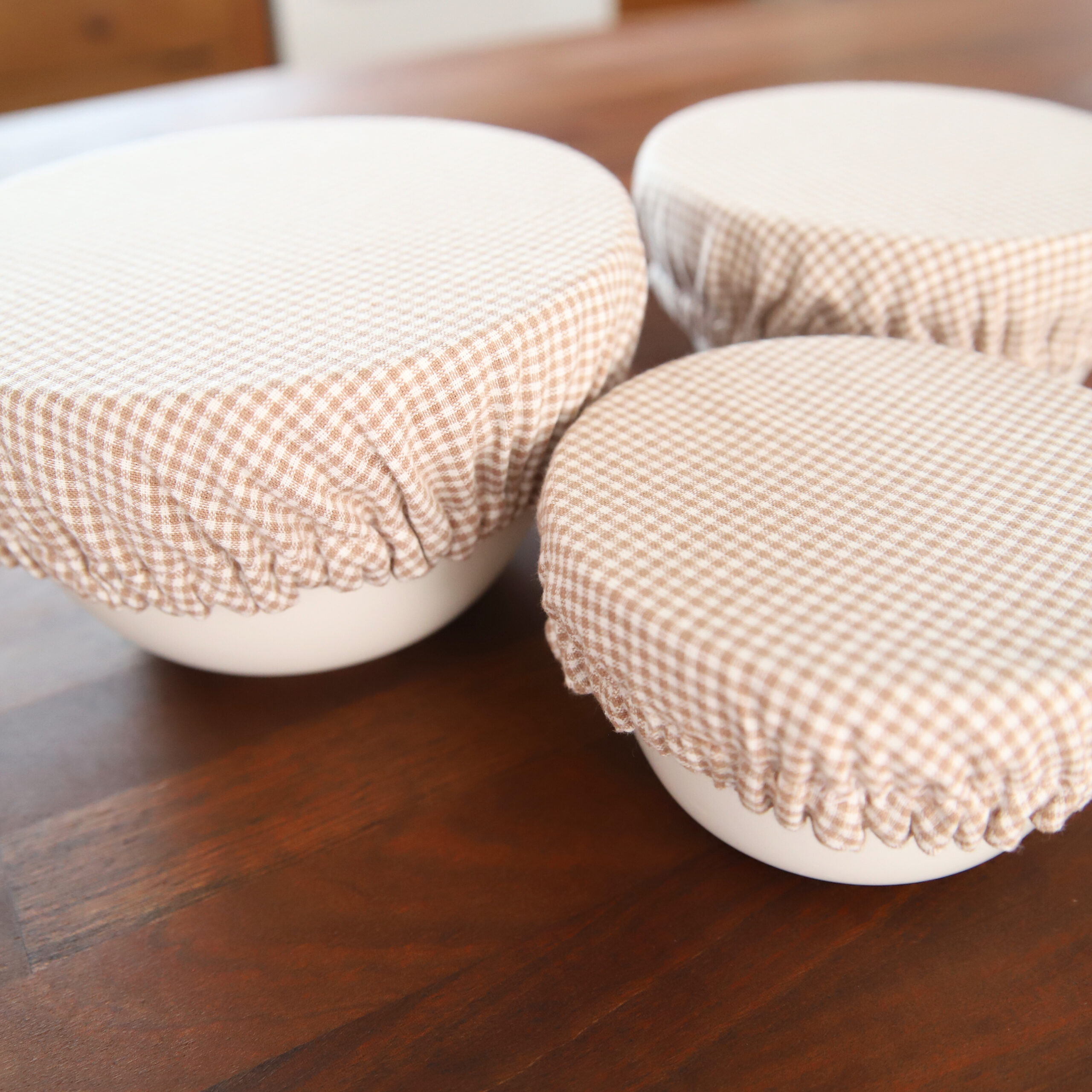 KEEP PEST OUT
It's officially spring and you know what that means! Warmer weather and a lot more sunshine!
On our homestead, we are pretty laid back on our homeschool schedule when the weather is perfect for exploring the outdoors.
After playing catch or hiking on the back forty, it's not uncommon for an impromptu picnic to follow.
We love all the seasons, but after a long and cold winter, the warmer months can be so exciting. Spring is one of our favorite times of the year.
Unfortunately, the bugs also like the warmer weather and that is where bowl covers come in handy.
STYLISH AND FUNCTIONAL
Similar covers are available for purchase on line and in stores, but when you see how easy it is to make them at home, you may just want to whip up a few for yourself.
Instead of reaching for the roll of plastic wrap, why not give these simple fabric bowl covers a try and save money and reduce the amount of waste in our homes?
Because they are fabric, you can throw them in the wash and reuse them.
With all the different types of fabric and patterns, these are customizable and make great gifts.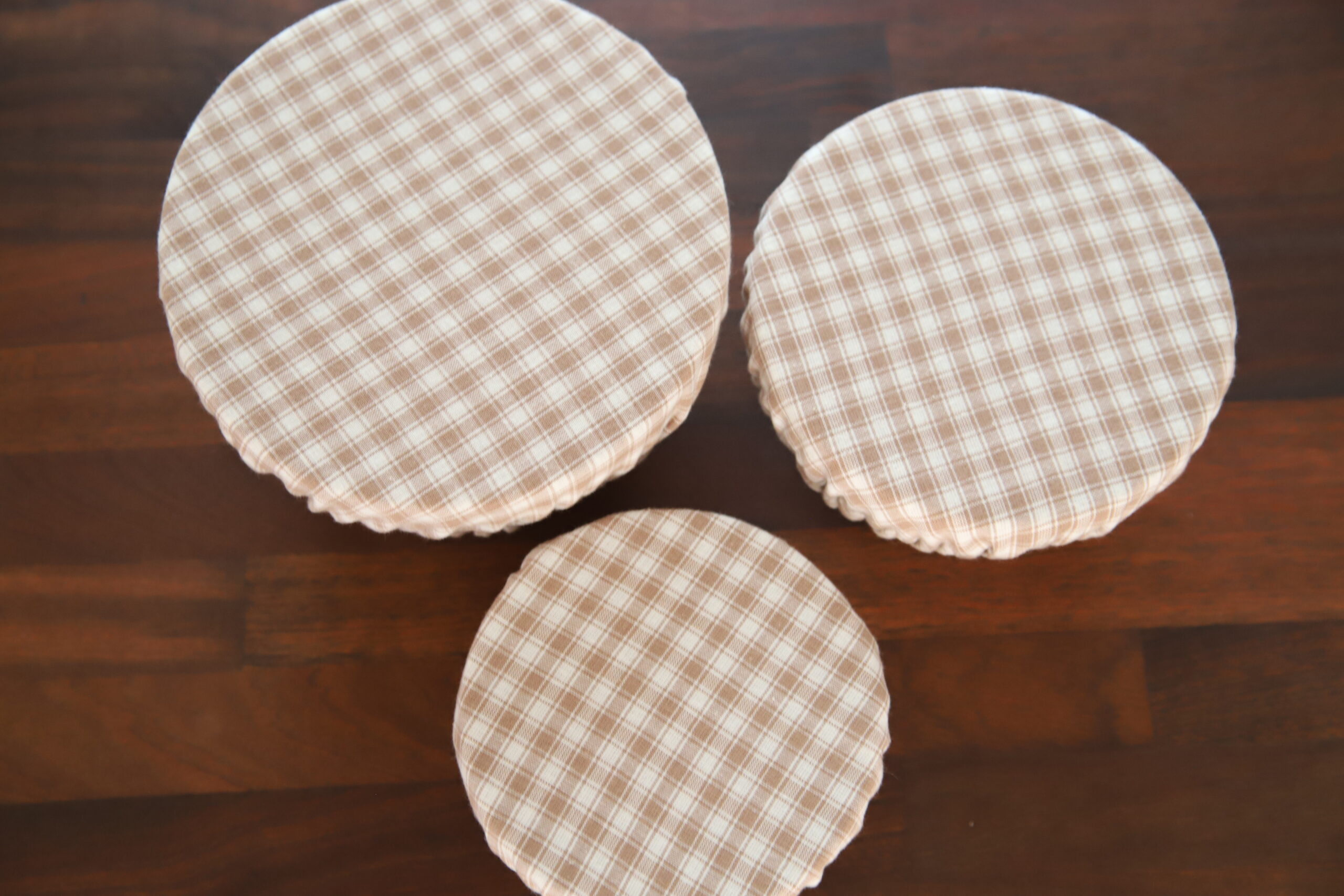 **This post contains affiliate links. Please see full affiliate disclosure here.
MATERIALS YOU WILL NEED
sewing machine
matching or contrasting thread
safety pin
pencil or sewing chalk
scissors
pinking shears (optional)
HOW TO MAKE REVERSIBLE FABRIC BOWL COVERS
These fabric bowl covers are simple and quick to make. Gather your supplies and trace your template. Cut your fabric on the line you marked.
Sew your two fabric pieces together, turn right side out, and work your elastic through the opening with a safety pin and sew opening closed.
How to Sew Reversible Fabric Bowl Covers
Sewing reversible fabric bowl covers is a great way to save money and reduce the use of plastic.
Materials
2 coordinating 100% cotton pre-washed fabric pieces (a half yard of fabric should make several covers)
Coordinating thread
1/4 inch wide elastic
Tools
Sewing machine
Scissors
Pencil or fabric chalk
Pinking shears or serger (optional)
Instructions
Choose 100% cotton fabric of your choice. Use coordinating fabric with similar or complimentary colors.
Choose your bowl that you would like to make the bowl cover for.
Turn it upside down on the wrong side of your choice of fabric.
Trace around the bowl with pen.
Measure 2 to 2 1/2 inches from the line outward to allot for seam allowance. The longer the space, the more the edge of the finished cover will drape over the bowl.
Carefully cut out two pieces along the marked circle.
Next, place the two fabric pieces right sides together.
Sew a 1/2 inch seam allowance all the way around the bowl.
Be sure to leave a 2 to 2 1/2 inch opening where you will turn the fabric inside out.
Use pinking shears to cut around the outside of the fabric pieces too reduce the bulk and also to prevent fraying.
Now, turn the pieces right side out.
Flatten and smooth out the edges and iron.
Starting from the outside seam, sew 1/2 inch around the two fabrics to form a pocket for the elastic.
To determine the amount of elastic needed, measure around the widest part of your bowl, then subtract 2 inches.
To add the elastic, simply attach a large safety pin to the elastic, insert into the opening. Thread the safety pin all the way around until it meets the tail end.
Sew the elastic pieces together.
Top stitch the opening closed.
Now, it's time to put these fun fabric bowl covers to good use.
Notes
Pre-wash your fabric to prevent future shrinking.
You want the elastic to be tight, but not too tight.
If you don't have pinking shears, you can sew (on the shortest length) a zigzag stitch several times around the pieces or if you have a serger, you can serge all around the raw edges.
Be sure to avoid sewing the elastic.
Natural fabrics with a tighter weave work the best.
Reversible fabric bowl covers are great for gatherings with family and friends or for those play dates in the park.
Not only are these more stylish than plastic wrap, they are useful for keeping the bugs out of your food in between servings.
PIN IT FOR LATER:
FIND MORE SEW SIMPLE INSPIRATION IDEAS