Fall clean-up on the homestead has begun. As my husband gets a head start on organizing our equipment shed and hay barn, I am inside sprucing up our living room for the fall. Since I'm not completely ready to say good bye to summer just yet, this is just the transitional phase into more warmer earth tones, dried grasses, fall flowers, and cut foliage. Eventually, I will bring in the pumpkins and most likely some cute mums! I can't wait!
These pretty fresh cut flowers from our garden remind me of the more muted and laid back colors of fall.
Fall is one of my favorite times of the year. I love the changing of the leaves and the cooler temps. Not to mention the fact that the pesky mosquitos and ticks aren't a problem during this season. Read about how we naturally address inflammation and itching from common summer bites and stings with our homemade jewelweed salve recipe.
Now, on to the tour of our fall farmhouse living room refresh, where you'll catch some behind the scenes footage of the whole simple process.
PIN IT FOR LATER:
THE MISSION
Today, I am giving our living room a FALL refresh with just items from around the farmhouse.  As well as, from around the homestead.
There are a few things that I like to do before I give a space in our farmhouse, a "refresh."
1. REMOVE SEASONAL ITEMS
The first thing I like to do is remove any items from the previous season. This includes pillow slipcovers, blankets, paintings, or decor that is specific to the previous season.
Purging the space, helps me visualize bringing in the new season's items and gives me an opportunity to clean nooks and crannies that don't typically get cleaned as often as they should. (wink)
THINK OUTSIDE THE BOX BONUS TIP IDEAS:
STORAGE SOLUTIONS
With a blank slate, I am then able to bring back items that function well for our family and think of permanent spots for them to stay organized into the next season.
When I look for furniture pieces for our farmhouse, I make sure to look at the functionality of the pieces. Many of our items around the farmhouse pull double duty. But they are also esthetically pleasing to look at and add to our vintage farmhouse rustic style.
When adding pieces back into newly cleaned spaces, make sure they are pieces that you love and that will serve the needs of your family well.
**This post contains affiliate links.  Please see full affiliate disclosure here.
2. GIVE THE ROOM A GOOD CLEANING
The next thing I like to do when I refresh a space, is to give it a thorough cleaning.
I start from the top of the room and work my way down. Wiping, dusting, sweeping, mopping, and of course, vacuuming. We have wall to wall wood floors, but we have several area rugs and mats throughout the farmhouse that need a good shake or vacuuming during the week.
For this fall living room refresh, I decided to use our handy Fuller Brush Co. sweeper.  It is lightweight and comes in handy for sweeping the area rugs upstairs.  Our Dyson vacuum can be cumbersome and a bit heavy going up our steep old staircase. This Fuller Brush Co. sweeper is a great tool to have for daily clean ups and is easy to empty and maintain.
Our wooden Fuller Brush Co. broom looks right at home on the DiY wooden pegs my husband made me a couple years ago.  Who knew that this simple dowel design would be so popular now?! If you don't feel like making them from scratch, you can find similar ones here or single floating ones like this here.
The stacking 1950's style picnic baskets below the peg hooks, holds some of our craft supplies and extra felt fabric scraps. I love how things can stay corralled and stylish at the same time!

Adding a simple plant in a vintage vase or vessel is always a great choice.  Plus, with a little research, you can find plants that help to purify your indoor air.
WATCH THE BEHIND THE SCENES TOUR VIDEO
3. ADD INTEREST BY LAYERING TEXTURE, PATTERNS, AND COLOR
The third thing I like to do is add in pops of color and various textures. Having a neutral background can become a little too plain at times, but with the right pops of color, patterns, and texture, it offers a calming and welcoming vibe.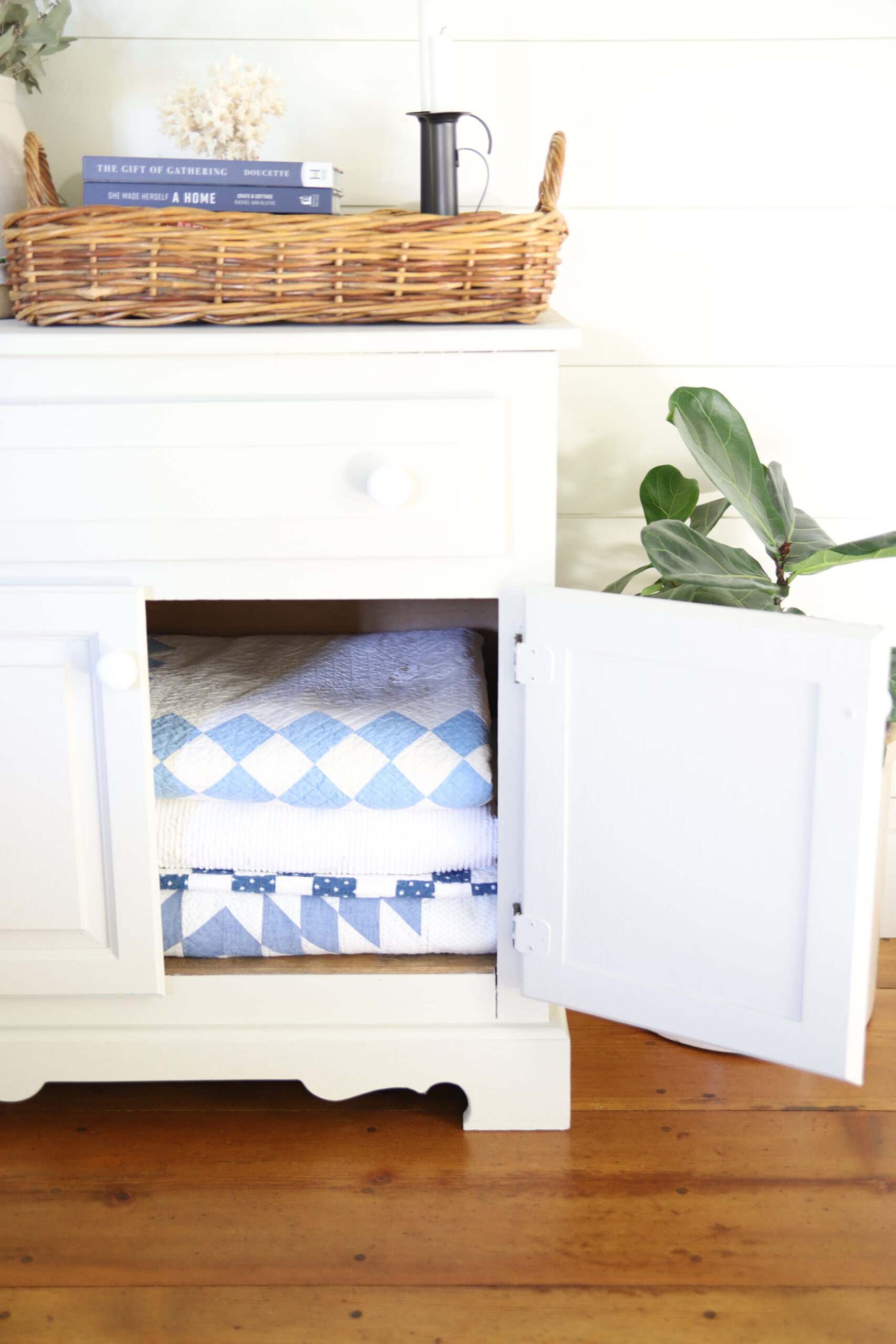 These old vintage blue and white quilts add just the right amount of color and beauty.
The little cabinet above was a turquoise color when I found it at a roadside yard sale.
You can see its transformation and more details on the paint color I chose and the process here.
Old baskets add a cozy and rustic feel to any space. I found this small hanging basket for less than $3 a while back at a thrift store.  It holds my homemade beeswax candles (future tutorial in the works) and some vintage off white thread that I got for free at our local auction house.
If you like the natural color of these beeswax candles, but don't feel like making them yourself, try these here on Amazon.
We enjoy playing "florists" and making pretty bouquets to bring into the farmhouse to "sell."
4. SHOP YOUR HOME
Lastly, I like to add those finishing touches, with things like inexpensive pillows, mood-setting candles, tree branch clippings, and fresh flowers from the garden.  All make for a welcoming and inviting space.
I love the challenge of decorating with what we already own first. Sometimes, just moving things around and borrowing from other spaces in the farmhouse, can breathe new life into favorite pieces.
I found this taupe and white throw at a local outlet store, but Amazon offers lots of beautiful fall style throws to choose from, like this plaid one here.
Inexpensive throws are a great way to add seasonal style to a corner or gathering space.
THINK OUTSIDE THE BOX BONUS TIP IDEAS:
SHOP THRIFT STORES AND FB MARKETPLACE FOR DEALS
If you have been following me for awhile, you know that we can be super frugal at times. We tend to buy second hand, shop our home, and now I have found the art of bartering with our local auctioneer.
What a fun way to find the perfect pieces for your home!
Old hand brooms, small iron stone pitchers, deer antlers, and transfer ware pieces, make a beautiful statement, while adding such interest to a space.
I purchased this barn quilt from Katie at BakerNest.com.
I have a blog post with tips for creating your own barn quilts here and DiY barn quilt coasters here. They bring such charm to a space.
THINK OUTSIDE THE BOX BONUS TIP IDEAS:
REPURPOSE ITEMS THAT YOU ALREADY HAVE
These buffalo check pillow covers are from an IKEA bedroom duvet cover set.  I didn't need the pillow cases, so they have just been sitting in our linen closet. I simply added them right over our pre-existing pillow forms. Now, these throw pillows look like a totally different pillow.  I tucked the excess fabric to form a pocket. No sewing required.
I love to change out our pillow covers during the different seasons. It is a great way to change the look of your spaces without spending a lot of money.  Since they are slipcovers, they store easily and don't take up a lot of space.
These similar burnt orange and white buffalo checks are affordable. I also love these smaller taupe and white checks here.
PIN IT FOR LATER:
Our vintage and antique quilts are all ready for those cooler nights on the homestead.
I found this flat basket at our local auction shop and paid $8 for it because the one handle was loose.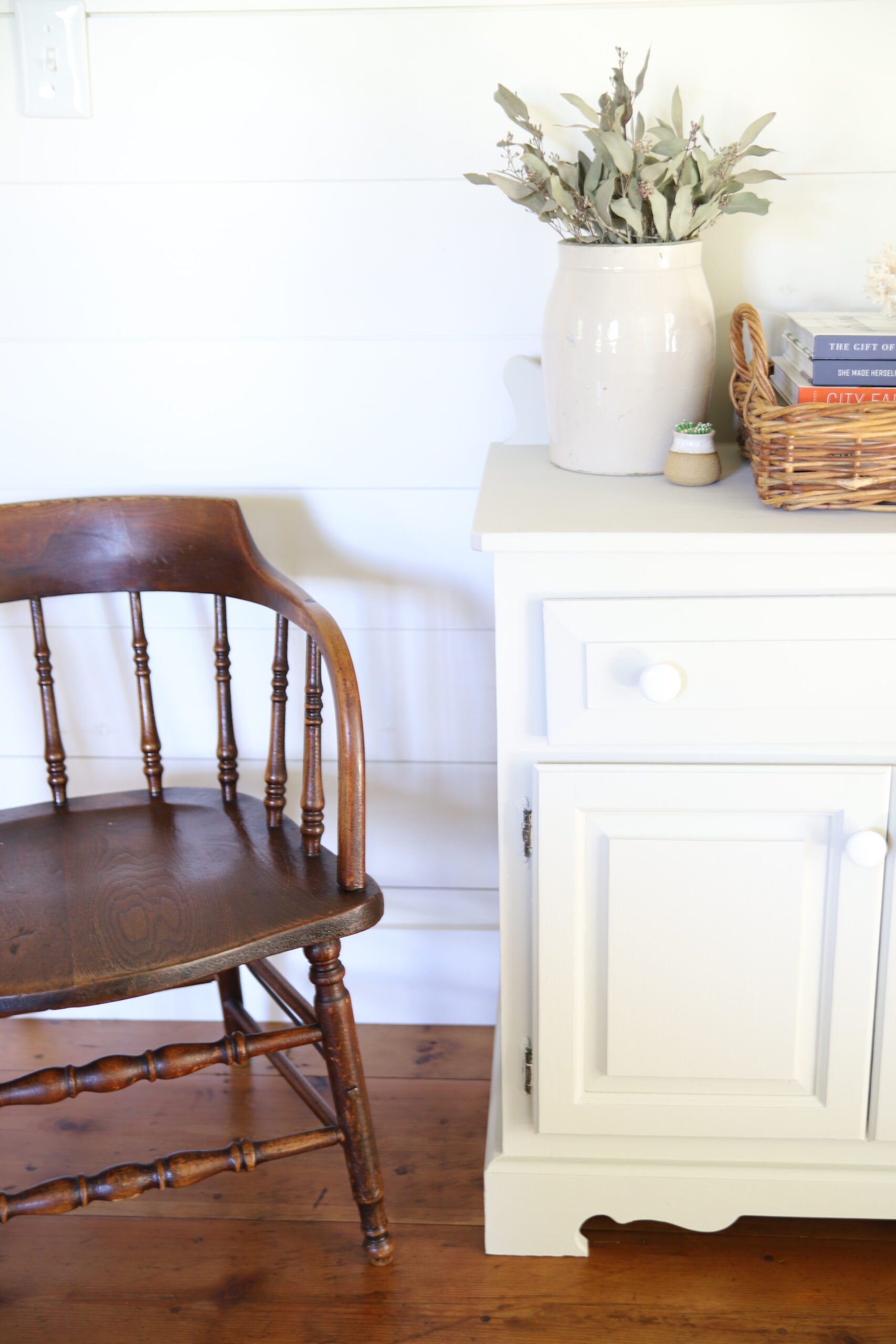 This old barrel back wooden chair was found in an artist's garage for $20.
I hope that you enjoyed the tour and that you found these simple fall refresh ideas helpful for creating an organized and welcoming home on a budget.