Lilacs are a simple, but beautiful flower that symbolizes the start of the spring season for many of us across the country. They come in a variety of colors and add so much life to a yard or home. Learn how to keep fresh cut lilacs from drooping with these simple tips.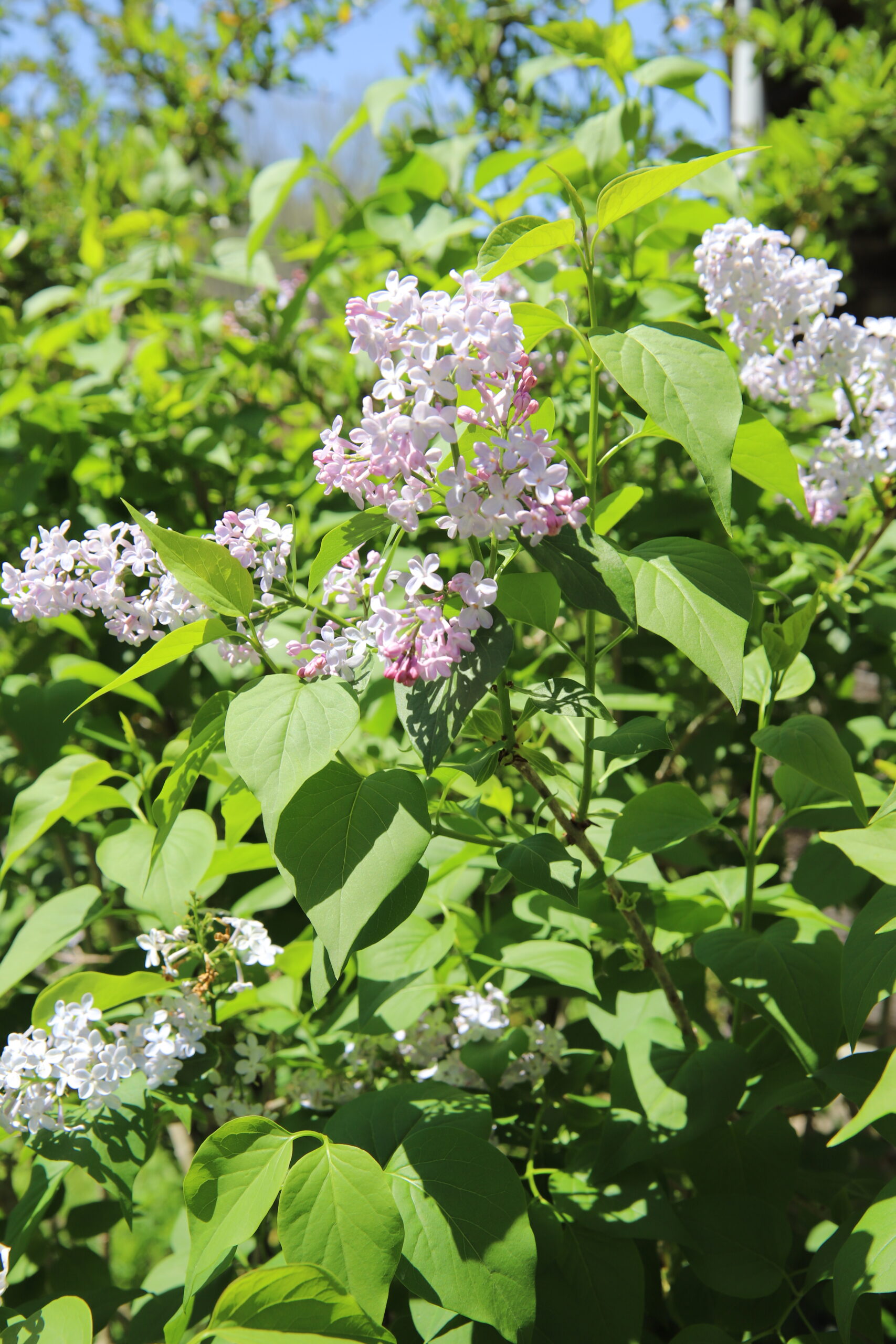 A FRESH START
Each spring in the hollow, brings new life and an awakening of all the things we love and appreciate about living out in the country.
Daffodils and dandelions are typically first to make their appearance after the long winter. The pansies and violets come next. One special flower, in particular that pops up shortly after the ground starts to warm, are our lilacs.
LEARN AS YOU GO
Would you believe that I had no idea that we even had lilacs the first few years?
You might wonder how that's even possible, but it is! I didn't realize that we had my favorite peonies until several summers on the farm.
I guess that shows you how much you can miss when you are focused on other things. (smile)
NEVER STOP LEARNING
When we first purchased our homestead in the hollow, we didn't actually get to move onto the property until about 10 months later.
We would visit from time to time during the long weekends and holidays, but we were pretty much confined to the 1840's log cabin or certain areas of the property. This was because we allowed the old owners to live on our property until their new home was done being built.
Word to the wise…it was not the wisest choice and if we had to do it again, we would definitely have done it differently.
I have been itching to bring some of our lilacs indoors for years now, but the fact that some poison ivy creeps around that area, has prevented me from even giving it a good pruning.
Perhaps the cooler weather has kept the poison ivy from taking over sooner than usual. So, I took this as my first opportunity to finally bring these beauties indoors.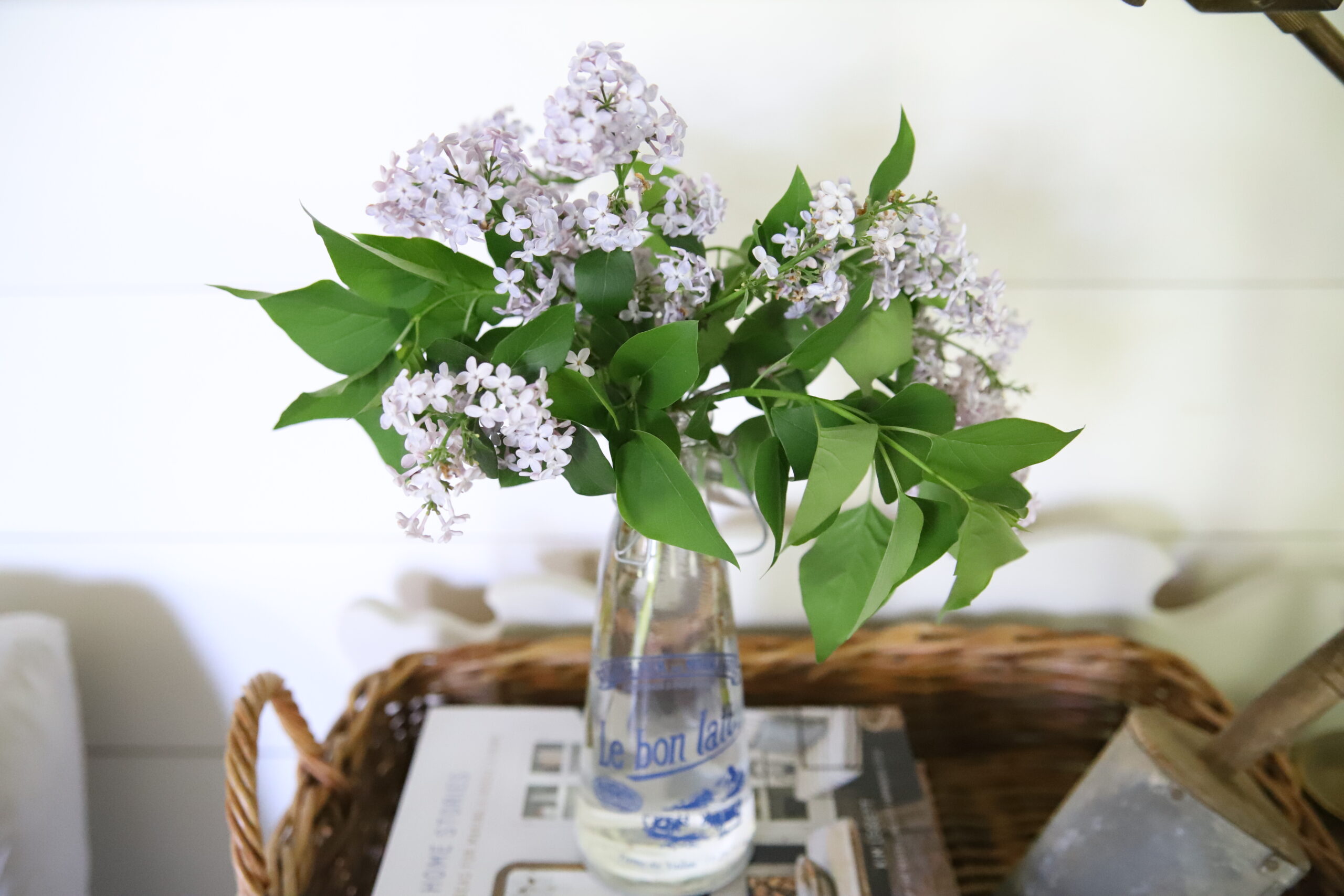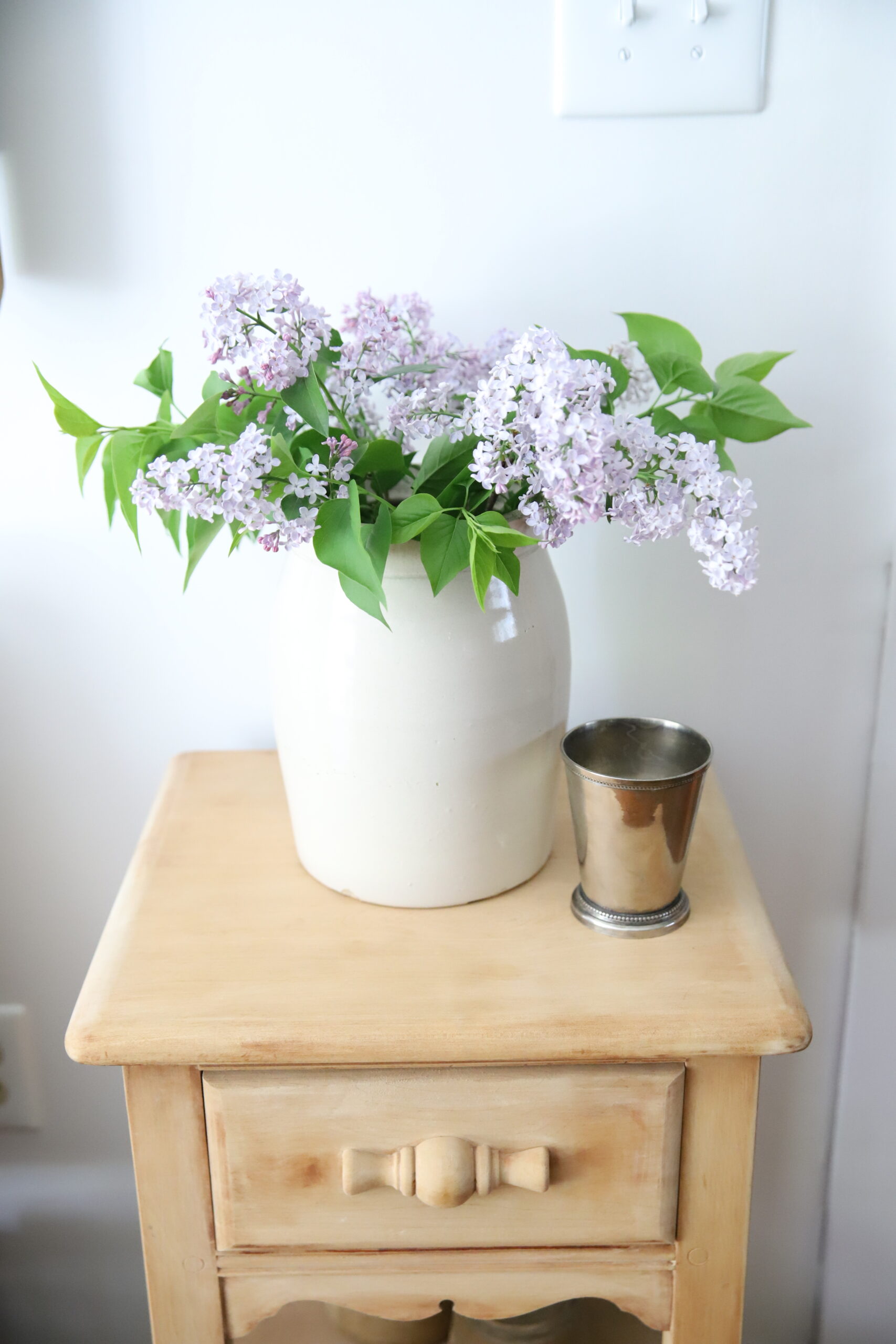 I wanted to make sure that since this was my first time cutting them, that I knew what I was doing. I basically took what do for our hydrangeas and applied the technique to our lilacs.
We may not be able to enjoy lilacs for long, but these simple tips on how to keep your fresh cut lilacs from drooping can definitely help prolong their life indoors. These lasted a solid 3 days! And the smell has been amazing!
HOW TO KEEP FRESH CUT LILACS FROM DROOPING
STEP ONE
CHOOSE A CLEAN VESSEL- I love to collect antique and vintage items throughout the year, that I know will be useful for our farmhouse. Once upon a time, I was focused more on pretty things, but shortly getting married to my husband, his practical and functional side started to shift my way of thinking. Over the past two decades, I am all about form and function!
Some of the items that I look for on a regular basis are things like, old pottery, iron stone, glass bottles, vintage baskets, silver or pewter cups, and wooden crates or boxes.
BONUS TIP
Take note, that not all antique or vintage items are going to be waterproof, due to crazing or cracks. I don't shy away from those, because I love the authentic character and charm they add to our vintage farmhouse.
Placing a separate vessel inside the main vessel, such as a cup or shorter vase can help provide your fresh cut flowers with hydration, while keeping your table or surface from getting water all over it. Live and learn, my friends! (wink)
This is a to-go cup that my husband uses sometimes for his coffee.
STEP TWO
CUT IN THE MORNING OR EARLY EVENING- Cutting in the early morning insures that your flowers and stems have good hydration from the morning dew. This will lessen the shock from the initial cut and will help it transition from branch to vessel with ease.
STEP THREE
REMOVE ANY EXTRA LEAVES OR FOLIAGE BELOW THE WATER LINE- This is kind of a "no-brainer!" You DO NOT want to skip this step! Have you ever watched the water in your vase turn cloudy after a day? Or dumped out the decaying water from a vase full of flowers, after a few days? Then you know how gross that water can get and no one wants that in their home!
STEP FOUR
HAVE CLEAN WATER READY TO PLACE FRESH CLIPPINGS IN- So important! I used to skip this step because I didn't feel like lugging a bucket of water clear across our homesteads, but once I started to do this simple step, I could tell the difference in how my freshly cut flowers took to transitioning indoors.
STEP FIVE
USING SHARP GARDENING SHEARS, MAKE YOUR CUT AT A 45 DEGREE ANGLE- By cutting at an angle, it allows more water to reach up the stem and into the leaves and blooms. Some folks like to crush the stems with a hammer or mallet. Either way, getting more surface areas and a direct route to the main parts, helps to keep your blooms fresher for longer.
STEP SIX
AFTER CLIPPINGS ARE BROUGHT INDOORS, CUT A 1.5 INCH SLIT ON THE BOTTOM OF THE STEM AND BEND BACK- This step is another way to help the hydrating process along. Some folks will bend and wrap the slit around itself, but when I did that, I found that my stems would break. So, I just pull the newly cut stem slightly apart and it achieves the same end result.
BONUS TIPS
Make sure to cut a little longer than you need for the vessel that you intend to use.
Each day, recut stems.
Change out your water daily.
FOR MORE GARDEN INSPIRATION