Sometimes learning new skills can be intimidating! But adding backyard chickens to your homesteading skills doesn't have to be. Caring for chickens is easier than you might think. Learn how we pushed past our comfort zone and grew our flock.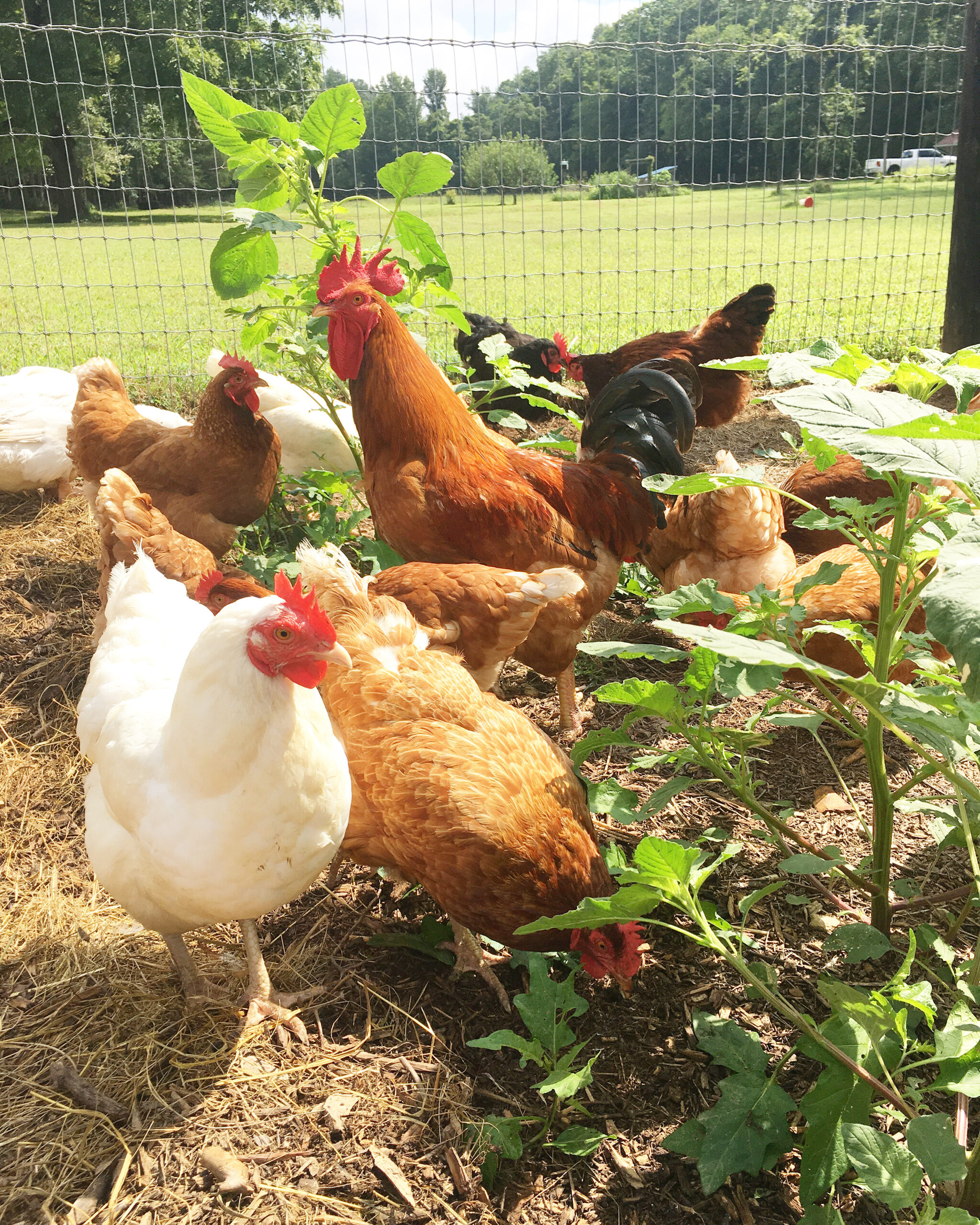 "Back to Basics" is a weekly series that focuses on preparedness and simple practical life skills to help inspire you on your natural living journey.
Before we made the leap into planting roots on our own homestead, my husband and I dreamed about finding a piece of property that we could call our own and raise our family on. But this wasn't always my dream.
I actually had to ease into it, having been a city girl all my life. My husband on the other hand, always dreamed of having land some day. Just as his father, his grandfather, and his great grandfather and his father before him, did.
LEARN AS YOU GO
Sometimes learning new skills can be intimidating!
For instance, if you have never owned farm animals before or grown your own food in a garden, you may be feeling like it's all a foreign concept.
I know that is how it was for me, in the beginning!
But once we made the transition to more natural living, things like baking bread, cooking meals from scratch, quilting, canning, and gardening became a natural part of our daily life.
My husband's carpentry skills and previous construction experience, came in handy as we tackled the task of bringing this old farm back to life.
As a result, a simpler way of life became even more appealing in the hollow.
Along with our growing list of back to basics knowledge, our homesteading library grew. It's a good idea to have a printed form of reference materials for those times when electricity or internet service are sketchy.
Check out some of our favorite resources on our Shop Page.
AN UNEXPECTED FAVORITE
One of the unexpected favorites in this homesteading journey was adding chickens to the mix.
Adding a small flock is a great place to start, if you are a first-time hobby farmer or backyard homesteader.
You don't need a lot of acreage to get started and you can always start with a few chickens until you feel more comfortable.
Initially, we thought we would wait until the conditions were just right. Our old chicken coop and barn were in such bad shape.
We didn't want to chance starting and then failing.
WHEN AT FIRST YOU DON'T SUCCEED
A couple years after moving full-time on to our farm, my husband was given a Royal Palm turkey, that we affectionately called, "Turk" and about five guineas.
Unfortunately, they didn't stand a chance free ranging with the local predators.
Thankfully, after our first attempts at growing our own flock bombed, we persevered and gave it another try.
Our kids participating in our local 4H club, helped push us passed our anxiety from our last poultry failures and as a result, we have not regretted jumping back in before the conditions were "ideal."
We did make some modifications to the pre-existing barn and coop. Learn how we revamped the space with basic DiY skills and scrap materials from around the farm in this blog post here.
Sometimes, you have to just take that leap of faith and push passed your comfort zone in order to grow.
BEFORE GETTING STARTED
One of the first things we did was look at what kind of breed we wanted to get. There are so many breeds to choose from.
We also needed to decide if we wanted "straight run" (can be male or female chicks) or pullets (typically females).
Our first batch of chicks, they were supposed to be all females, but one little rooster came along for the ride. The kids named him, "Sunny."
They typically only cost a few dollars, unless you purchase a full grown rooster. Some can range over $20. Sunny sold for $20 at the 4H Poultry sale.
When we were ready to dive in, we looked at breeds that were considered good egg layers and docile.
We also looked at what we needed to do to use our existing barn and coop to accommodate the number of chickens we were planning to purchase.
We started off with Dominiques. I had read good things about this heritage breed. Ours were FREE on Craigslist.
This particular bird is said to be the oldest American breed and was considered endangered. It has been slowly making a come back in backyard homesteads across the country.
We have added several new flocks to our farm raised chickens over the years. We added these others to the list and couldn't be happier with the amount of farm fresh eggs they have blessed our family with.
Last year, we added our first Easter Egg Layers. They lay the pale blue/green eggs.
During the warmer months, we have an overabundance of eggs. My husband sells some at his base and our two youngest are starting to sell cartons at our local church to raise money for church camp this summer.
PIN IT FOR LATER:
OUR CURRENT CHICKEN BREEDS
Amber Link -hardy, easily adaptable, high egg production
New Hampshire Red -dual-purpose, friendly, good meat production
Bantam -smaller in size, ideal for smaller coops, droppings good for fertilizer
Plymouth Rock -dual-purpose, broods well, hardy, docile
Red Ranger -dual-purpose, grows fast, good egg count
Maran -only breed we have that successfully hatched her own chicks, good egg layers, delicious meat
Golden Sexlinks -dual-purpose, good egg laying capabilities, substantial amount of meat, great for backyards
Rhode Island Red -dual-purpose, adaptable, good for small flock owners
Buff Orpington -produce a decent amount of eggs, good brooders, good motherly instincts
Isa Brown -friendly, a good choice for families
Frizzle -friendly, not aggressive, fun for families
Wyandotte -hearty, docile, dependable egg production, dual purpose
"Miss Frizzle" is the sweetest!
As homesteaders, we are always learning something new and we are constantly fine tuning some of our homesteading skills. Caring for our flock is one of those areas that we keep learning about.
Raising your own chickens is a great way to expand your natural living and practical life skills.
You really can't beat those nice bright orange and yellow yolks that farm fresh organic eggs offer!
FIND MORE INSPIRATION CHECK OUT THESE POSTS