"Back to Basics" is a weekly series that focuses on preparedness and simple practical life skills to help inspire you on your natural living journey.
Before we purchased our homestead in the hollow, we had already been preparing ourselves by learning basic homesteading skills.  I loved reading books, articles, and following simple and natural lifestyle blogs to glean homesteading ideas from.  One by one, we grew our skills and were thrilled when we were able to put them into practice on our very own farm.
With the advent of Pinterest and other apps that are meant to inspire, it can get a little depressing when your own space needs so much work.  I see so many barns and chicken coops online that have so much charm and even some sophistication (if a chicken coop could be so "classy"), that make me long for a "pretty" new barn for our homestead in the hollow.  Then reality hits and I am reminded that this is a working hobby farm and if we were to wait for the extra funds to build such a barn and coop, we would be waiting awhile. The list of homesteading and home improvement projects is rather lengthy, but I don't have to tell you all that…do I?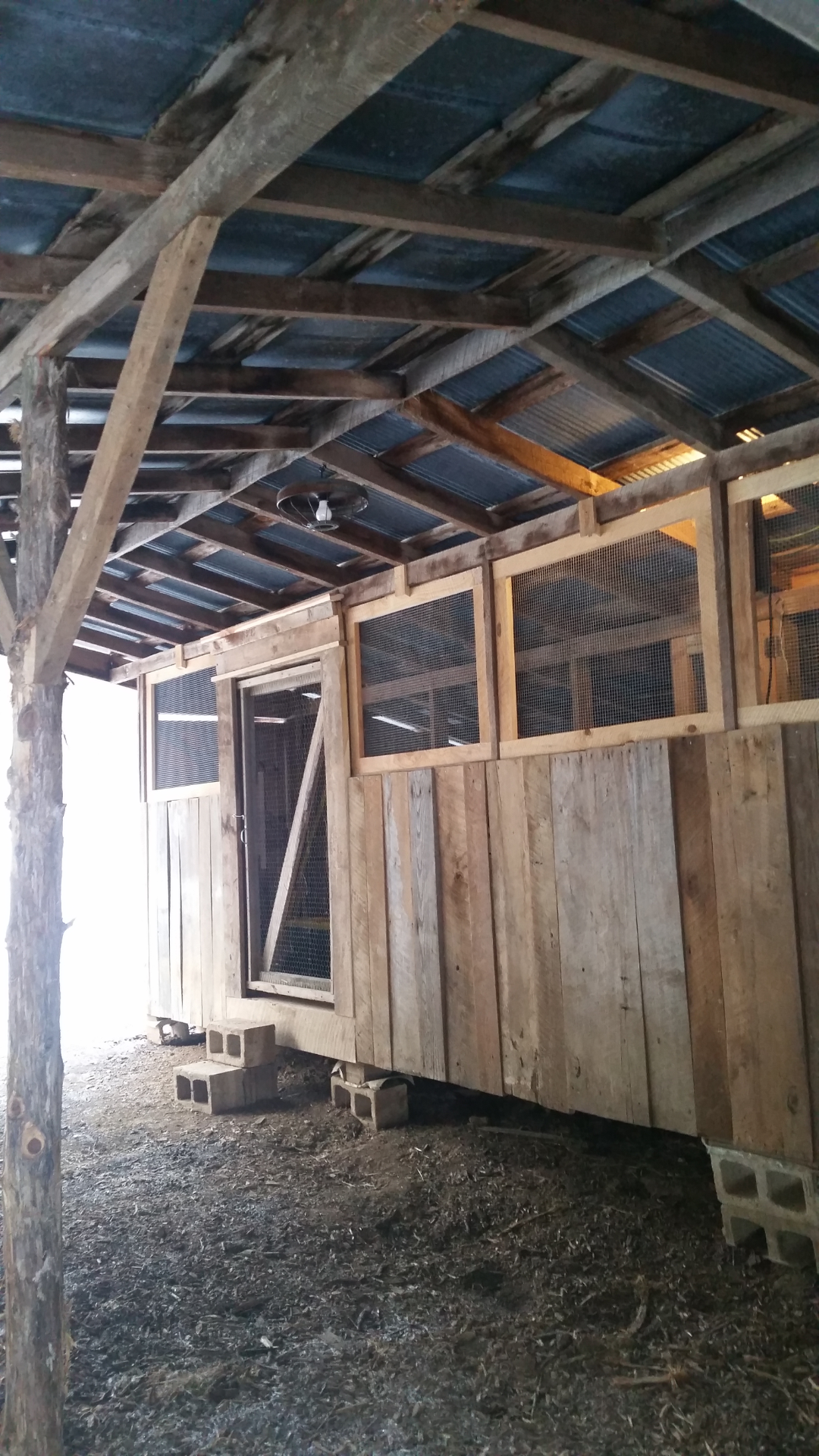 Just like the home, the homestead takes time to cultivate, restore, and build up from the foundation.  This homestead sat quiet for some time, and every little project done is a victory for our family.  (smile)  When we first moved to the hollow, we didn't even think about adding chickens to the farm because the farmhouse alone needed so much work, but when my husband was gifted a Royal Palm Turkey and some guineas from a co-worker, we decided to give the old barn a try.
We learned the hard way that there was more to caring for feathered farm animals than just letting them roam free.  We are all about considering how things work naturally and working with God's amazing design, but when you have two Aussie pups and a growing coyote population in the nearby forest, a certain amount of human intervention is essential for success.
Fort "Clucker"
It wasn't long after we received our Royal Palm turkey and guineas that our pups and the local coyote had their fill.  A couple of our neighbors' chickens found their way back to our farm and also met their demise, so we decided to work with what we had and rethink our barn and chicken coop lay out. We tried to be intentional and use the lessons learned to create a healthy and safer environment for future flocks.
Clean water, organic feed, and a clean coop are a given for any homestead, but keep on reading to learn our Top 5 must-haves that have worked well to improve our chicken coop and barn area.
BONUS TIP:
We add apple cider vinegar (ACV) to the chicken and ducks' water.  The ACV promotes healthy immune systems and offers extra vitamins, minerals, and trace elements.  Since we have laying hens, we also add oyster shells for more calcium and help build stronger egg shells. Food-grade diatomaceous earth (DE) gets a lot of use on the homestead. When added to the chicken feed, it can help work against microscopic parasites.  Sprinkled around their feeding area and in their coops helps to keep away larger pests like ticks, fleas, and flies.
1.) SAFETY FIRST
When I was still on active duty, aviators were encouraged to track a speciality.  My husband became a standardization instructor pilot and I became a safety officer.  As you can imagine, both were very important in keeping our fellow aviators and aviation personnel safe during training and real life missions during deployments overseas.  When it comes to our family and our farm animals, we try to consider simple ways to help insure their safety and health.  For our children, we use the buddy system around the homestead. They know their limits and stay within the main area of our farm.  On our farm, a buddy serves as an accountability partner, as well as if anything should happen, one buddy can go get help.
With chickens and ducks, they all congregate together, but with our dogs taste for chicken and the coyotes that get up close and personal at night, we had to design a barnyard area that could keep out the predators.  To date, we have had only one raccoon make his way in, but because of the other contingencies that we had in place, he didn't get very far.
Ever since I have known my husband, he has enjoyed putting his carpentry skills to work. One of our pet-peeves is when things are not built to last.  That is one of the reasons why we have such an affinity to vintage items. Back in the day, things were built to be passed down from generation to generation. Sadly, these days, our society is caught up in the fast-paced mentality that applies to our food, products, and homes.
My husband collected these large electric poles from our local electric company over a period of months. He knew that if we were going to raise our own chickens, we needed to provide some kind of protection. These poles are between 6 and 8 feet high.  The wire fencing is dug deep into the trench, to prevent predators from digging under.  They need a little more tightening, but they have proven to be a great addition to our chicken fortress.
The inside of the coop is just as important as the outside perimeter of the barnyard.  This hallway area of the barn was fully open for years.  There was a wall perpendicular to the current door area.  This project was one of my first experiences working with my husband's power tools and after that, I caught the bug. Since then, my husband has gifted me some of my own tools that can help me with my smaller DiY projects.
Galvanized trash cans (big and small) keep their feed dry and contained.
Building the enclosed hallway and the screens leads us to the next must-have…
2.) PROPER VENTILATION
Let's face it!  Chicken coops can get pretty stinky.  The screens that we built are not only great for protection, but also allow fresh air to flow through.  We also added three rustic "windows" to this internal area and also on the coop itself.  Originally there were only two chicken coop rooms and we used the third one for storing hay.  When we kept adding to our flock, we converted the last coop into another room. Eventually, we will be building more nesting boxes and perches for the new additions.  On our list of to-do's, we will be building functional shutters to keep the cold out during the winter.
We added more tree trunks and diagonal support to help make the old barn more sturdy.
3.) GET CREATIVE WITH GREEN PASTURES
Not everyone has a lot of property to accommodate a large growing flock.  Some folks will build portable chicken coops that protect their chickens while allowing them to move their position daily to give them more fresh grass to enjoy.  As I mentioned, our dogs, the coyotes, and the raccoons make it challenging to let our chickens roam freely in the hollow, so we have to be creative.
We recently closed off this courtyard area between the workshop and the barn.  It allows the chickens and ducks to enjoy some fresh grass and bugs while the chicken barnyard rests from their constant scratching. We also planted an experimental garden inside the barnyard to see how well the plants would do.  They did great.  We plan on building more boxes and planting more seeds in the near future.
This courtyard area works in expanding our chicken and ducks area to explore.  We have a lot of earth worms in our fertile soil and the bugs make a great addition to our feathered friends' diet.
"Rusty" the rooster is always on watch.  He is one of our prettiest birds.
The ducks feel right at home with the chickens.
4.) SUPPLEMENTATION
Our family loves our farm fresh eggs and our made from scratch meals.  But over the years, we have found that we still need the help of quality plant-based supplements.  Not all supplements are created equal.  We had been searching for years.  Learn more about which ones we chose and why here.
Even though we provide our chickens with good organic feed and fresh grass, we still like to supplement their diets with other things that help promote health and well-being.  Dried herbs sprinkled in their feed or nesting boxes are a great way to do that during the winter months.  Fresh summer veggies from the garden are another.
This mixture smells wonderfully rustic.
I used herbs that we already had on hand in our pantry "apothecary."  You can purchase ready-made mixes at places like Tractor Supply or your local feed stores, but making your own at home is simple to do.  This mixture contains chamomile, calendula, comfrey, dandelion root, red clover, sage, lemon grass, and yarrow flowers.
Lavender
Thyme
BONUS TIP:
This summer, we planted a new separate "secret herb garden" next to the chicken coop.  Check out the process here. I love being able to add sprigs all around the barnyard to help keep the fly population down and to help freshen up the coop.
Thyme
Lemon balm and lavender
5.) DIY ENTERTAINMENT
To break the boredom on those hot summer days, I added some fresh hanging veggies to the rafters in the chicken coop.  The chickens loved them!  They rush me every time I come around the corner because they know that I always have some tasty treat for them. Whether it is green veggies, fat juicy horn worms, or crunchy Japanese beetles, they know that we come in peace. (smile)
BONUS TIP:
I used twine to hang up the lettuce and military cording with a heavy duty eyelet to screw into our garden fresh cabbage.  At first, the hens weren't too keen on the round "ball" moving towards them, but then they realized that it was good food and now, they eat it all up.
Our one and only Frizzle Chicken, "Fluffy"
BONUS TIP:
Keeping some natural hand sanitizer in the coop for those messy days is a great addition. I found this brand at our local Tractor Supply for half off last year.  It doubles as bug repellent.  You can easily make your own hand sanitizer like this one we make here.  Our natural homemade bug repellent recipe is coming soon to the blog.
Being able to look back at how far we have come in our homesteading journey helps to keep us motivated and encouraged for what lies ahead.  I hope you found these tips helpful for your own yard or property. We love learning new ways to help make our homestead run more efficiently.  Don't you?