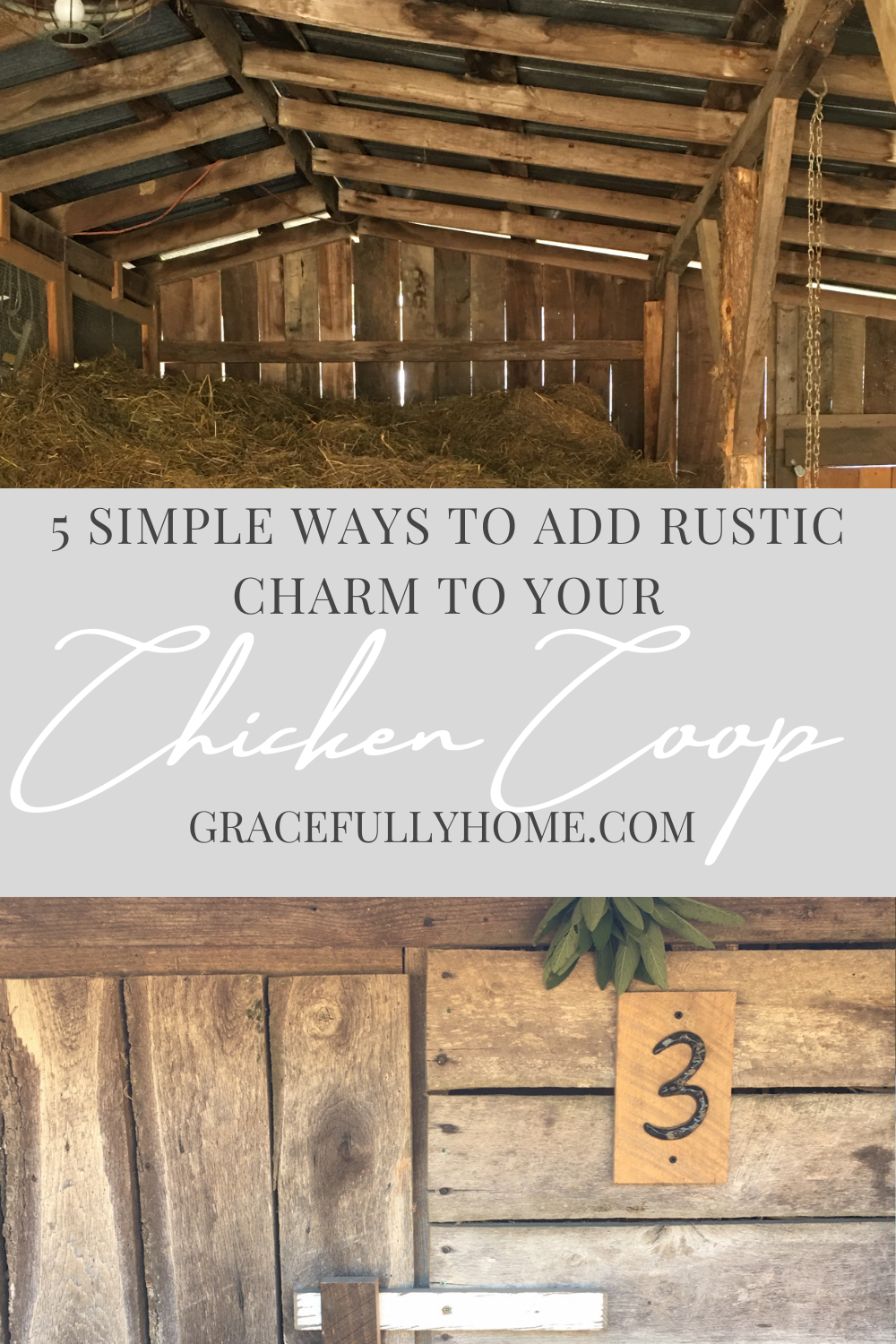 Living on a working hobby farm can look like a little piece of paradise from the online photos we see.  But with any homestead, it comes with a long list of homestead improvement projects and frequent maintenance issues that need to be addressed before the next project begins. Sometimes, it can all get a bit daunting, especially since we are out in the middle of the country.  But we have learned over the years that being creative, using what we have, and thinking outside the box can be a wonderful asset for learning how to find joy and gratitude in the simple every day blessings.
When we first started out on our homesteading journey, a brand new chicken coop or barn was not a priority on our list of things to do. But we couldn't ignore the rising cost of purchasing organic, pasture-raised eggs from the grocery store every few weeks.  Our grocery bill for a family of seven was continuing to grow as the littles' appetites continued to grow.  We felt like we needed to do something to make our old barn work for our family's growing needs.  For many new homesteaders, they find themselves in the same situation.  If you have an existing structure that lacks character and function, you may find these ideas simple and helpful. With some basic DiY skills, raw materials, and a lot of elbow grease, you can find simple ways to sprinkle a little rustic charm to dress up your space for years to come.  If our once small ramshackle of a barn can find new life with simple upgrades, then surely anyone's can.
1. IF YOU CAN'T BUILD OUTWARD, BUILD UPWARD
Space can be at a premium when first starting out.  Being creative and thinking outside the box can help you utilize your space the best way possible.  This side of the barn was originally dark and cut off from the rest of the space. By simply tearing down the old short wall, we had so much more room to play with. We loved the open concept in here, but we still needed to add improvements to help the space function even better.  We didn't want to close off the space again, so we decided to build upwards and use the vertical space.
Recently, my husband added this hay loft to make mucking out the chicken coop easier.  We used to take the wheel barrow and walk clear across the barnyard in the heat of the summer to the hay barn.  Try that for a total of six "fun" runs!  This addition alone has cut our cleaning time in the barn, in half.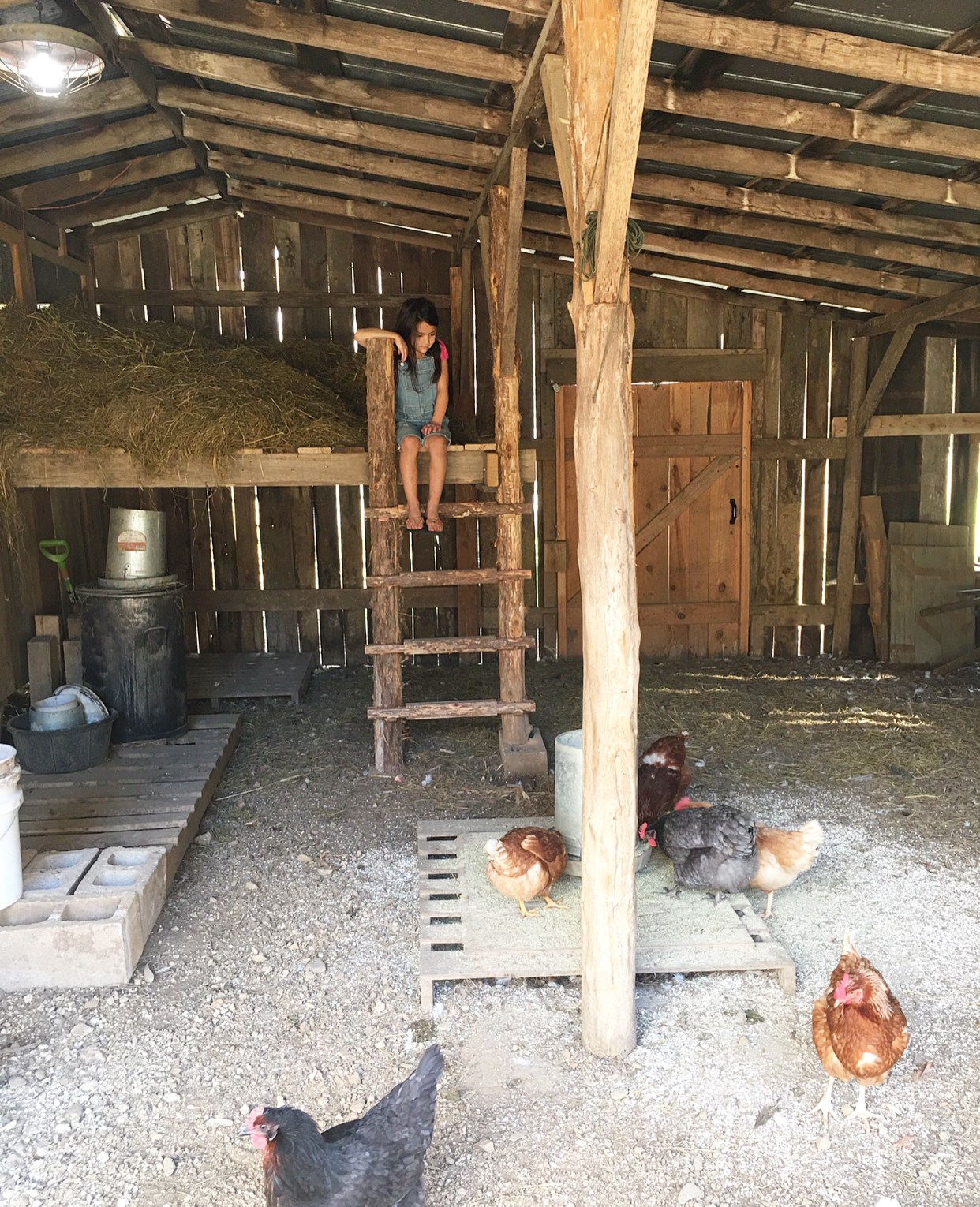 We added this cedar ladder to make access to the hay even easier.  The littles like to play "fort" up here now. (smile) It is amazing how scrap wood and some DiY skills can transform an unused space into a multi-functional space.
2. PURGE AND SIMPLIFY THE SPACE
Living out in the country, it can be easy to accumulate a lot of extra stuff.  With most of our drives at a minimum of 45 mins away, we tend to collect supplies and procure a list of home improvement supplies even when we don't have plans to use it right away.  Better to have it and not need it, then need it and not have it. (wink) But one can take that to hoarding levels, if you don't keep it in check and keep inventory.
Before we started to upgrade our chicken barn, we had to purge and reorganize all the left over supplies and barn wood from the previous owners.  Once we did that, we were able to take a look at what really needed to stay in the space and what we could let go of.  Most of the left over barn wood from our old corn crib that fell over one spring, has been used over the years, in different areas of the farm and farmhouse.  It is so satisfying to be able to use what we have and save the difference.
One of our newest systems to help simplify our chicken coop routine was this water barrel that catches rain water from the barn roof gutter. We built a strong base from scrap wood to hold the weight of all that free rain water.  We ordered a filter to place on the top of the catch barrel and then my husband added the PVC pipe with shut of valve for easy access to washing our hands or for cleaning the chicken watering buckets.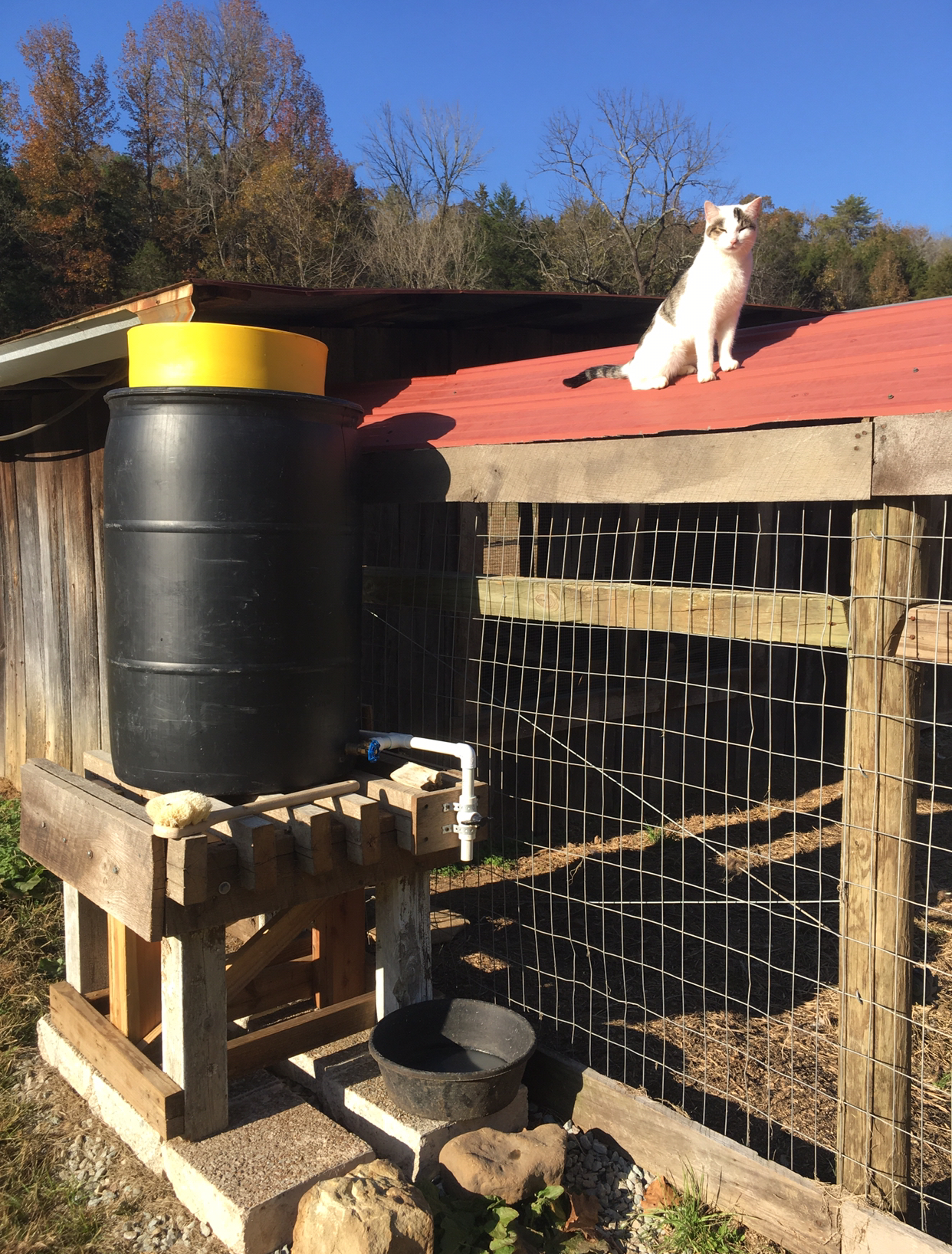 This system is so much easier than lugging five gallon buckets of water from the water pump across the middle field.
3. DEFINE THE SPACE WITH FORM AND FUNCTION
After closing off this hallway and adding this old gate from a previous outdoor project, we placed cinderblocks at the entrance to make a temporary staircase.  It was pretty unstable and we would often lose our footing when our hands were full of heavy bags of feed.  Recently, my husband built these simple, but sturdy replacement steps.  We love how they turned out!  Sometimes, just adding things that make the job easier is a simple solution to some of the hiccups we experience on the homestead.
The small hallway that we enclosed makes it easy to assist with proper ventilation and helps to protect our flock when the sun goes down.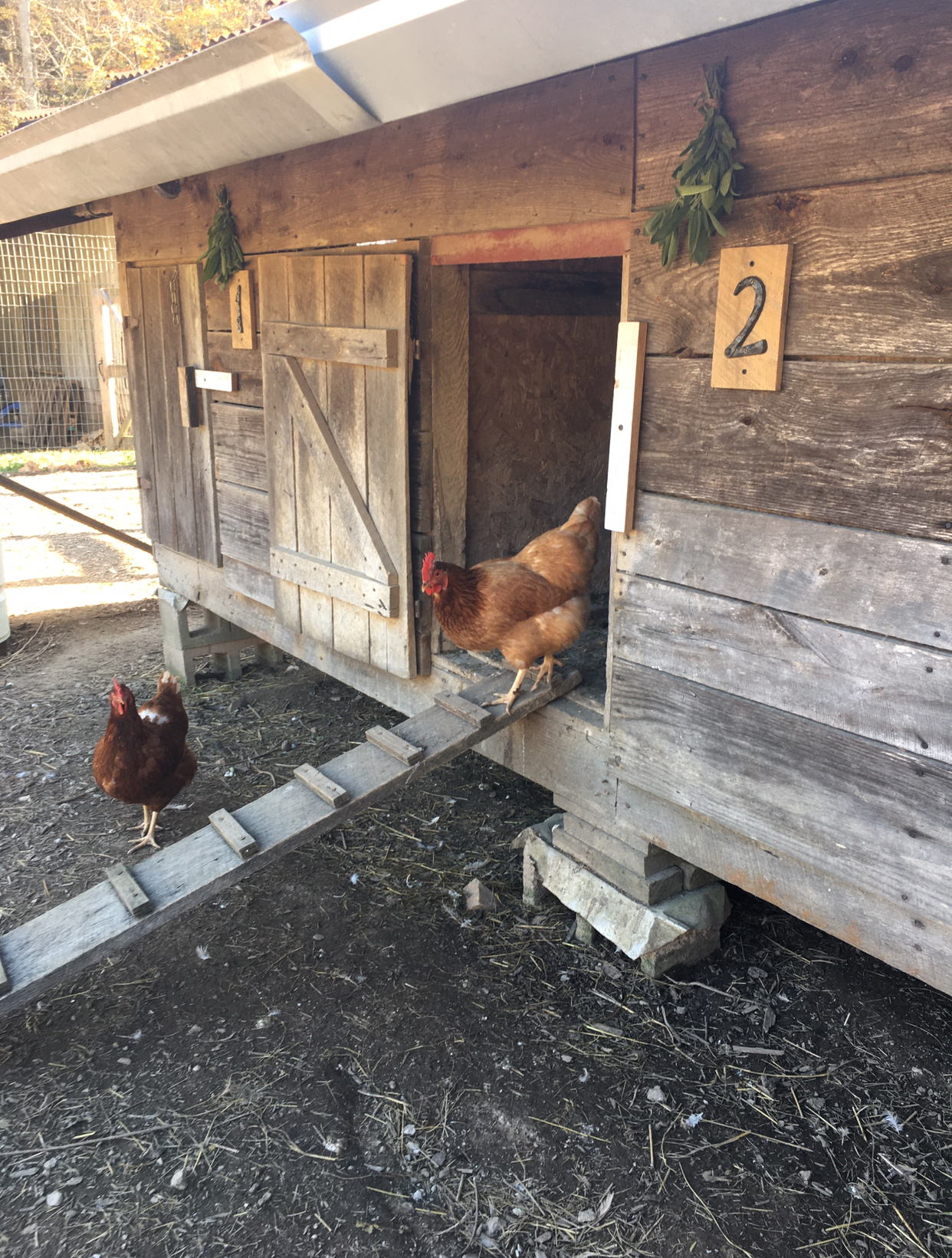 A simple board and some smaller perpendicular pieces to give them a better footing is all this mini DiY chicken walk, required. I think the resident chickens love all the new additions we keep adding to their home sweet home.
4.  ADD PERSONALITY AND WHIMSY WITH NATURAL ELEMENTS
We love adding charm and personality to our chicken barn by adding fresh cut herbs from our "secret garden."  The beautiful fragrance adds a welcoming touch after we have mucked out the rooms and replaced the old hay with the new beds.  Herbs are great for fending off pests and can provide supplementation to  the chickens' diet with helpful medicinal properties.  Plus they look great with the rustic barn wood backdrop. Read more about the benefits of fresh herbs for your brood here.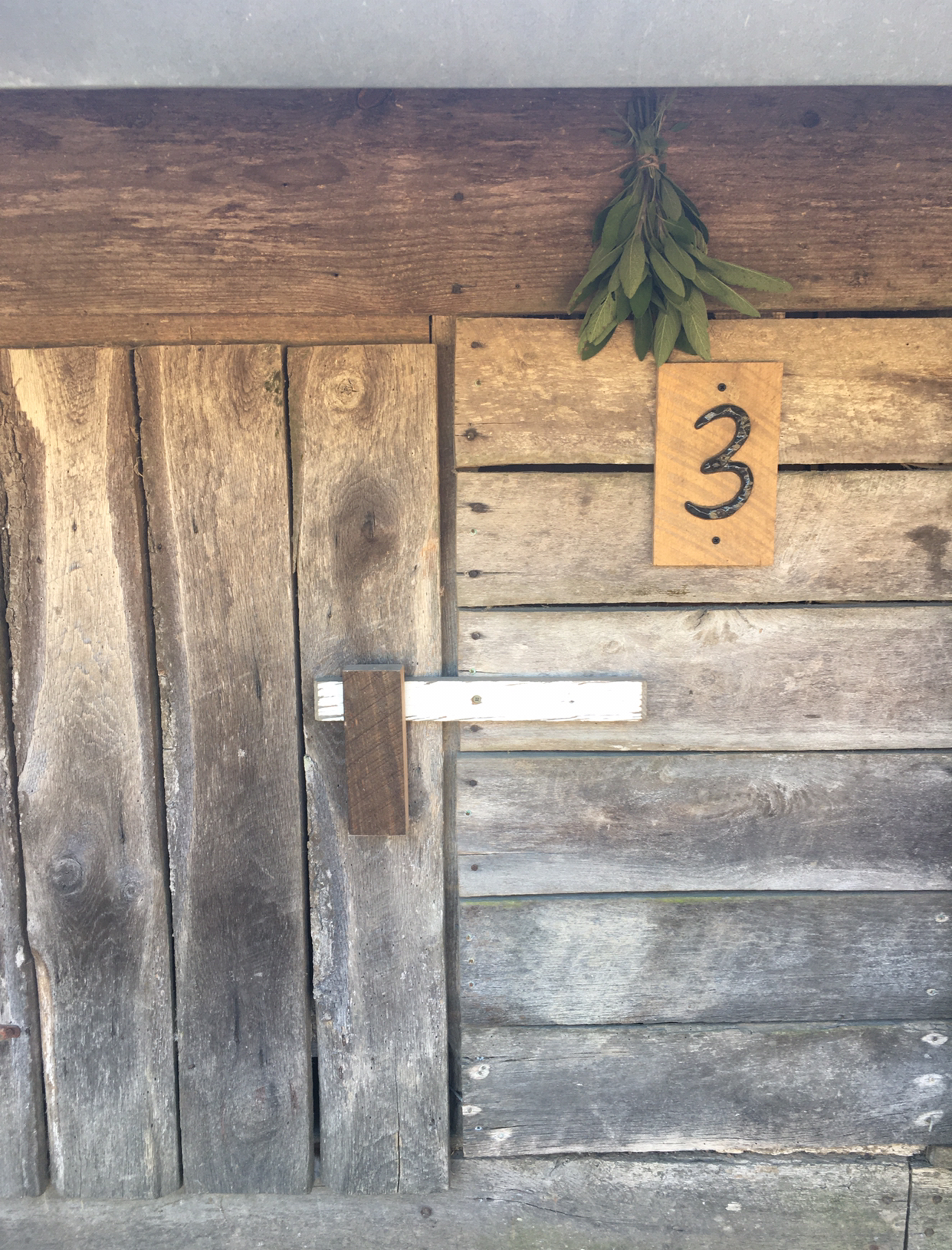 These cute number signs don't just bring a little charm, but they are functional.  There is less confusion on which rooms we are referring to when instructing the bigger kids.  It used to be a guessing game as each family member described the rooms from a different perspective. Now, everyone is on the same page and it looks great, too!
The aged wood planks bring a nice rustic appeal to this old barn.
5. CREATE INTEREST WITH SIGNS
There are a lot of options when it comes to adding a bit of interest to your home or your chicken barn. I found this cast iron sign on clearance at a local shop.  It makes a cute addition to the entryway of the chicken barn.  Eventually, I would like to add a few other finishing touches to our expanding flocks living space.  The top of the chicken barn door is just asking for a handmade sign or a barn light.  Can you picture it?  You can check out how I made our farmhouse sign for our front porch, here.

I love how the black accents pop on the barn wood background.
So, next time you feel like your chicken coop or barn may need a little pick me up, I hope that you'll give these simple ideas, a try!  Having a brand new space isn't necessarily always better.  There is just something about old rustic buildings and the potential they offer!  If your outdoor building has potential and you have some basic carpentry skills, these simple upgrades can make all the difference.