It seems like there is always some pending project going on around the homestead. So, when we get a chance to tackle a mini project, we jump at the opportunity. You know, those projects that you can actually accomplish in a day or two?  They're the best to boost morale and help you stay motivated for those not-so-small projects.
This little turquoise cabinet was one of those "quick" projects that actually took me two years to complete. You read that right!  Ugh!  It wasn't a challenging task. The delay in checking this DiY off my list was actually due to the fact that I didn't know what color to choose. I knew that after having stripped paint and stain off of several old pieces already, I was needing a break from that kind of detailed work.
We found this Magnolia Home matte paint during a birthday trip up to Gatlinburg this summer. So, I pulled out a can of primer paint, gave it one coat, and then finished it off with two layers of this Southern Grown paint color.
**This post may contain affiliate links.  Please see full affiliate disclosure here.
THE ROADSIDE FIND
This is what the little vintage cabinet looked like when I spotted it at a roadside yard sale two years ago. They were asking $75 for it, but I was able to talk them down to $50. I attribute my haggling skills to being stationed in South Korea for 15 months, once upon a time.  I love traveling and exploring new places and experiencing new communities and cultures.
Photo source- GracefullyHome.com
THE INSPIRATION PIECE
Back in 2018, we had won a free night stay at the Story Book Cottage in a nearby town.  It was perfect timing and we were able to celebrate with a belated birthday surprise for our February birthdays. The beautiful cottage was a sight to see!  My local friend, Kim from @cityfarmhouse had styled and decorated this gorgeous Air BNB.  Every single inch of this home was magazine-worthy perfection! Jamie @the.big.blue.house was such a great host. It was an amazing blessing for the whole family!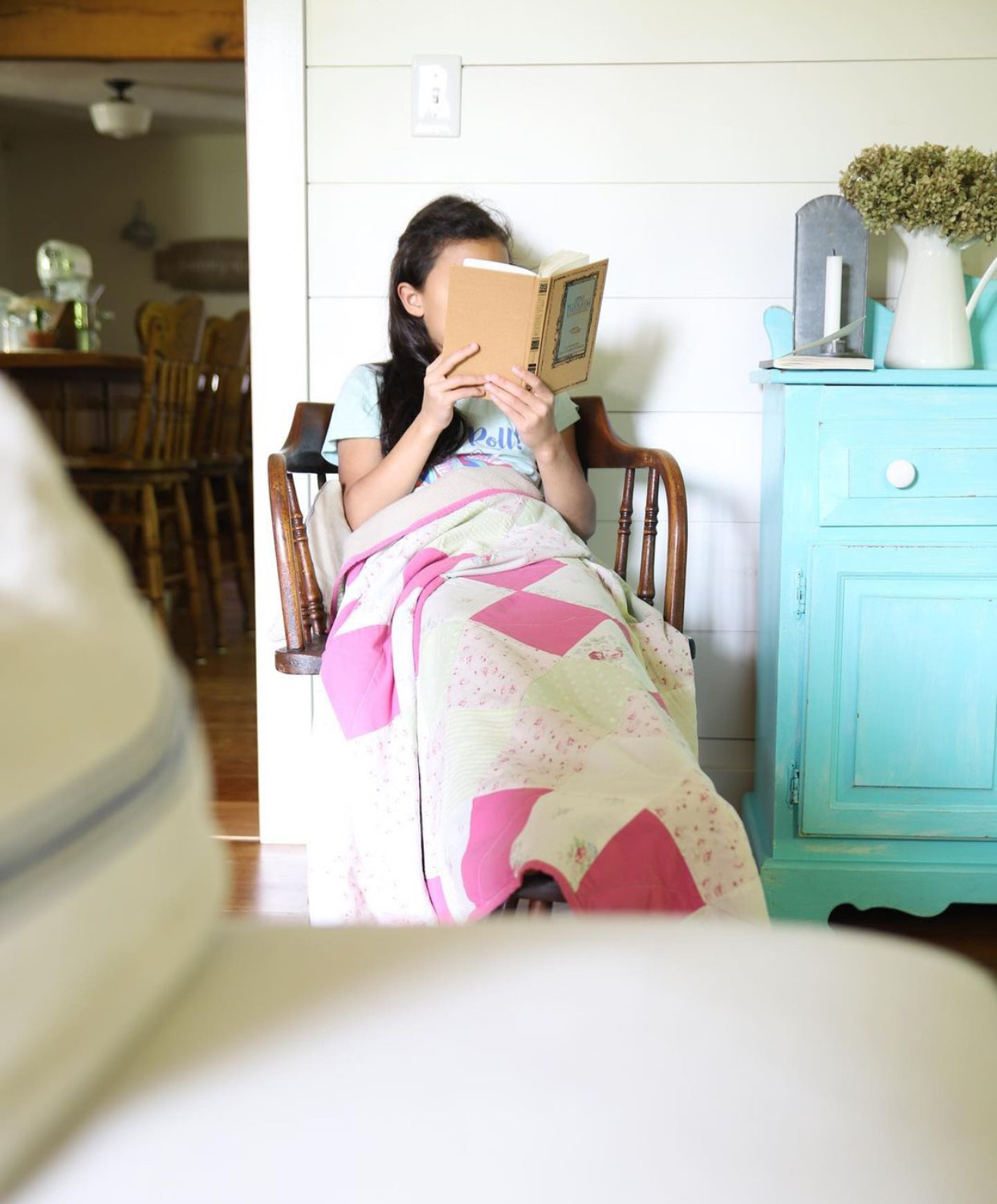 FORM AND FUNCTION
With so much going on around the farm, it is super important for our farmhouse to function efficiently. But with functional pieces throughout the farmhouse, I also want to create a home that offers spaces that are inviting with simple and beautiful vintage style. Staying true to the style of our home, honors the history and those who put their sweat, blood, and tears…not to mention their backs into building this old modern farmhouse.
This corner of the living room makes for a comfy reading spot for our homeschooling little ones. Now, more than ever, this corner looks more cozy and truer to our old farmhouse style.
All it took to transform this little vintage piece was one coat of primer and two coats of the Southern Grown matte paint. The Magnolia Home paint dried quickly and was a dream to work with. Thick and beautiful coverage.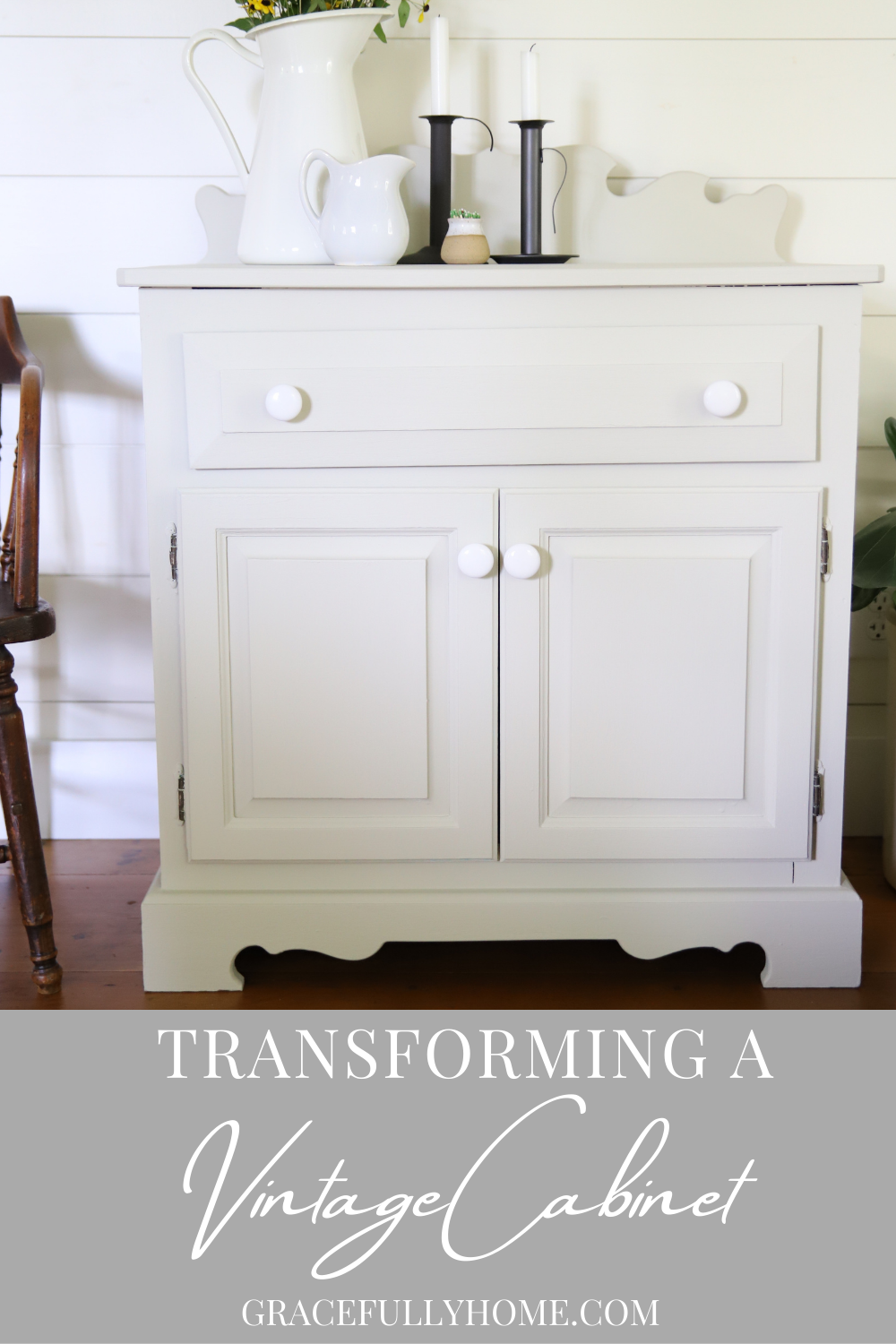 Sometimes the simplest projects can make the most impact in a small space. This once ugly duckling cabinet has finally, after two years, graduated up to beautiful vintage status and I couldn't be more thrilled. Now, all I need to find is some artwork for above the vintage piece. Stay tuned and follow along.
Do you have a favorite mini project at your home?