Learn how simple it is to make this delicious and comforting homemade ham and potato soup. This nourishing and filling soup is a favorite during the fall and winter months.
LEFTOVER HAM IDEA
This year has flown by! Before we know it, it will be Thanksgiving again. And when it does come, there will surely be a host of easy left over recipes floating around the internet.
We don't usually make ham a Thanksgiving tradition, but when my folks send us one as a gift, we typically will have ham to use for several future recipes to come. I like to take what we will use for the initial ham meal and then divvy up the rest into ziplock freezer bags. They do great in the freezer and are wonderful on those those busy days when I need something fast, but don't want to compromise our healthy eating habits.
SIMPLE MEAL PLANNING TIP
Having a well thought out plan for healthy meals doesn't need to be stressful or overwhelming. It certainly doesn't have to be an afterthought, either. A nice balance is simple with a little bit of prep work on the front side. Learn more about how I like to prepare simple homemade meals without the stress or a fancy program here.
Today, I am sharing one of our favorite comforting soup recipes. This batch in the photo was lovingly prepared by our 14 year old daughter. She did an excellent job and baked some homemade biscuits to go with our soup and salad. Simple, but delicious!
HOW TO MAKE HOMEMADE HAM AND POTATO SOUP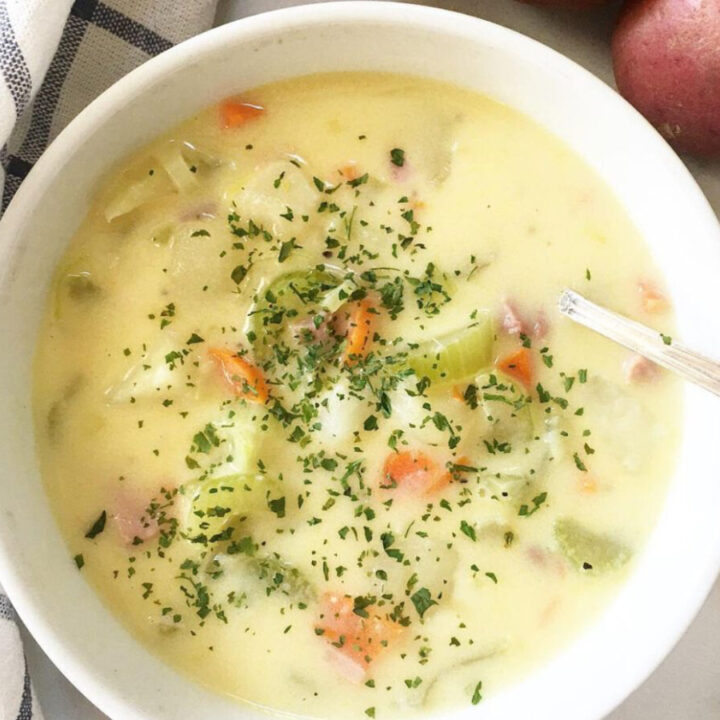 Homemade Ham and Potato Soup
This simple and creamy homemade ham and potato soup is such a delicious and nourishing family-friendly meal. Served with homemade dinner rolls and you are set.
Ingredients
2T avocado oil or evoo
4-6 medium size organic red potatoes (peeled and diced)
3-5 celery stalks (diced)
2-3 carrots (peeled and chopped)
1 medium organic yellow onion (chopped)
6-8 slices of natural (hormone free) cooked ham (diced)
4c filtered water
2T Italian seasoning
1 tsp garlic powder
1 tsp onion powder
5T Einkorn flour or organic all-purpose flour
5T organic grass fed butter or organic butter
2c organic whole milk. or heavy whipping cream
salt and pepper to taste
Instructions
Pour 2T oil into a stockpot and turn heat to medium high.
Place potatoes, celery, carrots, onions, and ham into pot and sauté for 3-5 mins.
Add water and bring to boil. Boil on medium high for 10-12 more minutes.
Stir in spices, herbs, and add the salt and pepper.
In a separate sauce pan on medium low heat, add the slices of butter.
Gently whisk in flour with a metal whisk or fork.
Cook for about a minute or two to form the roux.
Slowly stir in the milk and continue to whisk until no lumps are present. About 5 minutes.
Next, take the milk mixture and add into the stock pot. Cook soup until heated thoroughly. Best served when hot.
**This post may contain affiliate links. Please see full affiliate disclosure here.
Note: Purchasing through any of my blog links and/or side bar buttons, helps to keep this blog running. All reviews and opinions of any items shared on GracefullyHome.com are of my own opinion and are not swayed by sponsorship or collaborations. Please keep in mind that I only share products or services that my own family have found helpful and healthful with those who visit my blog. Thank you for your support and for continuing to follow along!
SUPPLIES AND TOOLS YOU WILL NEED
wooden cutting board
sharp knife (I like these Santoku knives for chopping and dicing.)
measuring spoons
measuring cups
soup stock pot (We have an old Emeril stainless steel pot similar to this here.)
PIN IT FOR LATER: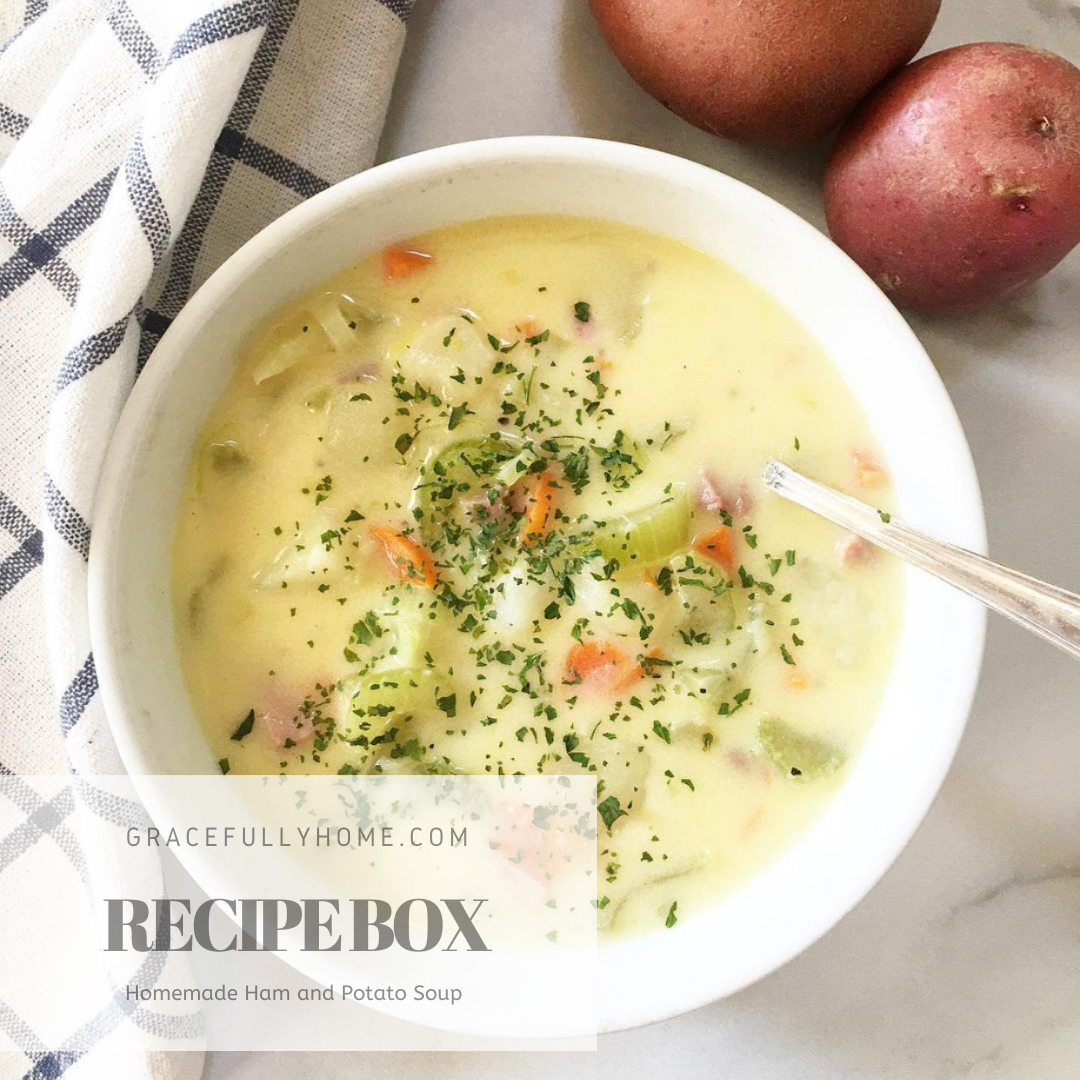 FIND MORE DELICIOUS AND COMFORTING SOUP IDEAS