Are you looking for a simple and fast meal for a busy week? Well, this simple sausage and kale lentil Instant Pot soup recipe may just become your new best friend. Come learn how to make this easy and nutritious soup recipe this fall.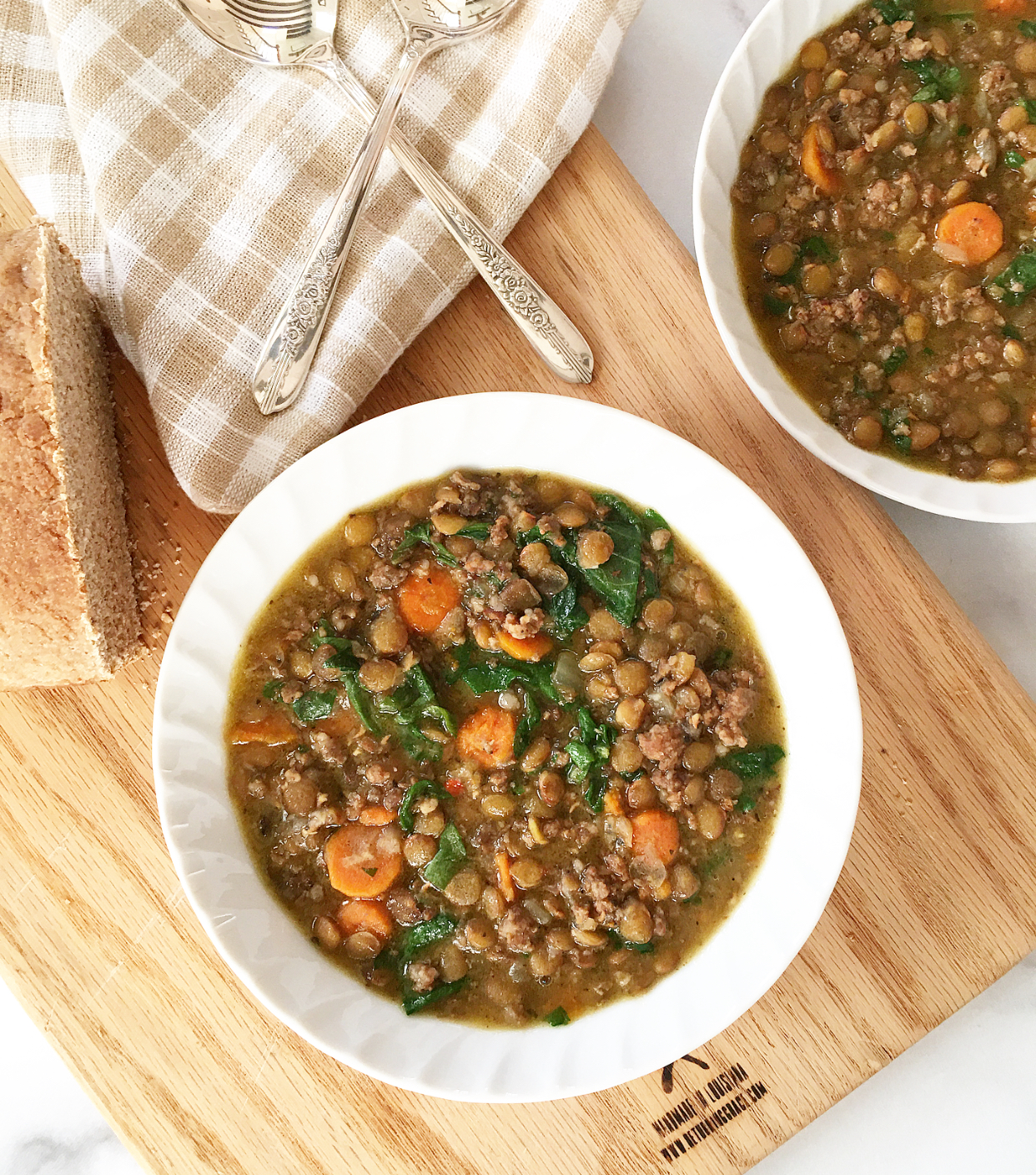 There are so many reasons to love the autumn season. From the beautiful change of scenery to the milder weather. And who doesn't enjoy picking apples or drinking apple cider by the fire in the fall?
When we were stationed in upstate NY, we had a family tradition each year. We would head up to the local cider mill to stock up on fresh apples, apple cider, and some fresh apple cinnamon donuts. We have so many fond memories from our time there.
The changing seasons were so amazing and we never minded the long winters or being snowed in from time to time. Our old radiators made staying home so warm and cozy! It was where we started our family and where my love for making food from scratch was cultivated.
NOTE: You can easily make this recipe without an Instant Pot (IP), but I have found my IP so helpful for making homemade, made from scratch recipes for our large family.
PIN IT FOR LATER: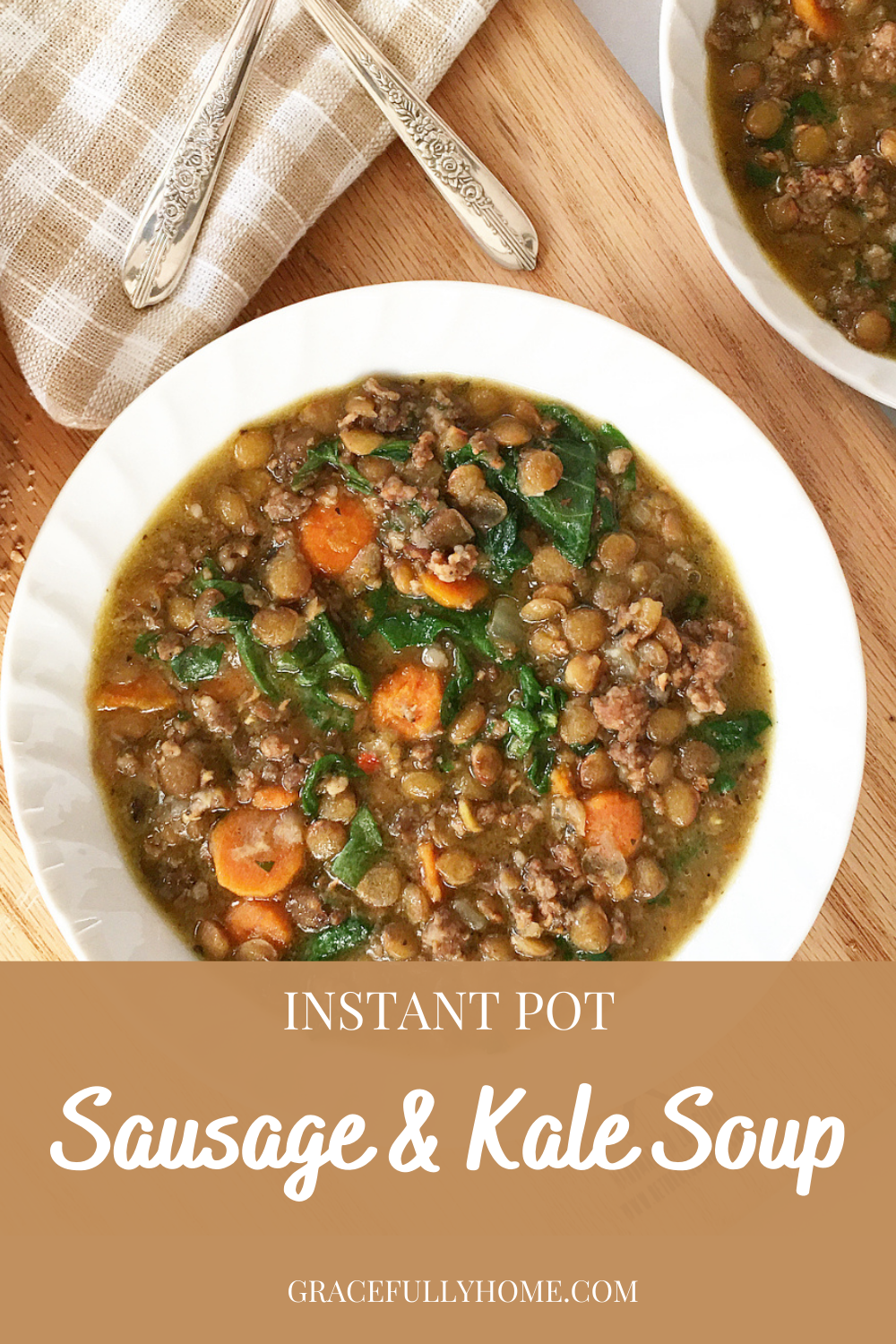 Soups and stews have been a regular favorite of our family's for years. It often makes its way onto our weekly menu board. Especially during the start of the fall season and getting us through the winter.
We love trying new combinations and using a variety of techniques to discover new flavors and textures.
I rinse the lentils before adding it to the pot.
NOTE: We use organic and natural ingredients as much as possible in our home to help decrease our exposure to toxins and chemicals and the health problems they can cause. This includes the vegetables, herbs, spices, oils, and meat in this recipe.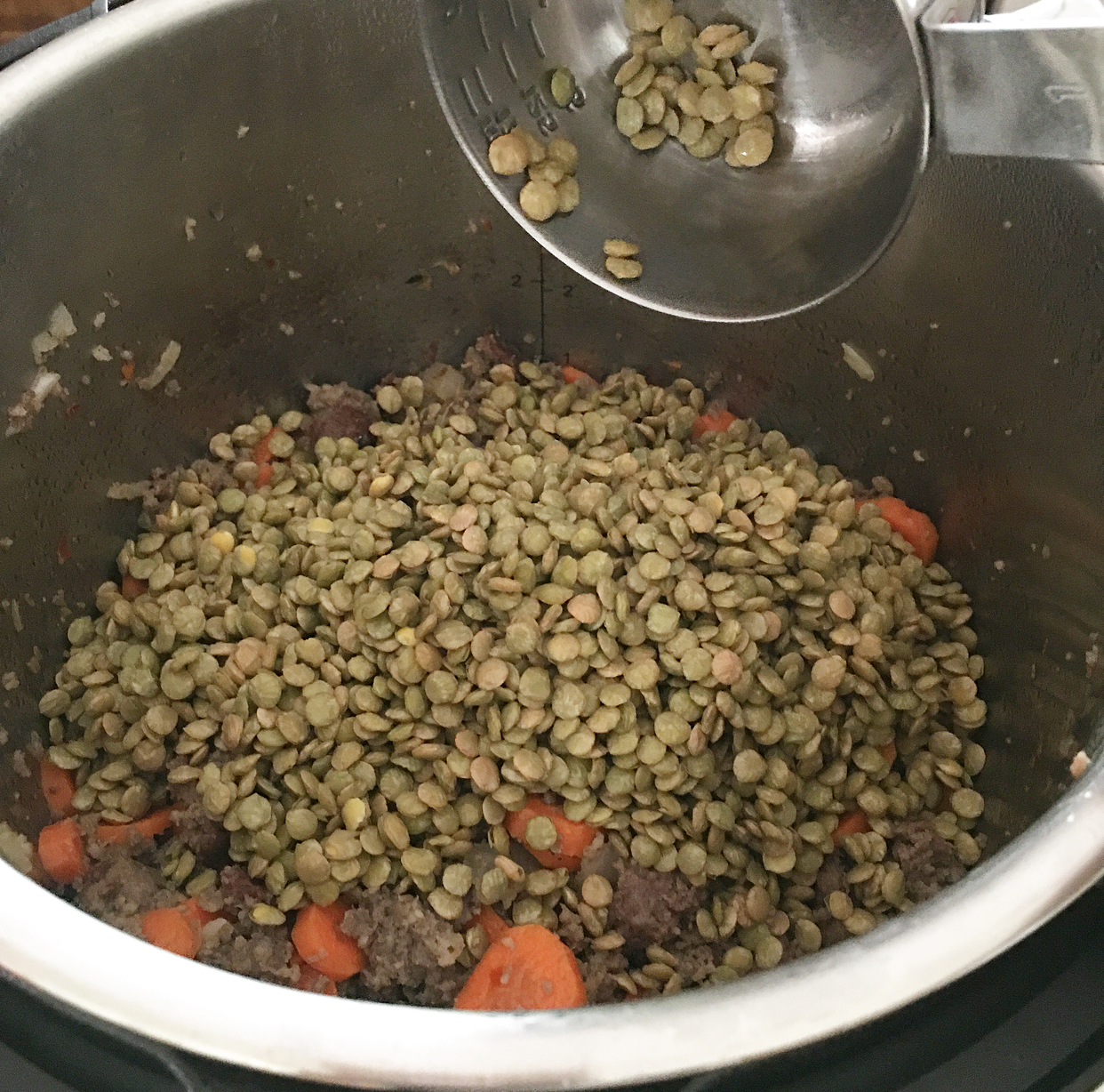 Adding lentils gives this simple soup more nourishing benefits. Lentils offer iron, folate, and protein. They contain beneficial polyphenols that help reduce certain health risk factors.
They cook in no time at all and because we are using the pressure cooker, the process reduces their anti-nutrient properties. Making it easier to digest and absorb all the healthy benefits it offers.
NOTE: I normally add potatoes to this recipe, but we were all out at the time I took these pictures. I also don't typically peel our vegetables like carrots or potatoes, unless the skin has darkened or has a few black spots because the skin contains a good amount of the vitamins, minerals, and fiber that help to contribute to the healthy benefits of the food.
Before serving, I add the kale.
For this recipe, you can use your favorite breakfast sausage or if you prefer, you can leave out the meat completely and the chicken broth to make this simple soup a vegetarian option.
That is what I love about soups and stews! They are customizable to your family's liking.
HOW TO MAKE SIMPLE SAUSAGE AND KALE LENTIL IP SOUP
Recipe Box: Simple Sausage and Kale Lentil Instant Pot Soup
Come learn how to make this easy and nutritious soup recipe this fall.
Ingredients
2T avocado oil (or oil of your choice)
1 medium yellow onion
4 cloves garlic
1 lb breakfast sausage
3 carrots
2 celery stalks
5-6 small red potatoes
2 handfuls of fresh kale (chopped)
1/2 tsp garlic powder
1T Italian seasoning
1/4 tsp black pepper or to taste
1.5c lentils
4c chicken bone broth (vegetable broth will do as well)
Instructions
Turn on Instant Pot and select sauté function.

Pour avocado oil into the pot.

Place sausage into pot and brown.

Clean veggies and chop into bite sized pieces.

Push meat to one side and sauté onion and garlic until translucent (about 2-3 mins).

Add the other veggies and mix well, allowing the veggies to partially cook while getting the other ingredients ready.

Next, add all the herbs and spices.

Add pre-rinsed lentils and chicken broth. Mix well.

Place IP lid on and secure. Select the "Pressure Cook" function and set to 15 mins. Push "Start."

Allow a minimum of 5 mins to vent naturally or carefully release the steam manually with a towel or oven mitt.

Before serving, sprinkle fresh chopped kale into pot and give it a good stir.

Notes
Best when served hot.
I tend to use less sea salt and spices on this recipe because our breakfast sausage is already pre-seasoned from our butcher.
PIN IT FOR LATER:
Soup and stews are nourishing and simple. They are an easy way to add vegetables in your diet and they are great for left overs.
They are also very forgiving and you can use the basic ingredients to make all types of delicious blends.
Use our simple recipe as a starting point and add your favorite ingredients to make it your own.
CHECK OUT THESE OTHER SIMPLE SOUPS FROM OUR FARMHOUSE RECIPE BOX: