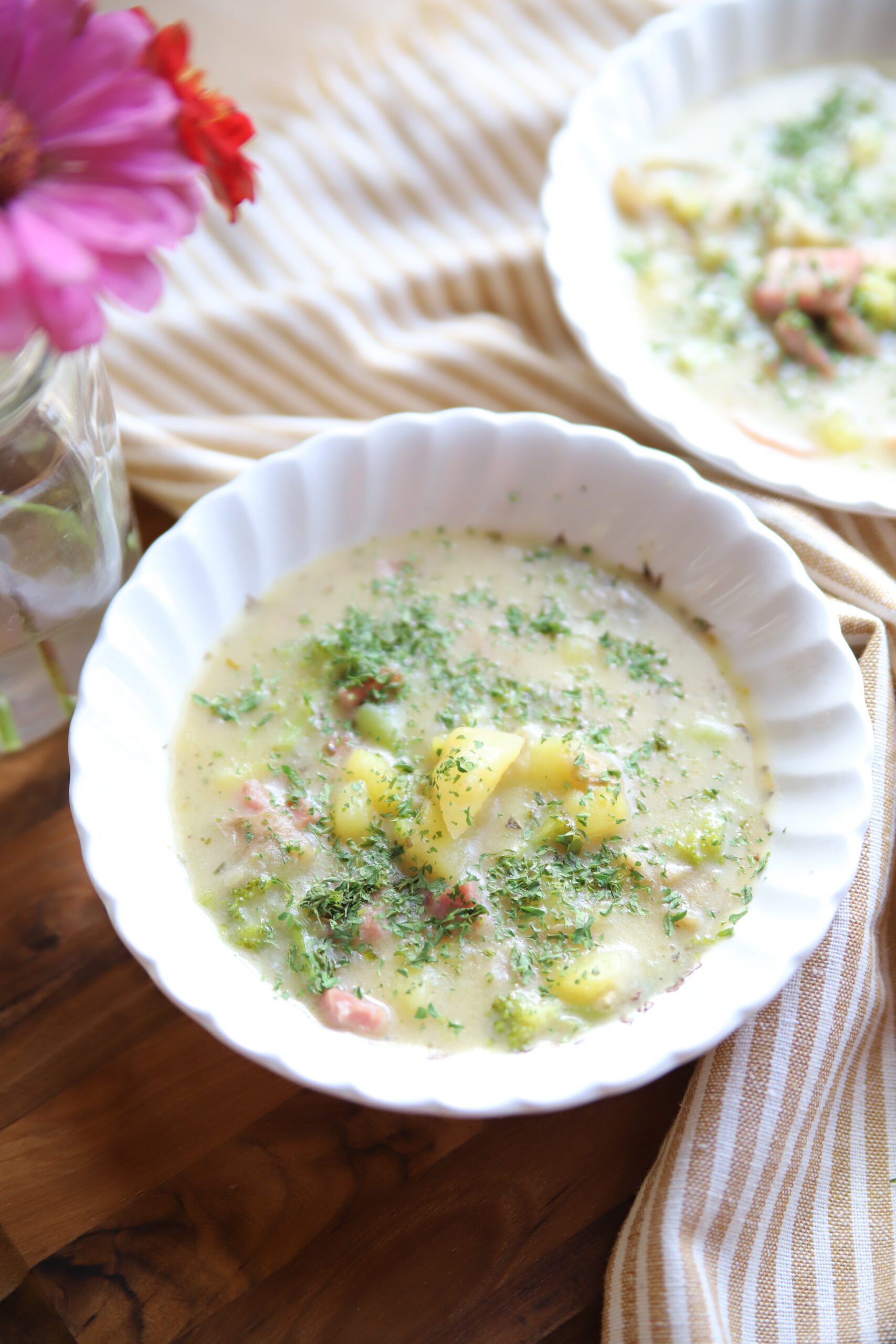 HEARTY HAM, POTATO, AND BROCCOLI SOUP
I think it's safe to say that SOUP is the ultimate comfort food! Especially during the chillier months, starting in September each year. Wouldn't you agree? Not only are soups super delicious, but they are also super SIMPLE to make. Our family loves soup and can eat it on repeat for an indefinite amount of time in the fall and winter. What I love most about soup is that there are really no limits to what you can conjure up! There are so many different combinations of ingredients for every palette. Even the pickiest of eaters in our farmhouse absolutely goes gaga over soup nights! (smile)
PIN IT FOR LATER:
The SECRET to really delicious soup is all in the base. For many of our made from scratch recipes, the main ingredients don't change much. Whether I am cooking up a recipe with a hint of Mexican or a dash of Italian, I always start with chopped onion and garlic and then end with a culinary array of simple herbs and spices. Many of them harvested from our own garden here on the homestead. This simple concept alone can make or break a well-planned meal.
It takes a bit of experimenting with what flavors work well together, but you really can't go wrong with onion, garlic, and tomatoes. From there I build the base up with our choice of veggies, broth, stock, beans, potatoes, and salt and pepper to taste. You'll notice that carrots, celery, and peppers find their way into the mix of many of our favorite combinations photographed below.
Next time you put a pot on the stove, give some of these winning combinations a try and get creative!
SIMPLE COMBINATION SOUP IDEAS

This is one of our favorite recipes to make on a cold winter night. With an Instant Pot, it can be ready to serve in less than 30 minutes, from start to finish.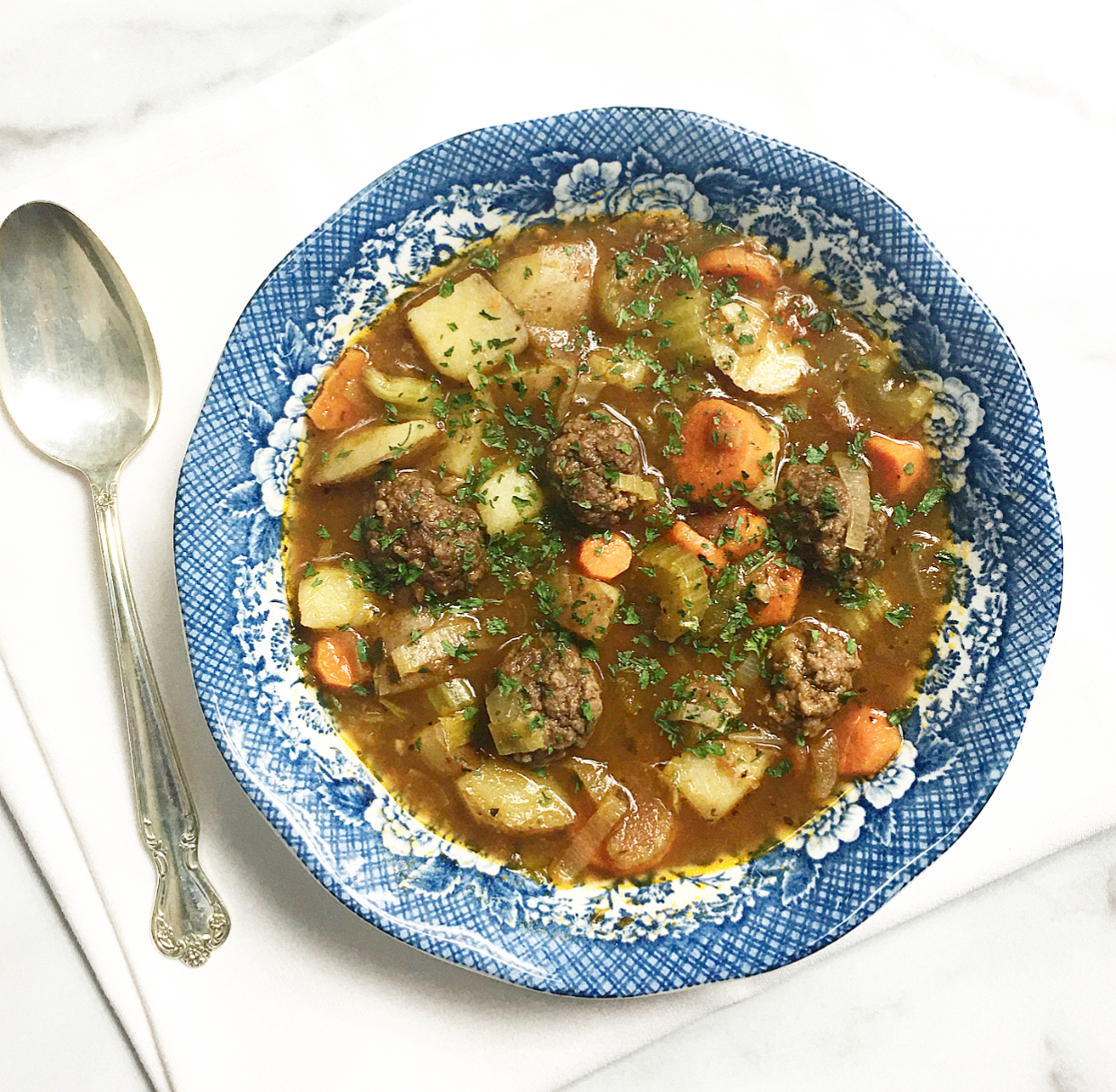 MEATBALL AND POTATO
Pre-made grass fed meatballs and organic diced potatoes make this soup a hit after a long and busy day. I simply warm my thawed pre-made meatballs in a skillet with a couple tablespoons of oil. As that's cooking, I dice my veggies, sauté on medium high until translucent, but not overly cooked. Then add my broth, herbs, spices, and salt and pepper to taste. Bring to a boil and then lower to a simmer for 15-20 mins. I like to sprinkle fresh or dried parsley at the end to give it another pop of color and more flavor. Learn how I prepare our grass fed meatballs for simple meal preparation here.
Here's another classic that hits the spot on a chilly winter day. We don't typically eat a lot of ham, but when we can get our hands on some natural and chemical/hormone free options, we love to make this simple recipe.
MEATBALL AND TOMATO
This is a variation of the meatball and potato soup shown previously. This particular night, I added some homemade canned diced tomatoes into the chicken broth to make a nice zesty flavor.
HAM AND WHITE BEAN
I love colorful meals! Every chance I get, I like to add more color into my recipes. For our weekly meals, I rarely use a formal recipe and just tweak a recipe from memory or make it up as I go. My husband is constantly asking me if I wrote the specifics on my new combinations, so I can duplicate it. I always forget to and just cook by sight and taste! (wink)
CHICKEN BONE BROTH
We love to make Instant Pot chicken at least every other week. When we have picked all the meat off the bones, I simply throw the leftover bones into my crockpot and add some onions, garlic, carrots, celery, water, and some fresh herbs to cook on low for 24 hrs to make homemade bone broth. It brings out the wonderful flavor, minerals, and helps to support good gut health. I love to use it in place of regular chicken broth, when I have some on hand.
BONUS BONE BROTH TIP:
Most sites recommend using up your bone broth within 3-5 days, but we have found that when the natural fat hardens on the top of the gelatinous liquid, it can last much longer. Even up to 6 months in the refrigerator. As long as the layer of fat is still hard and has not been penetrated. If air is allowed in, it will need to be consumed between the 3-5 day window. No matter what method you choose to use, ALWAYS give it a smell test and a visual look to insure it is still safe for consumption.
FIND FOR MORE SOUP IDEAS