Just like that, summer is almost over and the cooler evening temperatures are helping kick off the start to the pre-fall season. In honor of cooler nights, it only seemed fitting to get out our comforting soup recipes from our trusty recipe box and whip up a batch of hearty ham, potato, and broccoli soup for dinner.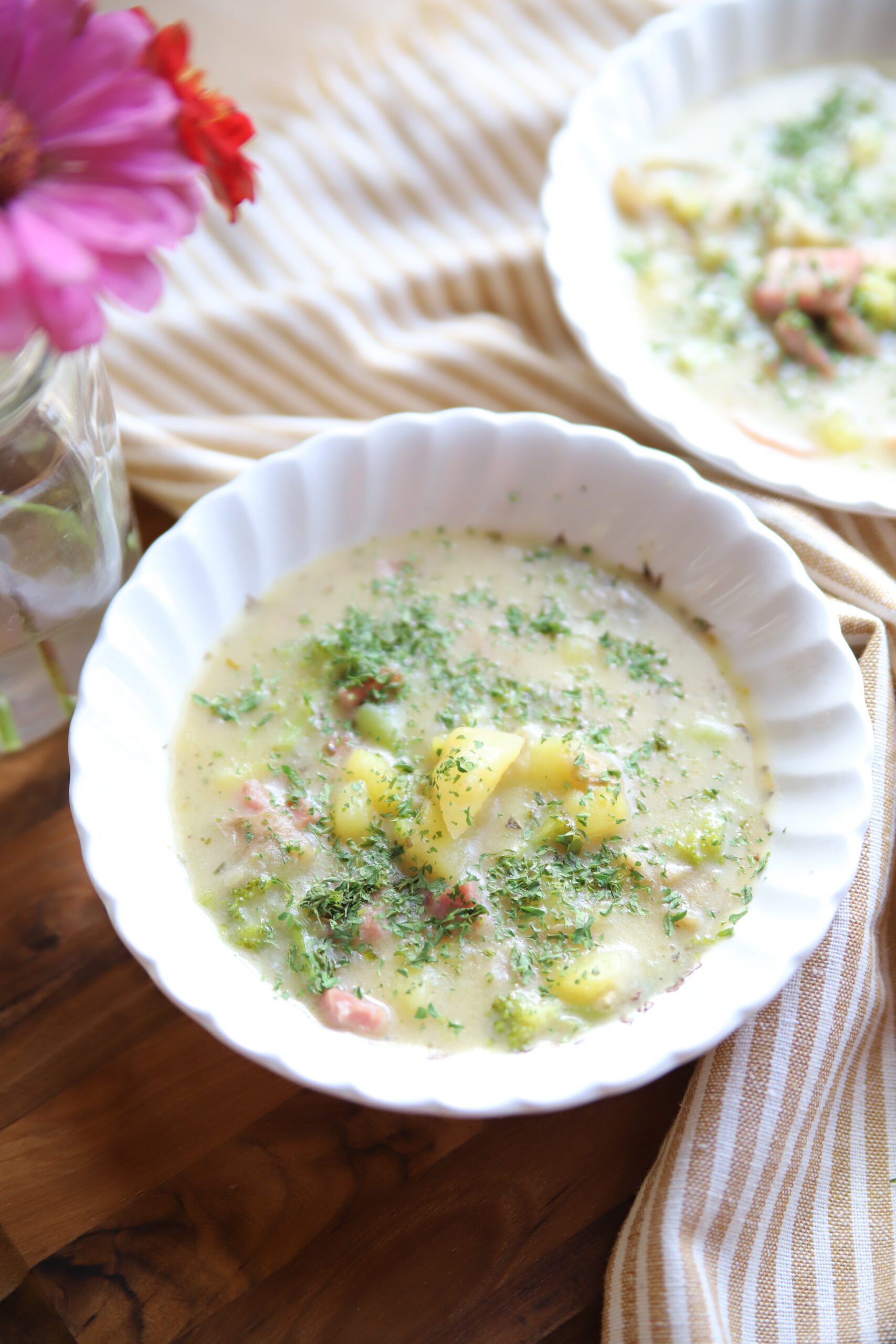 On our way home from music lessons this week, I made a quick stop to the grocery store and saw that they had natural hormone-free and antibiotic-free ham packages for sale.
As a result from this unexpected treat, I put off our previously scheduled "shepherd's pie" and replaced it with this simple, but delicious ham, potato, and broccoli soup for supper.
PIN IT FOR LATER: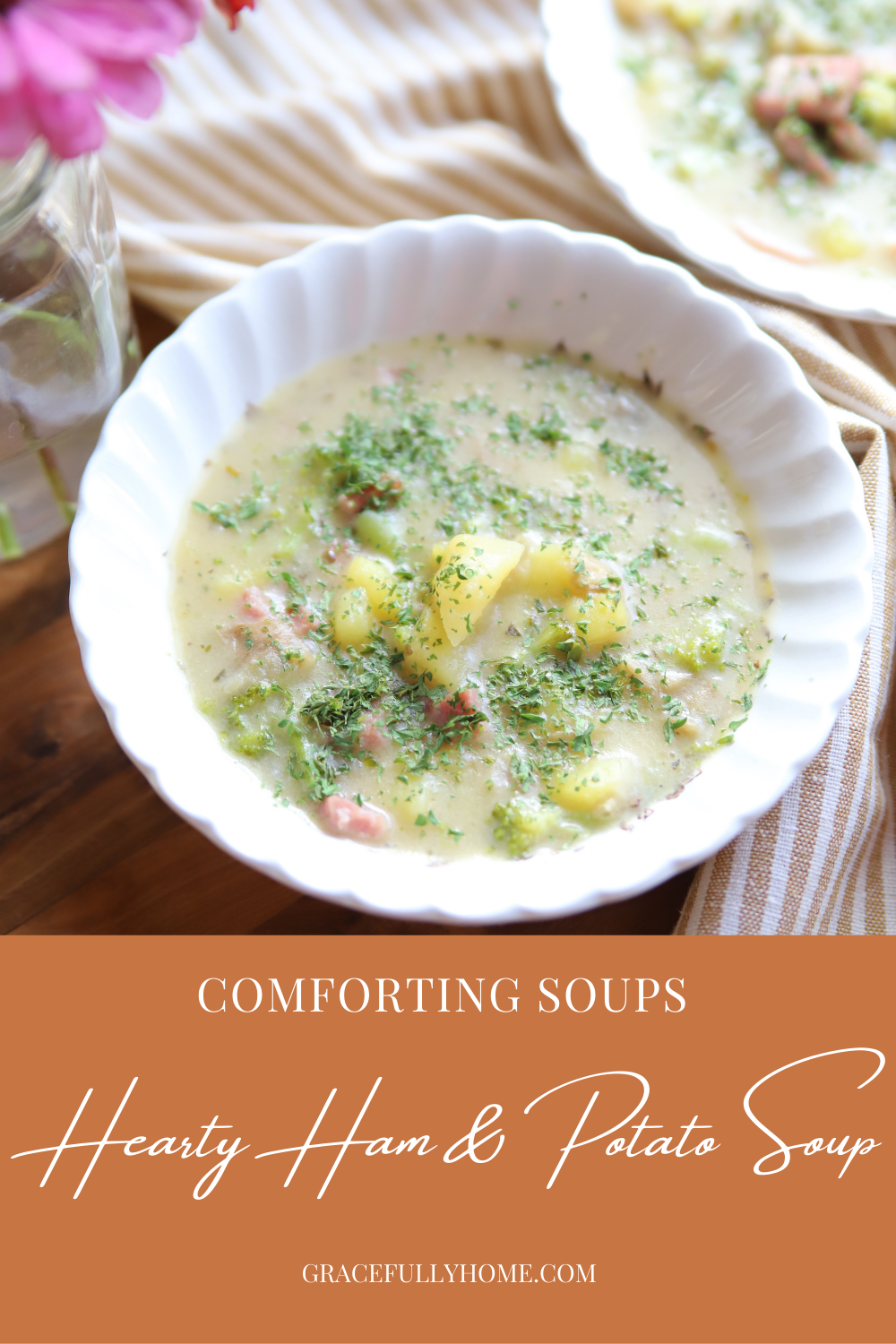 The family was so excited! We served it up with a big mixed salad, tossed with red peppers, English cucumbers, and lightly toasted almond slivers. Along with our fresh greens, we warmed up some delicious homemade sourdough bread and smeared some grass fed butter on it.
BONUS TIP
See why we love making homemade long fermented sourdough bread and using freshly milled Einkorn in place of commercially grown and processed flour here.
The health benefits from these are worth a look.
This recipe offers a mouth-watering blend of flavors in every single bite!
**This post contains affiliate links. Please see full affiliate disclosure here.
SUPPLIES AND TOOLS YOU WILL NEED
wooden cooking spatula

sharp knife (I love our Santoku knife similar to this one here for chopping and dicing)
HOW TO MAKE HEARTY HAM, POTATO, & BROCCOLI SOUP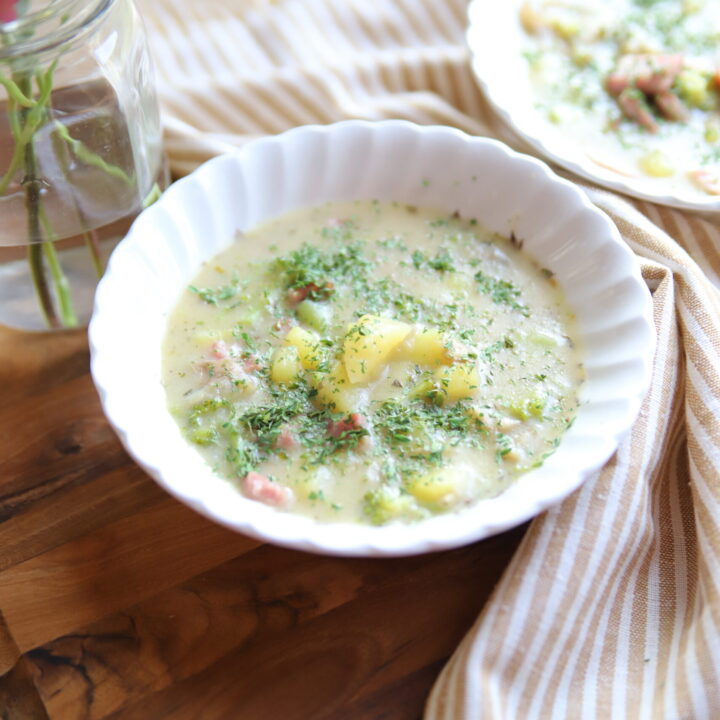 Hearty Ham, Potato, & Broccoli Soup
This simple hearty soup made with everyday ingredients makes for a quick and easy way to add comfort and warmth to your dinner table. Serve it up with some homemade sourdough bread and grassfed butter and enjoy!
Ingredients
1 medium or 1/2 large yellow onion, diced
10 small chopped potatoes (or 3-4 large potatoes variety of choice)
3-4 cups of natural ham, diced (use more or less for your family's size)
4T real grass-fed butter
3T Einkorn flour (or organic all-purpose flour)
2C organic broccoli, chopped
4C organic chicken bone broth
2C organic whole milk or heavy cream
1-2T Italian seasoning
1T onion powder
1/2-1 tsp Pink Himalayan sea salt
Pepper to taste
Parsley for garnish (fresh or dried)
Instructions
Rinse or wipe veggies prior to chopping.

Prior to sautéing the ingredients, chop onion, ham, potatoes, and broccoli and set aside.

Next, preheat soup pot or cast iron dutch oven on medium high heat. Add butter and melt. Note: Be careful not to burn the butter.

Place the diced onion in the pot or dutch oven and sauté for about 3-5 mins or until the onions are translucent in color.

Add chopped potatoes (skins on for a chunkier soup) and mix with wooden or metal spoon.
Add the Einkorn flour and mix to combine.

Pour in the chicken bone broth and stir.

Bring to boil and then back to a simmer for 15 minutes or until the potatoes are cooked.

Lastly, add broccoli and pour in the organic whole milk or heavy cream, and simmer for an additional 5 minutes.

Serve with buttered homemade sourdough bread and top with fresh or dried parsley.

Nutrition Information:
Amount Per Serving:
FIND MORE COMFORTING SOUP RECIPE IDEAS