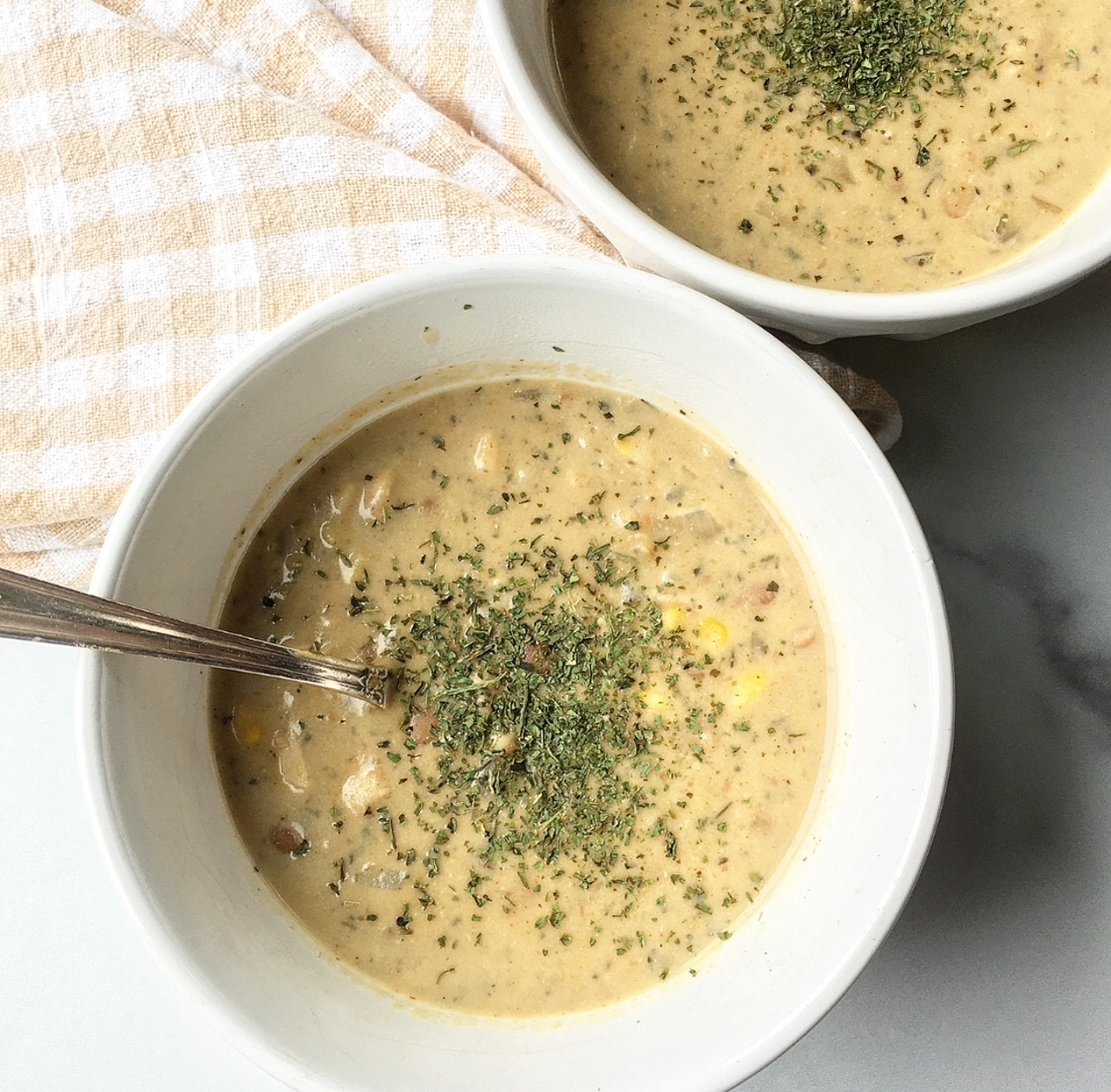 Fall is my favorite time of year for so many reasons.  There is the fact that it is absolutely gorgeous to watch the the colors around the countryside change. And then there is the fact that those pesky bugs of summer are not so pesky when the temperatures drop. Hallelujah! But one of my all time favorite reasons is that the chill in the air means we get to fire up our wood burning stoves and that we get to make delicious homemade soup to help warm us up after enjoying more outside time.
This simple creamy white chicken chili has easily become a family favorite in the hollow.  It is so delicious and filling that you may find it on our menu board twice in one week.  (smile) The flavors blend so well and are so satisfying. Served with fresh cilantro, sliced avocados, a side salad, and some homemade sourdough bread, and OH MY…cue the Happy Dance!  You'll find that this white chicken chili recipe is different from the traditional white chicken chili version.  This recipe reminds me of a green chicken enchilada recipe that a dear family friend would make.  So good!  It's all in the secret ingredient!  Hope you'll give it a try.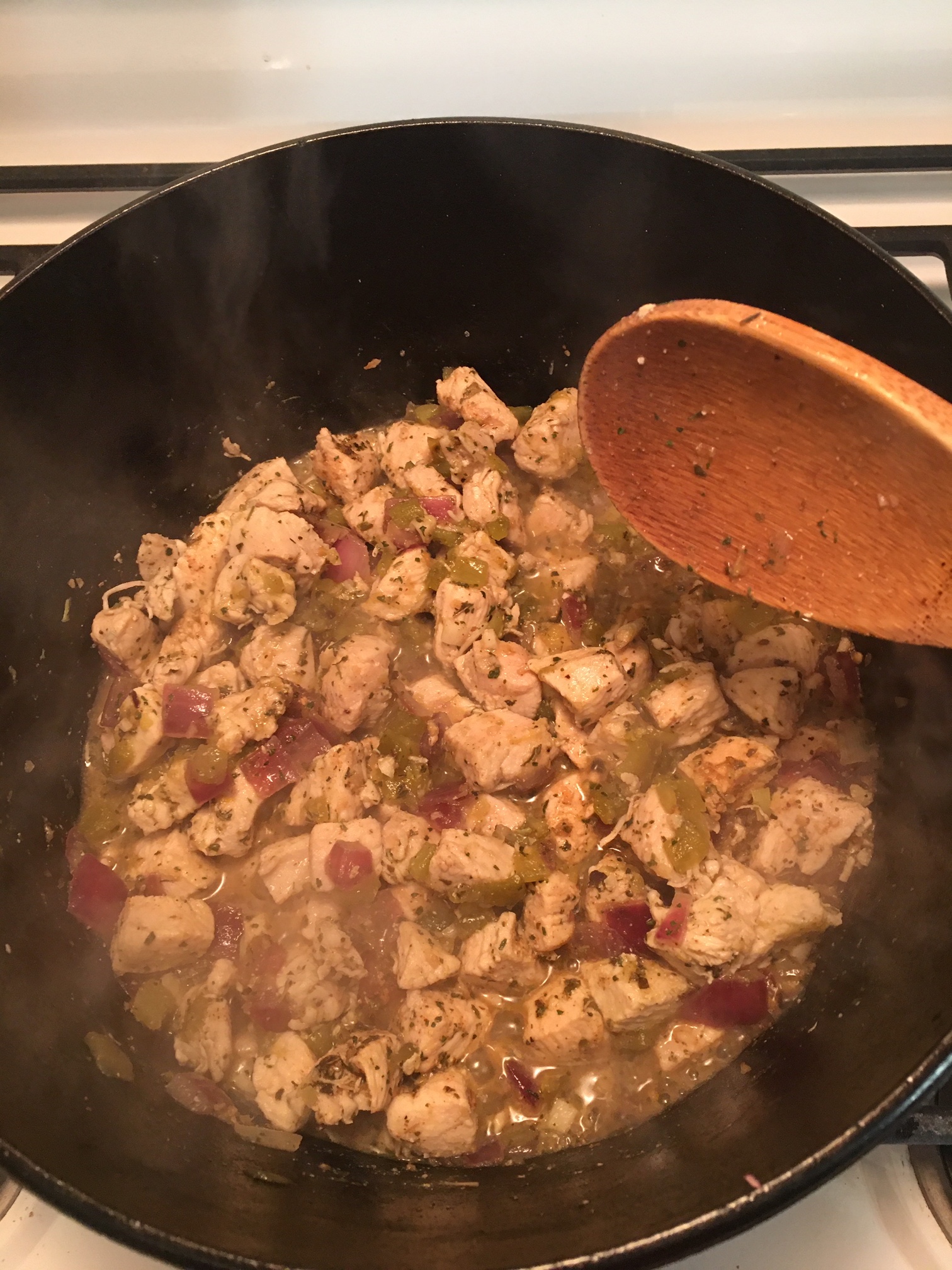 Look at all that yummy goodness!
I love using our canned beans.  These were made from dried beans that were soaked overnight and then canned in our pressure canner.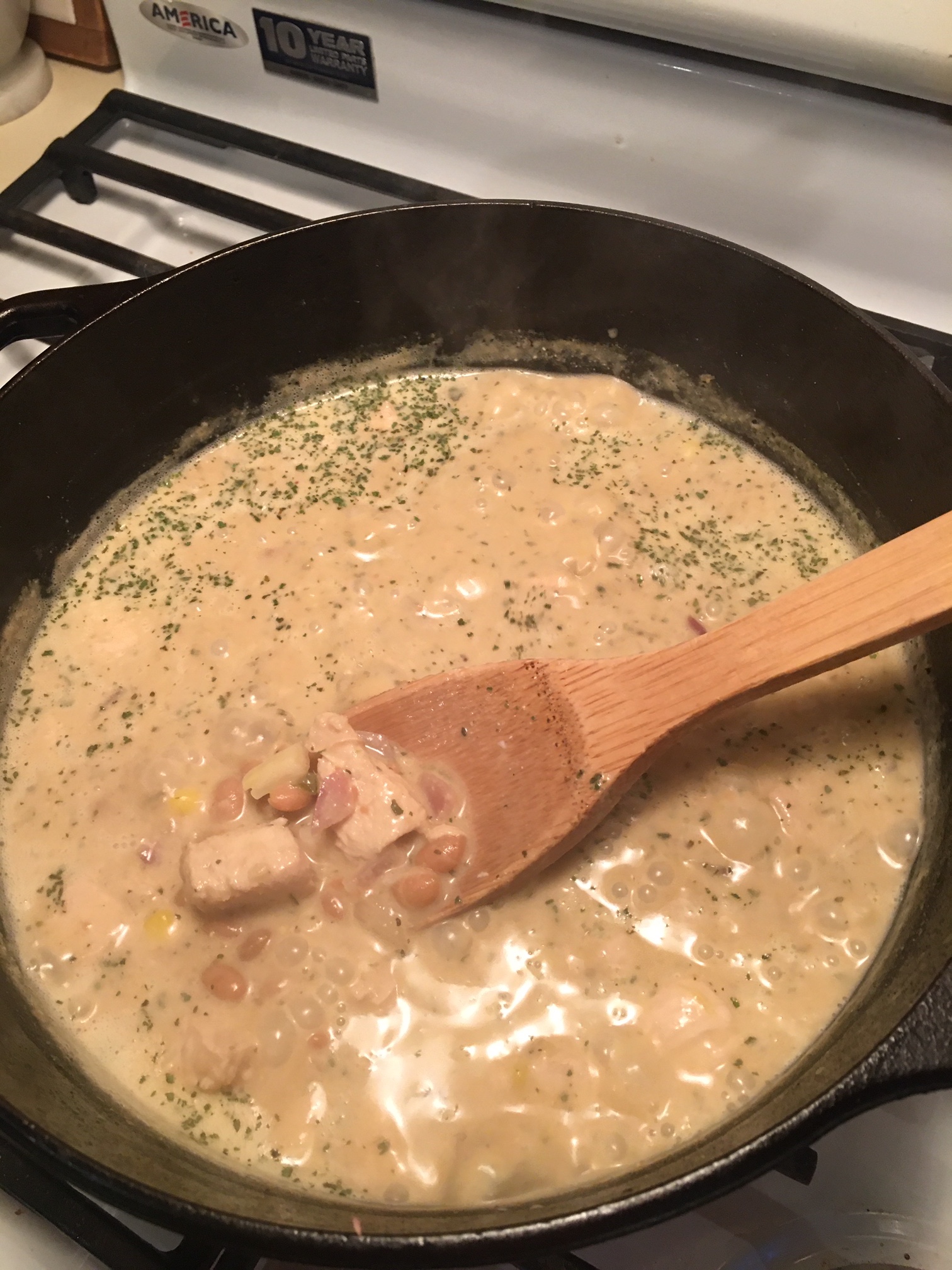 So much creaminess!
Simple Creamy White Chicken Chili

Ingredients
2-4 chicken breast (cubed)
1 onion
4 garlic cloves (minced)
1 c frozen corn
2 cans white northern beans or similar type bean
1 box or quart of homemade chicken broth
1 tsp dried oregano
1 tsp pink Himalayan sea salt (add more to your own individual taste)
1/2 tsp paprika
2 TBS dried cumin
1 can green Chile
1 package cream cheese 8 oz (cubed) "secret" ingredient
Pepper to taste
1 lime (juice)
Handful of cilantro or 1 tsp dried cilantro
1-2 TBS avocado oil or coconut oil
Instructions
Cube chicken and place in pre-heated (medium to medium high heat) cast iron dutch oven pot with 1-2 TBS avocado oil. Cook until slightly brown and no pink is visible. You may notice some liquid. This is fine.
Add onion and continue to sauté until translucent (2-3 mins).
Next add minced garlic and sauté. Be careful not to over cook.
Add green chile, herbs, and spices. Continue to stir. The flavors will be blending well at this point.
Add broth and bring to a boil.
Take beans and drain in strainer. Use a measuring cup to measure out 1-2 cups of beans and place in a food processor.
Carefully take 1-2 cups of the hot broth and pour into the food processor and pulse until beans are mashed.
Add mashed beans, separate rinsed beans, cubed cream cheese, and corn into the pot and stir. Simmer for another 10 mins.
Add lime juice. Stir until well blended and serve hot.
Garnish with fresh cilantro, shredded Mexican cheese, tortilla chips and avocado slices.
© 2023 Copyright Gracefully Home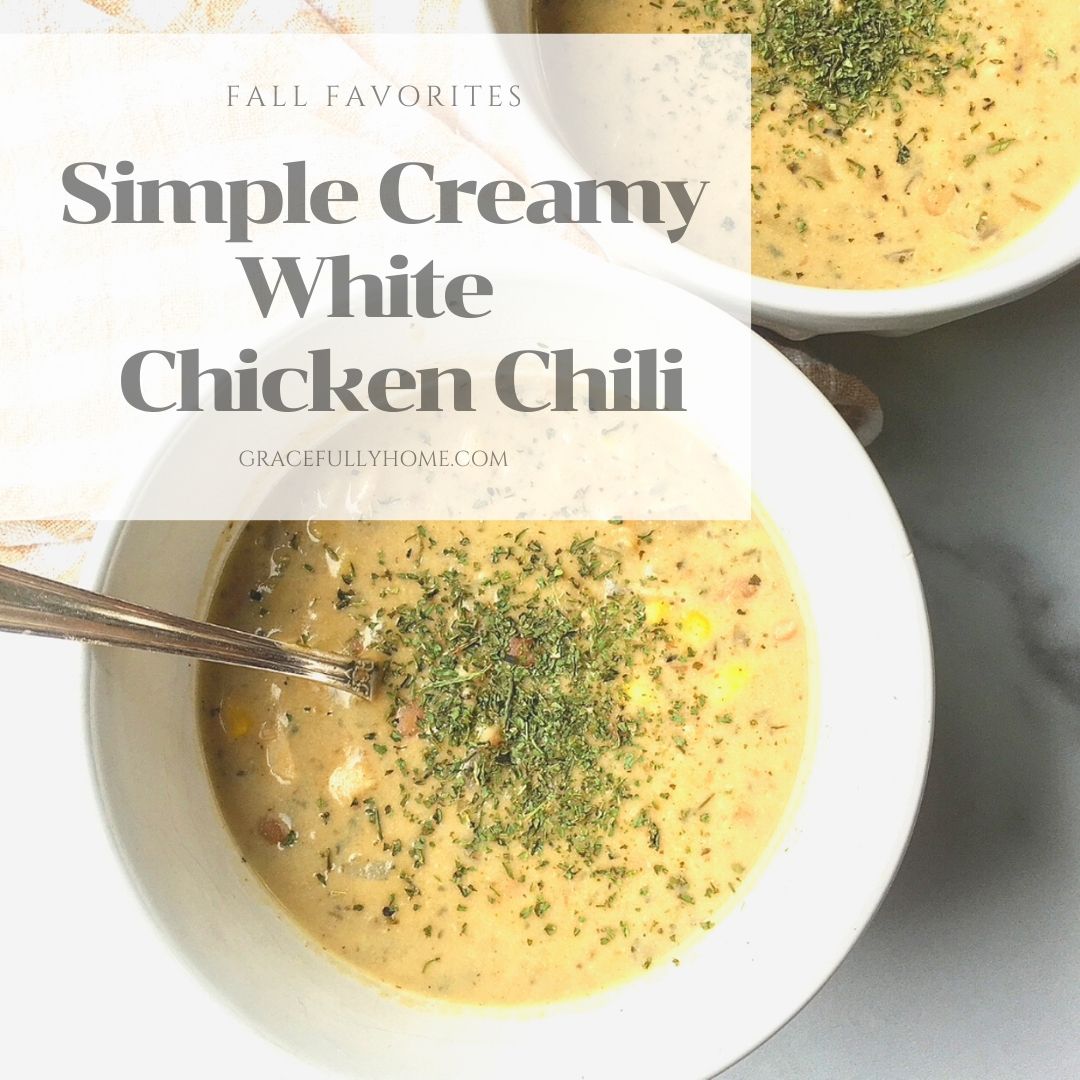 This time of year also makes me even more thankful for good nourishing food and a warm and dry home to share with my family.  What are you thankful for this time of year?
Taste and see the Lord is good!
Psalm 34:8