The holidays can be an exciting and memorable time of year, but for many hostesses around the world, it can also be one of the busiest and most stressful times of year.  I have made gift baskets in previous years, but when I saw the adorable handmade gift basket idea made by my fellow simple blogging and homeschooling mama, Lisa at FarmhouseonBoone.com, I knew I had to make my own updated version.
Today, you are in for a double extra treat, my friends!  Not only am I sharing these simple DiY Hostess Blessing Basket ideas, but my friend, Leigh from The Little By Little Home blog asked a group of us bloggers to share our seasonal DiYs today.  So you will have the opportunity to check out the other fun DiY bloggers and their easy projects that are linked below at the end of this post.  Make sure to check them out for more holiday inspiration!
Blessing Baskets are akin to our Blessing Bags mentioned here, except these gift baskets are focused on blessing a hostess with the thoughtful handmade natural products to help encourage them as they serve others.  It says, "We see you and all that you do and appreciate all your hard work."  I know that I would love to receive one of these baskets for myself. (smile)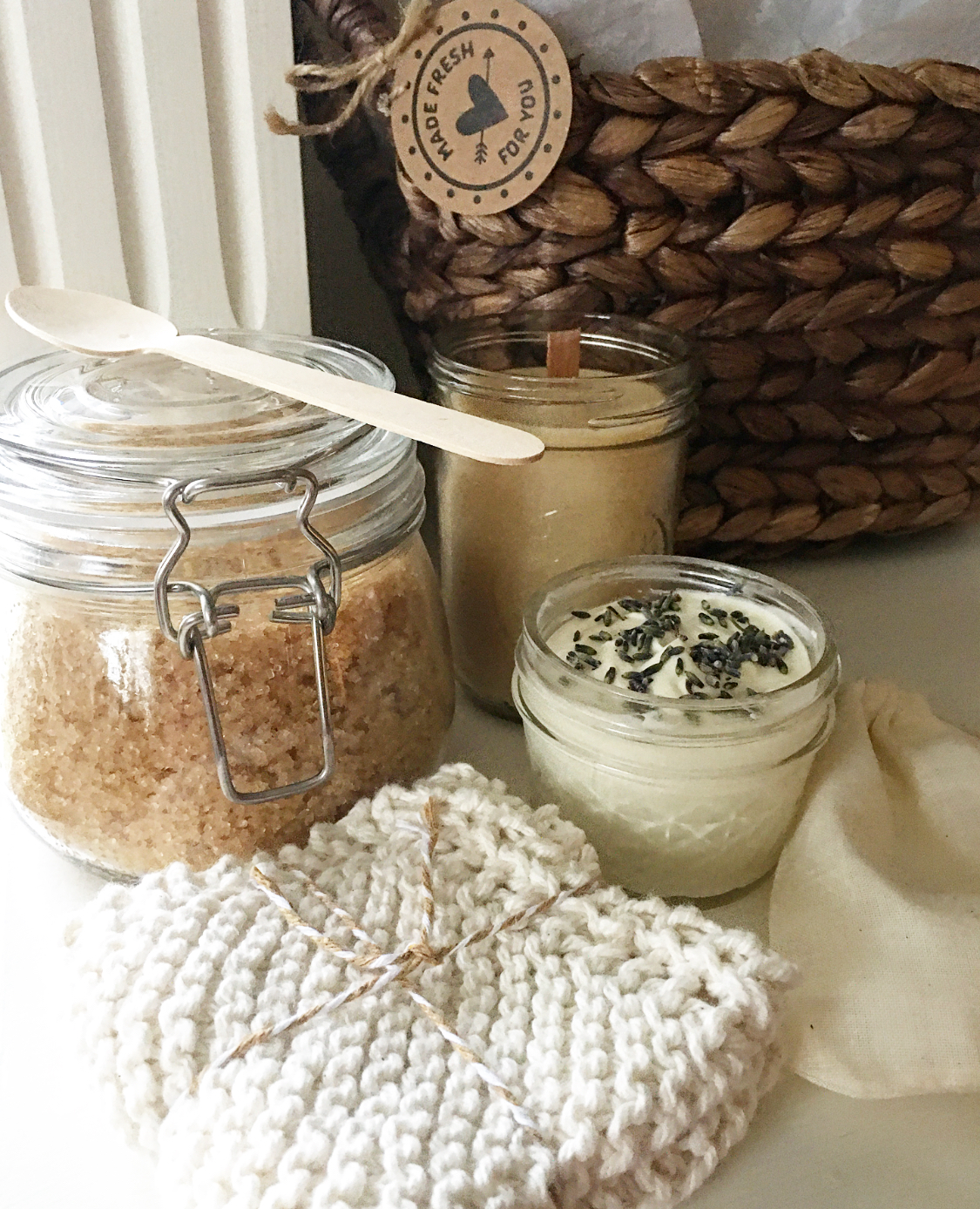 **This post contains affiliate links.  Please see full affiliate disclosure here.
I decided to add some of my favorite simple DiY natural product recipes to the baskets.  You'll find the links below on how to make each of these homemade natural products.  Starting with the large jar of refreshing Peppermint Sugar Scrub.  This is truly one of the simplest natural homemade products that you can make with just three ingredients that you may find that you already have on hand.  Learn all the details on how to make your own here.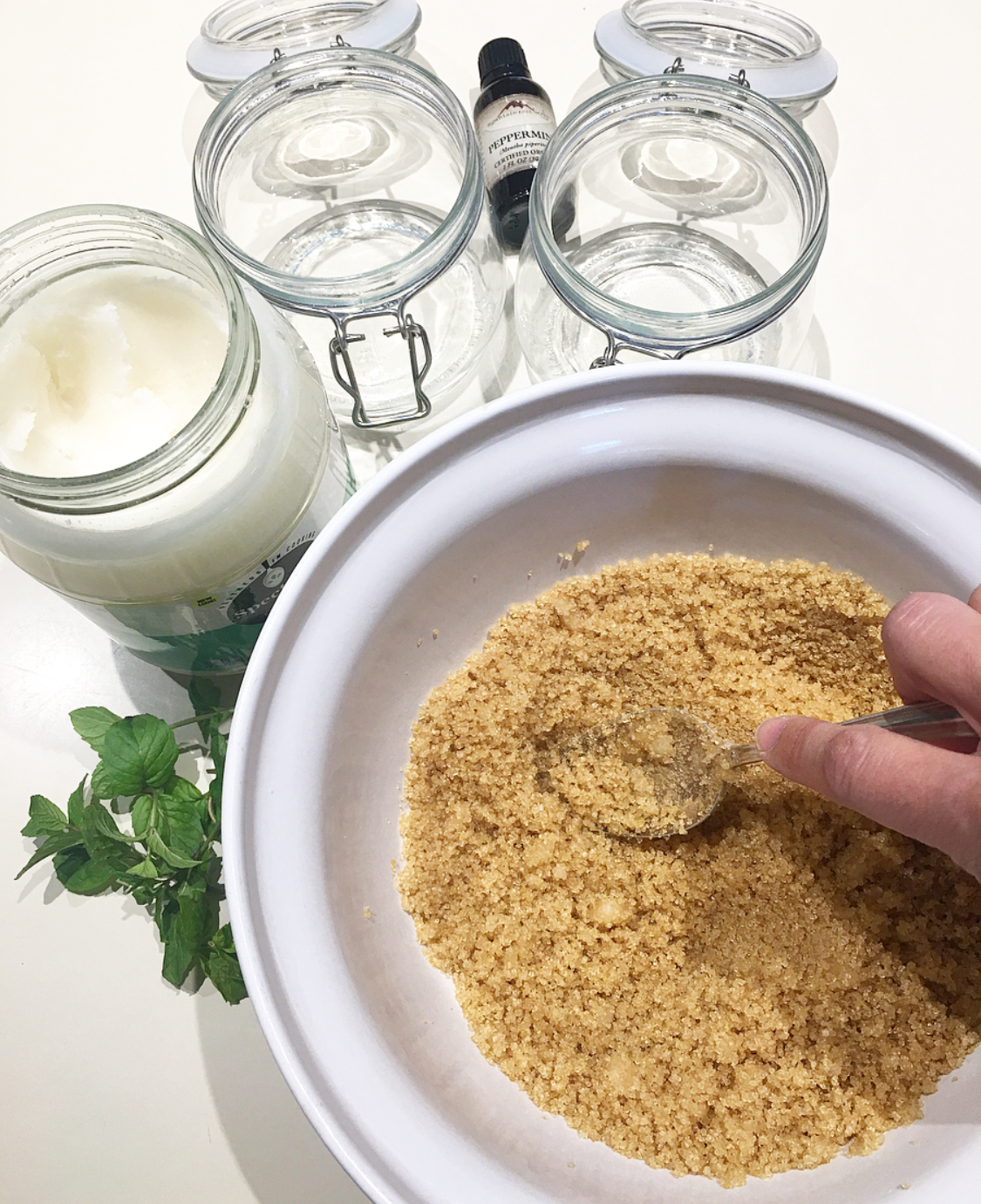 This sugar body scrub would also be great with lavender or your favorite citrus blend.  By just changing your choice of essential oils, you can reuse this basic recipe for all the different seasons.
I added this amazingly nourishing Lavender Whipped Body Butter from Lisa at Farmhouseboone.com.  Our local grocery store has been out of our natural lotion for months, so when I saw Lisa's simple recipe, I knew it was time to pull out all my DiY bath and body making ingredients.  I had all the ingredients on hand.  Surprise surprise!  (smile) Get the full recipe here.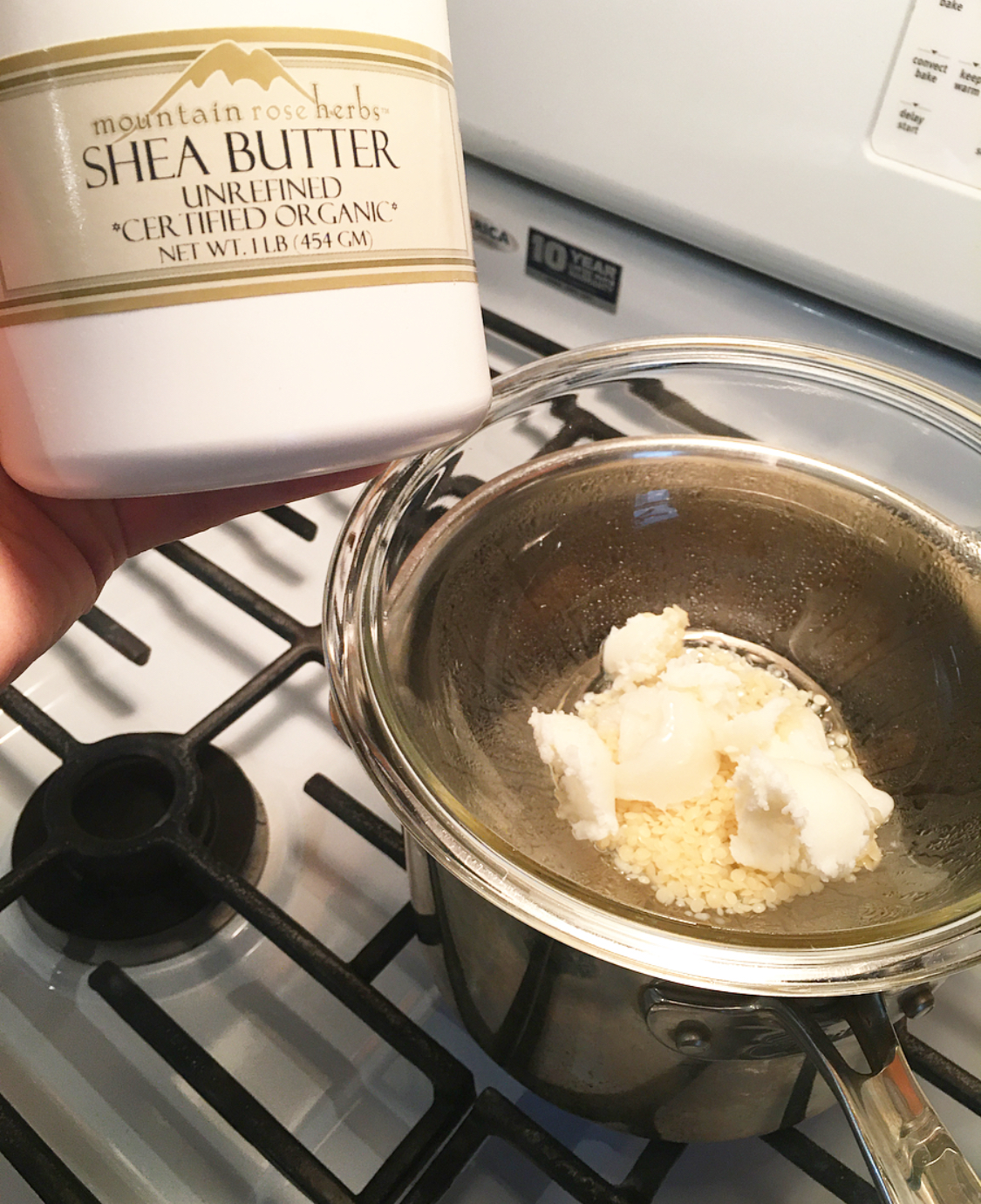 These recipes are so simple and for many of them, you use the same basic ingredients and this make-shift double boiler method.  Easy Peasy!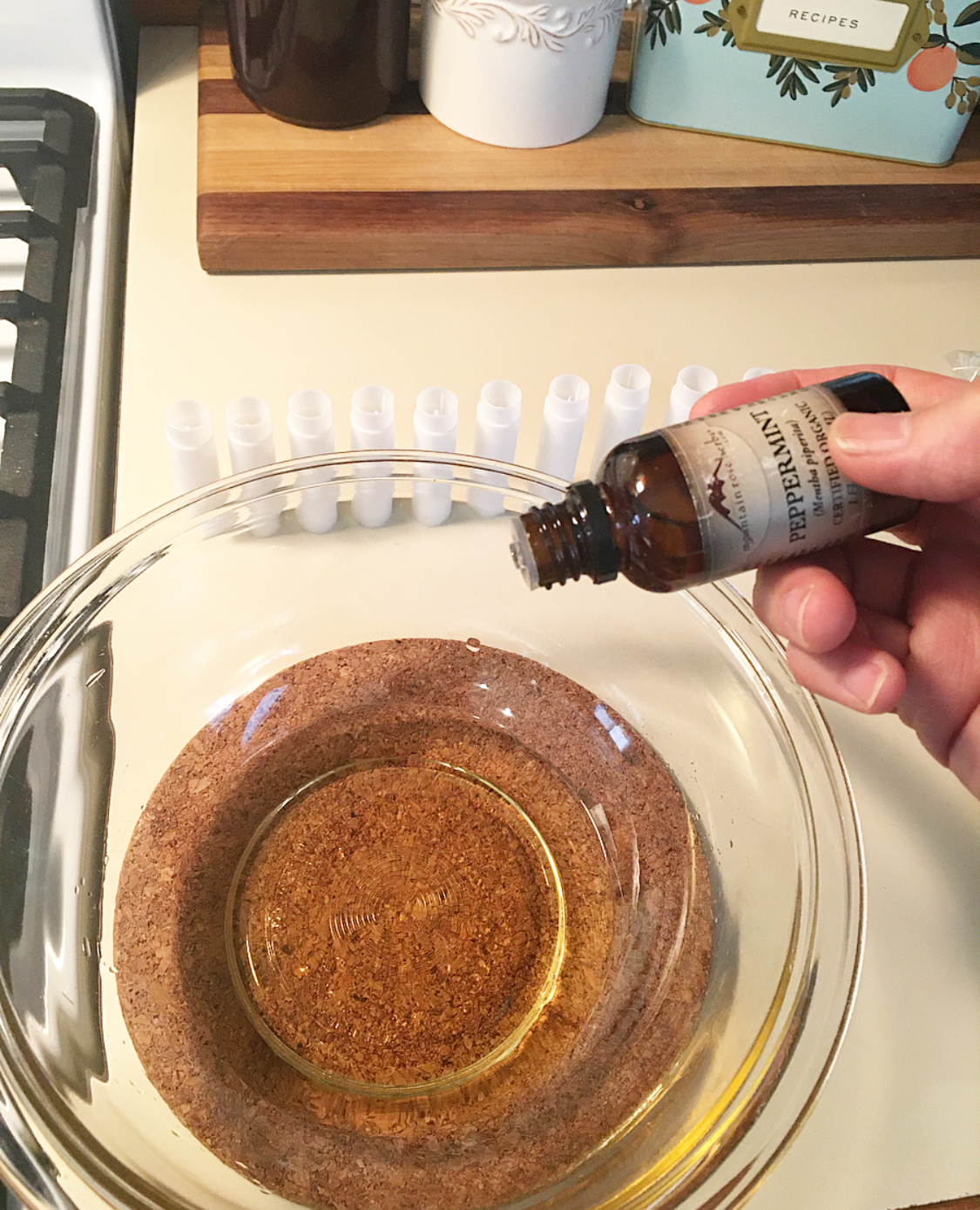 I added some of our simple DiY homemade Peppermint lip balm here in canvas sachets that I found at Hobby Lobby.  You can also find them here.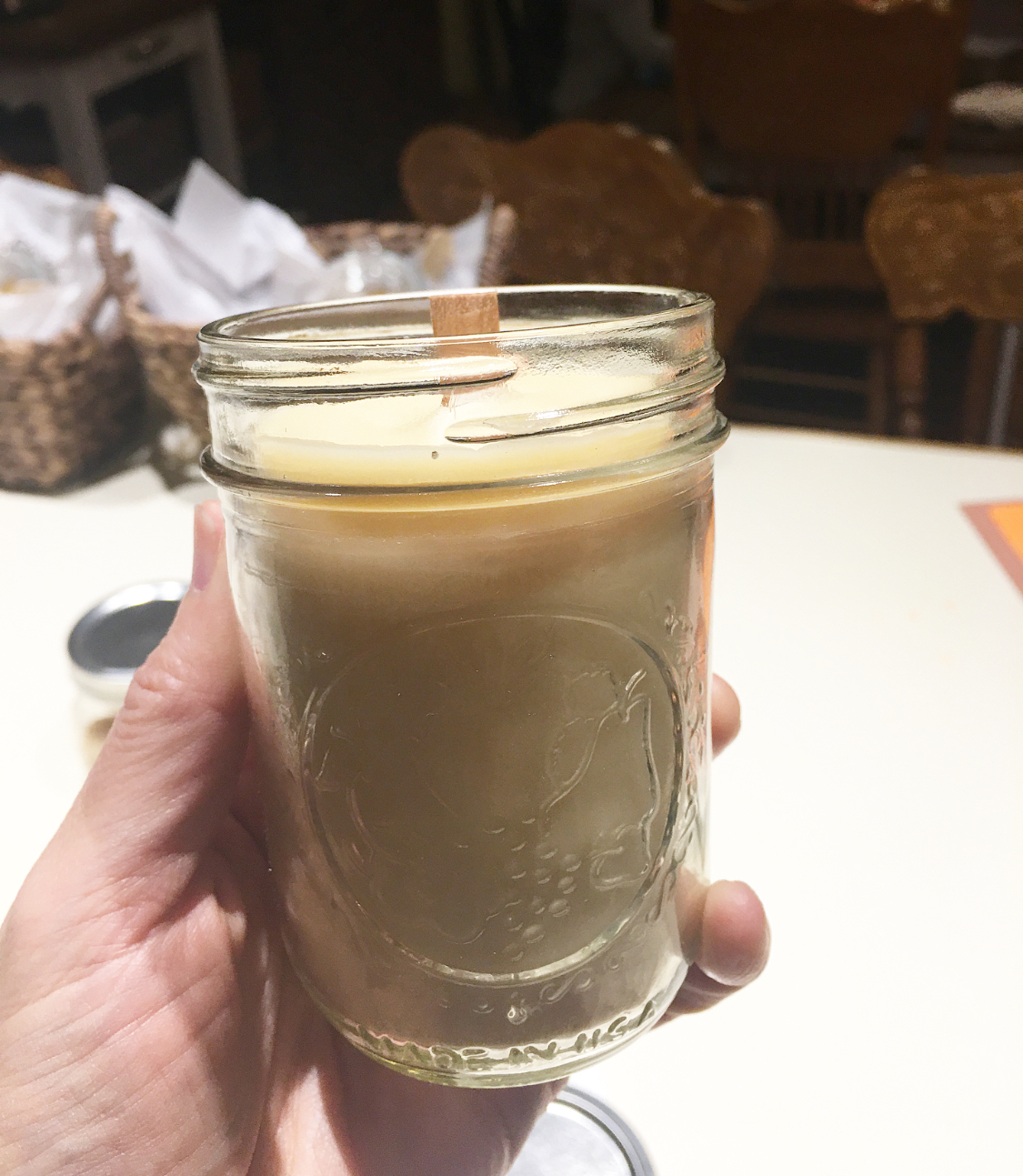 This natural beeswax candle with wooden wick only requires 3 main ingredients…beeswax, coconut oil, and your choice of essential oil scents.  I chose organic cinnamon leaf to give this batch a sweet and spicy smell.  The crackling of the wood wick is such a fun little treat!  Get all the details on how to make your own here.
Last, but not least, I added my hand knitted dishcloth to the basket.  I have been knitting this pattern for years and we use them daily in the farmhouse. They are a great way to cut down on our paper towel use. They also save us money because they are reusable and wash well.  You can find the simple pattern at VeryPink.com, titled "Traditional Dishcloth Pattern" here.
These hostess baskets are simple to put together and all the ingredients should be easy to find.  And if you love simple and natural living as much as I do, you may already have many of these simple ingredients in your "handmade home" stash.
If you run out of time or are not up for making all the products from scratch, you can easily find pre-made natural products online or at your local stores and the end product will still be a blessing to any hardworking hostess in your life.
Looking for more fun DiY holiday ideas?
Be sure to check out these easy DiYs from my fellow blogging buddies, for more inspiration.

Note:  Purchasing through any of my blog links and/or side bar buttons, helps to keep this blog running.  All reviews and opinions of any items shared on GracefullyHome.com are of my own opinion and are not swayed by sponsorship or collaborations.  Please keep in mind that I only share products or services that my own family have found helpful and healthful with those who visit my blog.  Thank you for your support and for continuing to follow along!