With Thanksgiving already here this week, many families will find themselves on the road again.  It is always a special time to travel and visit friends and relatives.  The start of the holiday season can be such a happy time of year, but unfortunately there are many out there that may find themselves without family, without a home, or without a table to gather around this year.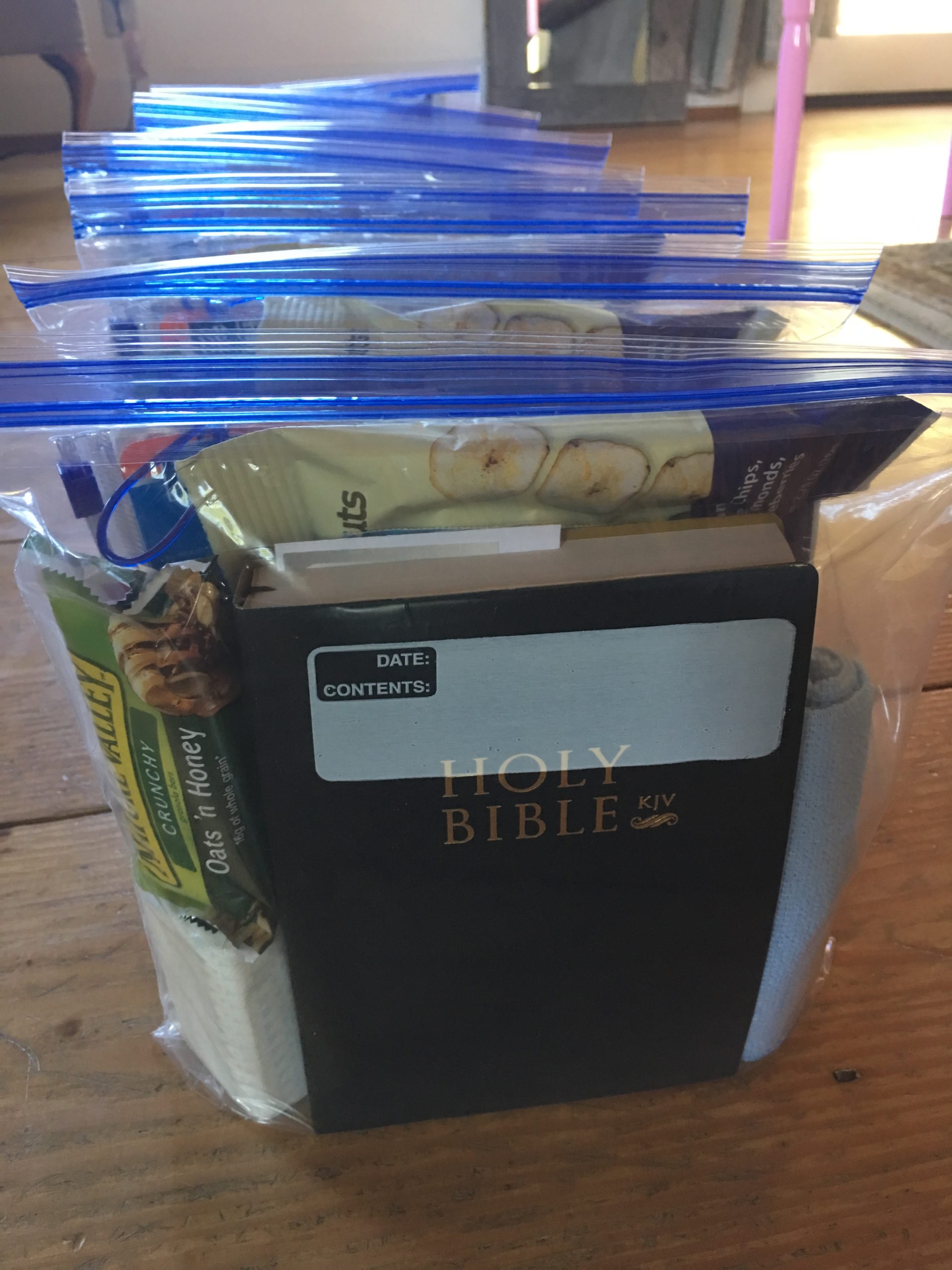 In our small town, we don't run into many homeless people, but we always see a handful of them when we are in the bigger cities.  So our family decided to start making these Blessing Bags several years ago, to help give to those we meet along the way. These are simple to put together and a great way to teach your little ones the importance of giving to those less fortunate.  Our littles love to shop for the items and help pack the bags.  They make it like an assembly line and put "like items with like items", carefully making sure that each bag has the same amount of items. (smile)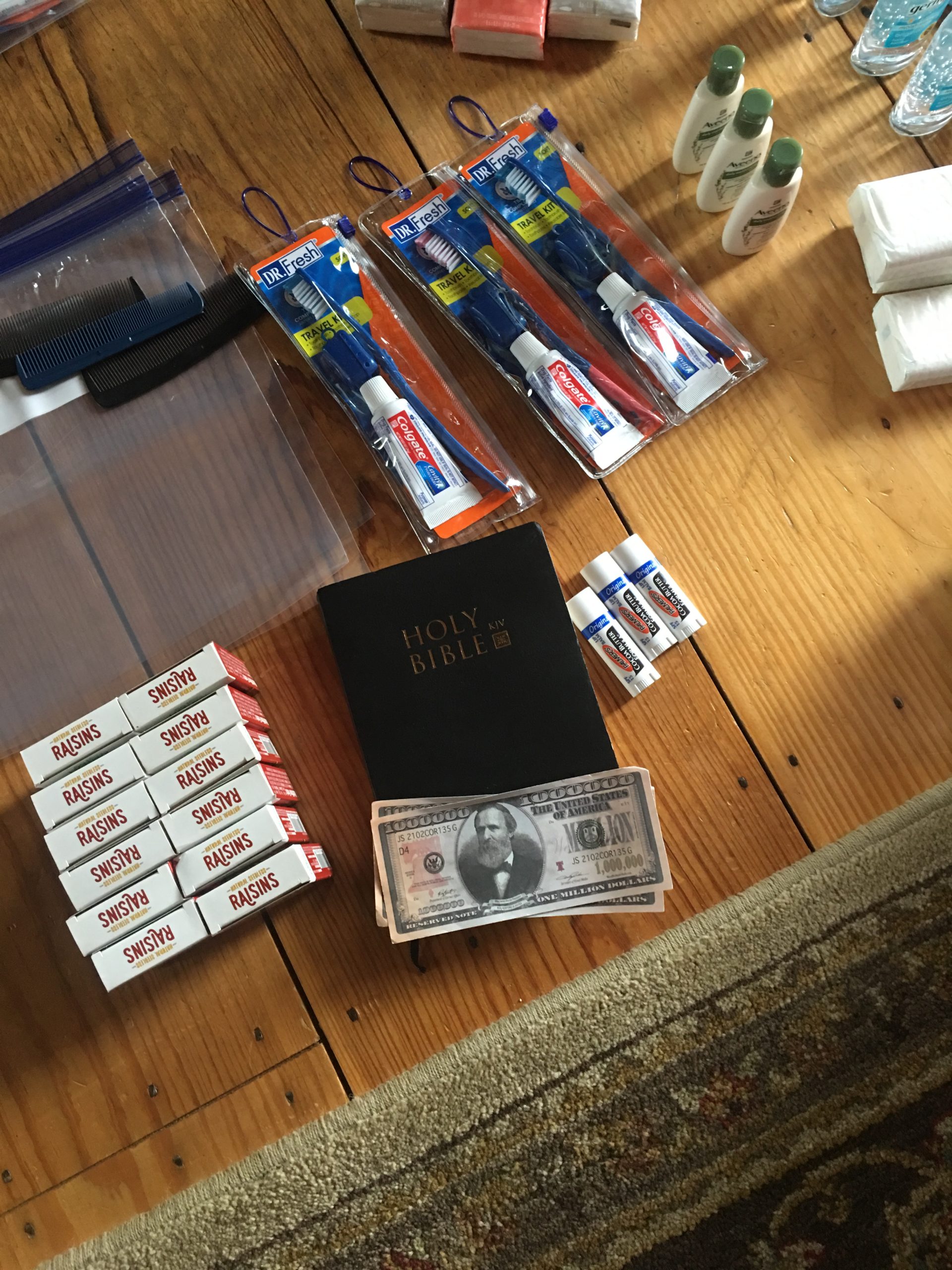 We just use a gallon size ziplock bag to keep all the items neatly together.  We make sure to hand out a couple bottles of spring water along with the packed bags.  We keep several bags in our van, so that we are prepared if we ever encounter someone in need during our errands or appointments in the city.
IDEAS TO MAKE YOUR OWN BLESSING BAGS AT HOME
READING MATERIAL
*Holy Bible
*Scripture verse (print out)
*Bible tract
TOILETRY ITEMS
*Washcloth
*Bar of soap
*Tooth brush
*Tooth paste
*Lotion
*Shampoo
*Comb
SNACKS
*Trail Mix
*Raisins
*Dried fruit
*Crackers
*Canned lunch type meal (like tuna or chicken…don't forget to add a spoon)
*Bottled Water
SEASONAL ITEMS
*Hand sanitizer
*Kleenex
*Lip balm
*Sunglasses
*Scarf
*Knitted hat
*Knitted gloves
**NOTE: Make sure that the snacks are those that will not melt or perish quickly (check expiration dates) in the car.  I did try to opt for healthier choices when we were shopping for our items.  Believe it or not, the Dollar Tree or Dollar General have started stocking some items that don't have your typical "junk" ingredients in them.

These bags remind me of the Samaritan's Purse Operation Christmas Child shoe boxes, only these bags are made for adults in need right in our own backyards.  If you don't already make Blessing Bags, I hope that you will consider packing some for your travels this season.
2 Corinthians 9:6-8
(ESV)
The Cheerful Giver
The point is this: whoever sows sparingly will also reap sparingly, and whoever sows bountifully will also reap bountifully.
Each one must give as he has decided in his heart, not reluctantly or under compulsion, for God loves a cheerful giver.
And God is able to make all grace abound to you, so that having all sufficiency in all things at all times,
you may abound in every good work.