Each year around spring time, our family gets excited about celebrating Passover!  Starting something new can be intimidating and we all know that change can be tough sometimes, but making the transition to celebrating the biblical feasts was one of the most unexpected gifts that we have received as a family.  It has made an indelible mark on our hearts and hopefully will be passed down for generations to come.
Along with a brief explanation of the (new and old) meanings behind the items used during the traditional Seder dinner, you'll find some simple ideas for those of you who have been thinking about starting a new Passover tradition in your home.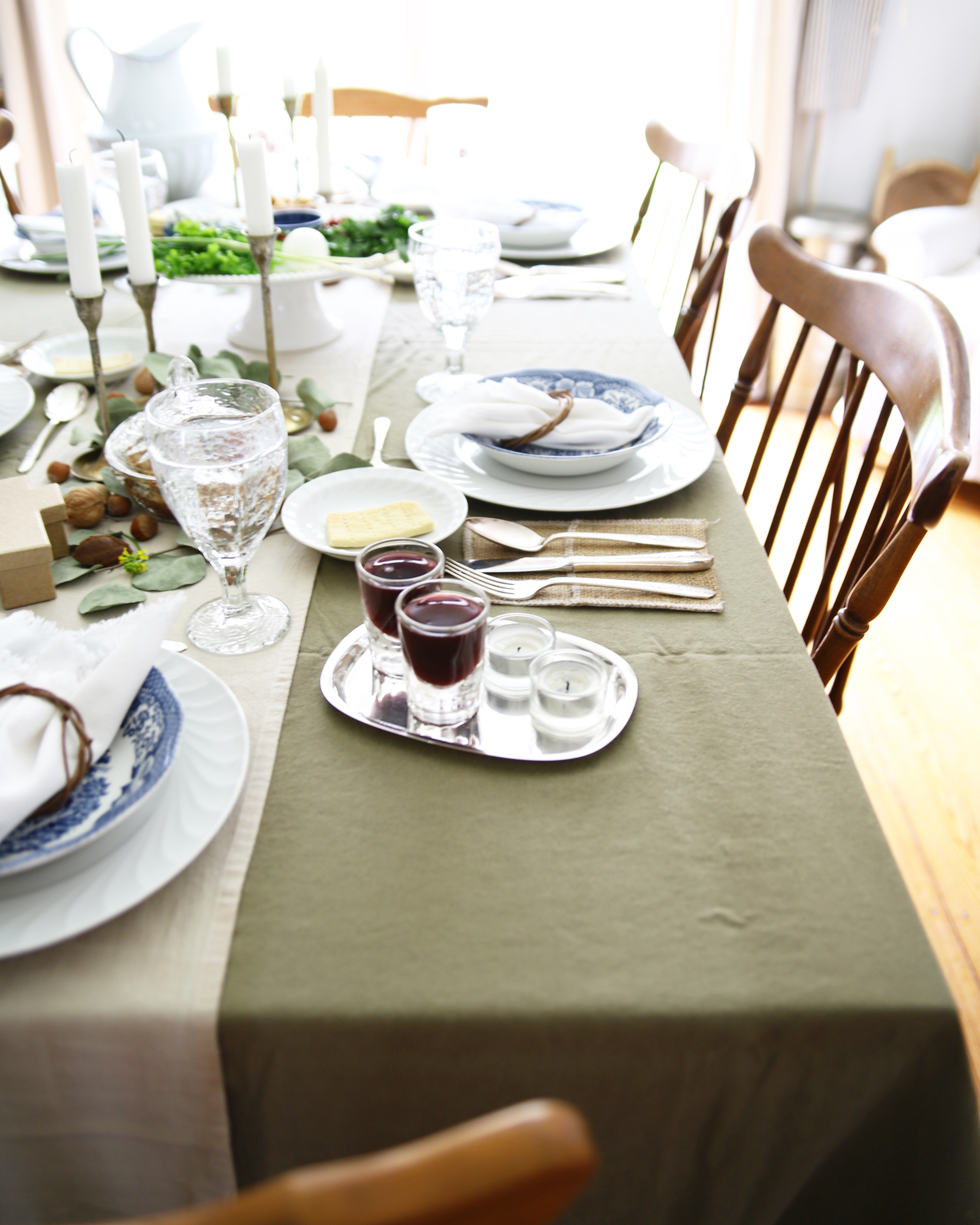 Just as our decision to homeschool brought so many unexpected blessings over the years (especially during those rough seasons of battling cancer and losing our son after vaccinations took a toll on his body), celebrating the biblical feasts have also brought so many opportunities to help teach our little ones about God's sovereign love. (Exodus 23:14)
If you are new to celebrating Passover, it can be overwhelming.  But as you'll discover here, you don't need much to celebrate the true meaning behind this important biblical feast. Our little ones enjoy hearing about the redemption story of the Israelites in the book of Exodus, but more importantly, they look forward to hearing more about Jesus, Our Passover Lamb! (1 Corinthians 5:7)
PIN IT FOR LATER:

It has been over ten years since our family began celebrating the biblical feasts.  My husband was still in the military and stationed in Alabama at the time. As a military family, most of our celebrations have just been our immediate family, with a handful of exceptions over the years.  This spring was no different! Some years, we can get pretty elaborate and go all out.  While other years, we choose a more low key and laid back approach.
Either way, we celebrate Passover (Pesach) by retelling the Israelites story of redemption, as God liberated them from their Egyptian oppressors. This miraculous event is not just important for the Jewish community, but has every bit of significance for Christians today. It, along with the other biblical feasts, serve as a type or foreshadowing of what is yet to come for our salvation in Jesus Christ in the New Testament. The Old Testament, along with the New Testament work together to paint the whole picture of God's unfailing love and redemption story. It's our history. Every word, every lesson, every eyewitness account helps lead us to a better understanding of the character of Our Creator and why He is worthy of honor, glory, and praise.  He is faithful through all time and we can place our complete trust and hope in Him because He is the same yesterday, today, and forever. (Hebrews 13:8)
PREPARING THE TABLE
God is the God of order, so it is no surprise that Seder (means "order" in Hebrew).  He is also very big on symbolism, as demonstrated throughout His Word. So, as we prepare for the start of Passover, we try to be mindful of what items we use in the preparation process.
Along with the traditional style of Passover recipes, we have enjoyed adding our own family touches to the celebration.  Like bringing out our BEST dishes that once graced my husband's maternal grandmother's table.  Along with her blue transferware collection, we dust off our goblets that I found for a steal at an online yard sale site. We polish the silverware that we inherited from my husband's paternal grandmother and place them next to the white dishes gifted to us by my in-laws when they were down-sizing years ago. Setting the table is one of my favorite parts of preparing for the celebration because of the memories we make with our own children.  We also enjoy listening to Christian worship music as we work.
You certainly do not need heirloom pieces or great thrift store finds to celebrate a memorable Passover. As you can see, we use a lot of things we already have on hand or have collected over the years.  Like everything in the hollow, we do our best to simplify as much as possible and get the job done. Without compromising the integrity of the mission or purpose of what we are doing. This helps keep our stress levels in check and helps us focus on what matters most.
SUPPLIES YOU WILL NEED FOR THE PASSOVER TABLE
A large plate, K'arah (I use our cake stand) to serve your Seder (Hebrew:order) meal
Two or four small cups (we opted for two small simple shot glass style drinkware to represent sanctification and praise) used to pour grape juice or wine into the Kiddush (Hebrew: sanctification) cups
A metal tray or wooden board to place your grape juice and candles on
Candles and candle holders
Cloth napkin to hold the Matzah or Matzo (unleavened bread) and Afikoman (broken Matzah)
Goblets or drinking glasses
Tablecloth
Lighter or matches
Pitcher of water
A large bowl to catch the water
A towel to dry hands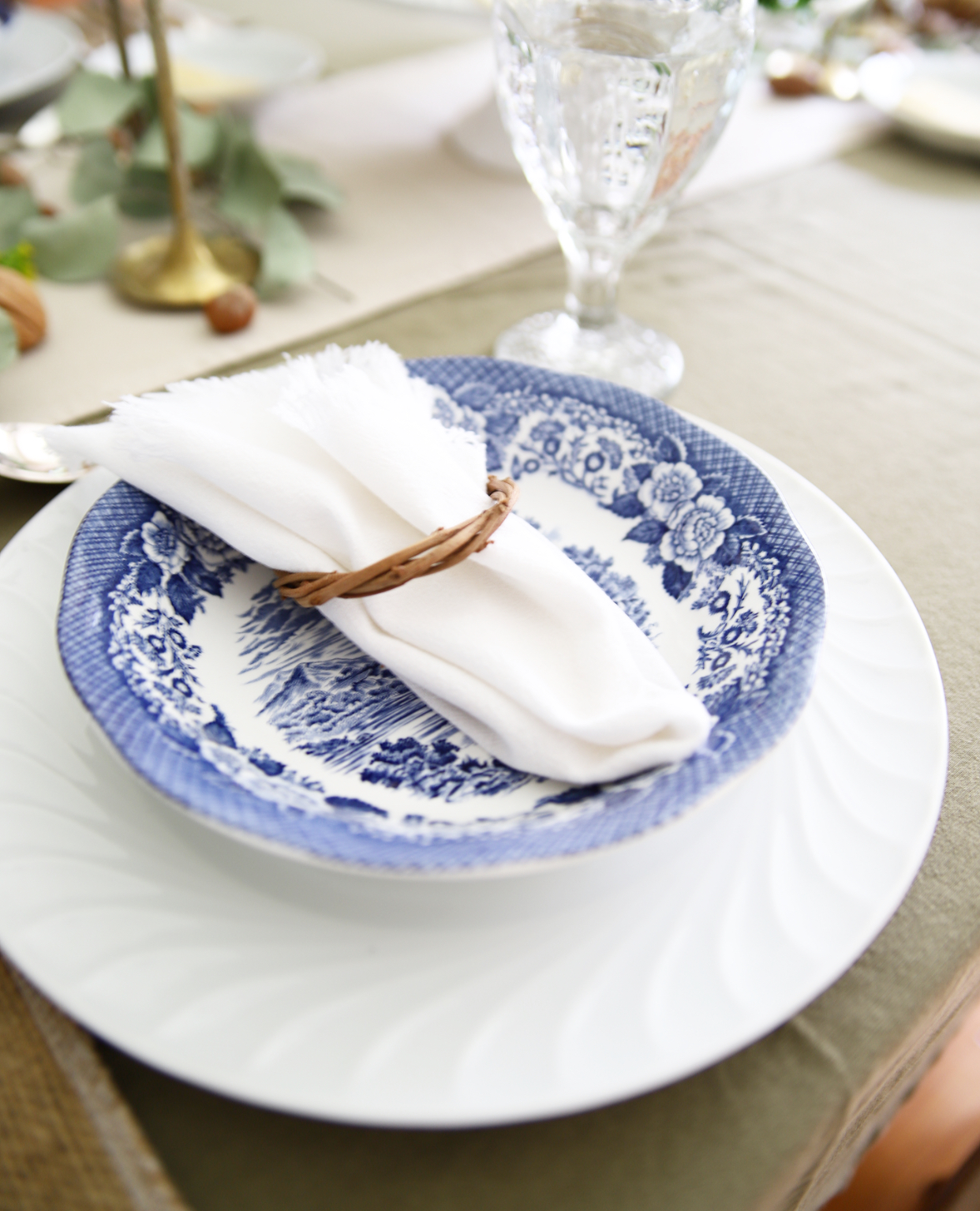 I made these simple linen napkins here last Thanksgiving.  They go nicely paired up with the handmade grapevine (from our own grapevines) napkin holders.  Together, they can serve to remind us how Yeshua's sacrifice washes us clean and gives us a new start.
THE FOOD
Some years, my husband will roast our grass-fed beef on a very hot fire and marinade it with bitter herbs. Other years, like this one, he will grill a combination of lamb and beef burgers.  In addition to the main dish, we make the following side dishes.
Passover menu:  I make unleavened bread (matzah), matzoh ball soup (with chicken, celery, carrots, and unleavened dough balls) and charoset (mixture of apple, honey, walnuts and cinnamon).
Matzoh ball soup
SUPPLIES YOU WILL NEED FOR THE PASSOVER SEDER PLATE
Grape Juice or wine (preferably organic)- represents sanctification and the blood covenant that Yeshua shed for the forgiveness of our sins (Matthew 26:27-28)
Matzah (see recipe below)- unleavened bread which represents the haste in which the Israelites fled Egypt
Afikomen (that which comes after)- is the middle Matzah broken in half, then hidden for the children to search for throughout the house. A gift is given to the one who finds it.  This represents Yeshua, the Bread of Life whose body was broken, hidden away during his burial, but rose from the grave.  Those who find Him and accept Him as their own personal Savior, receive the gift of everlasting life. (Romans 6:23).
Parsley (Karpas) (our parsley was not growing yet, so I used fresh cilantro from the garden), celery, or other greens- represents new life
Charoset (see recipe below)- represents the mortar the Israelites used to make bricks for the Pharaohs and/or the bitterness during the days of their enslavement
Hard boiled or oven roasted egg (Beitzah)- represents a renewal of life
Kosher salt with water in a bowl- used to dip the greens in and represents the tears shed by the Israelites, but can also represent the tears shed from a life without redemption
Horseradish (Maror) or Romaine lettuce- represents the bitterness of the Israelites slavery
Shankbone (Z'roa)- is a reminder of the Passover sacrifice
This year, we added the shredded beets to remind us of the blood that Jesus shed for us. We didn't have horseradish, so we used Romaine lettuce and wild onions for our bitter herbs. Before we begin the celebration, my husband and I go around the table and stop at each child at their seats. We use the Urchatz, the pitcher of water and wash each of their hands over a bowl and dry them as we discuss the importance of why Yeshua washed His disciples feet during the Last Supper on Passover. (John 13:3-10)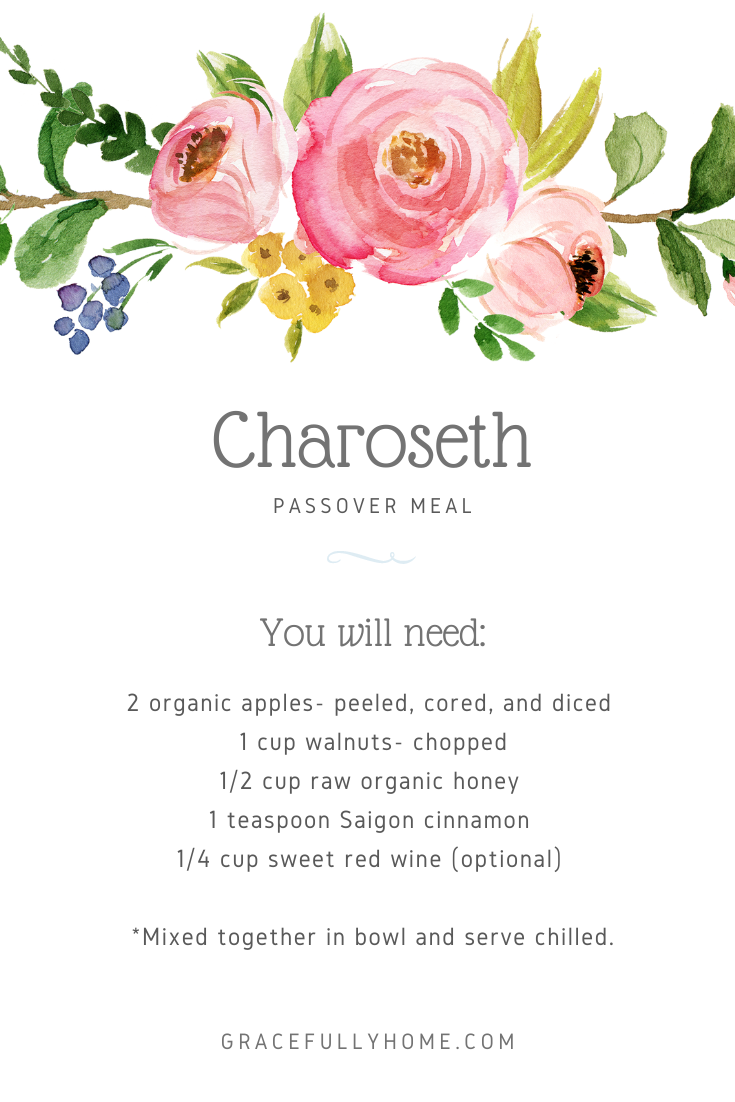 The littles and I enjoy baking the Matzah bread for the table and preparing the Matzoh ball dumplings for the delicious soup.
THE MESSAGE
My husband reads the story of redemption from both the Old Testament and the New Testament of the Bible, while the children follow along in their bibles. We discuss the symbolism of the items on our Seder plate. In addition, we added miniatures that we collected along the way, to help the younger ones during the retelling of the miraculous events in the New Testament surrounding Yeshua's last days, death, and resurrection. The little ones are able to follow along better as we discuss the significance behind each of the miniatures and what they represent during each of the life-changing events. (Isaiah 53:5) (1Peter 2:24)
You can easily make your own set and bring it out each year for your little ones. Some pieces are from several scavenger hunts around the farmhouse. Others are left over from an old resurrection egg set we purchased while stationed in upstate NY. Some, we made ourselves out of scraps of fabric, leather, a piece of sponge, and a tooth pick.
I found the inexpensive paper mâché box shaped like a cross at the
Factory Direct
online store awhile back, to store all the miniatures in when they're not in use. If you aren't up for making your own set, you can purchase similar sets (with some variations) like this one
here
 .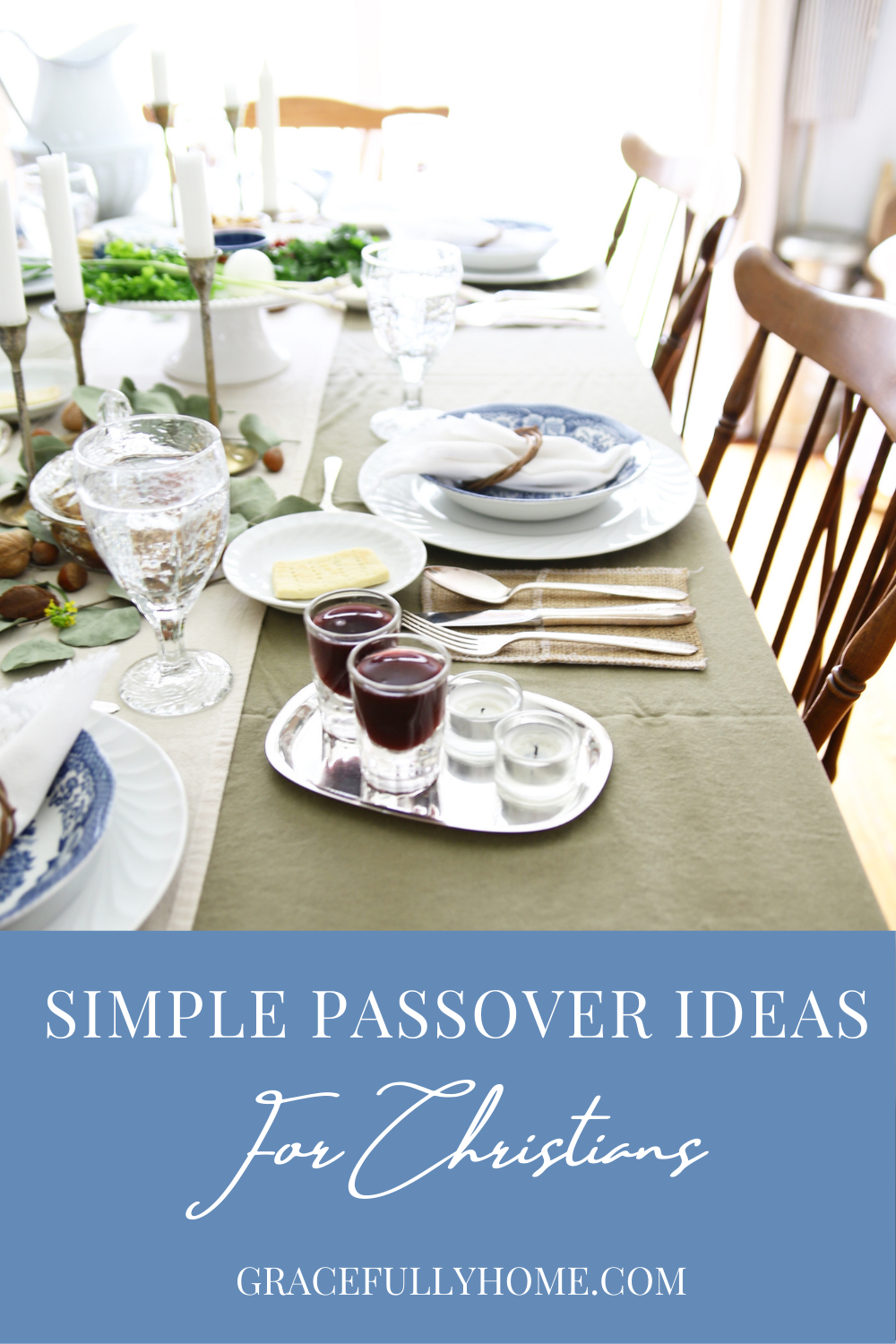 OTHER IDEAS TO CONSIDER
The first three items below are traditionally used to go through the house looking for leaven.  The contents are placed in the brown paper bag and disposed of. (Galatians 5:9) The pillows are placed on the seats to encourage to recline during the celebration.  And the Passover Haggadah book (you can easily find these online for free or for purchase, if you want to incorporate more of the traditional Jewish ceremony) which is similar to a program that sets the order of the Passover meal.  It contains the benedictions, prayers, comments, and psalms for the Seder ceremony. These are used on the eve of Passover.
Feather
Wooden spoon
Paper bag
Pillows
Haggadah book
The above items in our home are optional. We try not to go wild and buy new items just to buy extra "stuff."  It is our desire to worship the Lord in spirit and in truth. (John 4:23-24) All the little details that were added over the years, have a purpose, are tradition, and can be helpful when teaching our children, but should not be the focus of the feast and we should always consider the bigger picture. Remember, Yeshua's Passover looked a lot different than the modern-day Seder ceremony, yet His of course, had more impact than anything we could ever come up with ourselves.
God knows our hearts! The SIMPLER the better. Our focus should be on the Lord and how we can honor Him. Not on whether or not we had the perfect Passover meal, displayed the prettiest accoutrements, or said the perfect prayer at just the right time. It's about communing together as a family of faith to honor God and remember what He has done for us all. It's even more important to remember in these challenging times in our world, when so many are giving into fear and anxiety. But take heart! God is with us! He is faithful! (Romans 8:31)
We plant the seeds in our homes, but God Himself will make the seed grow in His perfect time. Test all things. Seek Him first. Teach your children diligently. Fellowship with other believers. Keep learning. Keep growing. Stand firm. Apply His teachings to your life. Share boldly and keep shining your light in your homes, communities, and work places. God will take care of the rest.
**This post may contain affiliate links.  Please see full affiliate disclosure
here.