One of the first things we did when we made the transition to more natural living was replace a lot of our food in our refrigerator, pantry, and on our counters.  This was an obvious starting point, but we didn't stop there and the process didn't happen overnight.  We made the healthier transition in phases so that it would be less overwhelming and more sustainable for the long haul.  In this day and age, we are exposed to so many toxins in so many ways.  It's not just about the food we consume, but toxins affect the water we drink and bath in, the air we breathe, and even the relationships and careers we choose to have.  To only make changes to our diet, would be like only using a portion of the ingredients to a fabulous recipe and expecting the end result to magically be the blue ribbon award winning recipe at the state fair.
So, the next thing we worked on making more natural was the products that we use to clean our home with.  You can read more about the simple changes that we implemented during this phase in my post titled 3 Simple Tips for Natural Cleaning Alternatives.
After we tweaked our kitchen and cleaning choices, we moved onto our bath and body products.  This led us to introducing more essential oils into our homemade products, including our skincare choices.  Diving deeper into the daily use of essential oils really helped open a whole new world of natural health and healing for our family.  We loved using the basic melaleuca (tea tree oil), citronella, lemon, lavender, peppermint, and patchouli for years, but we definitely stepped it up a notch when we started to spread our homesteading wings.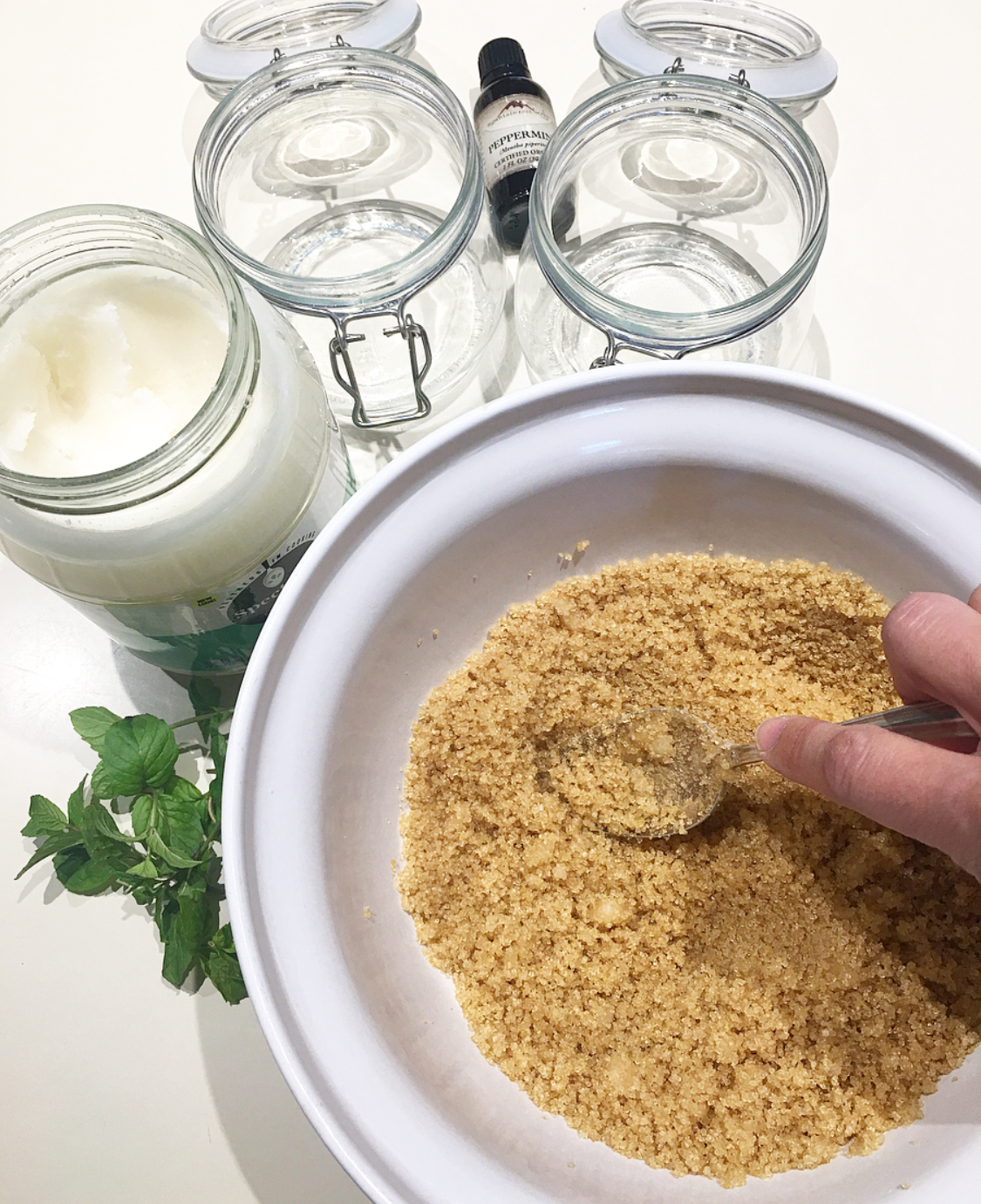 This is a basic 3 ingredient sugar body scrub that helps invigorate and exfoliate during your shower our bath.  Simply apply, massage, and rub all over body and then rinse well.
CAUTION:  The coconut oil may cause shower floors to be slippery than usual.  So take precautions to prevent slipping or injury.
**This post may contain affiliate links.  Please see full affiliate disclosure here.
SUPPLIES YOU WILL NEED
2 cups raw sugar (turbinado)
1/2 c coconut oil
10 drops of peppermint essential oil
1 clear glass jar with air tight lid (this is a similar type to what I used here)
A colored glass jar like this one here would be even better to help prevent the peppermint oil from losing its potency, by blocking out harmful UV rays.
DIRECTIONS
Pour sugar into a medium size bowl and add coconut oil.  Use the back of a metal spoon to mash the coconut oil into the sugar until well blended.  Next, add your essential oils and mix until all ingredients are incorporated.  It's really that simple!  You can use lavender for a more relaxing scrub or try other essential oil blend that you love.  You can also choose to use organic cane sugar or brown sugar in place of the turbinado sugar.
Use one to two spoonfuls in shower.  Massage in well to exfoliate and promote better circulation.  Then rinse.  These simple scrubs make a thoughtful gift for friends and co-workers.
Hope you'll give this simple recipe a try!  I would love to see your homemade scrubs on Instagram.  Make sure to tag me @gracefully_home, so I can share the love and add your natural DiY creations to my stories.
Essential Oil Resources

Disclaimer: The health and wellness posts shared here on GracefullyHome.com are not intended to diagnose, treat, prevent or cure any illness or disease.  The information provided on this blog is for general educational purposes, has not been reviewed nor approved by the FDA and is not intended to take the place of advice from your medical professional, licensed dietician or nutritionist.
You are solely responsible for your health care and activity choices.  Use of any of the recommendations or helpful tools and tips on the GracefullyHome.com blog does not constitute a client-coach relationship.