If you have been following along my blog or my Instagram page, you know that I love discovering more natural ways to be more proactive in our daily lives.  Caring for the needs of my family is a high priority on my "To Do" list.  As I'm sure it is on yours, as well.  Over the years, we have made lots of changes to help us naturally support our bodies and how they function.  Although we were already naturally health conscious before our family started to grow almost 20 years ago, we still had a lot of learning to do as far as making our own natural alternatives at home.  Preparing to make the transition to country life on our homestead definitely propelled us towards discovering new ways of doing things ourselves.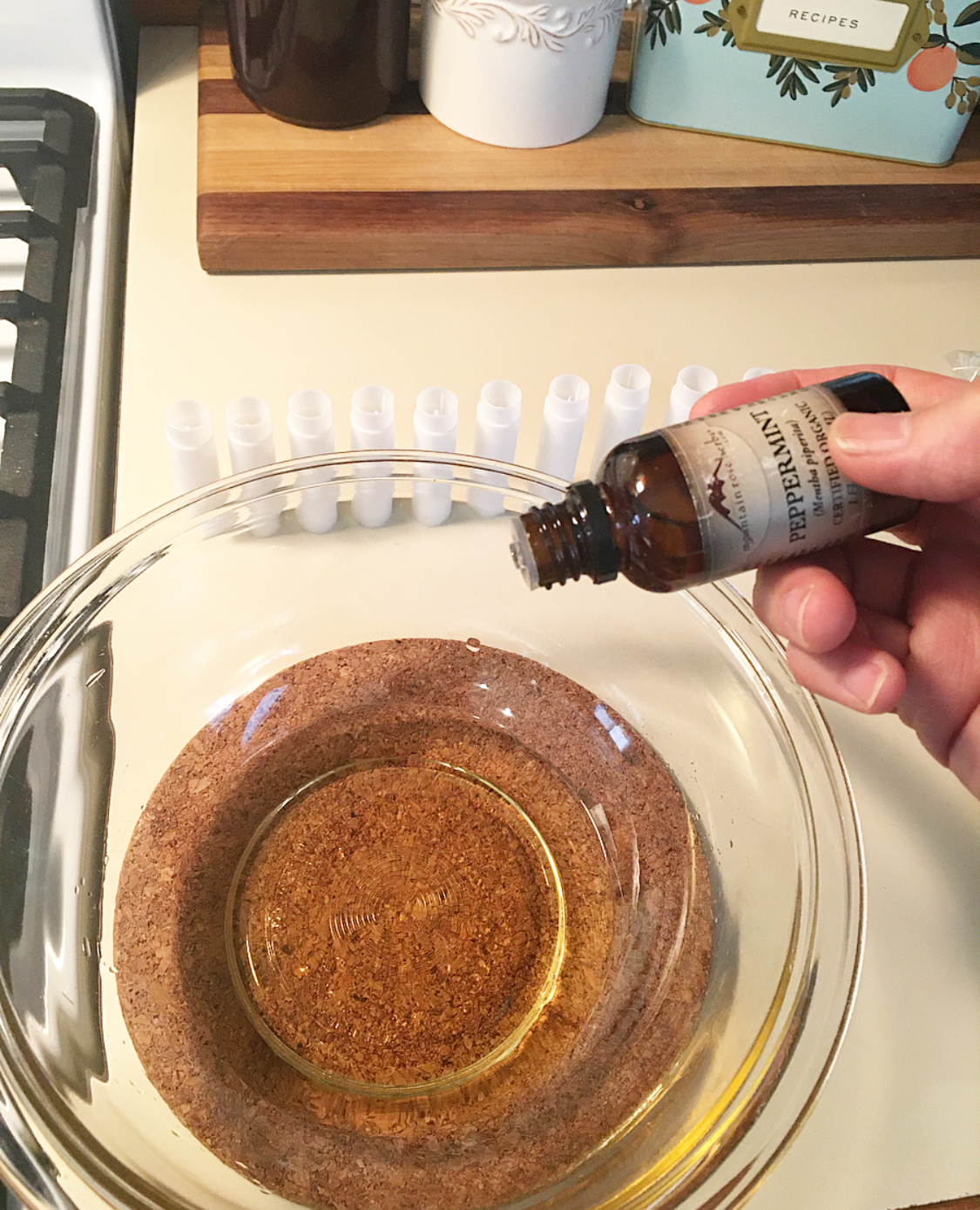 This simple DiY peppermint lip balm doesn't require a lot of fancy ingredients or tools to make.  I have experimented with different natural product recipes throughout the different seasons.  The winter months seem to be a great time of year to implement even more homemade products that can help nourish and protect us from the inevitable dry and cracking that occurs with colder weather.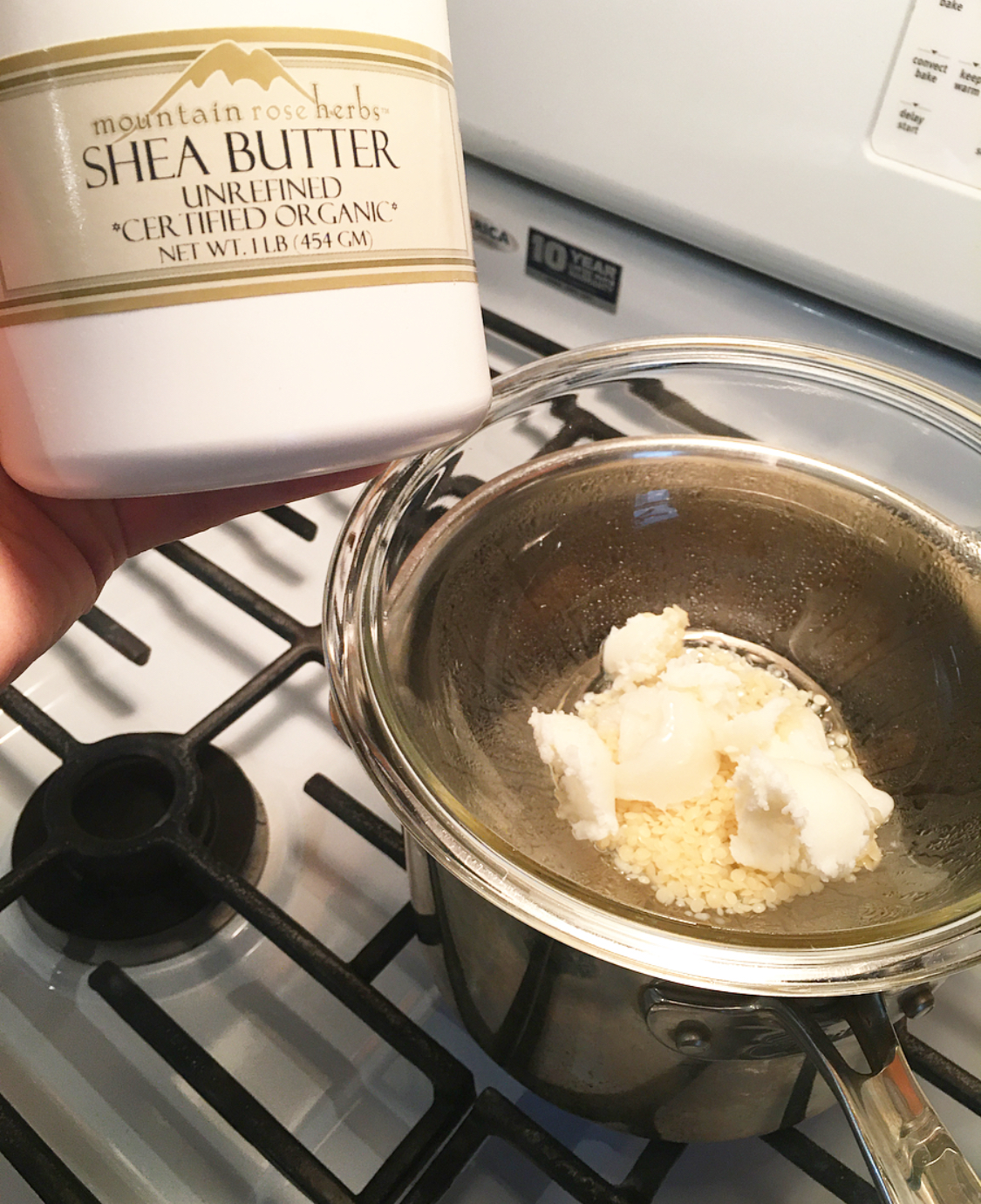 **This post may contain affiliate links.  Please see full affiliate disclosure here.
SUPPLIES YOU WILL NEED
2 T beeswax (like this here)
2 T coconut oil (like this here)
2 T shea butter (like this here)
20-25 drops of peppermint oil (you can use your favorite essential oil to make different scent/flavors)
1 glass dropper (like these here)
12-15 lip balm tubes (like these here)
1 metal pot
1 glass (heat safe) bowl
DIRECTIONS
Fill metal pot with water (a little less than half full) and place glass bowl carefully on top.  You can use a double boiler if you have one.  Bring water to a boil.  While water is heating up, add your beeswax, coconut oil, and shea butter to the glass bowl and melt completely.  Stir well.
Remove pot from stove and add your essential oil to the melted liquid. Give it a stir.  Next, carefully stabilize the glass bowl with oven mitt or pad in hand while you use the glass dropper to fill each tube with the melted liquid.
Let stand for 10 to 15 mins until it becomes solid.  Place caps firmly on and enjoy!
CAUTION:  Coconut oil melts above 76 degrees, so be sure to not leave your homemade lip balm in a hot vehicle or you may have a hot oily mess.  Storing unused tubes in fridge or room temperature work just fine.
Essential Oil Resources

Disclaimer: The health and wellness posts shared here on GracefullyHome.com are not intended to diagnose, treat, prevent or cure any illness or disease.  The information provided on this blog is for general educational purposes, has not been reviewed nor approved by the FDA and is not intended to take the place of advice from your medical professional, licensed dietician or nutritionist.
You are solely responsible for your health care and activity choices.  Use of any of the recommendations or helpful tools and tips on the GracefullyHome.com blog does not constitute a client-coach relationship.