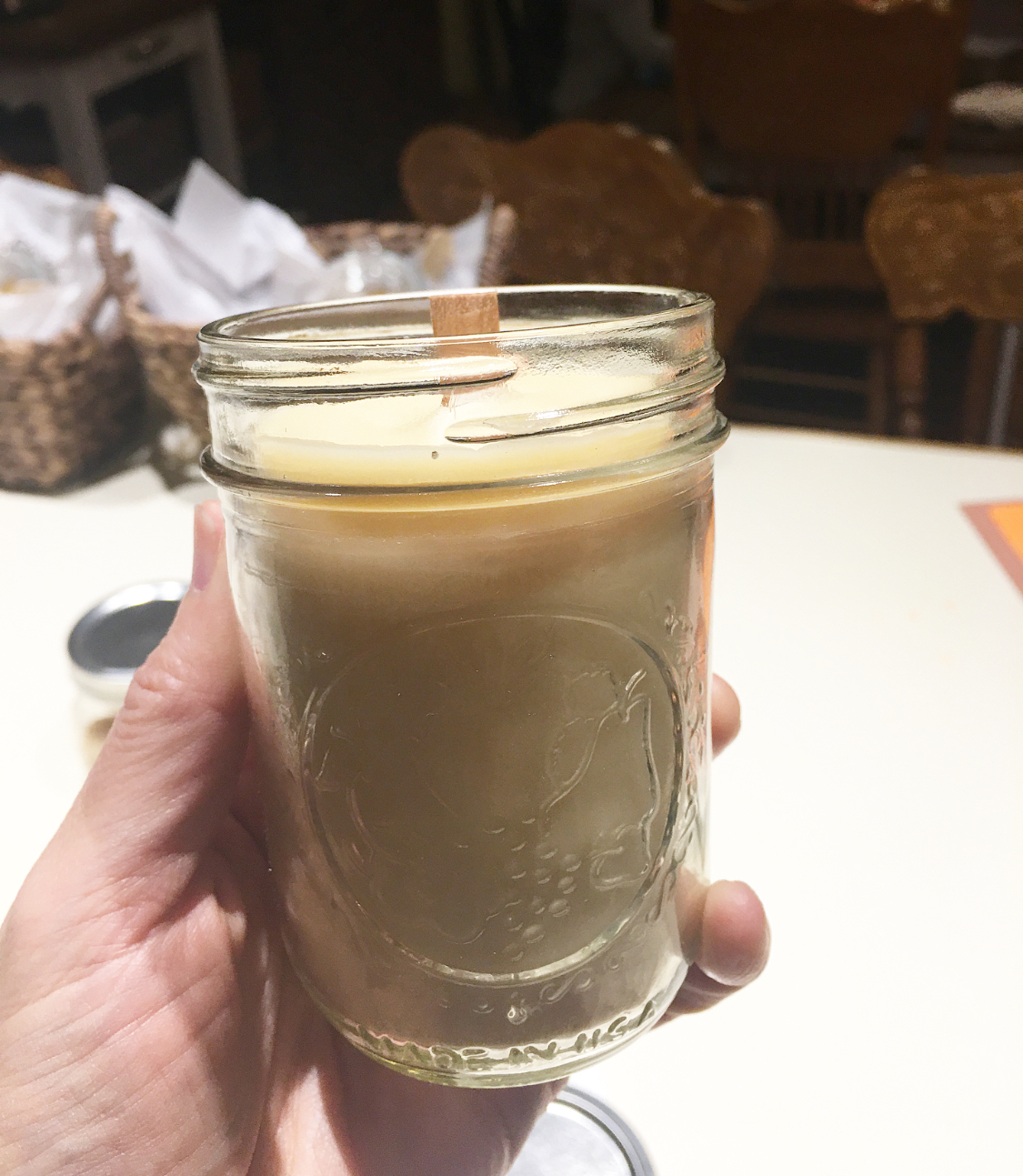 Candles are a great way to add warmth to any room in your home.  I love the natural scents that spark the uniqueness of each season. Unfortunately, the cost can add up.  Plus, there is the fact that many conventional candles on the market may carry toxins that our family tries to avoid as much as possible. The clear choice is to either find naturally made candles that are on sale or make our own naturally infused candles at home.  Can you guess which option we chose?
That's right, you can easily make your own natural candles at home with a few simple ingredients that you may even already have on hand, if you enjoy creating handmade products at home too. (smile)  I love when homemade products are simple and convenient.  And you can't get anymore simple than this recipe!
Let's roll up our sleeves and make these delicious and warm smelling candles then, shall we?!
We place a heat safe bowl on top of a sauce pan for a double boiler effect.
**This post may contain affiliate links.  Please see full affiliate disclosure here.
SUPPLIES YOU WILL NEED
1 lb beeswax pellets (like this here)
1/2 c coconut oil (like this here)
1 pack of wooden wicks (like these here)
8 oz Mason Jars (like these here) with lid
Scrap fabric (I used one similar to this here)
3-4 clothespins (I used similar ones to this here, but regular clothespins would work even better)
40-50 drops of cinnamon leaf essential oil ( I purchased this from Mountain Rose Herbs here. You can also find it here.)
1 Pyrex glass measuring cup (4 cup size like this here)
1 metal pot
1 glass (heat safe) bowl
DIRECTIONS
Fill metal pot with water (a little less than half full) and place glass bowl carefully on top.  You can use a double boiler if you have one.  Bring water to a boil.  While water is heating up, add your beeswax pellets and coconut oil to the glass bowl and melt completely.  This will take a little bit to melt all the pellets, but be patient and it will eventually melt just fine.  Give it a stir.
Remove pot from stove and add your essential oil to the melted liquid (you can use any combination of your favorite essential oil scents).  For this basic candle, I chose to just use a single scent and keep it simple.  After adding your favorite essential oil, carefully use an oven mitt or pad to pour melted contents into the Pyrex measuring cup.  It will be easier to pour with the lip of the glass and cut down on spills.
I used our vintage-style clothespins to hold the wooden wicks steady while I poured the melted wax into the jars and while the wax hardened.  If you are using the regular type wicks, you can use any clothespins you have on hand, or a pencil (wrap the wick around the pencil) to hold the wick in place while you pour the wax in the jar and while the wax hardens.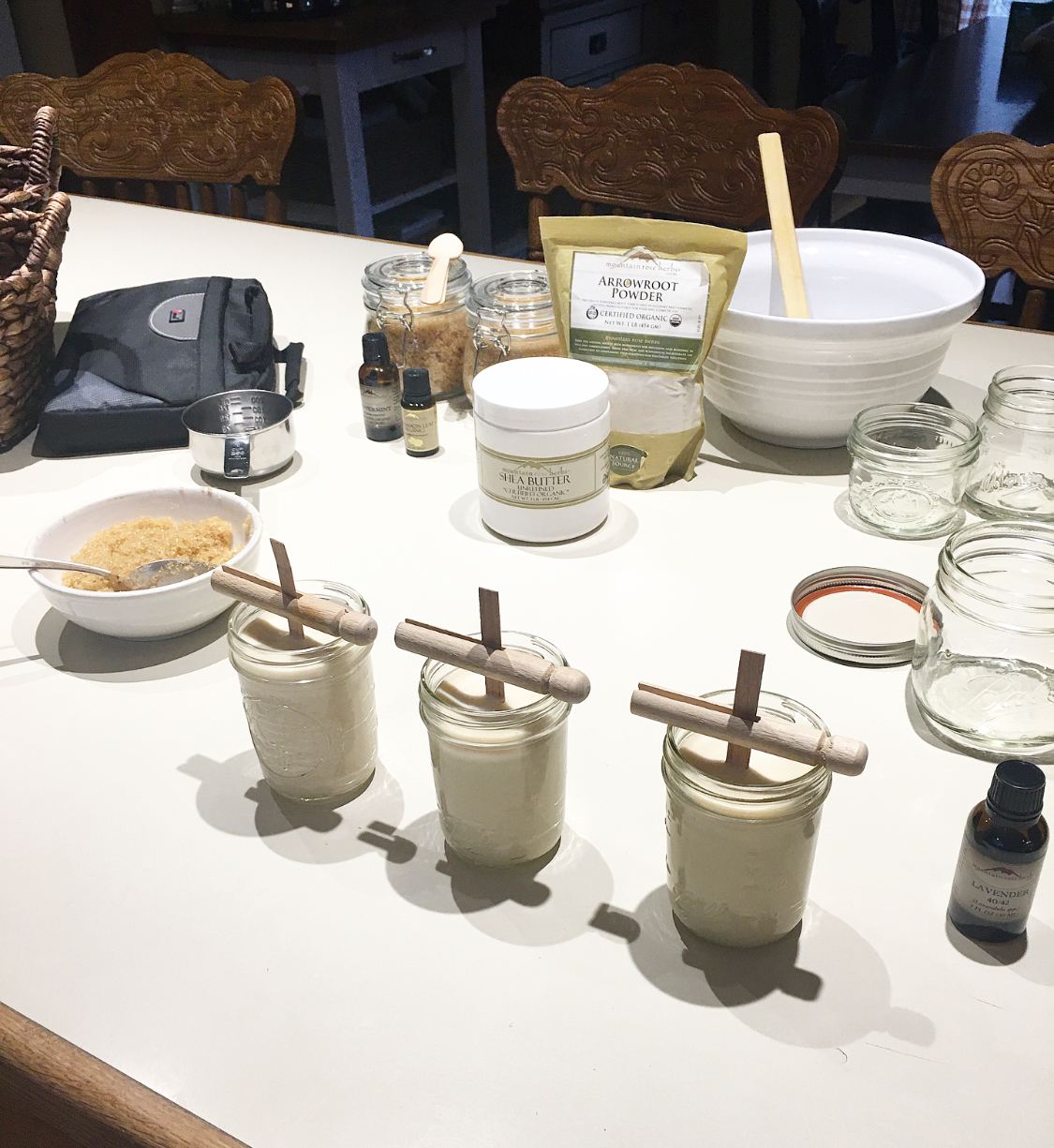 I love how simple these candles are to make and I love how the wood wicks crackle when you light them. I also appreciate the fact that by going the wood wick route, I am able to eliminate the question of whether the soy wicks are truly toxin free or not.  Depending on the source and site you reference, you may find that some of the soy candle making products on the market are not completely natural and may contain paraffin.  When paraffin is burned, it is said to create highly toxic benzene and toluene which are both known carcinogens.  Ummm, no thank you!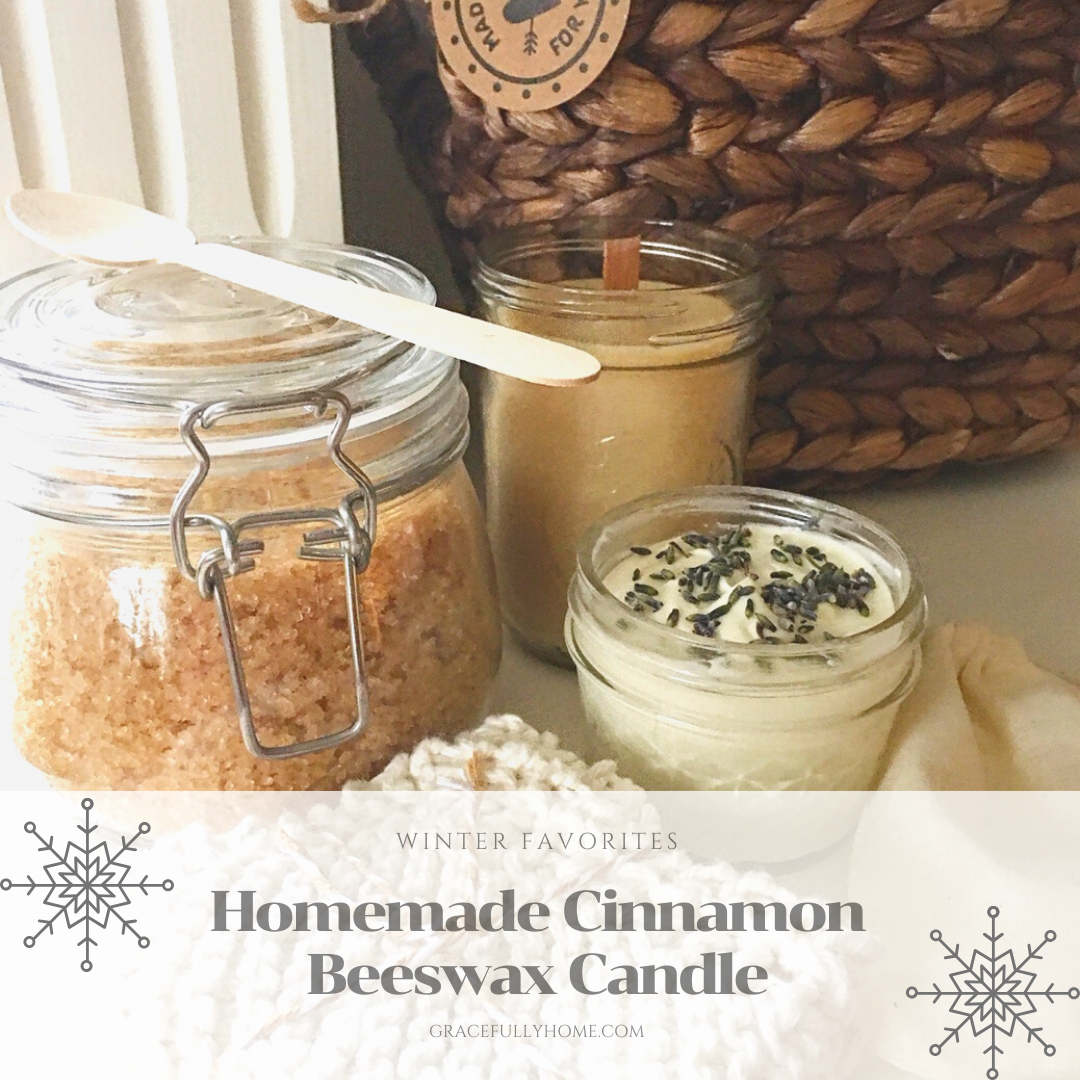 Once the candles have hardened, take a sharp pair of scissors and trim the wood wicks down to a size appropriate for your choice of container.  They cut so easily without any splitting.  For my homemade candles, I cut several circles some ticking fabric scraps and placed the Mason Jar rings on top and pressed the rings securely down, to add a little rustic charm.  These would make a great addition to any gift basket or enjoy your lovely natural creation in your own home.
Hope you'll give this simple recipe a try!  If you use this recipe, make sure to tag me on IG @gracefully_home, so I can share the love and add your natural DiY creations to my stories.
Essential Oil Resources

Disclaimer: The health and wellness posts shared here on GracefullyHome.com are not intended to diagnose, treat, prevent or cure any illness or disease.  The information provided on this blog is for general educational purposes, has not been reviewed nor approved by the FDA and is not intended to take the place of advice from your medical professional, licensed dietician or nutritionist.
You are solely responsible for your health care and activity choices.  Use of any of the recommendations or helpful tools and tips on the GracefullyHome.com blog does not constitute a client-coach relationship.