Learning how to ferment and culture food at home may sound intimidating, but once you give it a try, you will see just how easy it really is. And the rewards from the benefits of getting extra good bacteria in your gut is so worth the time you invest in it, today. They don't call your gut, "your second brain" for nothing. Prevention is KEY! Most common diseases we see today don't start overnight. They are caused and shaped by a lifetime of choices and the environment we choose to live in. The practical life skills that our littles learn today, will shape who they are in the future and whether they thrive or find themselves chronically sick. Start them young and teach them how to make healthier choices today.
"An ounce of prevention is worth a pound of cure."
~Benjamin Franklin
In addition to taking our powerful probiotic blend supplement found here, we make sure that our family eats a healthy variety of nutrient dense whole foods and we love to take advantage of the outdoors with hikes and nature walks to explore our property. We make sleep a priority, drink plenty of water, and for the adults, we try to manage our stress levels by knowing our limits and training ourselves to say, "No." when we have too much already on our plates.
Making probiotic products at home can save you money and can help give your gut eco system a diverse variety of different strains of good bacteria to help rebuild and support a healthy and strong immune system. Fermented and cultured foods and beverages have been around for thousands of years and they have been slowly creeping their way back into our modern-day homesteading kitchens and natural living communities.
Lately, I have been getting more questions about how our family likes to combat the flu season and the newest scare with the spread of the Coronavirus. It's easy to say that those with weakened or compromised immune systems are the ones that may be more seriously affected, but that doesn't mean that if you are young, eat healthy, and exercise regularly that you shouldn't take precautions. The most important thing you can do for your family is help build a strong and healthy immune system naturally with the daily choices that you make.
**This post may contain affiliate links. Read my full disclosure here.
SUPPLIES YOU WILL NEED
-Water kefir grains here.
-These 16 oz Grolsch Glass Beer Bottles for second fermentation here.
-Organic sugar (you can also use organic brown sugar, but stay away from using sugar substitutes or honey because they have properties that may kill your live cultures)
-Fine mesh strainer like this here.
-4 cup glass measuring cup like this here.
-64 0z size mason jar (purchased ours at the local grocery store for canning and storing leftovers, but you can also find them here)
-Mason jar lid.
-Plastic funnel like this here.
-Organic grape juice (purchased ours at our local grocery store)
-Wooden spoon to mix sugar solution.
This is what the water kefir grains look like. They are a gelatinous colony of good bacteria and yeast that feed off of sugar. You may be thinking, "Isn't sugar bad for us?" In highly processed forms and in high amounts, sugar can be unhealthy and cause chronic inflammation in the body, which in turn can make you more susceptible to chronic disease and illness…even cancer, but in this case, the water kefir grains consume the sugar and produce healthy bacteria growth to help build a healthy gut environment. The result, is a healthy homemade probiotic soda that the whole family can enjoy.
**This post may contain affiliate links. Please see full affiliate disclosure here.
STEP ONE
Dissolve a 1/4 c sugar for a quart jar to 1/2 c sugar for a gallon jar of filtered water. We make about 3 bottles at a time of the kefir soda, so we use the 1/2 c sugar for a gallon jar of filtered water.
NOTE: Some folks will warm up their water just enough to help the sugar dissolve easier. If you choose to take this route, just make sure that your water is not too hot. If you choose to just use straight water without warming, it should be room temperature as to not shock the healthy "good guys". Remember that these cultures are living and need the right kind of care to keep them thriving and growing.
STEP TWO
Once the sugar has had enough time to dissolve and the water is at room temperature, add the water kefir grains to the sugar water and place lid on loosely. Leave it sitting on your counter at room temperature for 24-48 hours. After the fermentation process is complete, give it a taste. The mixture should taste more sour or tangy than sweet once the grains have consumed all the sugar. Depending on your grains, this may be up to a three day process. This is not an exact science because there are so many variables from home to home and from water kefir grains to water kefir grains.
NOTE: The warmer the room temperature, the faster the fermentation process. The colder the room temperature, the slower the fermentation process. The more active water kefir grains the faster the fermentation process. The smaller amount of active water kefir grains, the slower the process. Keep this in mind as you experiment with your first few batches.
You can drink it as is or you can put it through a second fermentation process to give it some fiz. It's totally optional, but the second fermentation process gives it the "soda" like fiz that our littles have come to enjoy.
STEP THREE
To each bottle, add 1/4 c of organic grape soda. You can also use other fruit juice flavors. We have made them with homemade ginger tea to give it a ginger ale flavor. Skies the limits on the flavor combinations. Cranberry, pomegranate, apple, etc would also be delicious.
STEP FOUR
After adding the juice, fill the rest of the bottle with the fermented water kefir. Make sure to use your strainer to separate the water kefir grains for the next batch. Leave a bit of head space at the top of the bottle to make space for the expansion of gases. Close top and leave on counter for an additional 24-48 hrs. I like to give it a gently side to side shake before placing it on the counter to start the process.
NOTE: If you do not hear any carbonation when "burping" the bottle, recap and leave on the counter for another 24 hrs to ferment a little longer.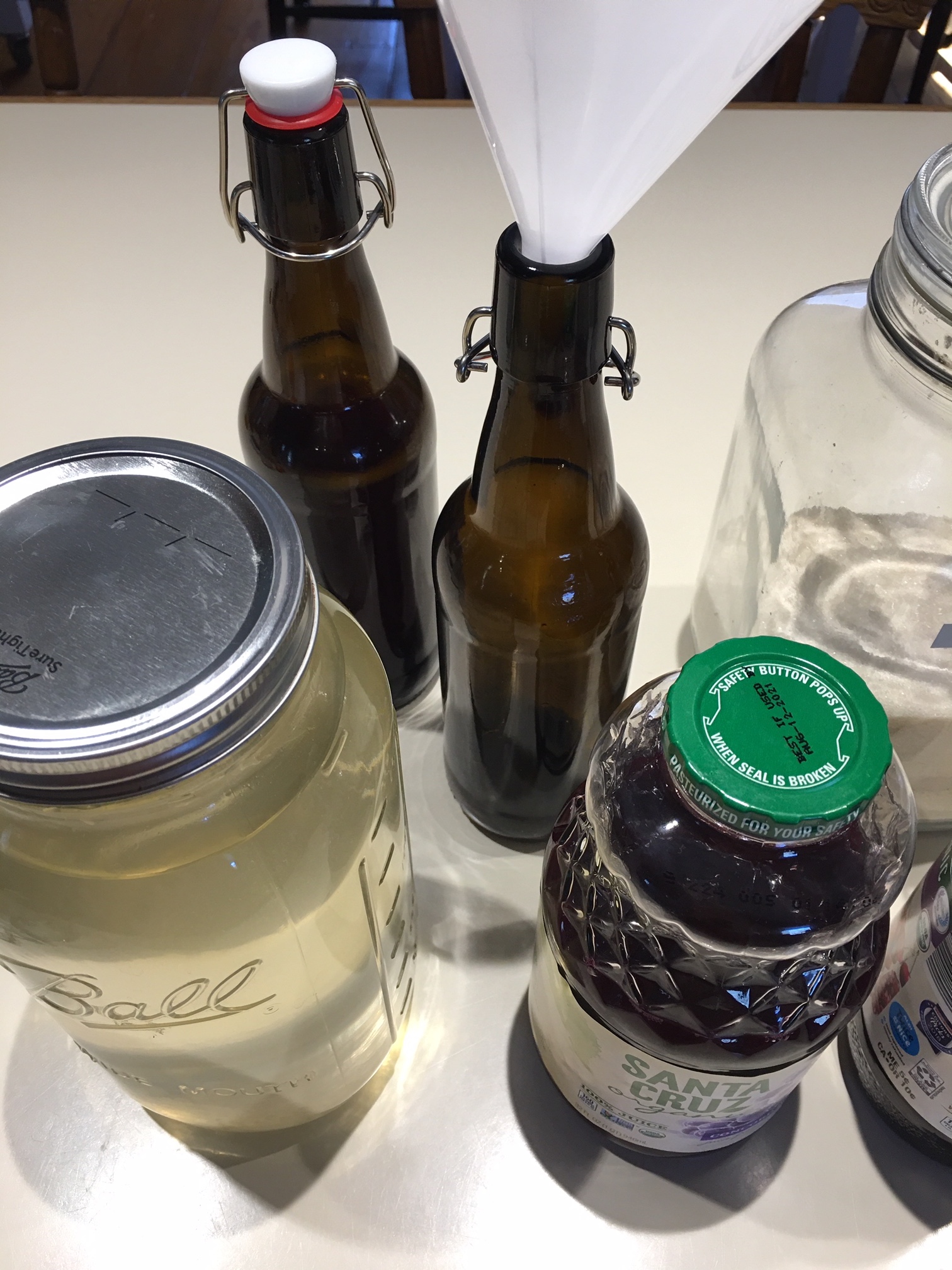 PRACTICAL TIP:
Be careful when checking the carbonation levels. The built up gases can make a mess if you're not careful. Once the desired carbonation level is achieved, place bottle in the fridge and enjoy over ice or straight out of the bottle. This homemade grape soda makes for a refreshing beverage during the warmer months. Our littles absolutely love drinking homemade water kefir soda. The fizzier, the better. (smile) Hope you'll give it a try.
STEP FIVE
Take your original mason jar and fill with water and a 1/4 c (for a quart jar) to 1/2 c (for a gallon jar) of organic sugar to start the process all over again. If you need to give your grains a break. You can feed them and place the jar in the fridge for up to 3 weeks. When you are ready to use again, feed the grains some fresh sugar water and continue the culturing process. It may take a couple batches for the grains to wake up and start working again, but once they wake up, they get right to work. (smile)

Disclaimer: The health and wellness posts shared here on GracefullyHome.com are not intended to diagnose, treat, prevent or cure any illness or disease. The information provided on this blog is for general educational purposes, has not been reviewed nor approved by the FDA and is not intended to take the place of advice from your medical professional, licensed dietician or nutritionist.
You are solely responsible for your health care and activity choices. Use of any of the recommendations or helpful tools and tips on the GracefullyHome.com blog does not constitute a client-coach relationship.