"This Week in the Hollow" is a weekly series sharing glimpses of the adventures from our simple life in the hollow.
It has been a while since I shared a new installment for This Week in the Hollow series.  Not for lack of things to share around here, but just finding that with everything going on this year, I really needed to prioritize my projects, collaborations, and you guessed it…my blog posts. Mindful living takes practice and learning how to be flexible is a must.  Sometimes, you need to just give yourself some grace and take a break and return to it when you are ready. Amen?!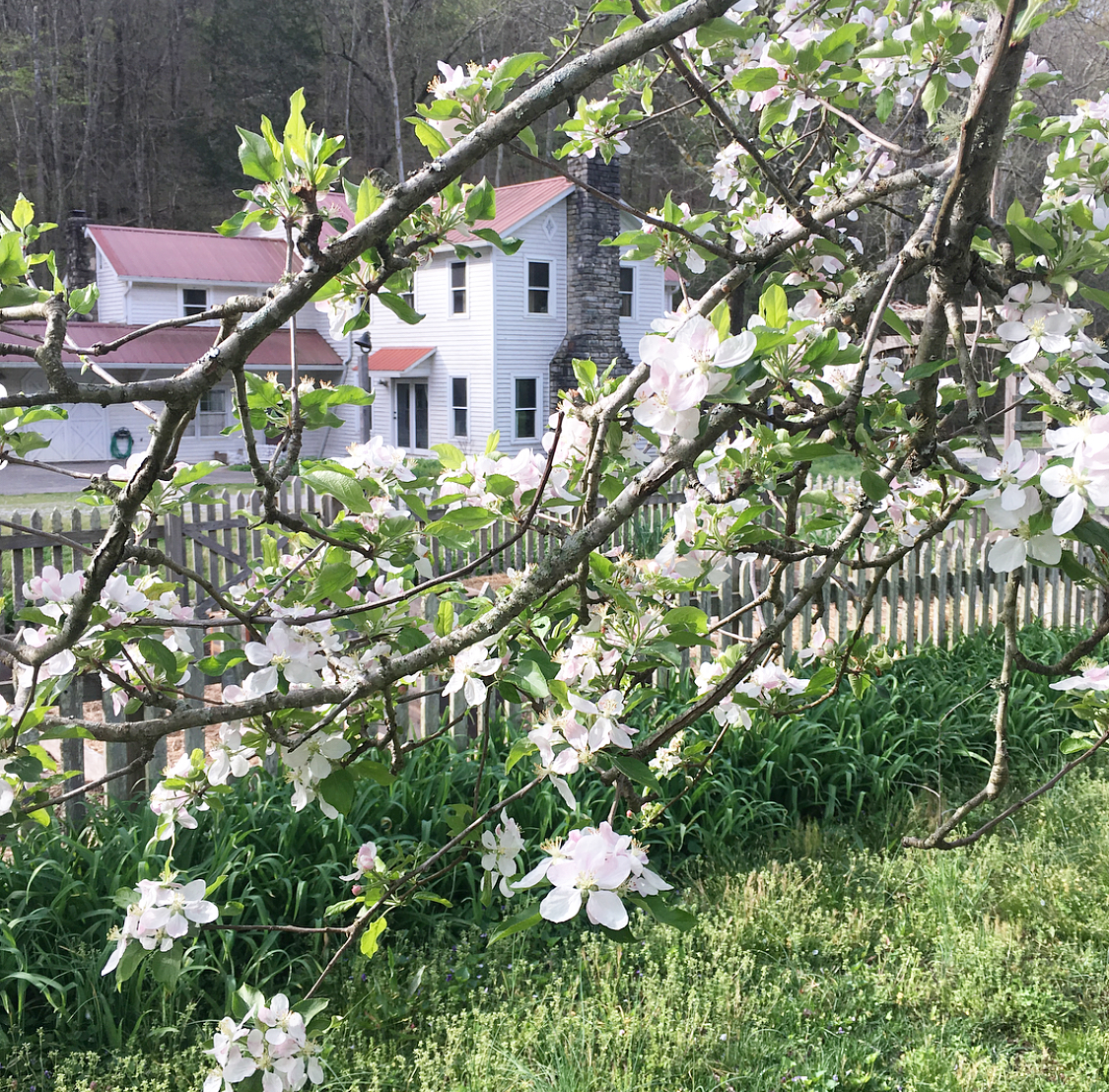 Ecclesiastes 3:1
We have been experiencing more than just Spring-like weather here lately. This week, we enjoyed some 84 degree weather, which is really not the norm for this time of year, but I can safely speak for the whole family when I say, "We'll take it!"  One of my favorite views is when the new apple blossoms start popping up.  It always seems like it happens overnight.  (smile)
We're not the only ones who are enjoying the warmer temperatures.  All the animals seem to have more pep in their step.  (smile)  Our Australian Shepherds have been so playful and excited to roam and explore.
We added 10 more chicks to our flock and two new ducklings.  I remember the excitement when I was younger when we had ducks, rabbits, a dog, and some quail. Not all at the same time because living in the city made keeping them long-term a little more challenging.  I love seeing our littles interact with the animals on our farm and making fun memories.
These two ducklings are too funny and they a growing like weeds.
We're thankful that our cats are just curious when it comes to our chicken barnyard and coop.
The ladies have been cranking out the eggs and we have been able to share the excess with my hubby's co-workers and our immediate neighbor.  Aren't they pretty?!
Sophie came out to say, "Hello!"during my morning walk.
Our neighbor was able to finish all the fencing repairs and installation around the pasture before the weather warmed up and recently introduced about 27 head of cattle to their new home in the hollow for the next few months.  That was a fun milestone for the whole family.  Even though the cattle are not technically ours, it is still fun to look out toward the first field and see these beauties grazing.  Their mooing makes me smile.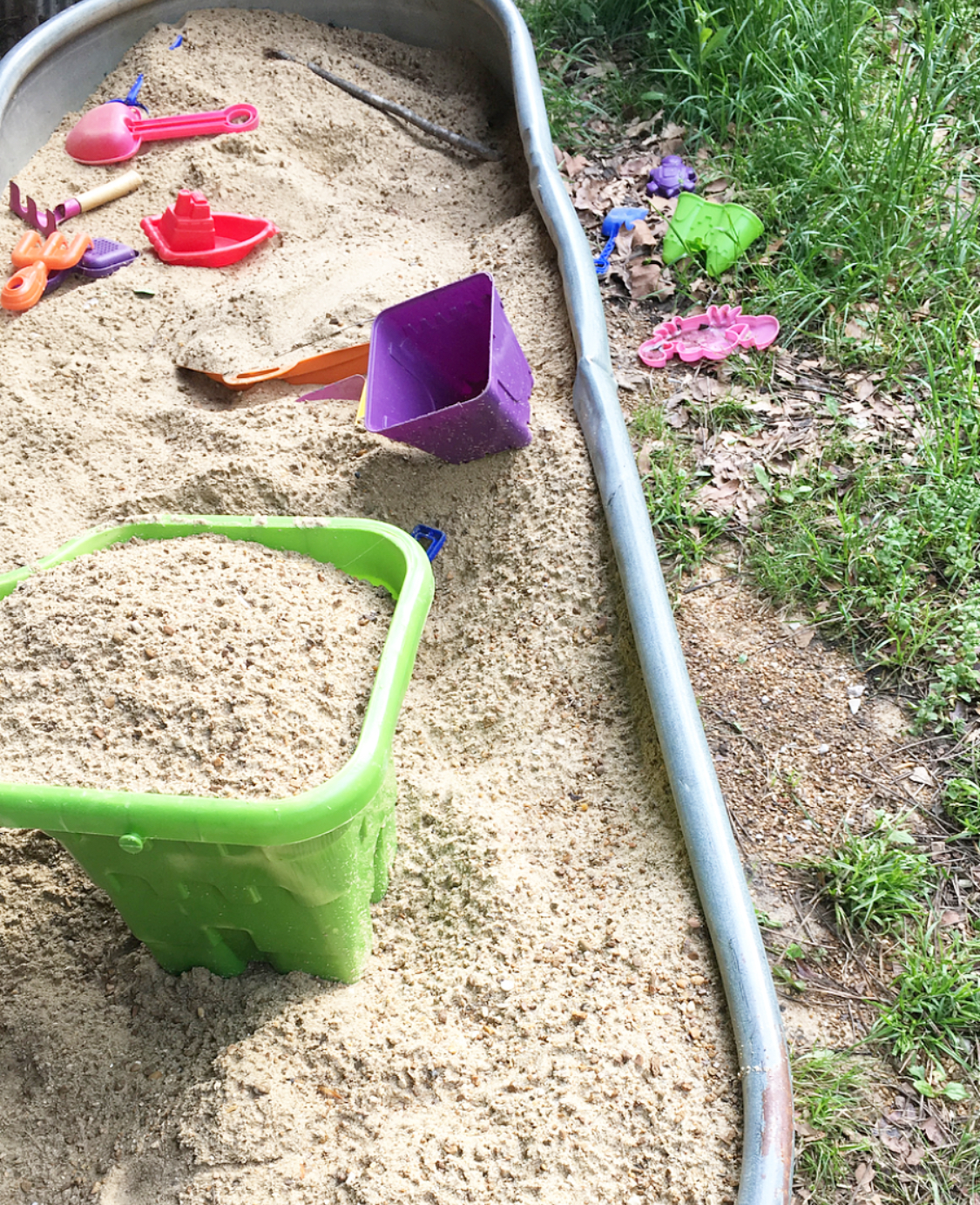 The littles enjoyed their first swim in our "pool."  It's really a watering hole in the creek, but it is deep enough that some of them learned how to swim in it last summer.  My husband filled this watering trough with play sand and the littles love to pretend they're on the beach.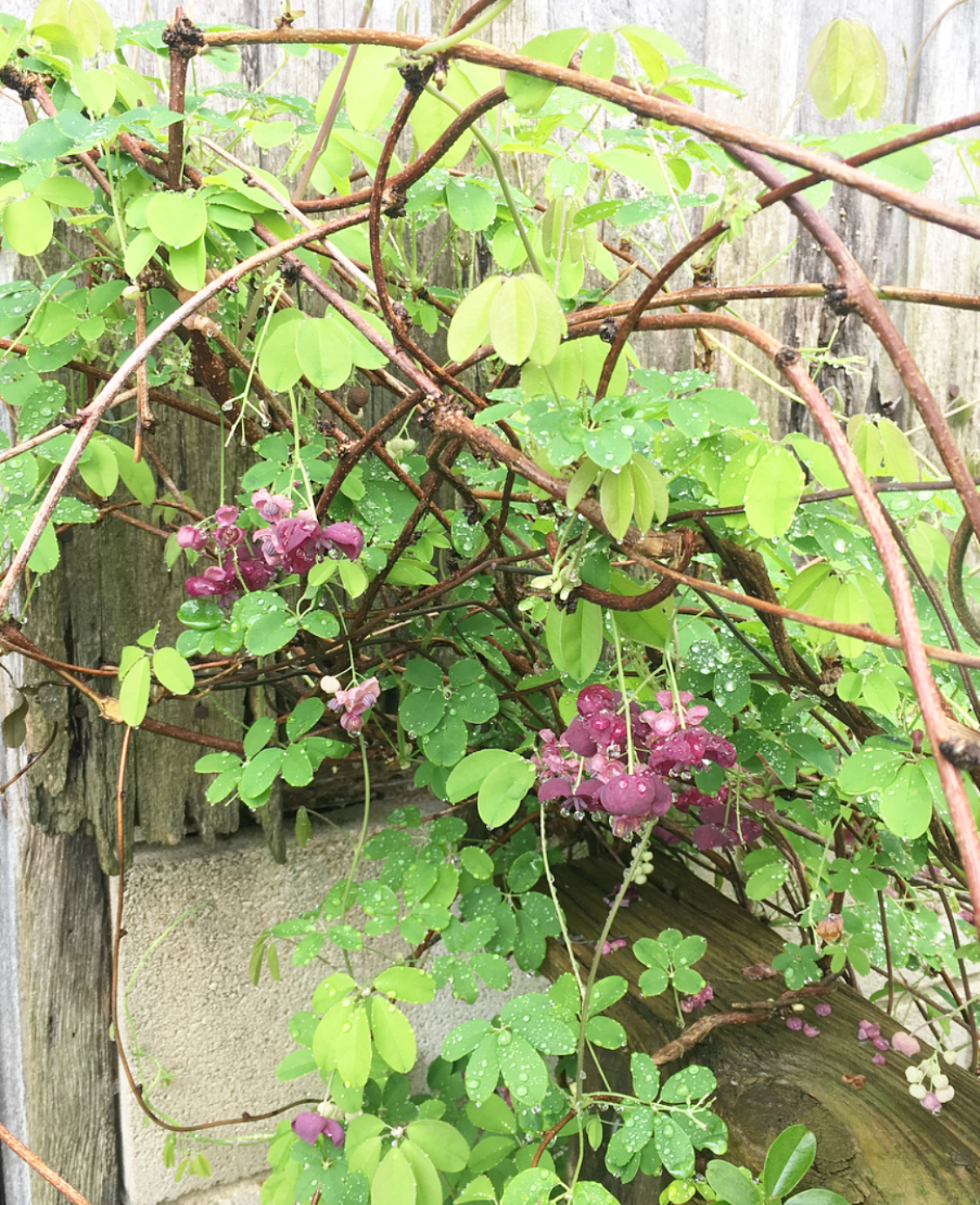 These chocolate vines grow on the side of my husband's workshop.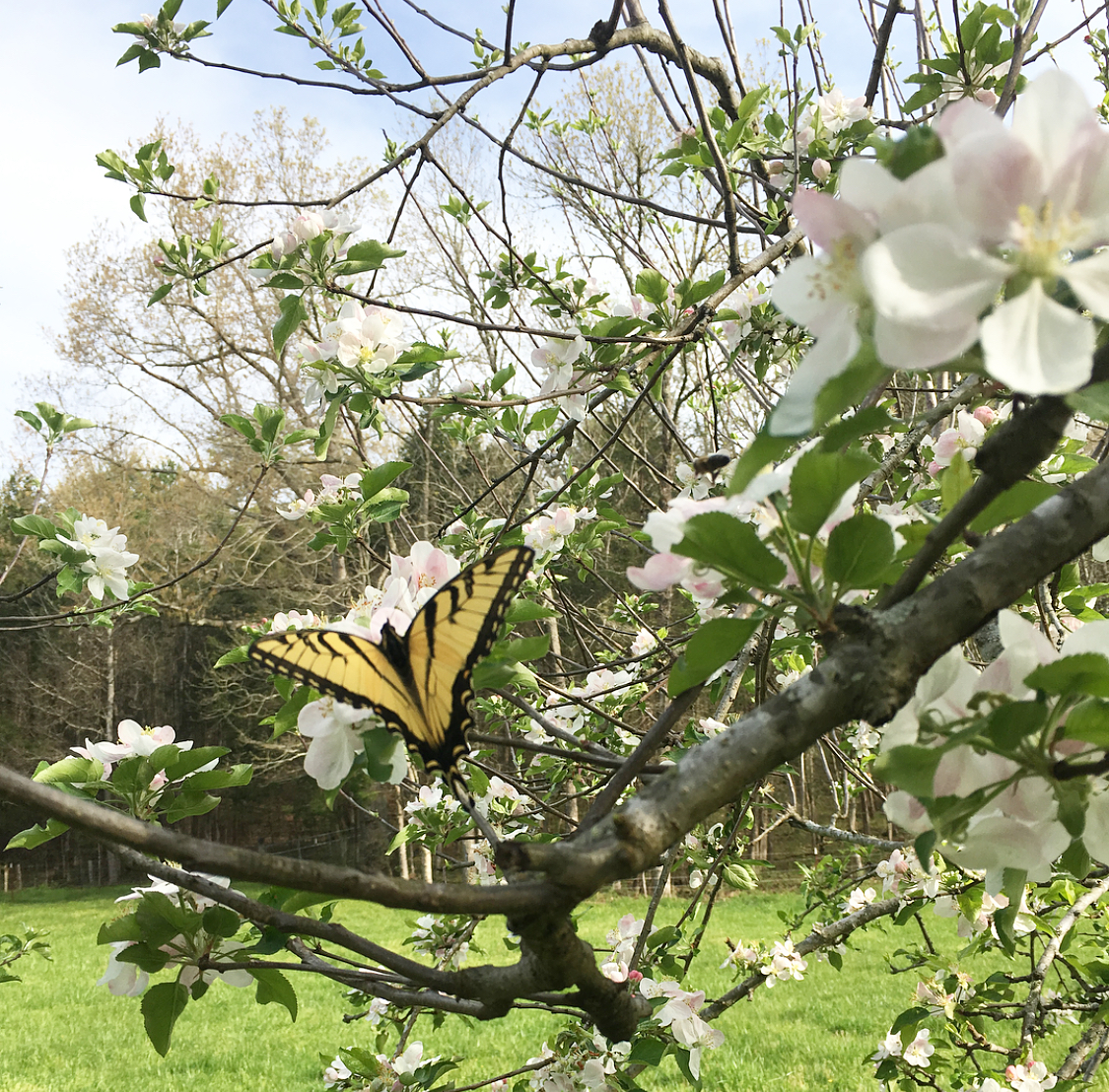 So many beautiful sights have been popping up around the homestead and I say this each year, but it is almost like a surprise every Spring.
Just this year, I noticed these new purple flowers that popped up next to our 1820's log cabin.  They resemble Wisteria a little and I wonder what it really is.  If you are new to my blog, you can take the tour of the original dwelling place of the first pioneers to settle in our hollow here.  It is a fun piece of our property's history.
UPDATE: Mystery solved!  These are lilacs. I knew they looked familiar! (smile)
Our peonies are already starting to form.
The Viburnum pleasantly surprised me.  I planted this last year and it is really flourishing already.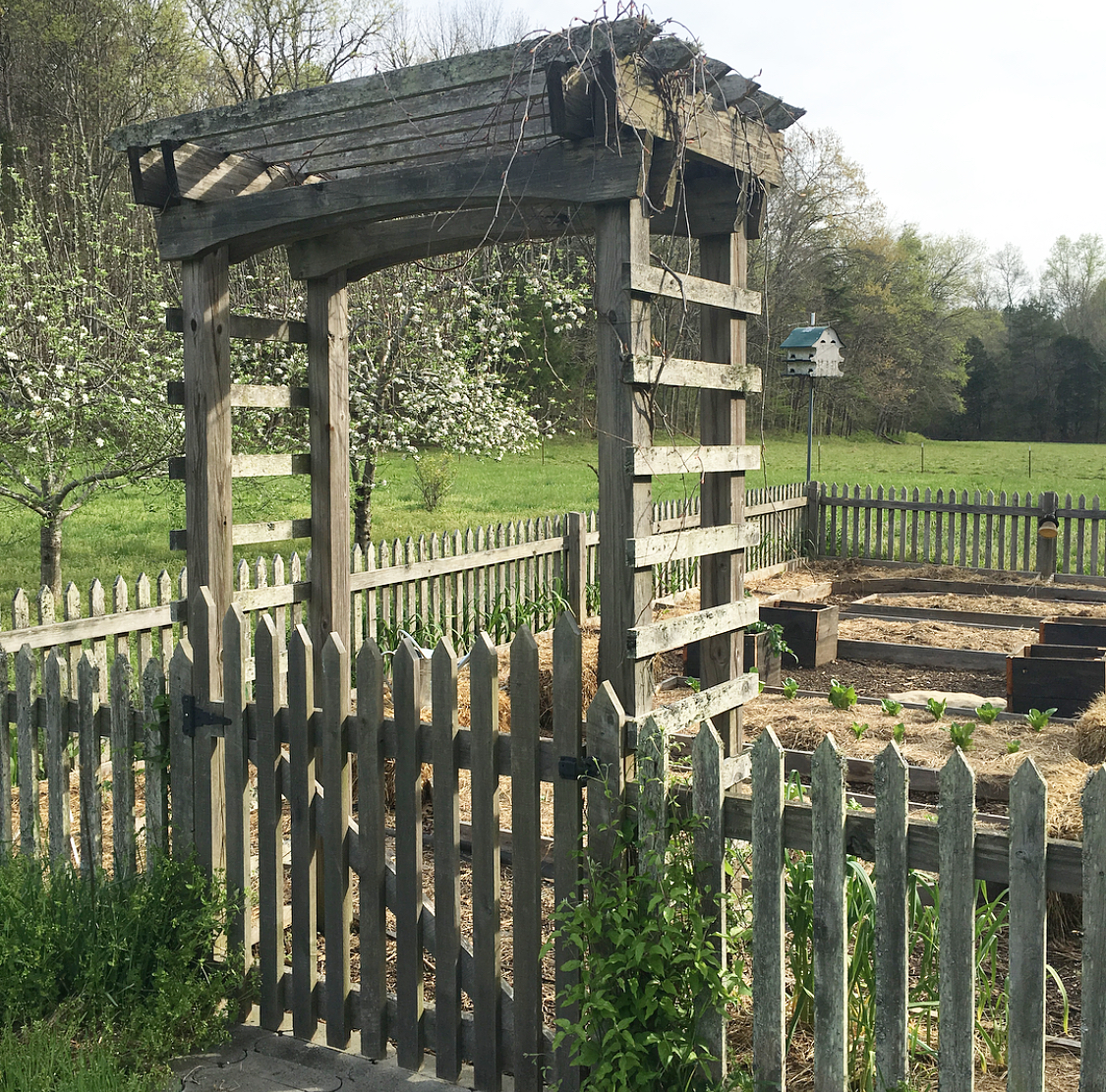 Our grapevines are starting to grow and we were able to plant a few veggies already in the garden.
Romaine lettuce
Tomatoes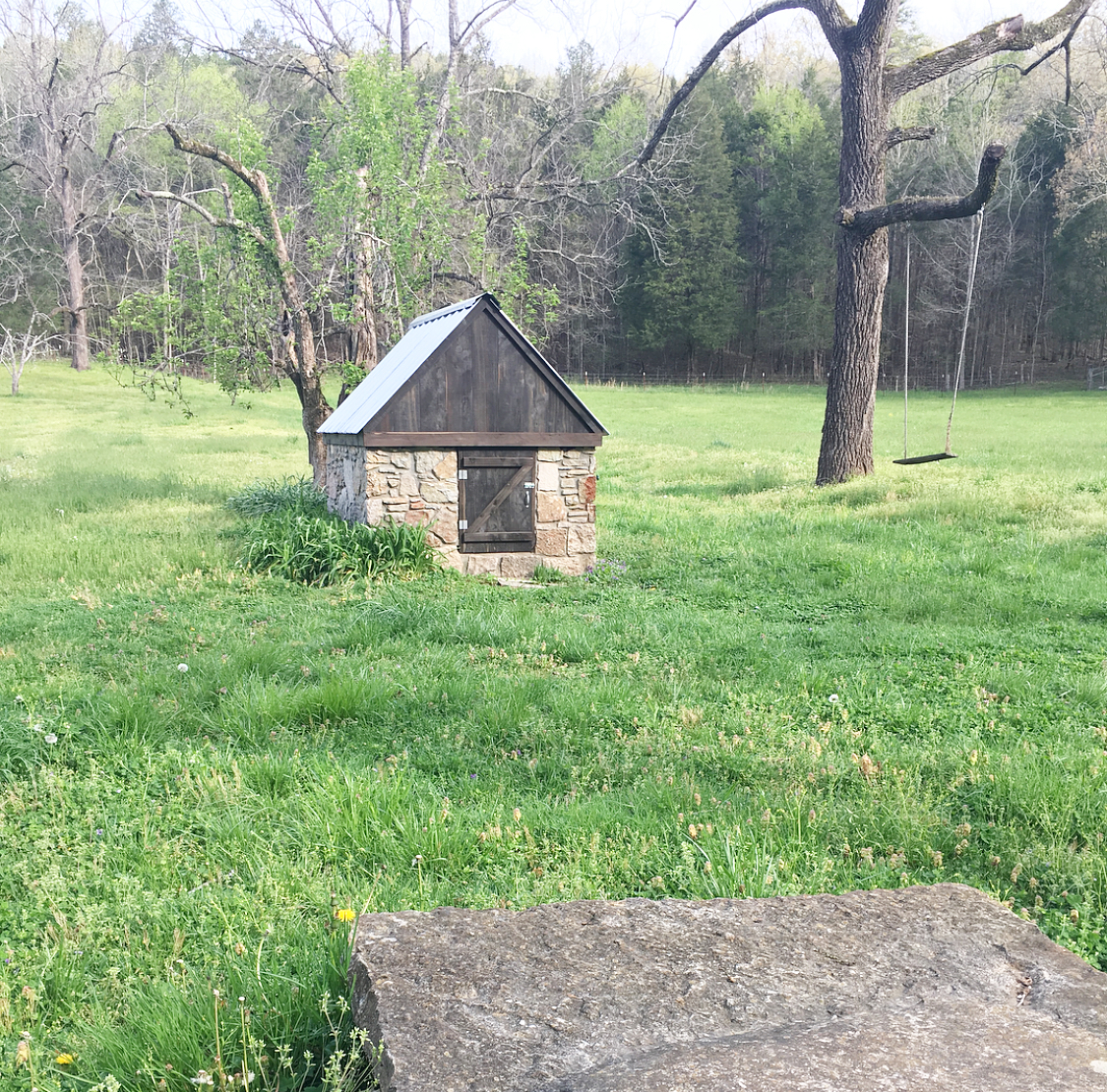 Hubby even managed to squeeze out an unexpected DiY project/upgrade when the well pump crew broke our pump house door.  He used the leftover steel wool stained cedar boards from our living room DiY remodel project here. He built a new door, replaced the face of the roof and added decorative molding. He's a keeper!  (wink)  Front room progress update post coming soon.  Can't wait to share!
Well, there you have it. I hope you have enjoyed this glimpse of our week in the hollow.  Thanks for continuing to follow along.