During the warmer months of the year, we find ourselves with an overabundance of farm fresh eggs. There have been years that we collected so many eggs, that we could not keep up with them or even give them away. This year, we discovered the water glassing eggs method to help preserve our extra eggs for use throughout the winter months.
As homesteaders, we are always looking for different techniques and methods to help preserve our food here on the farm.
That's why when I first learned about water glassing our farm fresh eggs, I was super excited to give it a try!
WHAT IS WATER GLASSING?
Water glassing is a simple preservation method that was used during the 1800s to preserve farm fresh eggs for use during the winter months.
These days, it is common to use calcium hydroxide (hydrated lime) to make the mixture for the eggs. So, I grabbed a bag of pickling lime from the canning section of our local Piggly Wiggly store and got to work.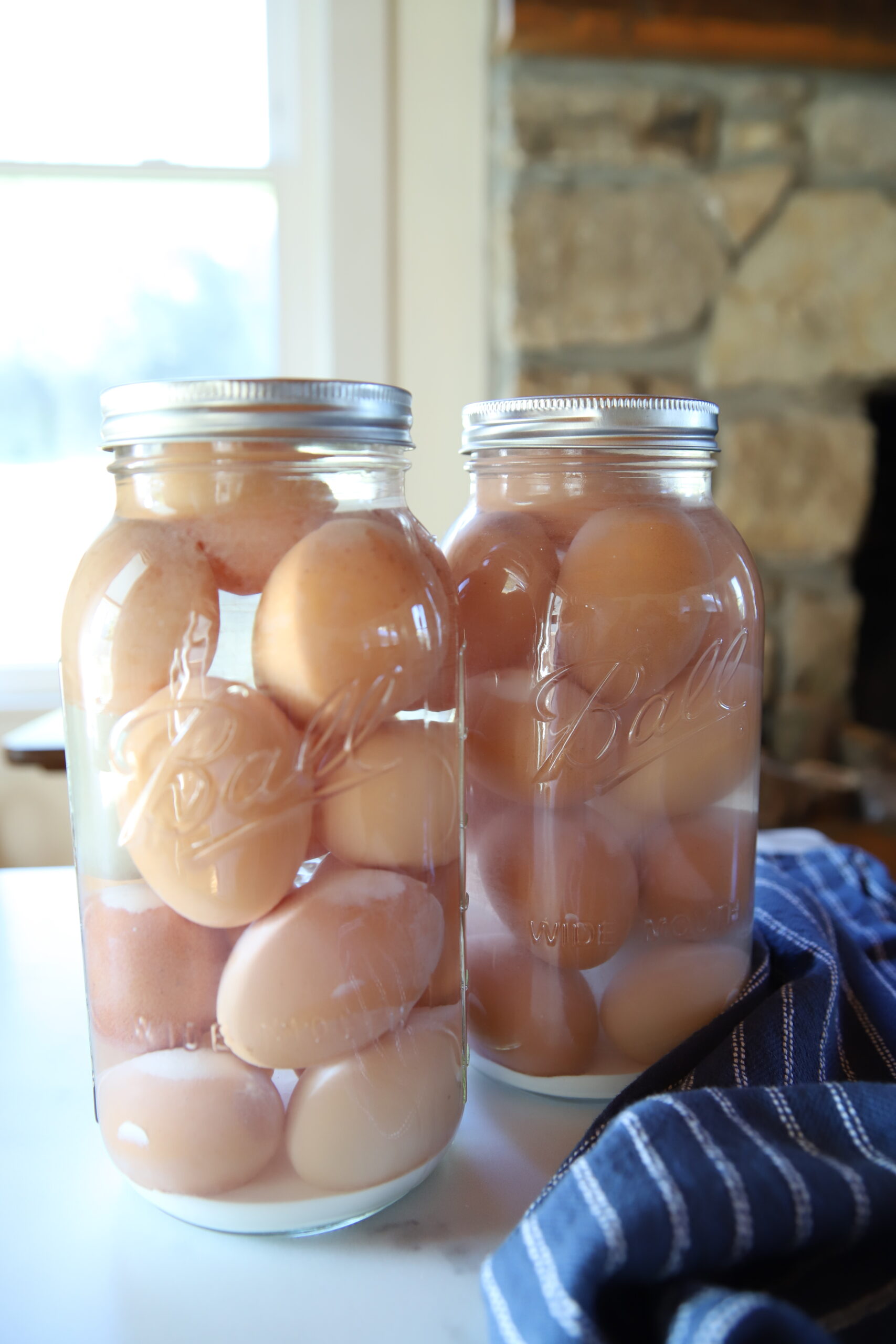 HOW DOES WATER GLASSING WORK?
The pickling lime (aka calcium hydroxide) mixture works to seal the eggshell, preventing bacteria and oxygen from penetrating the shell.
As a result, the preserved egg stays as fresh as it was the day it was laid.
WHAT KIND OF EGGS TO USE
chicken eggs
duck eggs
quail eggs
Any clean, unwashed poultry egg can be preserved with the water glassing method.
SUPPLIES YOU WILL NEED
1 ounce pickling lime
1 quart filtered water (must be chorine and fluoride free; we use our Berkey Water filtered water)
whisk
1/2 gallon Mason Jar with air tight lid (can use a food grade bucket)
kitchen scale (for measuring pickling lime powder)
measuring spoons
fresh, clean eggs (with "bloom" intact and without dirt or debris)
NOTE:
Making a large batch at one time with all your collected eggs is not necessary. You can collect fresh, clean eggs daily and carefully add them to your Mason Jar until full.
HOW TO PRESERVE EGGS THROUGH THE WATER GLASSING METHOD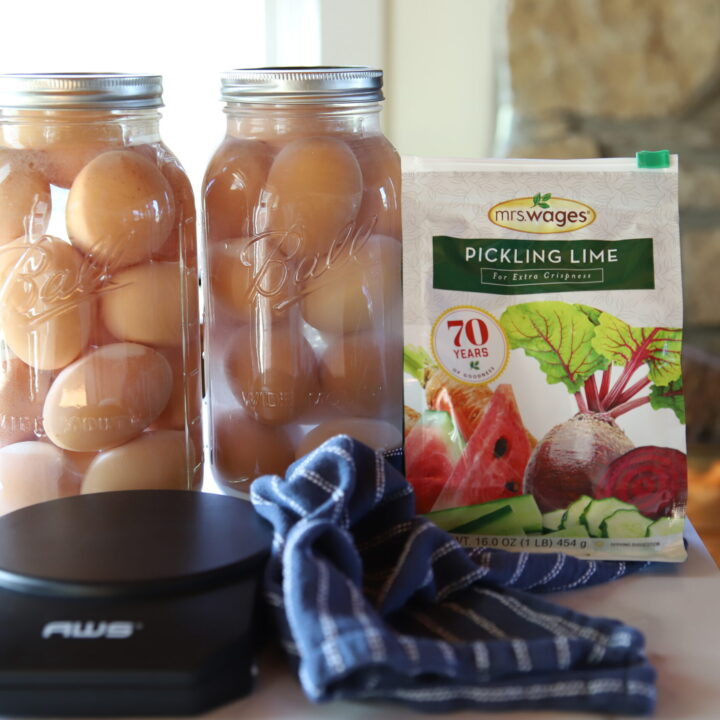 Water Glassing Eggs
Learn how to preserve farm fresh eggs for the winter, through the water glassing method.
Tools
1 ounce pickling lime
1 quart filtered water (we use our Berkey Water filtered water)
whisk
1/2 gallon Mason Jar with air tight lid
kitchen scale
measuring spoons
clean unwashed eggs with "bloom" still intact
Instructions
Place a clean half gallon Mason Jar on a kitchen scale and tarry your scale to read zero.
Measure out 1 ounce of pickling lime and add to the Mason Jar.
Fill Mason Jar up half way with filtered water. You may need to add a little more filtered water to make sure the eggs remain submerged.
Using a whisk, mix the pickling lime powder into the water until fully dissolved.
Start carefully adding the eggs with pointy side down.
Cover with an airtight lid to help prevent bacteria or air from disturbing the eggs.
Store in a dark and cool place until use.
Notes
Wash eggs well prior to using, to remove any pickling lime water.
Water glassed eggs can be stored up to a year and over.
Settling of the pickling lime powder is normal.
HOW TO USE YOUR WATER GLASSED EGGS
When you are ready to use your water glassed eggs, simply give them a thorough wash before using. You do not want any of the lime water mixture present on the shell.
Water glassed eggs can be used just like you would a freshly laid egg from the chicken coop.
If you are looking to boil your water glassed eggs, be sure to wash well (pickling lime is not good for ingesting) and poke a small hole in the egg shell prior to placing in the boiling hot water. Otherwise, because the pickling lime mixture does such a good job of sealing the eggshell, the heat from the stove top may cause the egg to explode.
HOW LONG DO WATER GLASSED EGGS LAST?
When done properly and stored in a cool and dark place, water glassed eggs can last up to a year or longer.
PIN IT FOR LATER: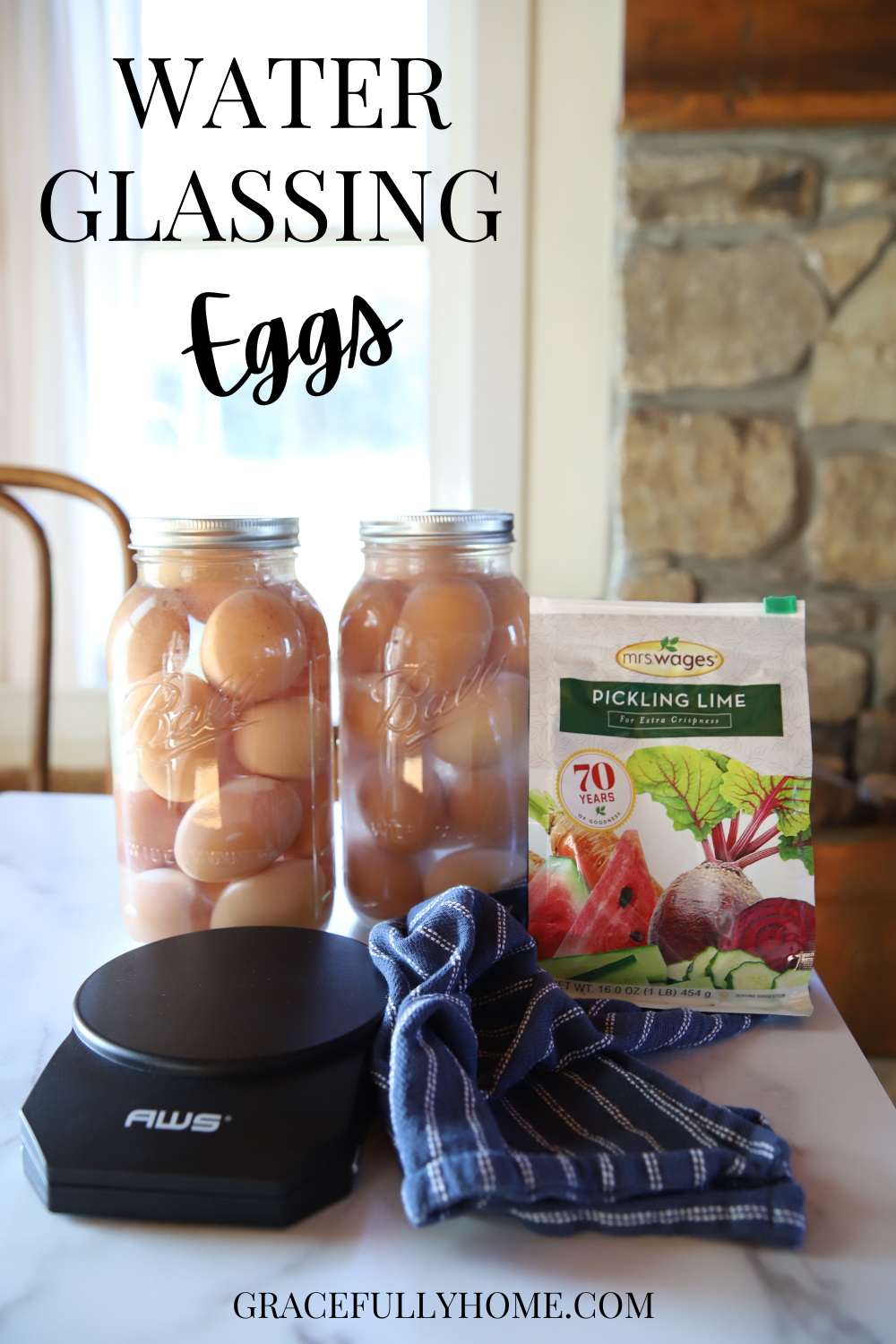 Who knew that safely storing eggs for an extended period of time, could be so easy?! Now, you know!