Come tag along for our summer guest room refresh tour. See how a few simple additions transformed this once cluttered catch-all room into an inviting and welcoming space for future guests to lay their heads and enjoy the slower pace in the hollow.
It definitely feels like summer here on the farm. Since the homeschool year is complete, we have been busy tackling mini projects around the farmhouse and garden.
DECLUTTER AND ORGANIZE
Before we do anything to a space. We always start with clearing everything out. Then we give the room a good old-fashioned cleaning from top to bottom.
Things like windows, fans, vents, fixtures, walls, doors, and base boards all get reset with a rag and our natural all-purpose cleaners. The floors get a good sweep, vacuum, and mopping.
Some things are purged, while other things are placed back to their original homes or new homes are found, to help cut down on the clutter and make things work for efficiently.
If you're looking for more natural alternatives, you can check out our affordable natural cleaning solutions here.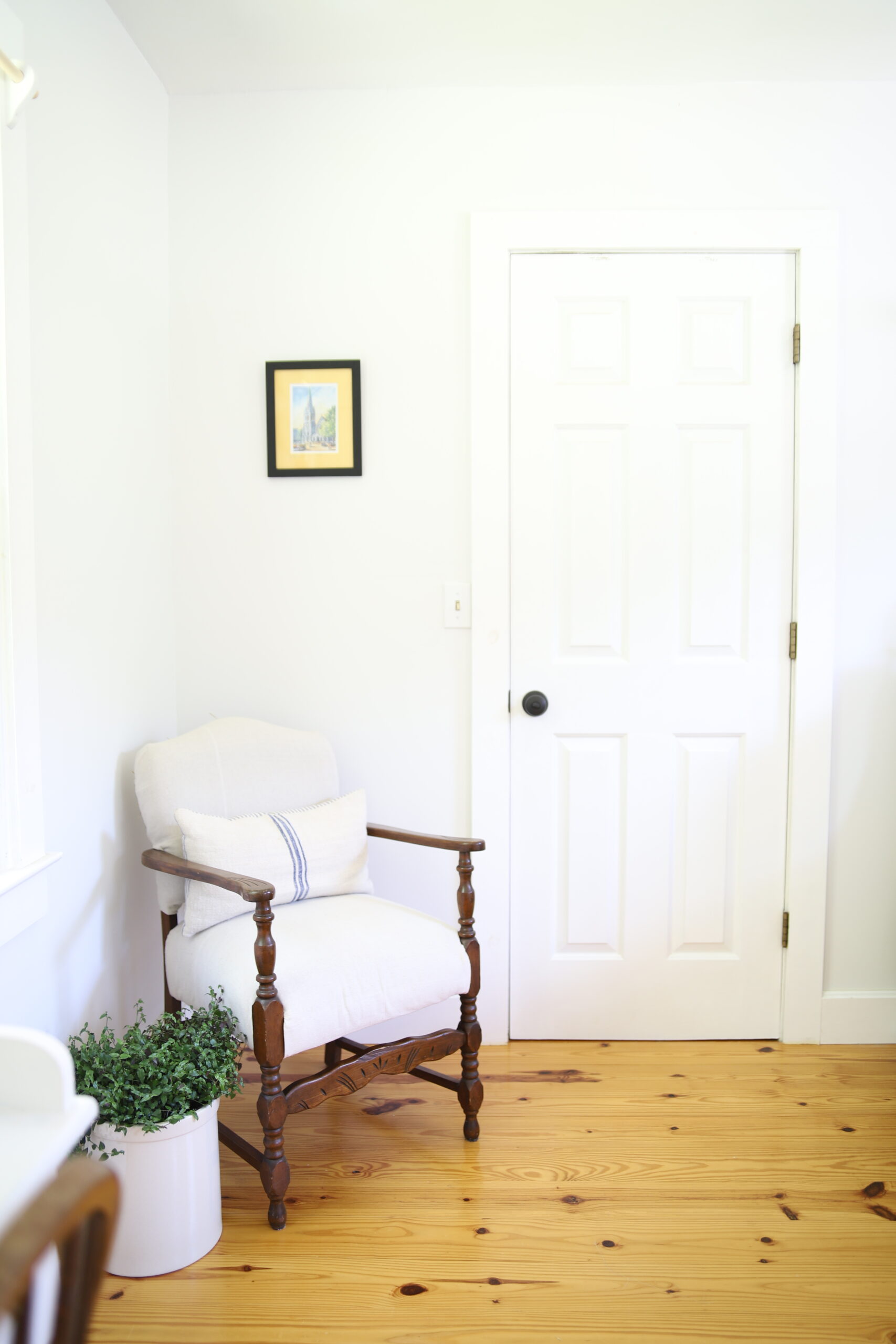 With less folks traveling last year, this room didn't get a lot of use, aside from becoming the dumping ground for all my FB Marketplace and antique store finds.
It can be tough finding extra storage space in our old farmhouse. Although the rooms do provide ample closet space for every day items, we still have to get creative around the hollow to stay organized.
Not having a garage or climate controlled storage shed, keeps things interesting.
NEW BEDDING
New bedding can be as simple as changing out your winter flannel sheets for more crisp cotton or linen sheets.
For this summer refresh, I partnered with Mellanni Fine Linens company and added this Spa Blue duvet cover on top of my husband's grandmother's vintage cotton sheets. This relaxing blue-green color is a departure from our otherwise neutral palette in our guest room. It reminds me of being on the coast.
The white bedspread coverlet set is also from the folks at Mellanni Fine Linens and is light weight, but substantial enough for those cooler summer nights.
I love how the $5 dollar antlers and the DiY pillow slipcover gives this simple farmhouse look a little more dimension and interest.
**This post contains affiliate links.  Please see full affiliate disclosure here.
Look how the DiY blue and white ticking bedskirt, made from our sweet son's old duvet cover, mimics the blue and white stripes in the lumbar pillow slipcover.
To think I almost removed it because I thought it wouldn't match. Thankfully, I reconsidered that extra step. I'm glad it worked out with minimal effort.
SPECIAL OFFER
The folks at Mellanni Fine Linens are offering you a 10% discount code if you would like to give their products a try.  Just use TENMLN44 on check out on their Mellanni Amazon store.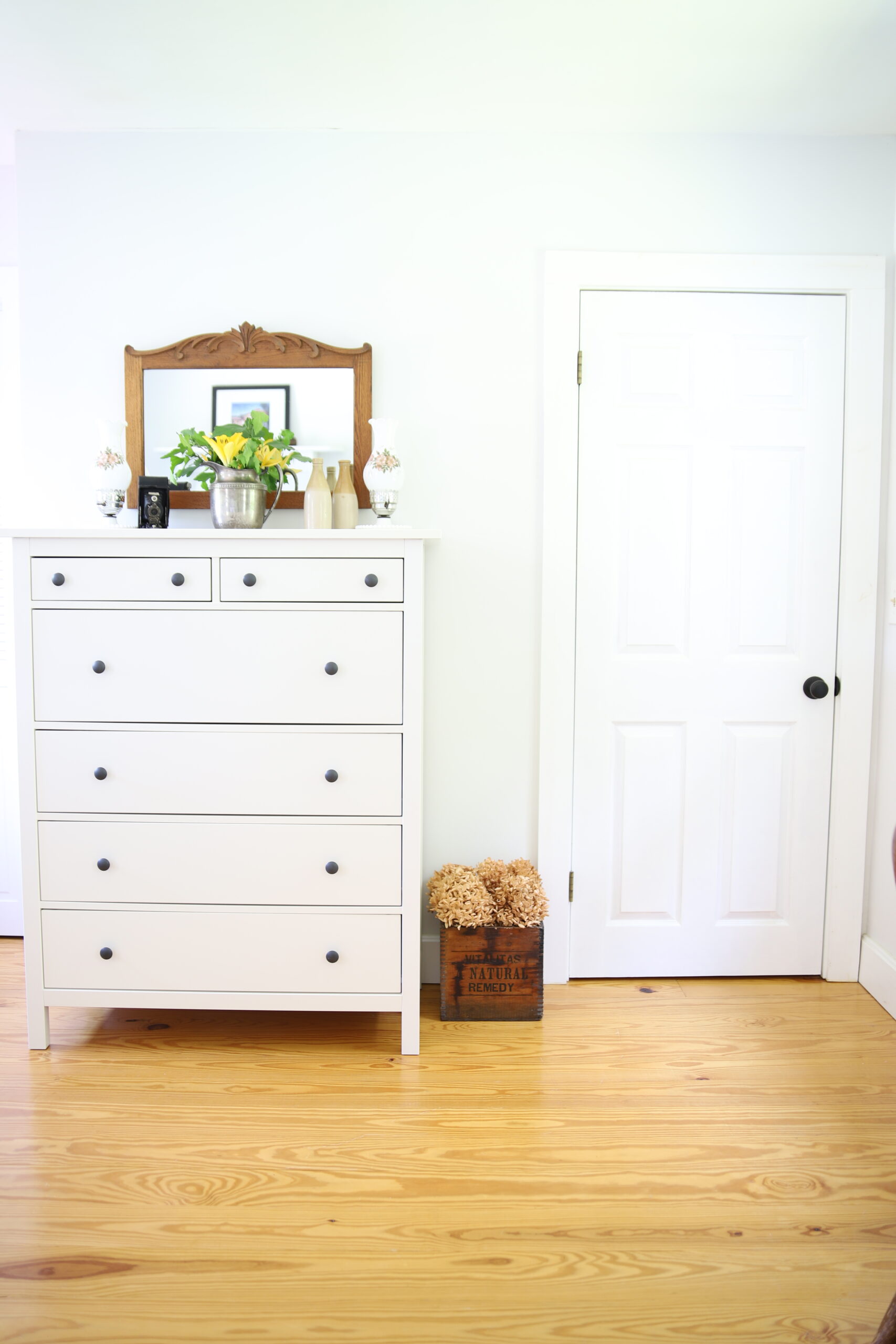 ORGANIZATIONAL BONUS TIP
One of the easiest ways I stay organized and simplify our farmhouse is by making time to go through our spaces regularly and evaluate how items function in a space.
The pieces that either, don't fit our needs any longer or have outgrown a space, and are just collecting dust, these are the first to go.
It's amazing how clutter can negatively impact your mood from day to day. While, an organized home can cultivate a more peaceful and welcoming environment for all who enter.
ADD IN A MIXTURE OF NEW AND OLD
I love seeing a room come together with found treasures from our travels. Each one has a fun memory or a special story behind it.
These pair of milk glass lamps were my husband's grandmothers', and were used in our daughters' room for a time. But after last year's DiY teen coastal farmhouse makeover here, they were ready for a change in scenery.
I found the old muted bottles while on one of my Mama's Day Out adventures. One of the bottles was found locally for $5 on a clearance, thrift store shelf and the other, I found last year on our anniversary trip to the Smokie Mountains.
Shopping for just the right pieces has become a fun and relaxing pass time and makes for a great Mama's Day Out activity.
Many times, I come back empty handed, but it is just as fun to look and window shop. Especially when the displays are filled with interesting pieces from the past.
This writing desk was less than $10 at Goodwill, several years ago and fits perfectly between the two windows facing the creek.
I painted it white and placed the vintage style wooden cubby from Hobby Lobby on top for displaying small family heirlooms, black and white family photos, and seasonal decor.
I moved this $20 occasional chair from the living room into the corner with a simple plant I found at Lowe's for $12.
The crock I found on sale at Tractor Supply last year. When turned around to the plain side, it looks right at home among all the vintage finds.
See how this chair got an inexpensive drop cloth makeover here.
FRESH FLOWERS TO COMPLETE THE LOOK
These yellow lilies grow next to our 1840's log cabin each year.  They are beautiful and brighten the room in this silver plated pitcher I found for $8 when a local store was having a closeout sale.
Adding fresh cut flowers and real plants can make a space really come alive, without spending a lot. And with certain plants, they can help to purify the indoor air. Double awesome!
PIN FOR LATER:
Well, I hope you enjoyed this simple summer guest room tour. Stop back by soon for more made from scratch recipes, DiY farmhouse projects, gardening tips, and back to basics inspiration from the hollow.
Thanks for stopping by the farmhouse.

Isaiah 26:3-4