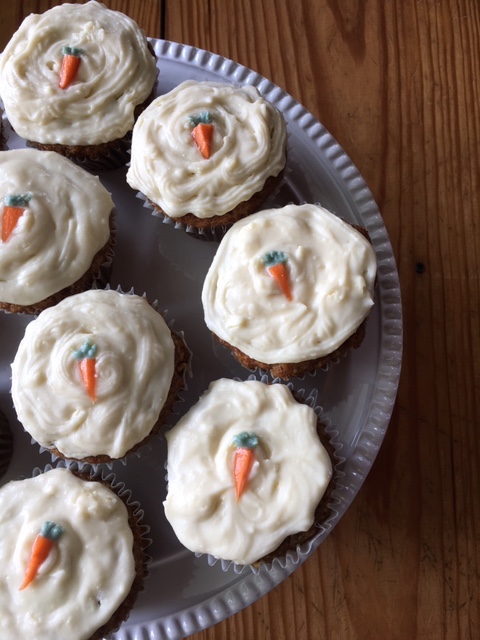 I'm used to being outnumbered by little ones on a daily basis. So coming up with fun and new ways to celebrate their special day once a year, can be quite the challenge.  But this year really exceeded any of our expectations. The birthday girl and her daddy called it "Magical" the first time they saw it.  (smile)
This was no easy feat with being quarantined, limiting online ordering, and trying to keep all our DiY birthday projects a secret.  But with a little pre-planning and the help from the other littles, we were able to work together to pull it off.  Little by little within a couple weeks, my months of planning started to come to fruition and my ideas morphed into reality. That's always a good feeling!  90% of this Frozen 2 birthday celebration was shopping our own home and putting our DiY skills into practice. From the DiY tent built from scrap wood, to the Goodwill flat sheets, turned tent fabric…we added our personal spin on the inspiration Frozen 2 Slumber Party Ideas post from Erin @cottonstem.
I love the way the tent turned out!  It may not make it as a real outdoor tent, but it was perfect for our TV/library room, turned magical movie theater for the day.  My husband built the A-frame from pine wood planks he had in his workshop.  It really came together well. We moved all the furniture out of the room and only put back the essentials…including our old futon mattress for the base. I love all the little touches like the curved planks of the tents, the twinkly lights we had in storage, the Olaf pop corn bags the big kids crafted, the blue, gray, and light blue balloons we purchased here and the 50 plus handmade paper snowflakes courtesy of our teen and tween.  (smile)
**This post may contain affiliate links.  Read my full disclosure here.
I set up a popcorn and craft station on our DiY console. I got the faux carrot from a new friend I met at an online seed exchange last month.  The birthday girl requested our favorite carrot cake recipe, but this time I put a sourdough spin on it.  It turned out delicious.  For the cupcake topper, we cut a sliver from real carrots to make mini carrots. For the green carrot tops, I used a little of our Spirulina (blue green algae) to naturally color the cream cheese frosting.  I took two toothpicks to carefully mimic bushy greens.
I added colorful beads into my husband's grandmother's blue and white transferware for a quick bracelet craft to keep as a souvenir for the "guests." We also had a vintage blue ball jar that was filled with snow flake shaped rings here.  Originally I was going to make them the carrot cake topper, but I decided to just give them as part of the goodie bag.
Love the way these bracelets turned out!  They even made one for me.
We pretended that it was a matinee and the kids and I lined up for the show.  We had ticket stubs and my husband played the role of the ticket master and used our hole puncher to punch our tickets.  We had done this years ago when we treated the littles to their very own version of the Polar Express. (smile)
We had a pretend bonfire going to set the "outdoor celebration mood." We served "caramel" (honey and butter melted together) popcorn along with our homemade Kefir soda. Learn how to make your own probiotic-rich beverage here.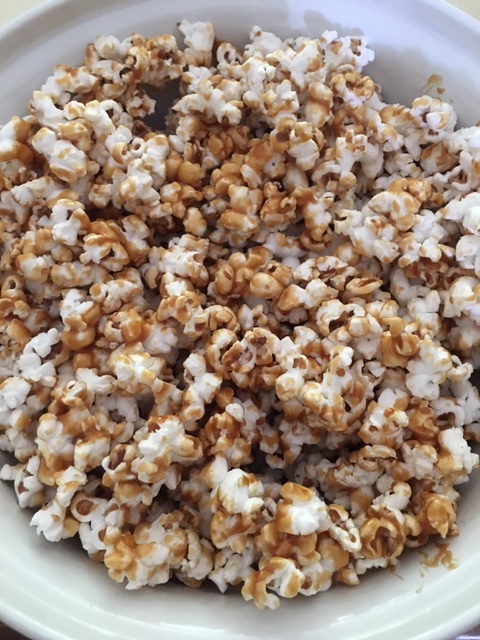 This easy-to-make treat is one of our favorites for movie nights.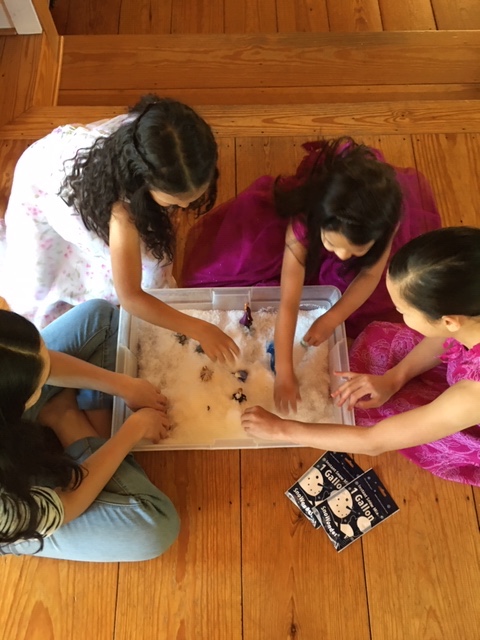 Back when we first started homeschooling, I would create similar sensory bins throughout the homeschool year to share with the littles. It was fun to see them all…big and small enjoying the non-toxic pretend snow.  We purchased four packets here and only ended up needing two.
These Disney figurines here were part of the gifts.  The birthday girl also got one of the characters from the movie, a plush lizard that walks and lights up.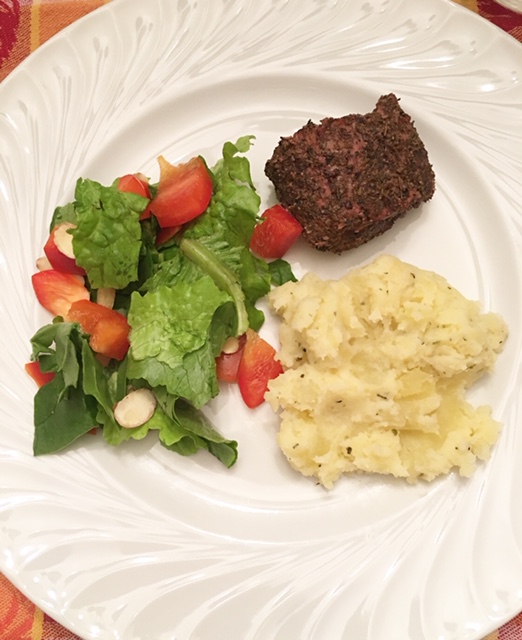 Filet mignon, homemade mashed potatoes, and fresh greens from our vegetable garden was on the birthday dinner menu.
We ended the birthday festivities around the bonfire for a late night star gazing session and charades.
This party celebration was such a fun break from all the spring homestead work.  It was such a big hit that the two youngest have had sleepovers every night since then. You know that an idea was good, if they don't ever want to leave! (wink) It was perfect timing to watch the season finale of our favorite TV series, "When Calls the Heart" from inside the tent. Making memories together is a special gift that won't ever go out of style.