It's always a fun treat to meet fellow blogging friends in person, but when the lunch date happens to be with two friends that helped inspire your love for vintage farmhouse living…well, let's just say this homesteading homeschooling mama couldn't contain her excitement leading up to the big day!  (smile)
I first started following Andrea at Keeping it Cozy while our family was still stationed in AL in 2012.  We hadn't even purchased our homestead in the hollow yet.  I fell in love with her simple and natural vintage style!  Her genuine kindness for others and love for her family was evident throughout her posts and photos.  It's no surprise that she won the Country Living Magazine Blue Ribbon Blogger Award for 2012.  (virtual high five)  I was so excited to just hang out with Andrea and soak up all the beautiful details in her new farmhouse, that I didn't even take any photos.  (sigh)  But the good news is that you can be inspired by heading over to her beautiful blog and sharing the love today.  Yay!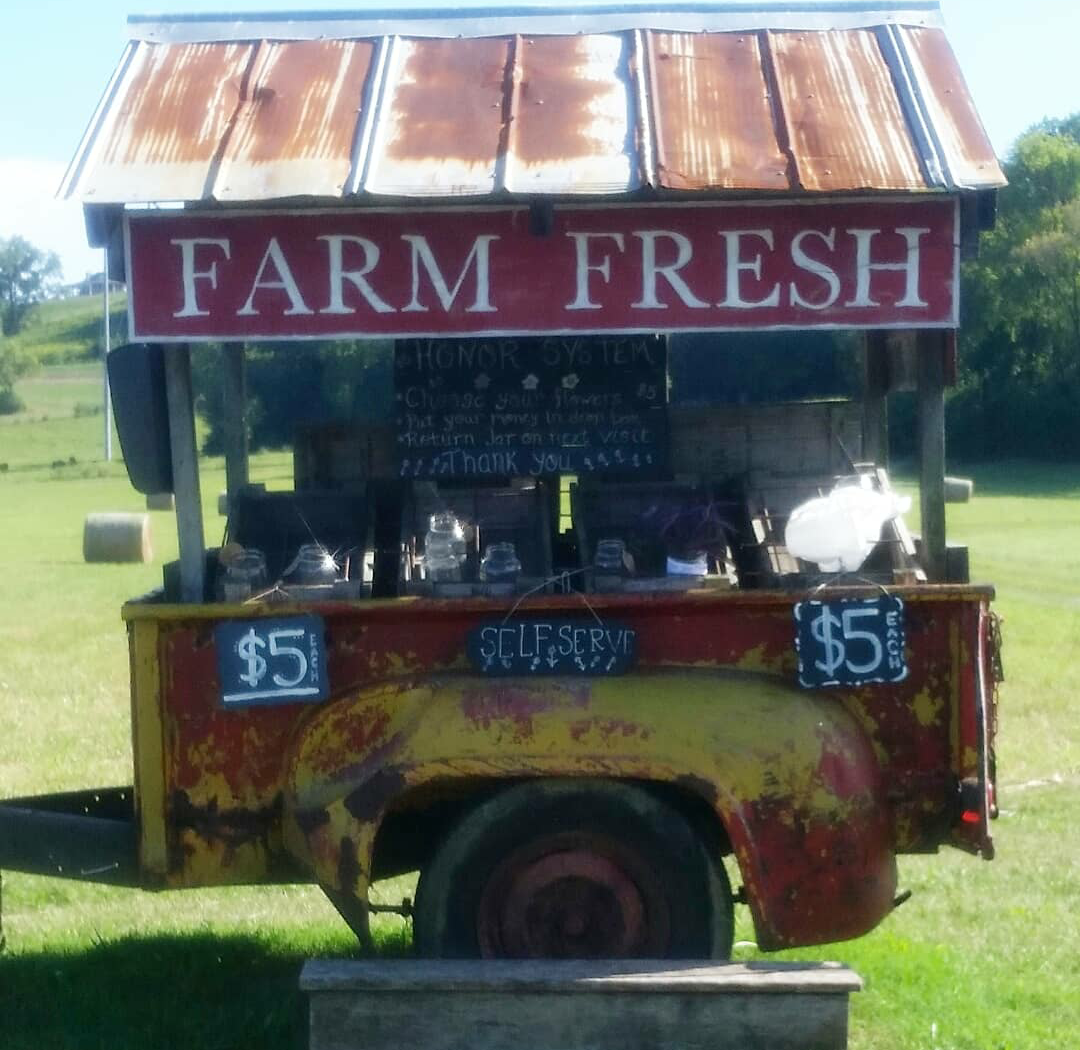 This is their Farm Fresh Flower stand. They got the truck bed off Andrea's in-laws' property in AL and her husband made the improvements on it. They also made the DIY Farm Fresh sign.  Their husbands are super supportive and help out with all the carpentry projects and keeping up with the mowing.  It is really a family affair at their farm! Their Farm Fresh Flower stand is so popular in their local and neighboring areas that they sell out of bouquets daily.  Isn't it charming?  If you are in the local Kelso/Fayetteville area, you'll have to stop on by and get you some! (smile)
Here's a bird's eye view from Dori's loft.  She is demonstrating to our little women how to decorate their sugar cookies that she had baked ahead of time. She is such a creative soul and is always coming up with a new sewing pattern or gorgeous one-of-a-kind handmade project.  I wish I would have taken a picture of the darling bathroom curtain she made for her grandgirls' beautiful pink bathroom.  I told Andrea that we may have to consider painting our hallway bathroom pink for our little women.  (wink)
I love the way Dori set up the tables.  Her attention to detail is wonderful and the food was delicious and healthy.  The quilt table cloths were adorable and protected by a clear plastic sheet.  Such a fun and practical idea!  The littles behind us were laughing and getting along so well.  It was a joy to see them connecting like old friends, while we mamas did the same at our table.  (smile)
It wasn't long after finding Andrea's blog that I discovered her mother, Dori's blog called The Red Feed Sack. This beautiful hilltop view belongs to Dori and her husband.  They built most of their gorgeous farmhouse by themselves!  Amazing!  They also raise chickens and cattle and Dori is a regular contributor for Mary Jane Farms Magazine.  You may also know her as the Ranch Farmgirl on The Farm Girl Blogger site.
They were so sweet to let us pick and arrange our own bouquets to take home.  It was a fun way to make memories with our littles and be able to take home a beautiful souvenir from our lovely day with these sweet friends.
I think my littles and I are in agreement that we will be planting our own flower garden next spring!  (wink)
Here they are getting some instructions from Dori.  Before we left, my 12 year old said, "Even though we didn't do school, this was fun and educational!"  What a blessing for the whole family!
Sunflowers are one of my favorite flowers!  They just add so much beauty to a bouquet or field.  I will have to share the story about why I love sunflowers so much and why they hold such a special place in my heart for a future post.  These just brought a big smile to my face!
Here is another fun creation that Dori and her husband worked on.  It is a free lending book house.  We had seen one during our birthday celebration trip to GA this past July.  It was in front of the train station.  We are hoping to make one in the future for the road leading into the hollow.
I'll leave you with this natural capture that melts this mama's heart of my 6 year old who was admiring the work she and Dori did together.  It was such a beautiful time of fellowship.  And at the end of our visit, we felt so refreshed and encouraged as we made the long drive back to the hollow.  I can't say enough good things about these special TN blogging friends.  Thank you Dori and Andrea for your sweet friendship and hospitality!
Until next time, make sure to stop and smell the flowers…
Isaiah 26:3-4