If you have been looking into natural alternatives to conventional medicine, you probably have heard about how quality essential oils can benefit your family in your quest to live a more natural and healthy lifestyle. Our family has been using essential oils for over 9 years, but my husband and I have been enjoying the benefits of tea tree oil and patchouli oil (to name a few) before we even got married 20 years ago. Our essential oils get daily use in our natural cleaning products and our body skincare products. I am a plant and herb girl through and through!
We know that plants have amazing health benefits, but if you are like me, you kind of stay clear of the big MLM companies.  Am I right?  There is just one network marketing company that has impressed us over the past 4 years.  It has been an unexpected blessing to our family and we don't go a day without taking their natural plant-based products.  Their standards are high and the quality of their products are unmatched.  They are a great fit for naturally supporting our already healthy lifestyle. Read more about why we chose them and how our family has benefitted from their products here.
OTHER QUALITY OPTIONS
These days, health and wellness companies are moving towards network marketing because they know that word-of-mouth advertisement works and is more cost effective for their company's budget.  But what if you don't want all the extras that typically comes with most MLM companies?  Well, I am happy to report that I just recently discovered Revive. Not only do they offer quality oils from great sources, they also offer wild crafted and USDA certified organic essential oils as well.  I am excited to give them a try, especially because they have bottles that have already been mixed with helpful combinations that are similar to their networking competitors.  Things like Thieves, Purity, and Immunity Boost are available at a discounted price.  I will let you know what this "canary" thinks during my smell test!  (wink) I am planning on placing my order this weekend.
Prior to finding Revive on line, we were purchasing most of our essential oils from Mountain Rose Herbs. We have been satisfied with their products, however the shipping time was quite slow and costly, so when I saw that Revive had FREE shipping and a 100 day money back guarantee, I was totally on board to give them a chance.  Keep in mind that Revive and Mountain Rose Herbs are not the only alternative essential oil options on the market.  You can easily do an online search and give the others a try to see which ones are right for you.
HERE ARE FIVE REASONS TO CONSIDER GIVING REVIVE A TRY
There is no "middle man"…because they are not an MLM company this allows for cheaper prices for their customers.
They are community focused…and work with smaller companies and family-owned farms.
Their products are unrefined…and distilled at low temperatures to preserve the benefits of the plant.  Their products are also sustainably and ethically sourced, and are cruelty-free. Being someone who is extremely sensitive to artificial ingredients, I have to have products that are clean and come from a quality source.  Otherwise, my body will let me know that things are not quite right. Usually it comes in the way of a headache or dizziness.
They do not add fillers like…odor enhancers, dipropylene glycol, or methoxy.
There are no monthly minimums, yearly fees, or monthly subscriptions required…You just purchase what you need when you need it. They also offer a 100 day money back guarantee.
BONUS:  Shipping is FREE for all products within the US and Canada!  Hello, that certainly got my attention.  Also because they bottle these oils in the USA, the shipping times will be much less than their competitors.  That is one of the #1 complaints that I have heard my clients complain about when purchasing from other large companies.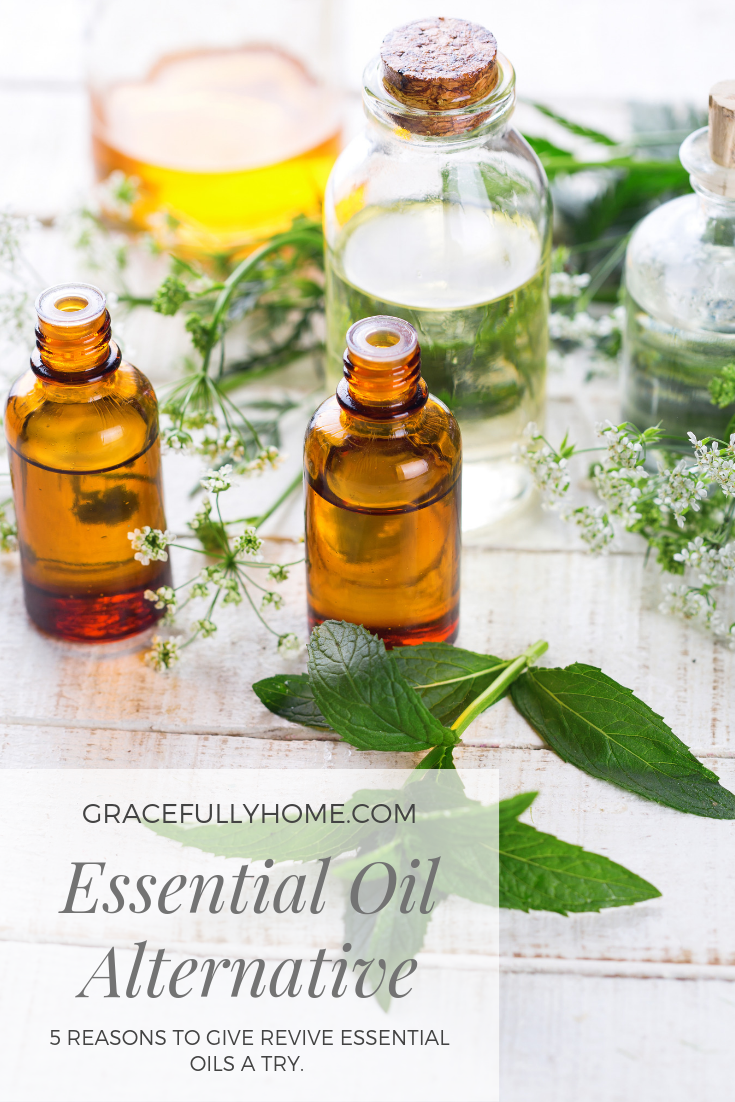 NOTE:   This is NOT a paid partnership or ad, nor is this endorsed by Revive Essential Oils.  I honestly was impressed with what I was reading from the online reviews and the company's website.  So, I wanted to give them a try ourselves and also pass along the info to you if you have been looking to save money on your favorite quality oils.  Let me know if you give them a try and what you think.  We can compare notes. (smile)

Disclaimer: The health and wellness posts shared here on GracefullyHome.com are not intended to diagnose, treat, prevent or cure any illness or disease.  The information provided on this blog is for general educational purposes, has not been  reviewed nor approved by the FDA and is not intended to take the place of advice from your medical professional, licensed dietician or nutritionist.
You are solely responsible for your health care and activity choices.  Use of any of the recommendations or helpful tools and tips on the GracefullyHome.com blog does not constitute a client-coach relationship.