Roasted chicken at home has the same appeal as rotisserie chicken, only healthier and less expensive.
ONE SIMPLE ACT OF KINDNESS
Living in the country, it has been a challenge to make local friends and fellowship on a regular basis.
At one point, I had just given birth to my 4th child and friends from the women's ministry took turns preparing dinner for us.
My husband was on R&R from Iraq. One friend in particular who had also been a dual military couple at one point, came with a whole roasted chicken prepared.
It was even dressed with all the fixins' and I remember being so humbled and impressed with the amount of effort she had put into this special meal.
PIN IT FOR LATER:
Titus 2:3-5
HUMBLE BEGINNINGS
During those days, I was just dipping my toe into cooking and baking from scratch. Which I am embarrassed to say out loud because my husband and I had already been married for over 5 years.
I cooked, but not very well. In my mind, I thought that "it just wasn't my thing." Later in life, I realized how so many of us miss out on blessings when we let ourselves believe those inner lies that we feed ourselves.
UNEXPECTED BLESSINGS
During that same season in my life, I was taking a Titus 2 Bible study at an older friend's beautiful late 1800's vintage stone home with fireplaces in almost every room. She was a teacher by trade, turned homeschooling mother of six, a grandmother and a wife to an ER doc.
What a blessing she was to us all as she opened her home every week to minister and teach younger wives and mothers how to be better helpers to our husbands and more effective keepers of the home.
We learned the basics of baking bread from scratch, organizing our meal planning, and how to better love our husbands and children even when life got crazy.
It wasn't long after that Bible study that I began to enjoy preparing healthy and nutritious meals for my growing family. I have such fond memories of bundling our little ones up in layers to go to church and Bible study.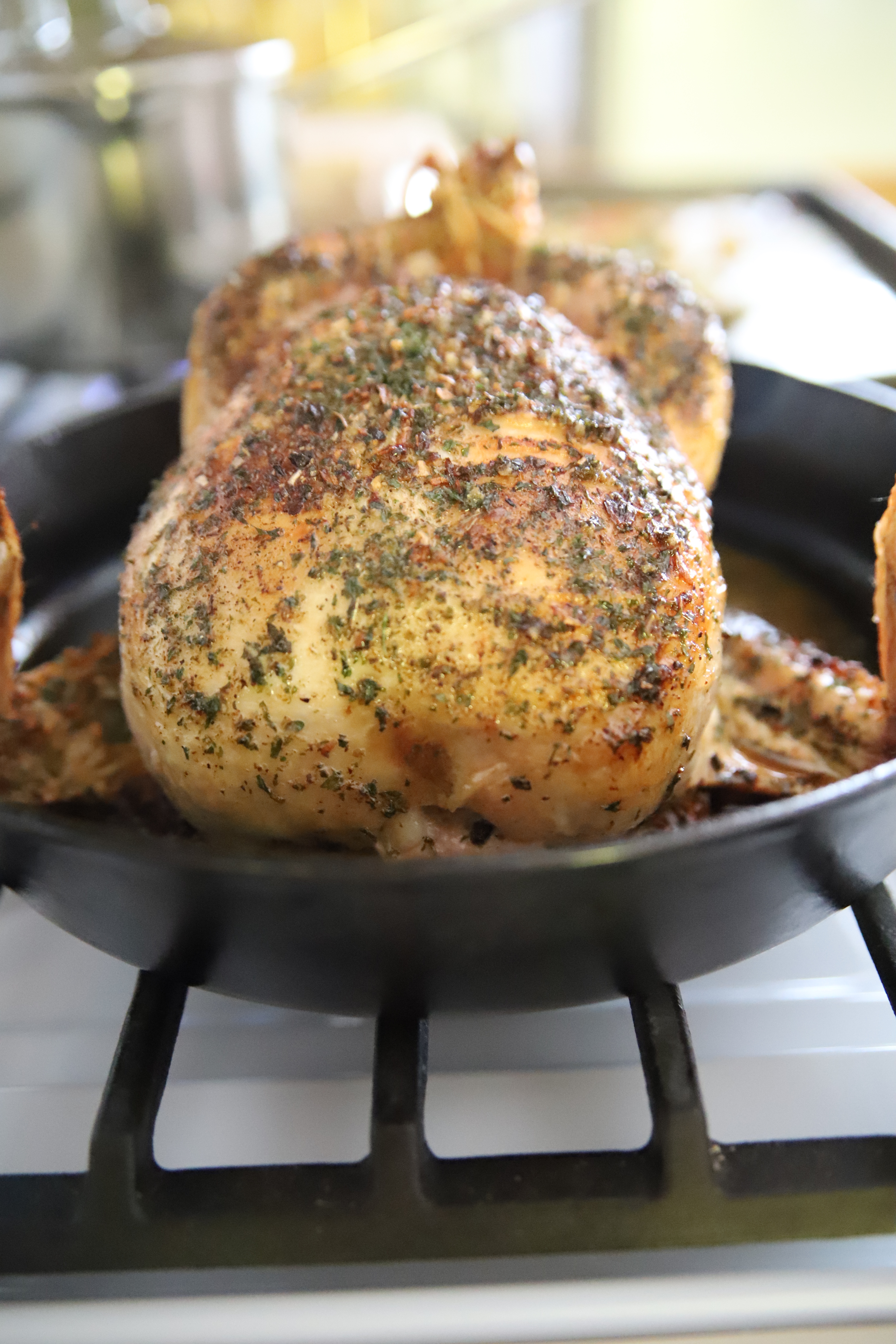 NEVER STOP LEARNING
As my culinary skills improved with every new recipe, I began to use recipes less for regular meals and I began to simplify my meals into specific flavors and country favorites.
Like Italian, Asian, Mexican, American, etc. For those of you who may not cook as much yet, you may be surprised that many of my go-to spices work for each of these different types of meals, with just a little tweaking.
If you're looking for simple ways to help streamline your meals in the kitchen, you might enjoy this post where I share 3 Simple Ways to Prepare Healthy Meals Even When Life Gets Busy.
I learned to recreate the simple roasted chicken recipe that my friend in upstate NY blessed us with that one very cold February night and I am sharing my technique here. Do you have a favorite spice or herb that you find you cook with all the time?
**This post may contain affiliate links. Read my full disclosure here.
ALTERNATIVE COOKING METHODS
Oven roasted in a dutch oven pan
Instant pot pressure cooker for those busy nights or for unthawed whole chicken
SUPPLIES AND TOOLS YOU MAY NEED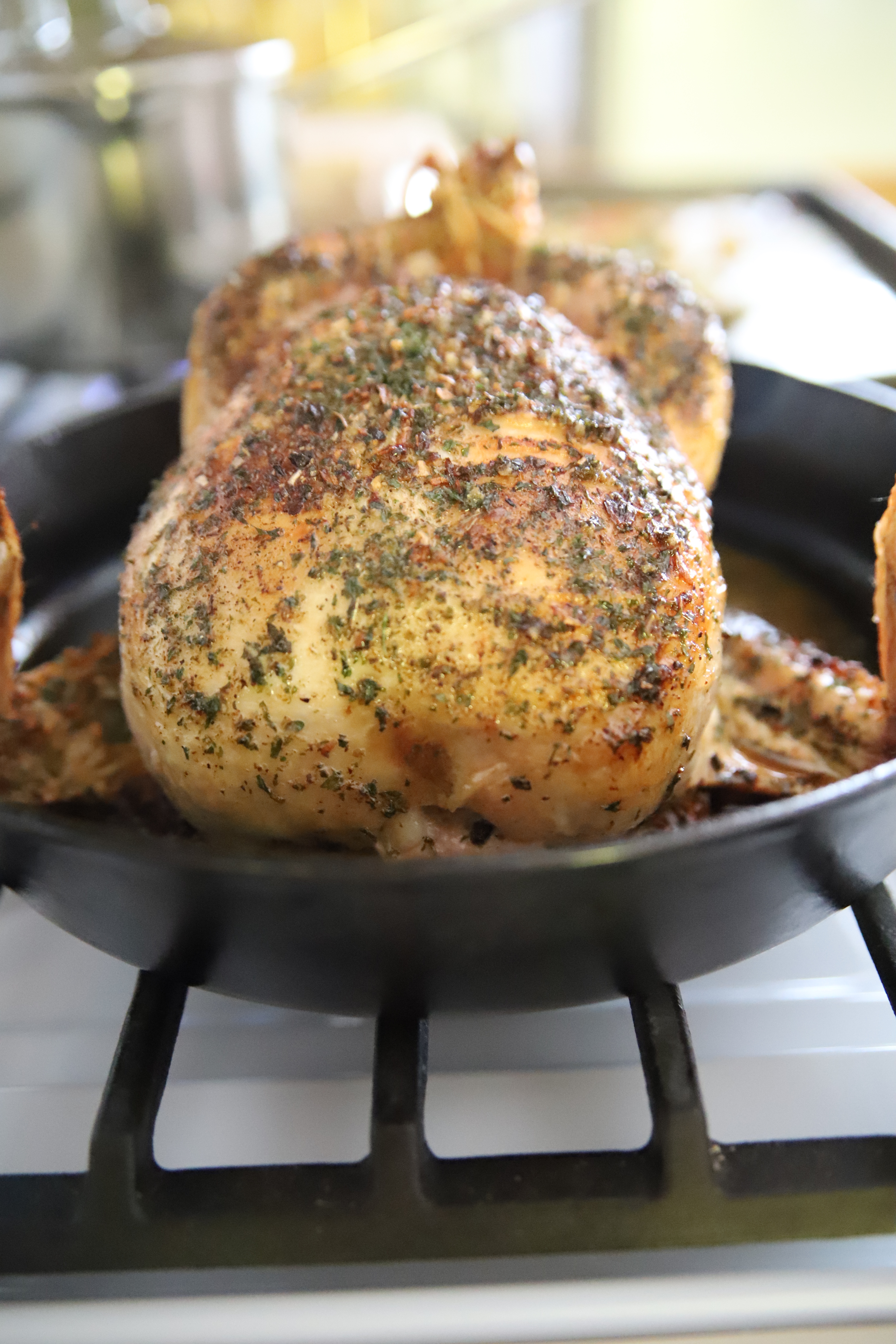 Recipe Box: Simple Lemon Roasted Chicken
Additional Time:
10 minutes
Total Time:
1 hour
25 minutes
With this simple lemon roasted chicken recipe, even someone who is brand new to the world of cooking from scratch, can look like a pro.
Ingredients
1 whole medium organic chicken (no antibiotics, no hormones, no artificial preservatives or ingredients) I purchased ours from Aldi's at about 3 to 3.5 lbs.
1 TBS Italian seasoning (oregano, rosemary, thyme)
1/2 tsp Himalayan sea salt
1/2 tsp dried minced garlic
1/2 tsp dried minced onion
1/4 c Balsamic vinegar
black pepper to taste
1 stick organic butter or coconut oil (melted) string to tie drumstick legs
1 organic lemon
1 c each chopped carrots, celery, and onions
10-15 small red potatoes
Instructions
Preheat oven to 450 degrees. Remove chicken from plastic. Rinse chicken under cold water and pat dry.

Place chicken in roasting pan and pull skin slightly up and place 2-3 TBS of butter cut into chunks in the pockets of skin.

Drizzle 2 TBS of melted butter over the whole chicken and sprinkle with the herbs and spices.

Place chopped veggies in a bowl and sprinkle a dash of Italian seasoning and Balsamic vinegar and mix well.

Take a handful at a time of seasoned veggies and insert into the cavity of the chicken and use string to tie the drumsticks together.

Then place remaining chopped veggies and potatoes around the chicken.

Place in oven and roast for about 50 minutes.
After 50 mins, remove from oven and drizzle freshly squeezed lemon juice over the top and the remaining melted butter, a dash of each of the herbs and spices for added flavor.

Place back into the oven and bake for an additional 10 minutes until golden brown and with an internal temperature of 165 degrees.

Remove from oven and let rest for 10 minutes.

Slice and serve with veggies and a fresh salad.
Notes
Any leftovers can be stored in an airtight container in the refrigerator for at least 3 days.
MY GO-TO HERBS AND SPICES
We keep these stocked in our cabinets and pantry.
Oregano
Rosemary
Thyme
Himalayan Sea Salt
Black Pepper
Minced Dried Garlic
Minced Dried Onion
Cumin
Paprika
Liquid Aminos
Balsamic Vinegar
PIN IT FOR LATER:
Acts 2:46
There is just something special about sitting around the kitchen table at the end of the day and sharing the memorable things that happened from that day.
Wouldn't you agree?
For more healthful and simple recipes, check out the main menu page under Simple Living OR to help make the simple transition to healthier and more natural and mindful living, head over to Our Services page.