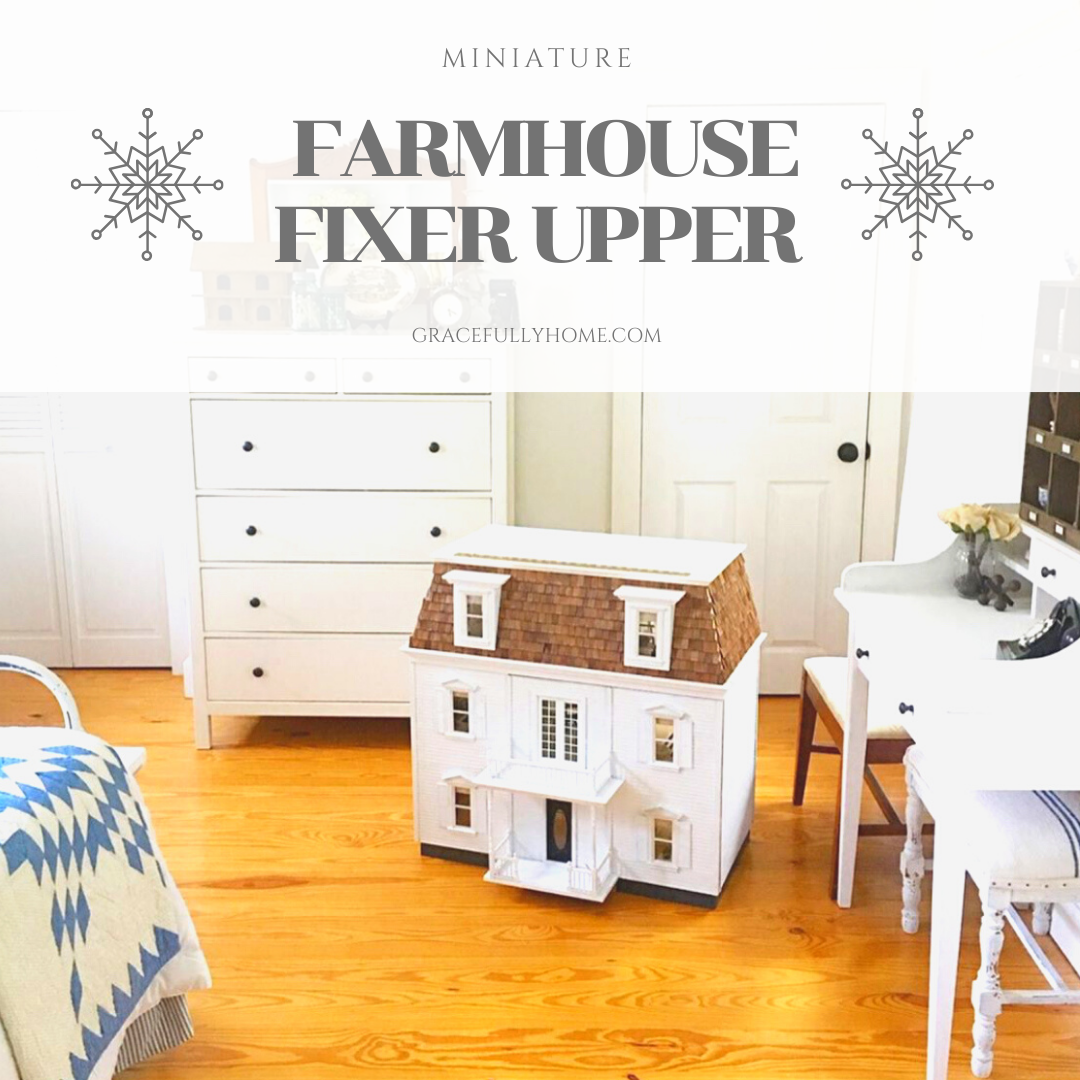 I always dreamed of having a dollhouse of my own growing up.  I had plenty of toys to play with, but for some reason, the dollhouse eluded me each year.  So, when I had little ones, I wanted to give them the dollhouse of their dreams.  Truth be told, it has become the dollhouse of my dreams too!  (wink)
I secretly wanted to find an old "fixer upper" dollhouse that I could bring back to life.  I searched high and low for years and even purchased one of those kits from Hobby Lobby last year, but after some life changing events, I lost the desire to put that much effort into yet another new project.  That is, until I was able to reconnect with my creative side.  Which turned out to be an unexpected blessing and cheap "therapy."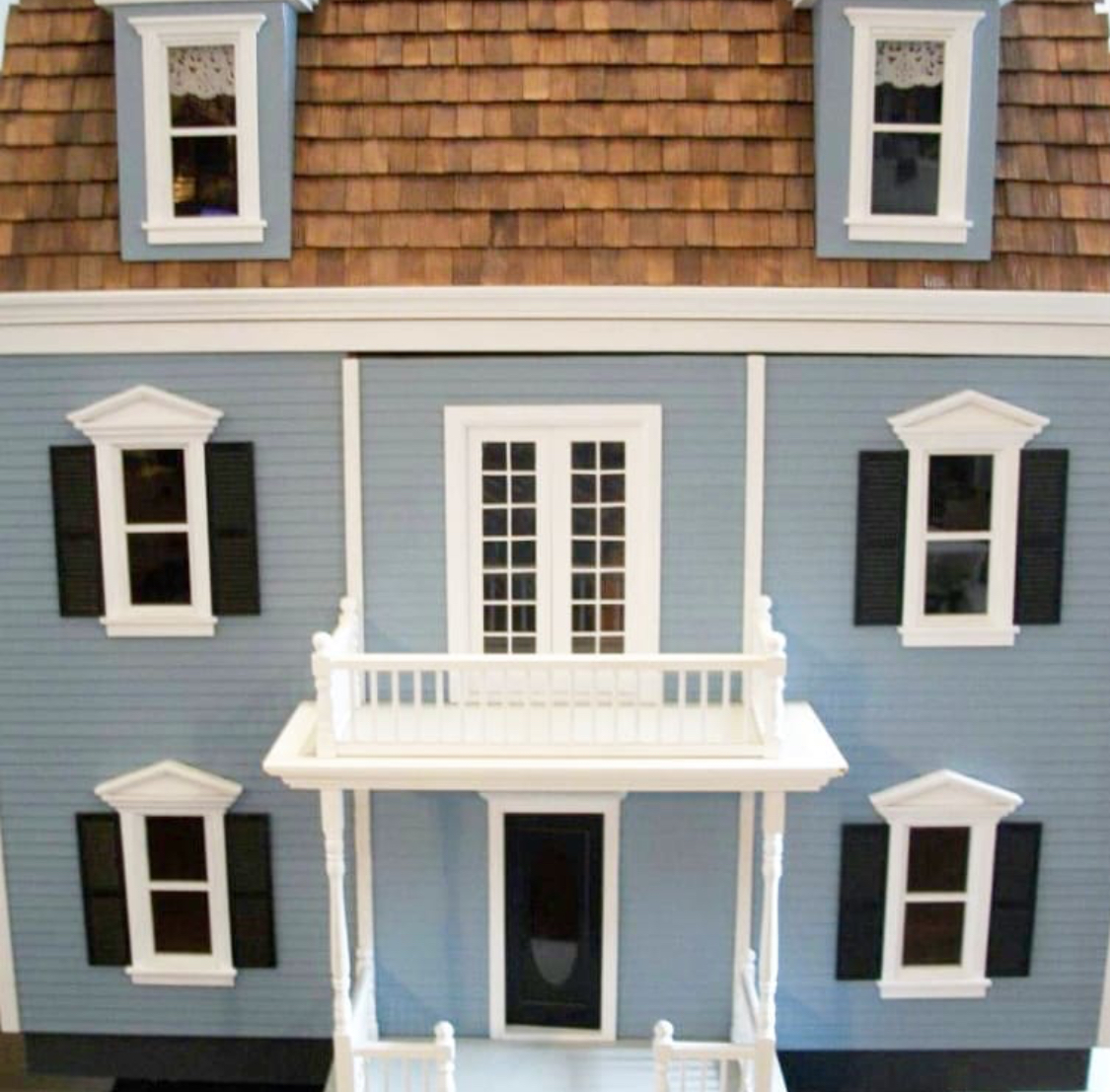 After I had exhausted my search locally, I branched out and looked on Craigslist SC, close to where my cousin lives.  We hit the jackpot with this beauty, but it needed some TLC.  It was a bit rickety and the exterior color needed some refreshing.  The inside was a blank slate.  While my father was visiting last winter, he helped repaint, reattach, and reverse the stairs so that the littles could enjoy playing with wide open spaces without having to close and open the hinges.  You can see what I mean in the pictures.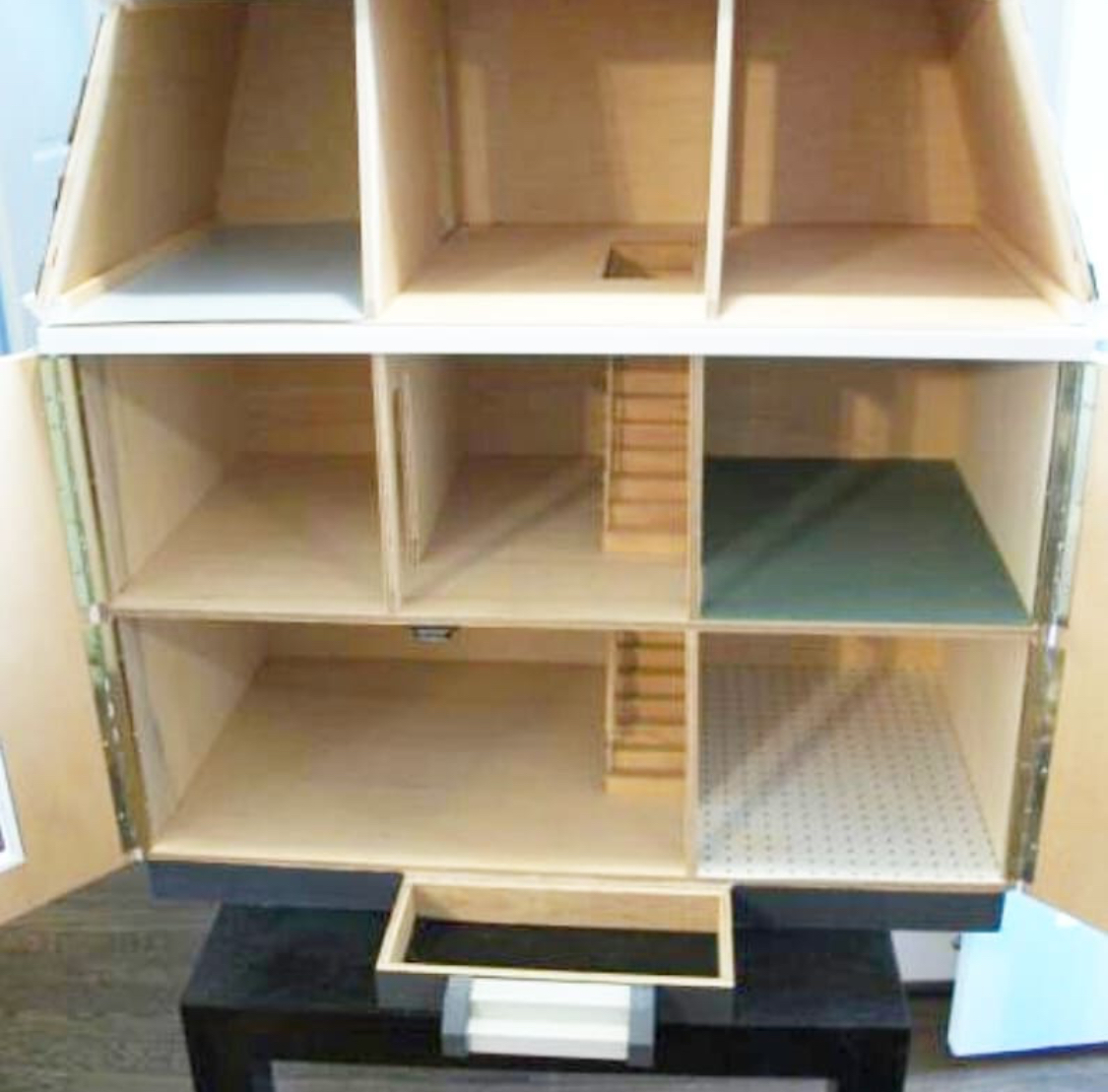 These are the original Craigslist ad photos above.  It showed a lot of potential.  This is how the house originally opened.
Here is the interim update with gray paint from the AMakersStudio.com chalk paint collection from last winter.  I thought it was a step up from the blue, but I wasn't completely sold on it.
**This post contains affiliate links.  Please see full affiliate disclosure here.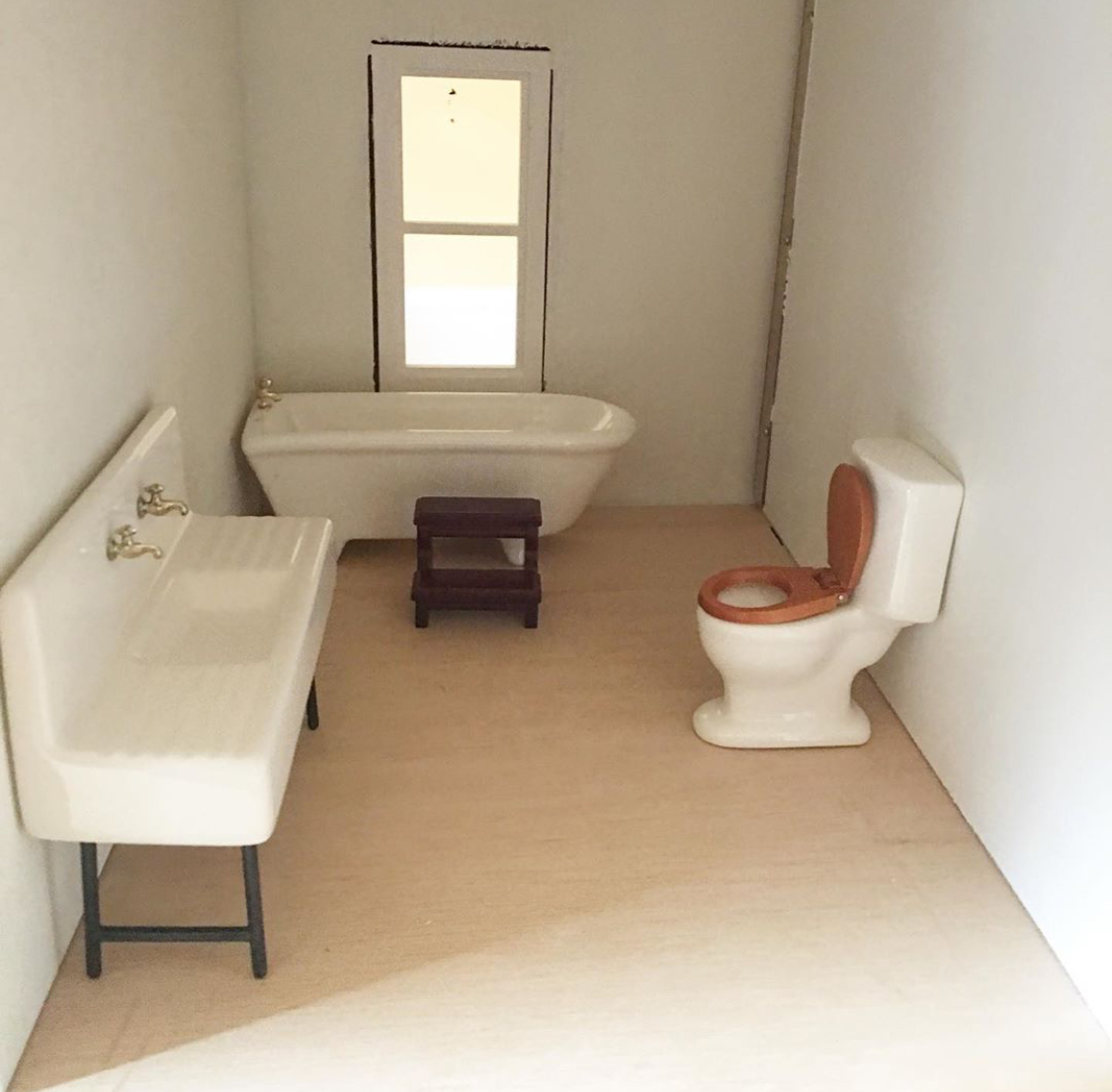 Look at this blank canvas!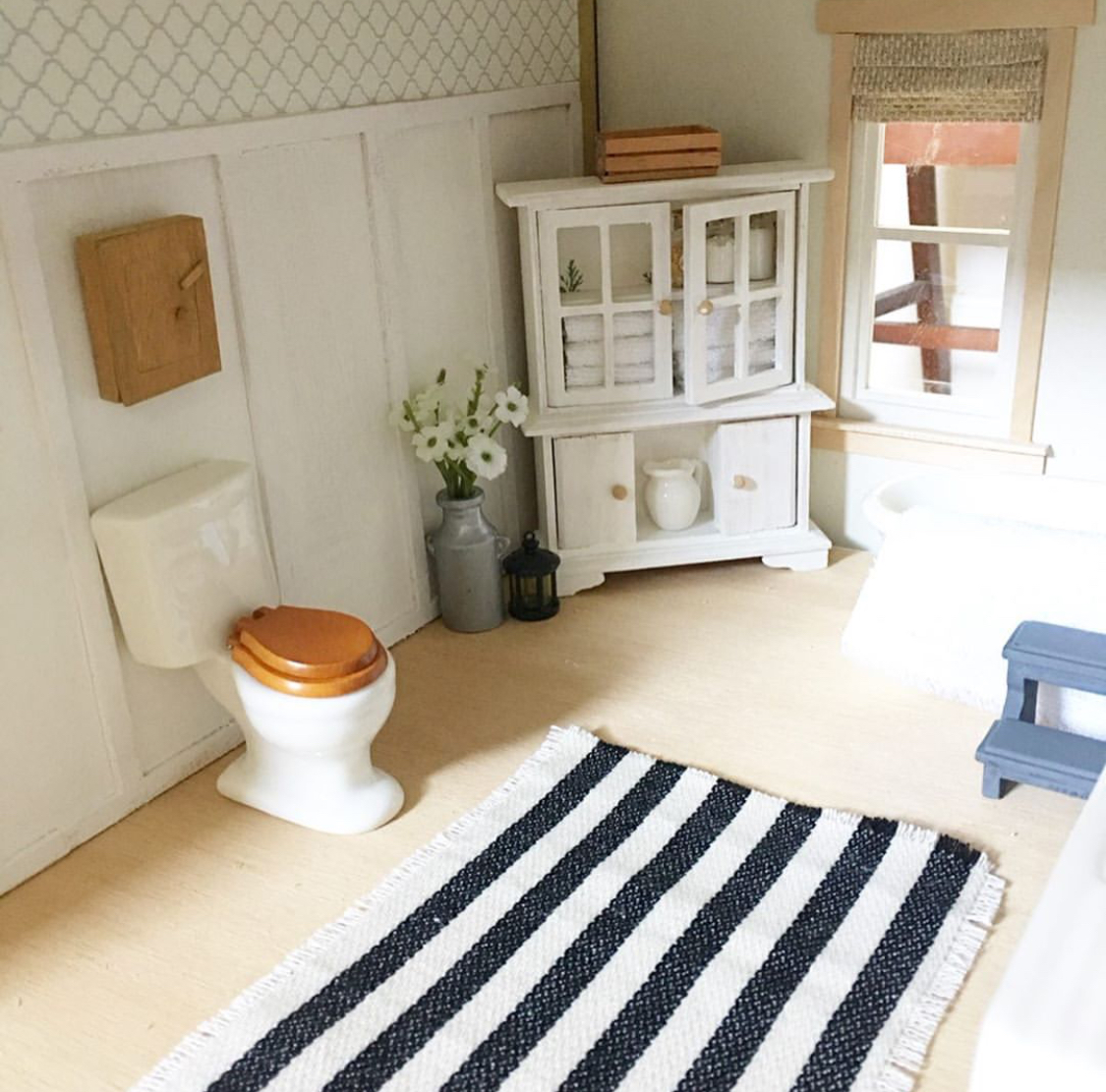 I purchased some accessories from Factory Direct, Hobby Lobby, and MiniAdventuresCo.com…along with some miniatures that we had from our Montessori days and things that I built or created from found material and supplies on the farm.
Here is an interim office/bathroom view. I repurposed the extra kitchen cereal and pasta boxes to add a collection on the shelf.
I absolutely love the faux brown paper books and the miniature colored pencils that I made with tooth picks. I found an easy tutorial on my IG friend, Jackie's MiniAdventuresCo.com. The Harvest sign was fun to make and goes well with the rustic farmhouse charm that I was after.  Wish my office looked this put together!  (smile)
I love the way the painted fabric turned out on these revamped dining chairs.  This set came with the dollhouse.  The paint and stripes helped to unify the space and give it a little more of a modern farmhouse feel.
This hutch was a red mahogany before I used more of Amy Howard's chalk paint in gray to give it a cheap face lift.
This kitchen needed a lot of imagination. This was my first one made from scratch. I tried to mimic one that I saw for sale on Etsy. I think it turned out pretty well for my first attempt.
I freshened up a lot of the accessories with simple paint.  I love the way it all turned out! The littles say that it looks like a "real" kitchen. (smile)
There was a lot of painting, constructing, deconstructing, sewing, cutting, and organizing that went into this mini renovation.
I painted the brass chandelier that came with the dollhouse black to go with some of the modern farmhouse elements.
Even the pumpkins weren't safe from my paint brush.  Hahaha!  I enjoyed making this "General Store" sign to finish up this kitchen corner.  The mug wall caddy was a purchase from MiniAdventuresCo.com.  It looks right at home next to the revamped hutch.  There are still a few more rooms that need some tweaking, but the finish line is definitely in sight.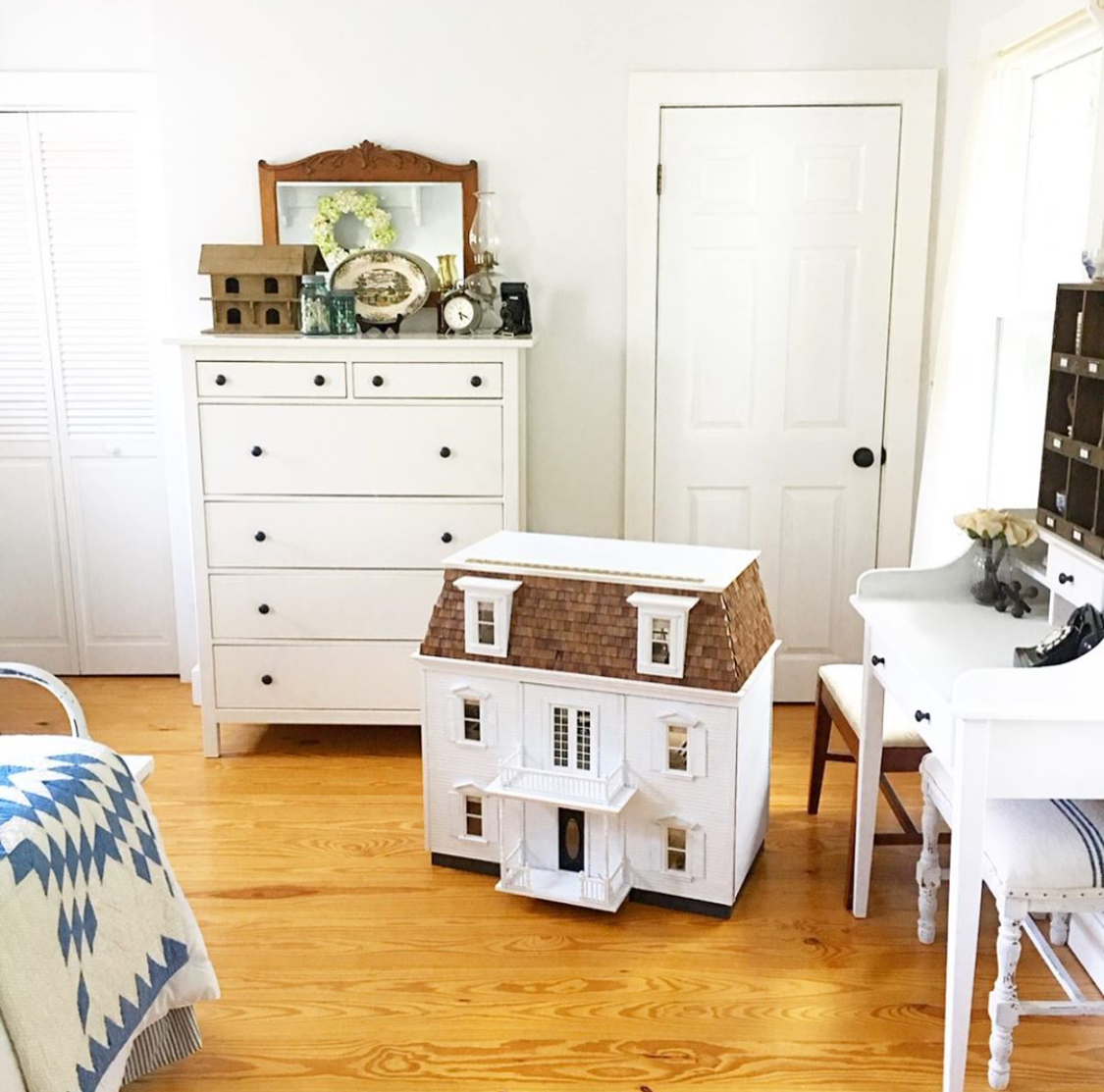 I hope that you enjoyed this mini tour!  There is more to come in the next weeks ahead as I wrap up this mini DiY project.  My plan is to have this mini doll farmhouse completed, on casters, and back in the littles' room before the end of the year.  Make sure to continue to follow along to see the progress and updates on this miniature beauty. Thanks for stopping by the hollow!