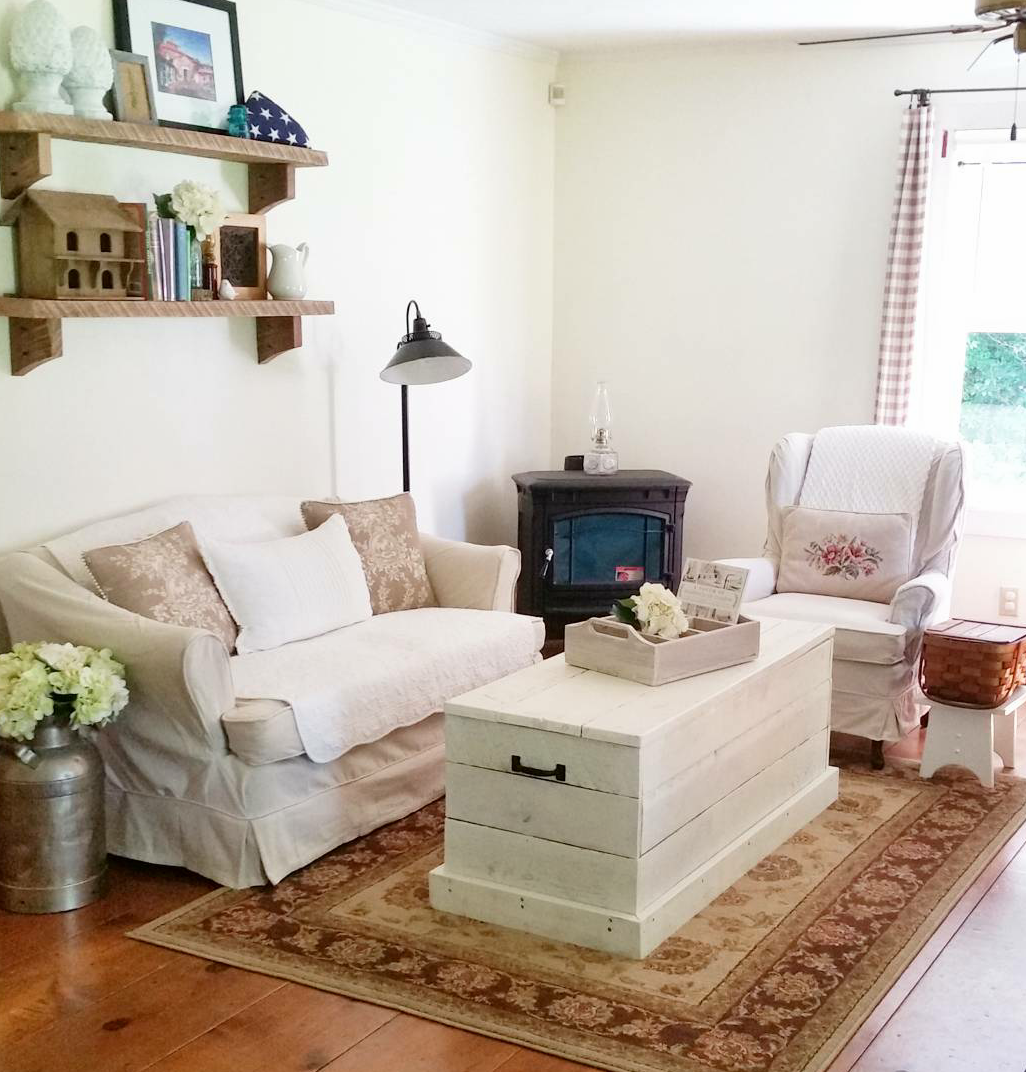 Over the years, I have enjoyed learning new practical life skills that apply to homemaking.  I am by no means an expert in sewing, knitting, or crocheting, but I know enough about the basics that I can create and enjoy my time revamping or repurposing things around our farmhouse.   My husband appreciates the fact that I save us some money by using my creativity to make our farmhouse cozy and inviting. (smile)
This was my 3rd time tackling a slipcover.  It is also my largest slipcover project yet and also my fastest.  It took three solid days from start to finish.  I used my IG friend, Marian @missmustardseed 's simple drop cloth slipcover tutorial.  I love how she spells each step out.  I am a very visual learner, so I appreciate it when the author of a tutorial is thorough in their explanations.
Marian's studio room was my inspiration picture.  I love her simple farmhouse style. I have been gleaning farmhouse inspiration from her for years, even before we planted roots in our homestead in the hollow. And even before I joined in on the social media fun!
My father built the whitewashed trunk in the previous picture and it serves as great storage for all of our vintage quilts.  We actually use them during the winter months.  I love how several of them are heirloom quilts from my husband's side of the family.
This is what the loveseat looked like before.  It was in the 1840's log cabin when we first purchased the farm.  During our transition to full-time residence, we "borrowed" from the cabin until we could have military movers pack our rental up and deliver our household goods.  Our Aussie pups chewed a large piece of the skirt off when they were babes, but the rest of the loveseat was in excellent condition.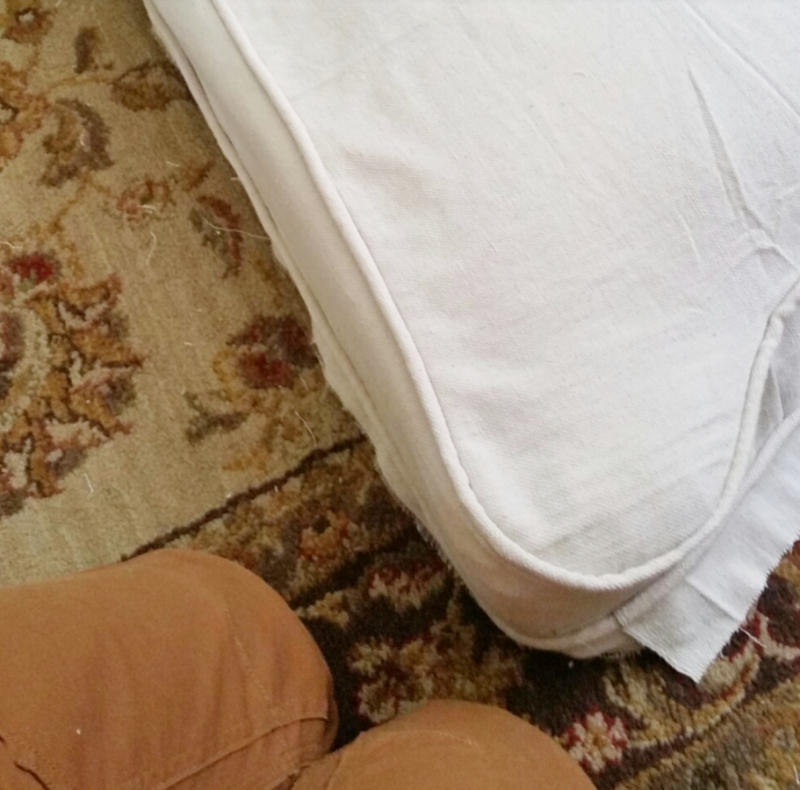 Lots of cord sewing
**This post contains affiliate links.  Please see full affiliate disclosure here.
I decided to make the cushion cover one piece instead of two.  I had trouble making the wing back chair's T-cushion and enlisted the help of a local reupholster shop.  After sewing this one, I'm not sure why the previous cushion gave me such problems.  I honestly think that I was the one holding myself back. (sigh)  Here is a similar dropcloth canvas that gets good reviews on amazon.  Click on link.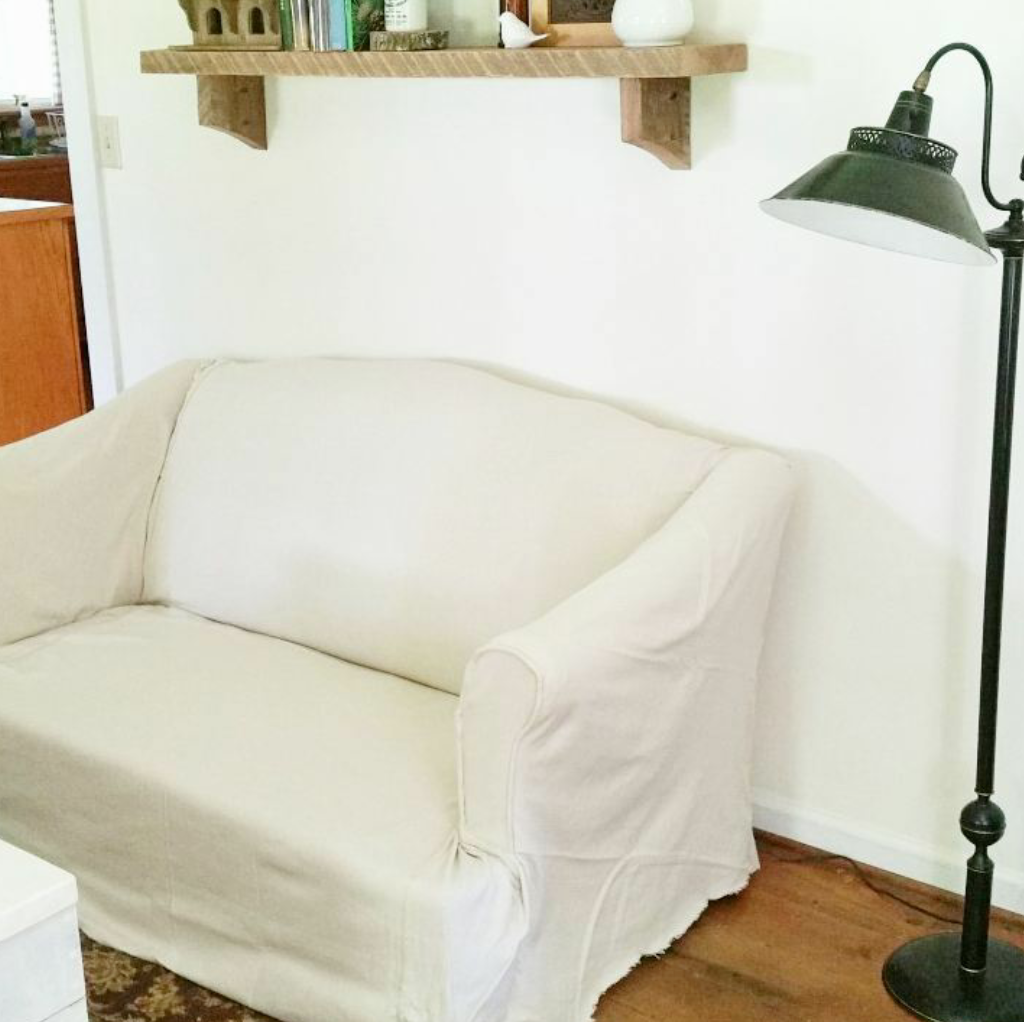 At this point, I really started to feel the confidence to finish this project and so I pushed through and completed it in a jiffy.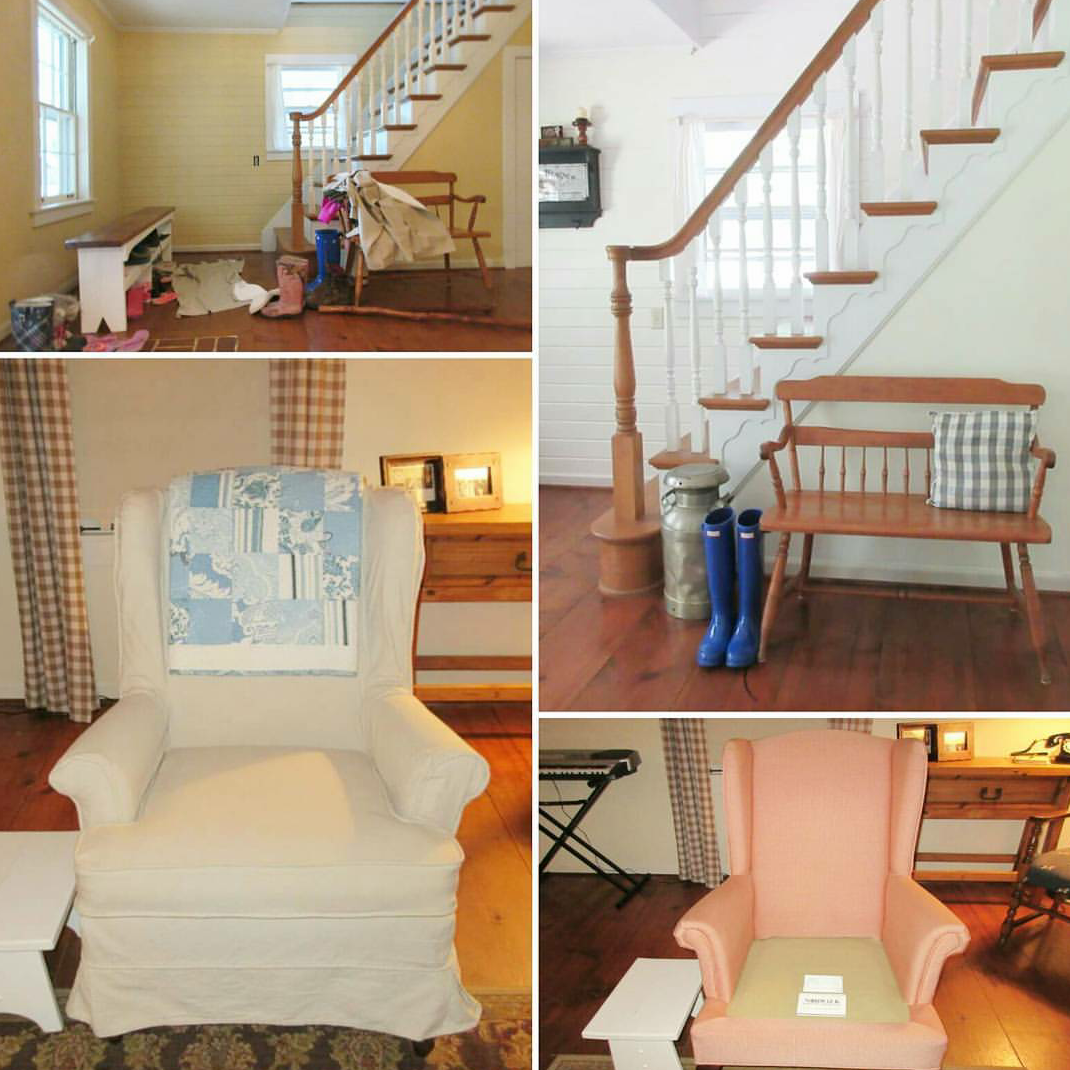 Here is another before photo and here you can see the salmon colored wing back chair in all it's pink glory.  It feels rewarding to be able to take something old and make it look like new.  You can't beat the price of drop cloth for fabric either.  It definitely is budget-friendly and looks great! What fabric do you prefer to use for slipcover projects?  I plan on sharing more DiY projects from the hollow soon.  Hope you'll follow along.