"This Week in the Hollow" is a weekly series sharing glimpses of the adventures from our simple life in the hollow.
A couple of years ago, I started our "This Week in the Hollow" series. Unfortunately, due to unforeseen circumstances, the series was put on the back burner with my last post dating back to last spring. I have had many of you say that you really enjoyed this series.  I am happy to announce that I will be starting this series back up and in an effort to simplify my blogging schedule and prioritize how I deliver new content, you can expect some other changes coming soon.
I know many folks are feeling stressed and anxious about our world's current situation. It is through challenging times like these that focusing on the simple blessings and joys of life are even more important than ever.  Love, support, relationships, staying physically and mentally active, and of course keeping our faith will help to make us stronger and more able to cope better with challenging times like these.
This week has been a splattering of a little bit of this and a little bit of that around the hollow, but one thing is for sure…Spring has definitely arrived and all the beauty that comes with springtime is more than a feeling. Here are some of the unfiltered highlights from around the hollow this week.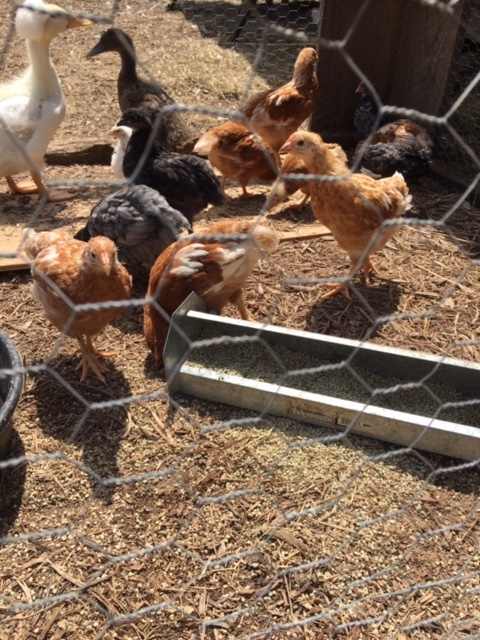 We have added a variety of new chicken breeds over the years.  Honestly, as our brood continues to grow, I can't tell you which is which.  We recently transferred these little chicks to their new home in the chicken barn. They are so curious and have been growing like crazy.  One of the new ducklings has the funniest hairdo.  Can you see her on the back left? (smile)
We definitely feel super blessed to not have to worry about running out of the basic necessities during the challenges around us. We have learned during tornado watches, heavy storms, high winds, washed out bridges, flooding, and other challenges over the years, to be more prepared.  At any given time, the homestead is well stocked.  Extra blankets, oil lamps, matches, fire wood, gas, etc. come in handy when we lose power.  Our pantry, freezers, and garden beds are full, but not as full as our hearts.  Even during tough times, our family has found comfort and peace in the little things.  It doesn't come naturally to some, to stay positive during life's hurdles, but I will say that with practice, it does get a little easier.
We added these galvanized troughs to start a separate garden this year.  This is not where they will end up, but instead will be placed just around the corner for a semi "secret" garden.  Can't wait to start planting in these!
Our Australian pup, "Abby" just turned 5 years old two days ago, but before she got another year older, she wanted to show us that she "could not be contained" and literally trashed our mudroom overnight.  A lot of our plants and seedlings that we had been growing for a couple of months were turned upside down and dirt spilled everywhere.  My hubby gave me an early morning wake up call to prepare me for the disastrous mess.
Thankfully many of the plants survived and I did my best to get the ones that were ready, planted in the raised beds.
"Copper" is healing well from his surgery from his dislocated socket.  He will never be the same and most likely will not get full use of that hind leg again, but we are just thankful that he is still able to enjoy life with us on the farm.  He is so loyal and a such a good watch dog. He is never far when the littles are out enjoying some fresh air and sunshine.
Our old 1840's log cabin is in desperate need of a good spring cleaning.  The Japanese beetles that disguise themselves as "lady bugs" love to seek shelter in the cabin. Thankfully, the cabin is small enough that it doesn't take too long to give it a once over. Hopefully, the quarantine will lift soon and we can start inviting guests back to enjoy the hollow with us.
Our neighbor's cows are back for the season. We don't have any of our own cows just yet, but we hope to add some in the future.  Goats have also been on our farming-radar since before we bought the farm.  It is fun to look back and see how far we have come on this homesteading journey.  So much more to discover.
Seeing the different flowers start to pop up around the farm never gets old. These Clematis flowers look so pretty around the sides of the arbor in the vegetable garden. They are a welcoming sight as you enter into the garden.
Passing by the log cabin in the springtime provides a sweet floral scent wafting through the air.  These pink roses are one of my favorites.
The grape vines are starting to wake back up after a good pruning session with the big kids.  My hubby gave them a lesson on pruning and our fourteen year old really took charge and even pruned our apple trees. Learning is not limited to our homeschool room in the hollow. (smile)
Our cat "Sophie" surprised us with her third litter of kittens.  She had previously lost a litter of two. (sigh) This time it was wonderful to hear the tiny "mews" from these three healthy and strong kittens. Sophie is super protective of these babies and we can't wait to see how they transition through the different kitty phases.
Sunsets in the hollow are so pretty.
The recent rains have provided plenty of water for the creek, pond, and our spring box. It is not hard to see the simple blessings in life, when we take the time to slow down and look for them. This is something I have to practice every day.  We hope that you are also finding JOY in the simple blessings around you, despite these challenging times.  Take care, be safe, and stay healthy.
1 Thessalonians 5:18
(KJV)
In every thing give thanks: for this is the will of God in Christ Jesus concerning you.