This year we have found ourselves traveling more for my home-based business/health ministry, combined with our family vacation.  I love when you do what you love and love what you do!  Especially when you get to do it all with those you love the most.  Truly a blessing!  At the end of May, we found ourselves in the big state of Texas where we were able to fit in a Christian Retreat Camp and help support some friends who were the main speakers and also introduce our littles to camp life.  (smile)  While in TX, we also took the time to drive an hour and a half south to visit Waco, TX.  While in Waco, we did the opposite of going BIG (everything is big in TX) and instead chose TINY. Hahaha!
This was our first experience with a tiny house and I have to say that it was Fun with a capital "F."  This was very well maintained and it offered everything we needed and more for the night.  The loft was a great way to have an extra space for the littles while still having privacy for the other siblings downstairs and the parents in the master bedroom.
The decor style reminded me of the pictures I have seen of the famous HGTV Fixer Upper show with Chip and Joanna Gaines and as you can imagine, I was thrilled!  Especially since all the projects in this tiny home were already completed.  Some day we'll have our front original room in our farmhouse done too!  Mark my words, friends!  (wink)
This house may be tiny in comparison to most, but the owner didn't leave anything out.  There was an entryway/foyer to welcome us in.  Complete with a place to put our keys and to sign their guest book.
The kitchen was fully stocked with all the amenities and everything you would need to prepare your meals for the family.  The only thing missing was food in the pantry and the fridge.  (smile)

Even the bathroom was well stocked and thankfully had a washer and dryer because after 4 days of traveling, we needed it.  They had a cool laundry cart that looked like a cabinet door, only it could be pulled all the way through into the neighboring master bedroom.
The bedding was tastefully simple.  I loved all the texture and layering they did!  The mattress was comfortable as well.  Nothing worse than an uncomfortable mattress when you are trying to enjoy a vacation away from home.  Am I right?
The two older littles enjoyed the loft and there was just enough space for these two vintage twin beds, a side chair/rocker and a small writing desk.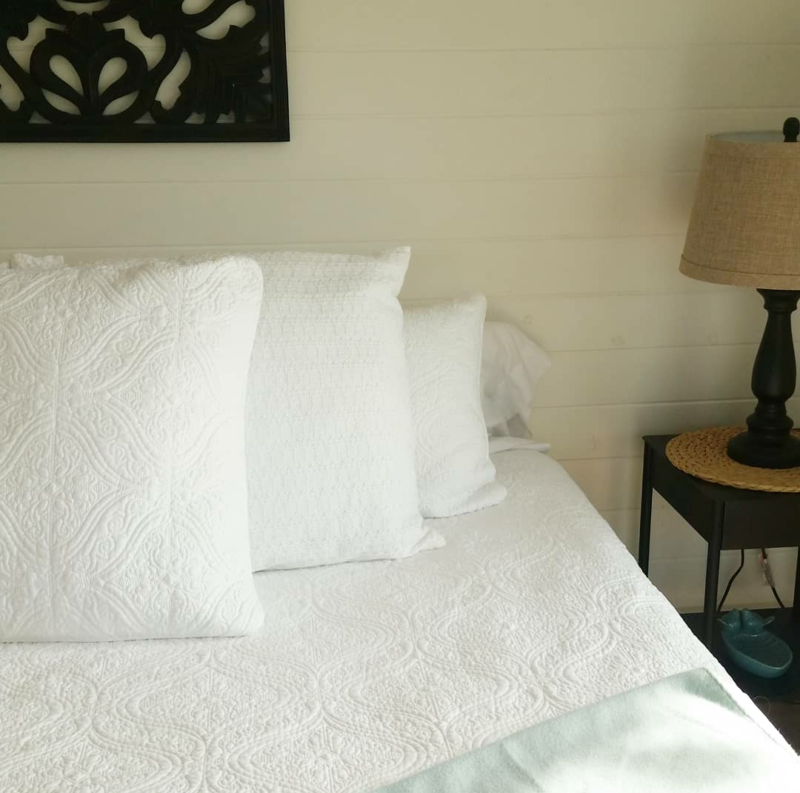 I really loved seeing the shiplap walls!  Can't wait to see our shiplap go up in our front room in our farmhouse.  An update on that project, coming soon!
There was a nice wrap around porch with a seating area to have your morning coffee or in my case, my natural energy and blood sugar balancer aka yummy "Pink Drink."  It helped me naturally kick my sweet tooth to the curb!  Hello balanced hormones, more natural energy and best night sleep, ever!  We never leave home without our plant-based supplements!  They are just that helpful.  Do you have something that you absolutely can't leave home without too?
I think it's safe to say that if we ever find ourselves in the great Lone Star state of Texas again in the future, we will definitely be renting this tiny house again.  Especially since it is very close to Heritage Homestead and of course, the "mother ship", Magnolia Market.  Hello!  If you would like specific information on renting this tiny house, shoot me an email at [email protected].
Until next time,  think outside the big box!
Isaiah 26:3-4