"This Week in the Hollow" is a weekly series sharing glimpses of the adventures from our simple life in the hollow.
The sound from our old cast iron bell reminds me of an old school or church bell ringing.  (click link to see similar versions for sale)
With my husband gone for most of last week due to flight support efforts for Hurricane Florence in the Carolinas, life in the hollow has been busier than usual, as you can imagine and I am still trying to catch up.  Something that I have been meaning to get to has been sharing another "This Week in the Hollow" post and since I have been getting even more questions about natural living & homeschooling, I thought I would share this special Homeschooling Edition with you today.
This is our 9th year of homeschooling our littles and it has been bittersweet.  It is exciting to be starting another homeschool year, but this is our first year without our precious son.  Although he was not able to participate those last few years because of his health decline, I am so thankful that he was able to participate the years he was still healthy & able to join along.  I would not trade those early years for anything!
When folks hear that we are starting our 9th year of homeschooling, one of the most frequent questions I get asked is, "What curriculum do you use?"   You are probably not surprised in hearing that we use several different resources.  I honestly have tried so many of them to see which one fits our littles' specific learning styles, but no matter which one we implement, I find that sprinkling in some natural learning and practical life skills are amazing tools for building these future leaders and world changers' foundation.  Amen!?
Our older littles participate in our local county's 4H club and took on the mission of caring for baby chicks last spring.  They recently picked their three best hens to compete and at the end, they had the option of selling their hens at the auction that followed.  Their earnings are really small potatoes compared to the lessons learned while caring for their brood.
They sure love their compost treats!  (smile)
"Little Miss" is 4 and just started Kindergarten.  She has been so eager to start her "formal" training.  She is always happy to help and loves to follow me when I go to gather the eggs or pick fresh produce in the garden.  The chickens have really been producing with 6-12 eggs per day.  That has been such a blessing since our family loves farm fresh eggs!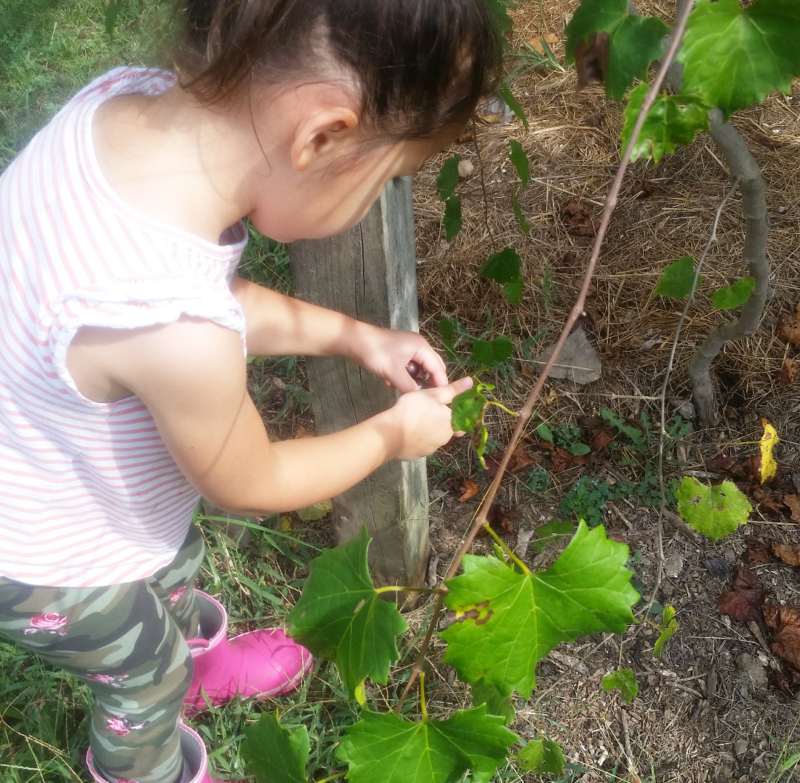 Here she is picking and counting some fresh Muscadine grapes to snack on before we headed back into the farmhouse.  I took this opportunity to explain the amazing health benefits that grapes, their seeds, and skin offer.  They offer antioxidants, anti-fungal and have amazing anti-cancer fighting properties.  Not to mention, they are more delicious than other varieties from the local grocery store.
After music lessons last week, we decided to take a stroll downtown and we stopped by a friend's artisan's shop and had an impromptu lesson on how fabric was historically made, how to spin, and weave flax.  It was fun to learn something new!
The littles even got to try their hand at helping her add a few rows to her current rug project.  That was fun to see!
After my husband arrived back from helping in the Carolinas, he took some time to show our 6 year old how to stain cedar boards for our front room renovation and how to bat.  I love how involved he is with our littles!  When he is home, you can often find him sharing a bible story/lesson or teaching them a new concept/technique for extra fun homeschool lessons.
On music lesson days, I will pack healthy snacks or lunch to go and let the littles have a little IPAD time as they wait for the older siblings to finish.  This ABC's of God app is a fun tool to help introduce early writing skills and combines God's Word activities for the young student to be exposed to the attributes of God.  This mama appreciates any extra help she can get!
Little Miss loves to add God's "treasures" into the treasure chest at the end of each activity!
Over the years, I have made A LOT of different tools to use in our homeschool.  This Montessori-type letters and sounds box has been a hit with our littles just starting kindergarten.  The boxes have held up well and I went ahead and did a little maintenance and inventory to make sure that we could continue to enjoy this tool for years to come.  Who knows, maybe one of their children will be able to take advantage of all the "hard" work I put into collecting all the pieces, typing the words, laminating and cutting them all to size.  It was a fun project to take on! (smile)
It's always fun to see the littles use their imagination as they figure out which pieces go with the corresponding letter sounds.
I like to also ask the student to go and find something that begins with the letter we are learning about.  The older students love joining along and helping the younger students make it like a mini-treasure hunt.  They all enjoy taking a break from their seatwork!  (wink) We love the flexibility that homeschooling brings!
These little animals are well loved!  I love utilizing simple and fun ideas like these to help our students enjoy the learning process.  We also utilize worksheets, workbooks, math CDs and have group lessons, but I have to say that these fun tools are my favorite.  (smile)
I hope this introduction to this fun new edition to the blog, encourages you to find creative ways to help your littles learn and grow around your home too!  What are some of the ways you enjoy teaching your little ones?
Until next time, enjoy the colors that fall always brings!
Isaiah 26: 3-4
**This post contains affiliate links.  Please see full affiliate disclosure here.
Note:  Purchasing through any of my blog links and/or side bar buttons, helps to keep this blog running.  All reviews and opinions of any items shared on GracefullyHome.com are of my own opinion and are not swayed by sponsorship or collaborations.  Please keep in mind that I only share products or services that my own family have found helpful and healthful with those who visit my blog.  Thank you for your support and for continuing to follow along!