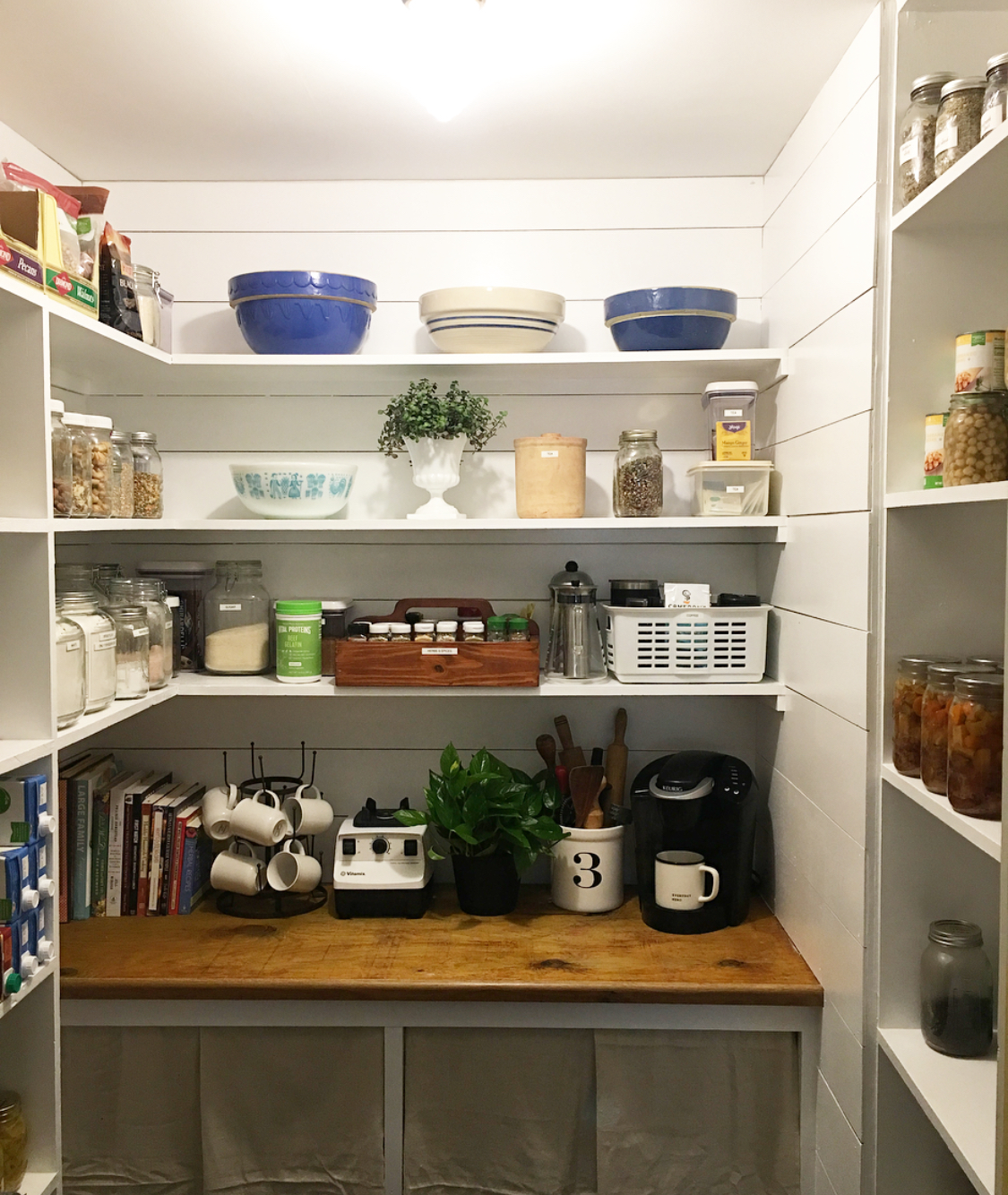 This mini pantry makeover has been a long time coming.  It has been on my wishlist since the day we signed on the dotted line.  Hahaha!  But even in its grimy unfinished state, it needed to be functional to help support our large family.  Especially with the closest grocery store being 45 minutes away. That's why this mini pantry makeover had me super excited!
All that to say, when I decided to take this #DiY project all on my own, I wanted to make sure that it would look nice and be able to last despite my newbie carpentry skills.  (smile) Along the way, I learned some lessons that I will definitely implement next time I use this method of wall covering and I am sharing those with you today.
Here is the before of our pantry makeover. Although I kept it neat and tidy and as organized as I could in a smallish space, it was such a dark space and lacked any kind of character or charm.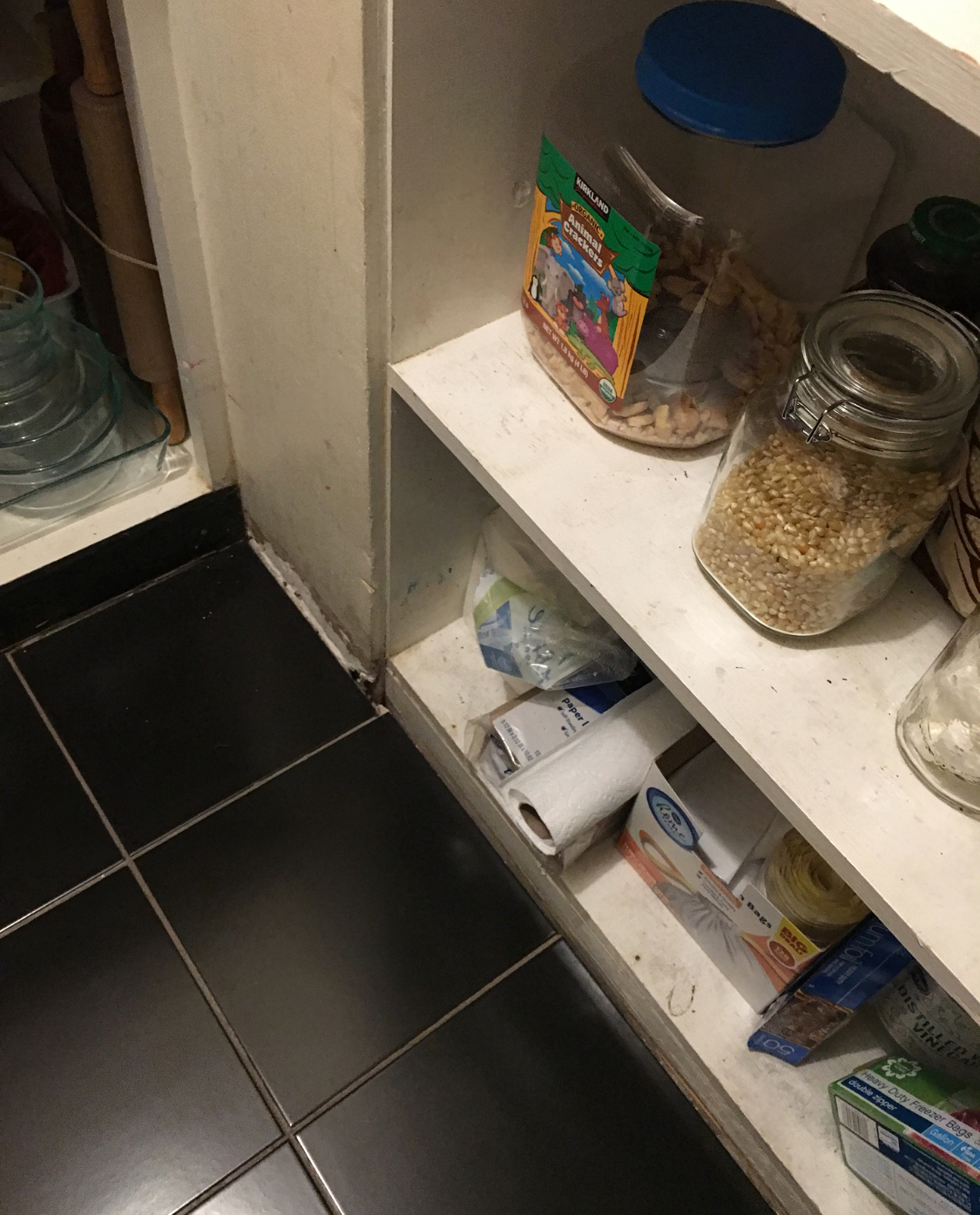 The old owners had used this pantry as much as we had, but they had confessed that they did not clean. (gasp)  Shocked would be an understatement!  As you can imagine, the shelves were pretty dirty, grimy, and gross before I got to them.
The first thing I did was I went to Home Depot and purchased some sandable plywood.
I had read and heard others say that they had the Home Depot rip the plywood down for them at the store.
I'm sure that it was probably just this particular Home Depot, but the measurements were not what I asked for.  I wanted 6 inch strips and out of the two larger pieces, I got three that actually met that number. (sigh)
Because of time restraints I had to just drive the one hour and 20 minutes back to the farm and try to work with the slightly thinner measurements and then take time to rip down the other boards myself with my husband's table saw.
I really should have just ripped it down myself from the start.  First lesson learned!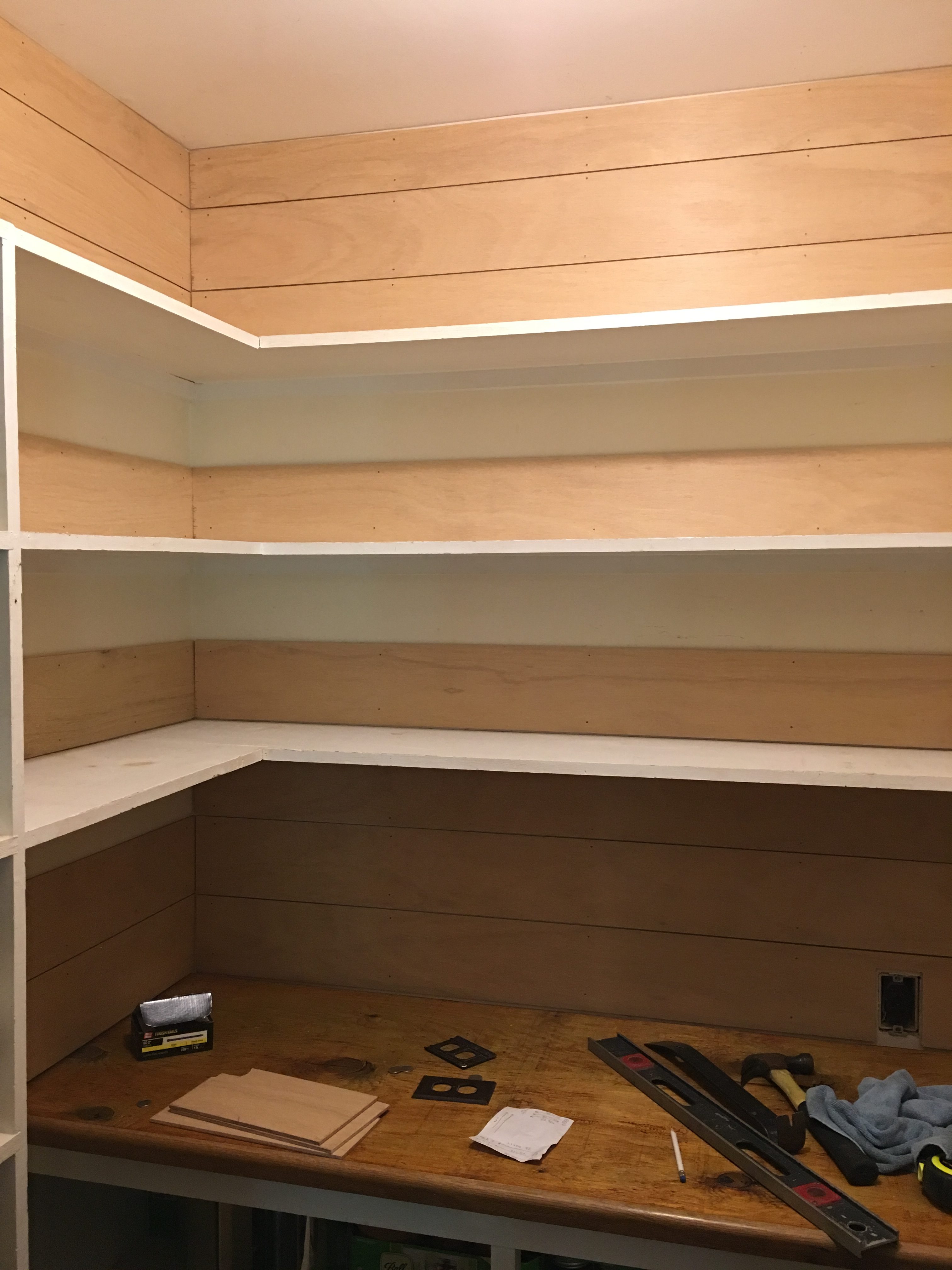 Next as I started to place the boards on the wall, my husband's stud finder was not working, but it was probably operator error. Hahaha!  Needless to say I decided to throw caution to the wind and just go for it, all the while hoping the nails would catch onto something. I definitely would not recommend this inaccurate method! Take time to find the studs to prevent bowing.  Lesson number two!
After I had nailed all of the boards up, I realized that the length of nails that I purchased (based on the blog posts that I had read online) was too long for one of the walls in our pantry.
PRACTICAL TIP
Make sure to measure the width of walls before purchasing your nails.
They basically went right through our laundry room/bathroom linen closet wall. It also would have been nice to be able to use my hubby's nail gun, but I just nailed over 280 nails by hand. (gasp)  Lesson number three!
With any future faux shiplap project, I plan on doing what my husband did with the real shiplap that he installed in our front room. He took the time before installing to prime and paint the boards. I found that installing the boards and then painting them, caused some drips in between the boards which were impossible to remove without causing some splitting to the wood.  Lesson number four!
Something brand new I learned with this project was how to change out the outlets. My husband gave me a thorough tutorial on how the safely do it.  He has been doing electrical and carpentry work for over 25 years and so I felt comfortable learning from him. But if you are not familiar with this and you don't have someone to teach you I would definitely recommend hiring a professional to do the job.  Safety first!
This was also my first project where I learned how to change out the light fixture. I found this one at Home Depot for eight dollars and some change. I believe that was with the military discount. I decided to leave the brass base because it gave the new pantry a little pop of flare. (wink)
Even with the lessons learned in this mini pantry makeover, I love the way that it turned out. I still have a few more things that I need to add like baseboards and cleaning up the tile floors, but it looks 100 times better than before I started.  If you have been considering doing a project like this one, I would highly recommend going for it.  It was a great mini project to launch my new carpentry skills!