These grain free peppermint brownies are a great make-ahead treat and actually taste even more flavorful the next day, which make them a wonderful choice for holiday gatherings.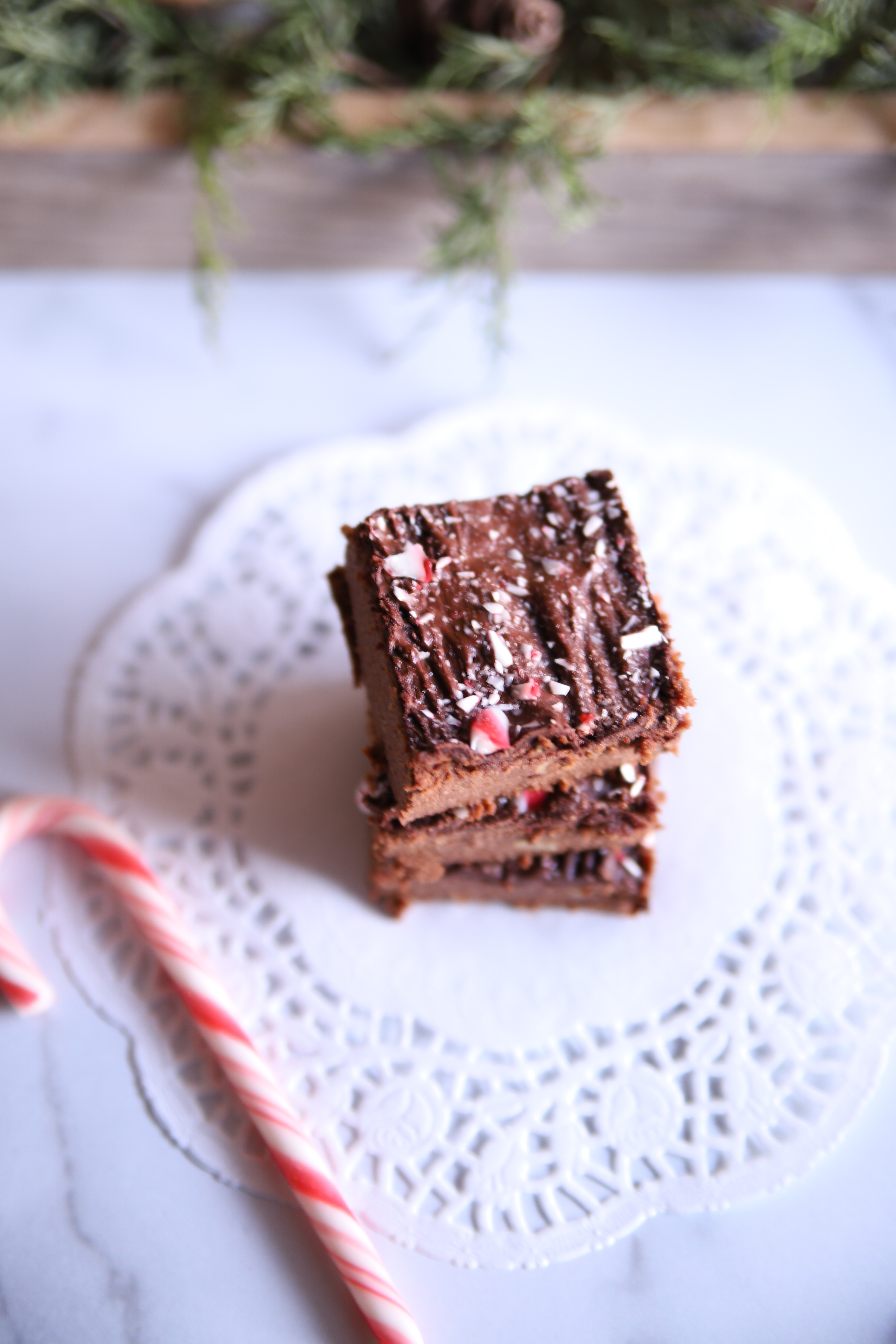 I am so excited to be joining some talented bloggers today to share some of our favorite fun holiday sweet treat recipes with you! If you are coming from Kathleen at Roots and Boots, I'm so glad you stopped by today! I hope you'll give this simple grain-free peppermint brownie recipe a try! Make sure to read all the way through to the end to find more fun recipes from my blogging friends.
In the hollow, we typically don't seek out a lot of "grain-free" recipes because we know the wonderful health benefits quality grains can offer. Especially when we take steps to prepare our grain in a way that maintains a lot of the beneficial parts and helps to breakdown the anti-nutrients that we don't want in our homemade baked goods.
But as a holistic health coach and a stage III cancer survivor, I know that there are many folks out there that are still looking for alternatives to the foods they may be trying to avoid. So, one of the things I love to do in our simple farmhouse kitchen is to experiment with all kinds of new recipes and combinations to hopefully inspire you to try new simple and healthier recipe versions of your family's favorites. And try some new ones along the way. The simpler, the better in my book!
**This post may contain affiliate links, which means I make a small commission at no extra cost to you. Please see full affiliate disclosure here.
SUPPLIES YOU WILL NEED
High speed blender (we have this Vitamix blender from when we used to prepare our son's blended whole foods for his g-tube feedings)
Mixing bowls (I love nesting bowls like these Anchor Hocking set. We have had ours for almost 2 decades)
Sheet cake pan (Mine is a vintage one from my mother-in-law 12 3/4 x 9 x 2. A standard rectangular size sheet cake pan like this one here should work fine)
Danish dough whisk (I love this Coson brand and use it all the time, but optional)
Wooden spoon
Silicone spatula
Measuring spoons
Measuring cups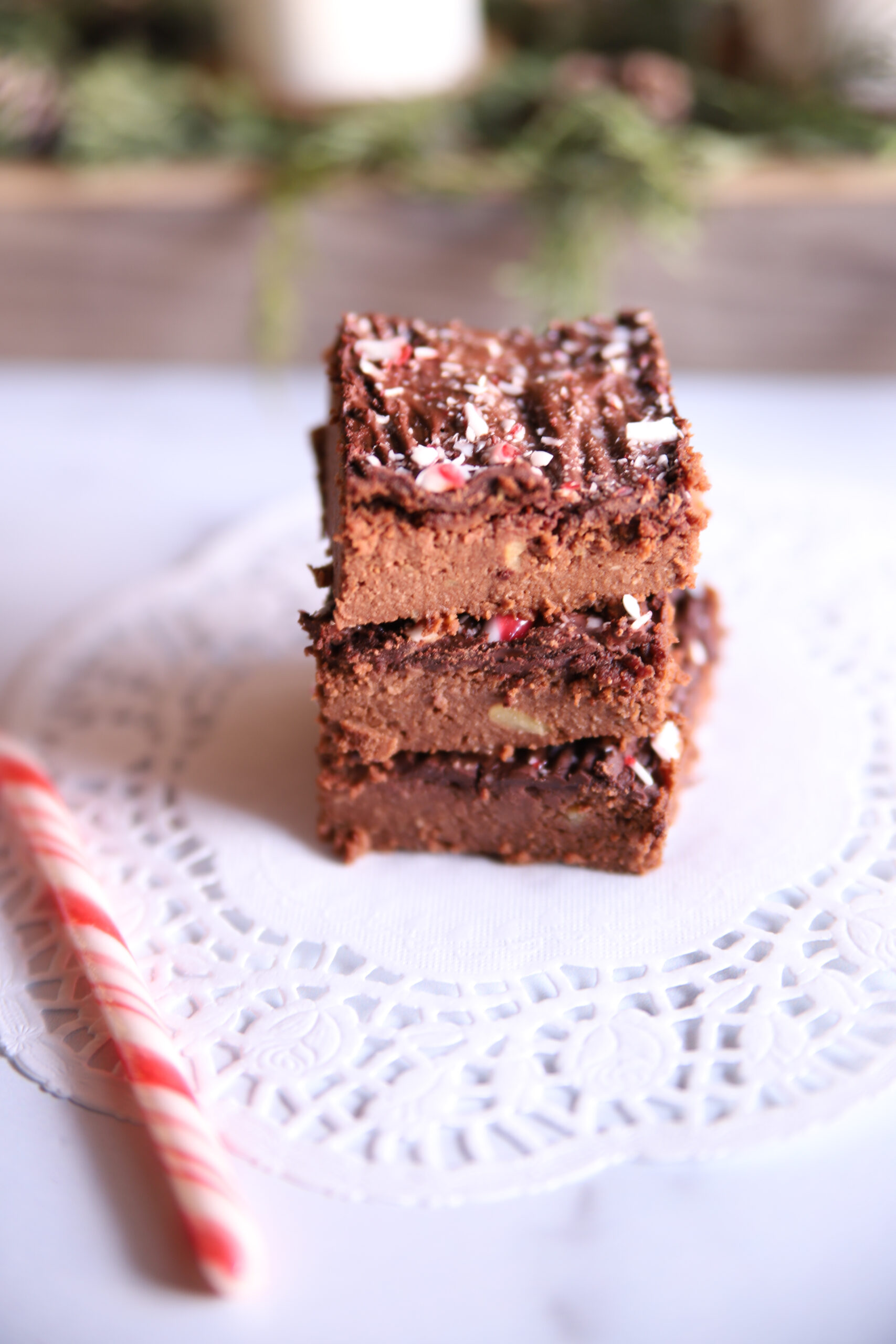 This recipe is no-grain, no dairy, no soy, no gluten, but it does contain our farm fresh eggs, which by themselves is a powerhouse of healthy goodness. Learn more about how we prepare our whole grains here in order to get the most out what they offer and make sure to check out our simple tips on how to choose eggs wisely here. Choosing healthier options, doesn't have to be confusing or overwhelming!
A LITTLE SECRET
It was a dream come true when we were in Nashville the other day and I found these organic candy canes at Whole Foods market. The red color is from a blend of red radish, apple, and black currant.
The peppermint taste brings me back to my childhood when I would eat my weight in candy canes each Christmas season. Did I just say that out loud?!
I clearly don't do that anymore, but it's nice to know that if I partake in some holiday peppermint goodness, I don't have to compromise my health with artificial ingredients or chemically derived, cancer causing artificial colors.
You may be surprised that the secret ingredient to these grain free brownies are garbanzo beans.
HOW TO MAKE GRAIN FREE PEPPERMINT BROWNIES
Grain Free Peppermint Brownies
This recipe is a great make-ahead treat and taste even more flavorful the next day, which makes it a fabulous choice for holiday gatherings.
Ingredients
Dry:
3/4c almond flour
4T coconut flour
1/2c cacao powder (cocoa powder is fine too)
1/4 tsp pink Himalayan sea salt (Celtic is fine too)
1/2 tsp baking powder
1/2 tsp baking soda
1/4c chopped walnuts
1/2c dark chocolate chips (reserve 1/4c for topping)
2 organic naturally flavored and colored candy canes
Wet:
2 cans of organic garbanzo beans (rinsed and drained)
1/2c pure maple syrup (add more if you like a bit more sweetness)
1/2c almond milk (can also use coconut milk)
1 tsp pure vanilla extract
10 drops of quality peppermint essential oil (add more drops to your liking)
2 large pasture raised eggs
2T melted coconut oil
Instructions
In a blender, blend drained garbanzo beans until well blended and smooth. Set aside.
Take your sheet cake pan and butter the bottom and sides well to prevent sticking. Set aside.
In a separate bowl, mix dry ingredients (minus chocolate chips and walnuts) together.
In a large measuring glass, whisk wet ingredients together (minus the coconut oil).
Slowly pour in wet ingredients with the dry ingredients.
Spoon the blended garbanzo beans into the mixture and mix until well incorporated, but do not over mix (this prevents the end product from becoming more cake-like in texture and consistency).
Next, pour in the warm (not too hot) melted coconut oil and continue to mix.
Fold in chopped walnuts and chocolate chips.
Pour batter into your prepared pan and place in a pre-heated 350 degree oven.
Bake on middle rack for 25-30 mins. Cooking times will vary depending on oven and cake pan size. Check with a toothpick or clean table knife, which should come out clean when fully cooked.
While your brownies are still hot and out of the oven, sprinkle 1/4c chocolate chips on top and use a fork to gently spread the melted chocolate over the surface like a ganache or frosting. Be careful not to take the brownie top off with your strokes.
Sprinkle crushed peppermint candy cane pieces over the top and let the brownies cool at room temperature. You want the melted chocolate chips to still be wet enough that the candy cane pieces stick.
Best served next day (the flavors develop more overnight). Store any leftovers in airtight glass storage container in the fridge. Should be eaten between 3-4 days.
Notes
Try these with vanilla bean ice cream for an extra treat.
PIN IT FOR LATER:
I hope that you give this simple recipe a try this season. Our GracefullyHome.com recipes are meant to be a basic starting point and the more you develop your natural culinary skills, you will be making all your favorite family recipes with a healthier twist. Learn more about our "Back to Basics" approach for inspiring holistic living on our home page.
Be sure to keep this blog hop rolling and head over to Abbie at the Gal Down the Road to check out her homemade peppermint hot cocoa mix recipe. Thanks for stopping by the hollow! Hope you'll stop by again soon.
IF YOU ENJOYED THIS GRAIN-FREE RECIPE, YOU MAY ENJOY THESE FAVORITES…

the Gal Down the Road / Gracefully Home / Roots and Boots
Jenron Designs / The Little by Little Home / The Homemaking Momma