Come join us for a cozy and simple vintage farmhouse Christmas tour, where we intentionally are slowing things down, in order to embrace this magical season and time together as a family.
A COZY AND SIMPLE VINTAGE FARMHOUSE CHRISTMAS
In the midst of one of the busiest times of the year, the hustle and bustle of the season, the over-commercialization, and discovering the history behind some of the traditions, all became too much for us to willingly engage in. Little did we know, our decision to stop celebrating Christmas, years ago, would come at a time in our family's life that we would need the respite the most.
But after a time, we felt like we were ready to bring back some of the holiday traditions that we enjoyed. This time around, we would be more intentional about how we would spend our time and energy during the holidays.
We definitely did not want to get sucked back into the chaos and over extending ourselves. We would slow things down a bit and just simply enjoy the special moments.
THE ENTRYWAY
**This post may contain affiliate links. Read my full disclosure here.
We don't have a true foyer in our farmhouse, but we do have a space that has that entryway vibe.
We keep this area where our front door and our staircase meet, pretty simple. We try to let the vintage style and architecture of our farmhouse speak for itself as much as possible.
This year, I purchased some faux cedar stems from Magnolia.com. I used twine to attach them to the banister, in place of a draping garland.
IKEA stringed lights borrowed from our littles' bedroom, help to add some twinkle to the space. The battery operated candles were found at Tractor Supply last year and give the stairs that nice holiday glow.
I left our year round wall hangings, like this favorite bible verse, on the wall and added our homemade Christmas stockings to the DiY coat rack my husband made. He used old barnwood from our hay barn. We love creating something new with items we already have.
PIN IT FOR LATER:
I purchased a small real Christmas tree from Home Depot and placed it in an old 8 gallon vintage crock.
The littles and I enjoyed trimming the tree with our special handmade ornaments from when my husband and I were deployed to Kosovo.
I have always loved the color blue and even more so after our son was born. Blue was his favorite color, next to green.
We also added some of our ornaments that we had from when our teens were still little. I love adding new unique items to the tree each year. Like these glass vintage icicles I found at an antique mall or the antique bells I found on Etsy.
The collected look is always my go-to option to give our home a more relaxed and comfortable feel.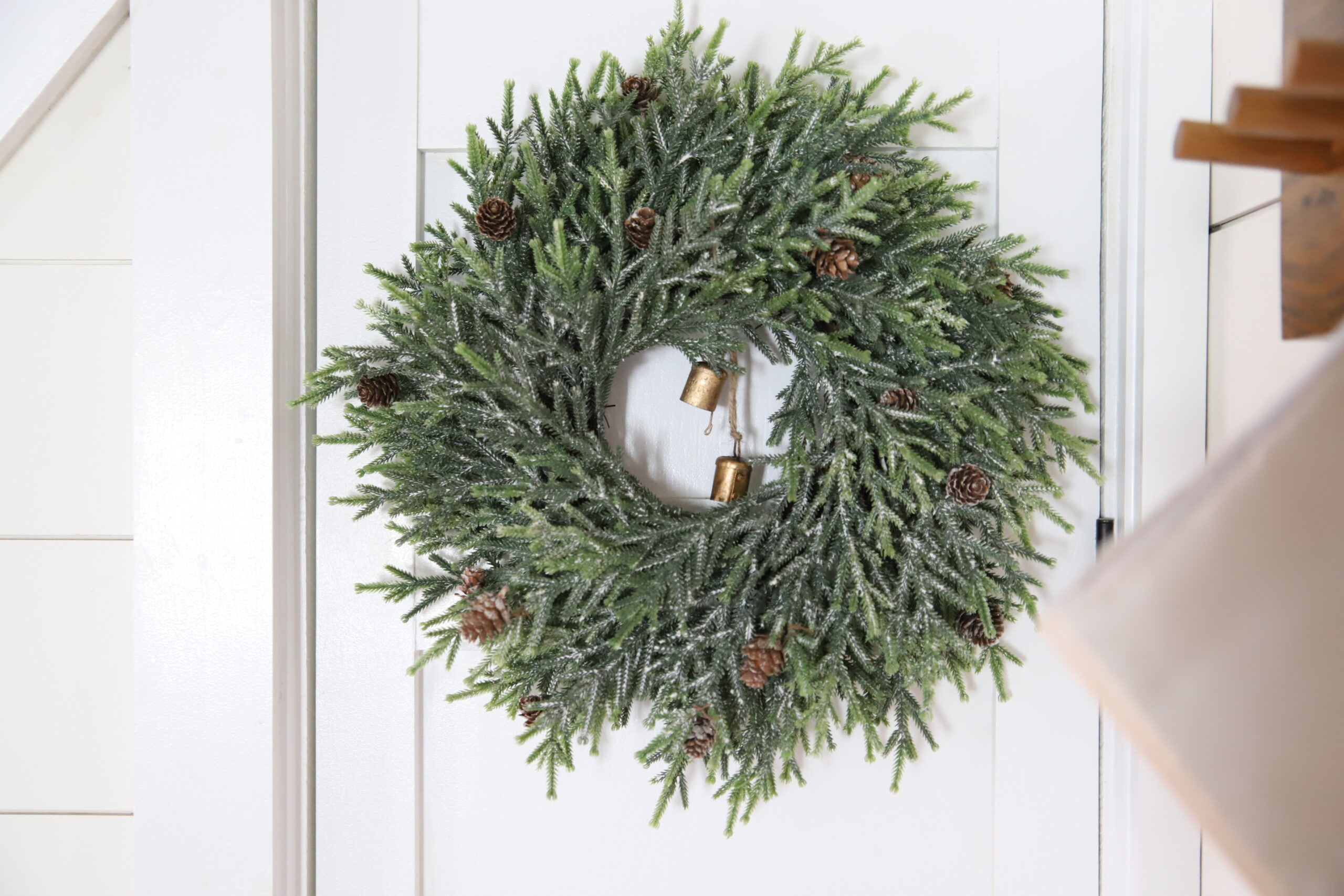 Lastly, I added this faux wreath that I found at Hobby Lobby for 60% off.
I adorned it with more of the antique bells and attached it with twine.
THE LIVING ROOM
The living room and our entryway make one room. It is the smallest room on the main floor. Keeping it clutter-free and being patient with finding the perfect pieces, makes for a very simple and beautiful collected room.
I added some of my homemade beeswax candles in some iron candle holders. I also brought down one of my enamel pitchers and placed some faux pine needles and red berries to add a little holiday cheer to the DiY bench my father built.
I brought in more pops of green and red by draping this Goodwill scarf on our wooden barrel chair.
On the other side of the linen FB Marketplace second hand sofa, I added this fun Hallmark snowman and penguin decor. Our 17 year old used to love making the little penguins dance when she was a toddler. It is a fun piece that sings a Christmas tune every time the button is pressed.
It gives my dad's scrap wood table a fun and festive holiday look.
PIN IT FOR LATER:
I love this collected nook. Everything, minus the vintage-style tree and my husband's Low Dutch Heritage book, was purchased second hand. Thrifting and finding beautiful and unique pieces is one of my passions, these days.
The chest of drawers belonged to my father-in-law. When he passed away last January, we received this beautiful 161 year old piece. It has been in his family since the mid 1800's and passed from five generations and counting. And now it is one of our most treasured pieces. Not because it is anything fancy or ornate, but because my father-in-law took the time to take an ugly old green painted chest of drawers and bring it back to life.
He stripped the layers of paint off and then stained it and had it in their entryway for a long time. It adds so much character and much needed storage to our vintage farmhouse and warms our hearts knowing that it was a gift from him.
This is the view from the dining room and kitchen. I am a sucker for all the twinkly white lights of the season.
THE DINING ROOM
In the dining room, we have a cozy little sitting corner with our $20 wingback chair that I slipcovered with inexpensive drop cloth.
I added pops of green and red in this room with this fun apron from Hobby Lobby.
I also added this Hearth and Hand wreath from Magnolia that I found a few years ago at a local Bargain Hunt.
I love having these old wooden folding chairs hanging on our wooden pegs. They are so easy to pull down when we have extra company and need more seats around the table.
I have really grown to love the simple form and function of our farmhouse spaces.
Simple faux pine needles, pine cones from the yard, and faux red berries make this old chamber pot a fun and festive display.
It sits on top of an old night stand that we received from my in-laws. When we received it, it had a very dark stain that I stripped off. I kept it in its' raw wood state for a more rustic look.
Our new Names of Jesus advent calendar/devotional looks right at home, hung across our old salvaged beam in the kitchen.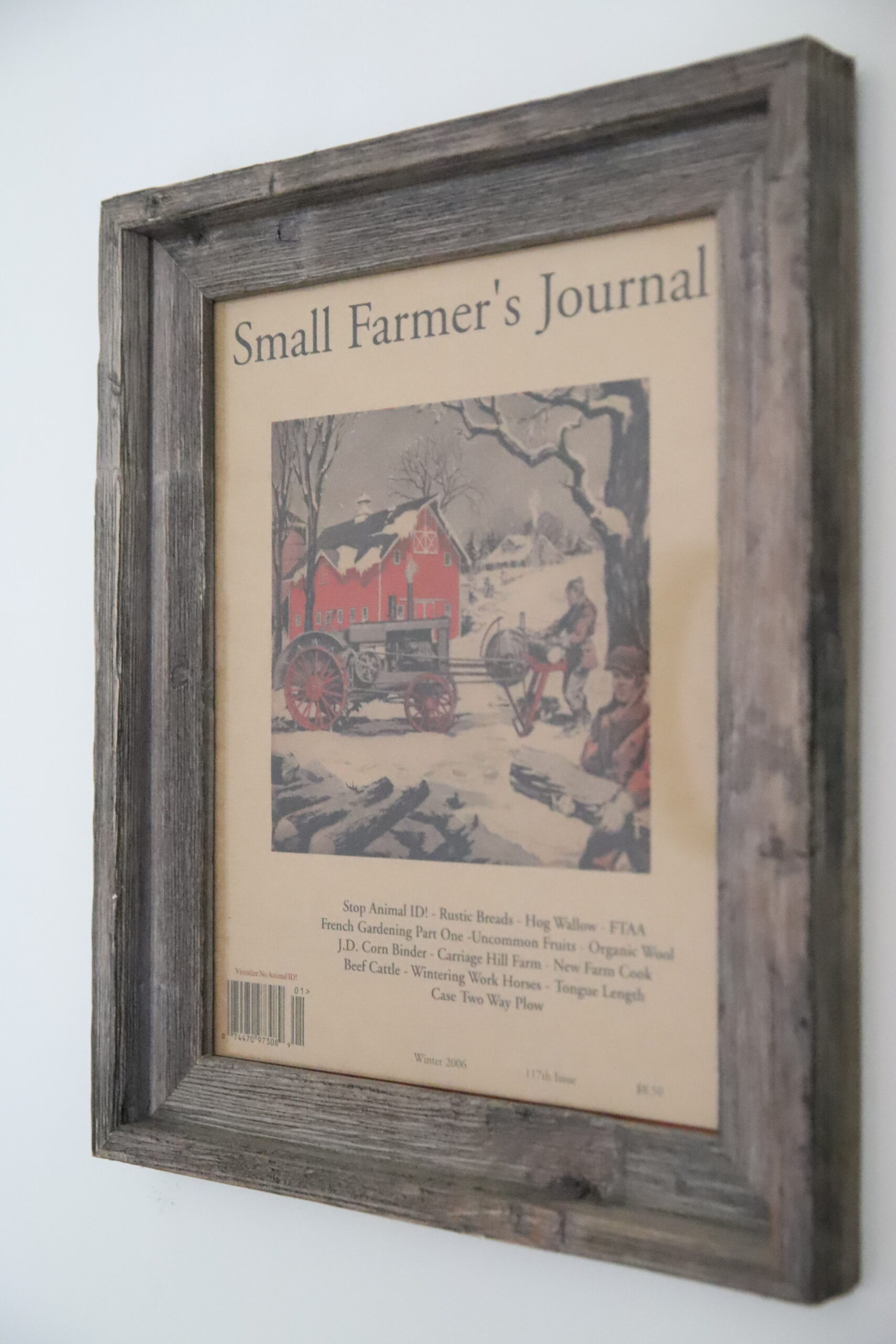 Changing out old prints can easily turn a wall into a wintry scene. This was the cover to an old farm journal, the previous owners left behind.
THE FAMILY ROOM
The family room got some faux greenery, firewood, pine cones, and wreaths soon the old mantle and hearth.
Vintage oil lamps look nice all year round and are so useful for those winter nights we lose power.
I added more of the faux greenery above the French doors to add some pops of green in this otherwise very neutral room.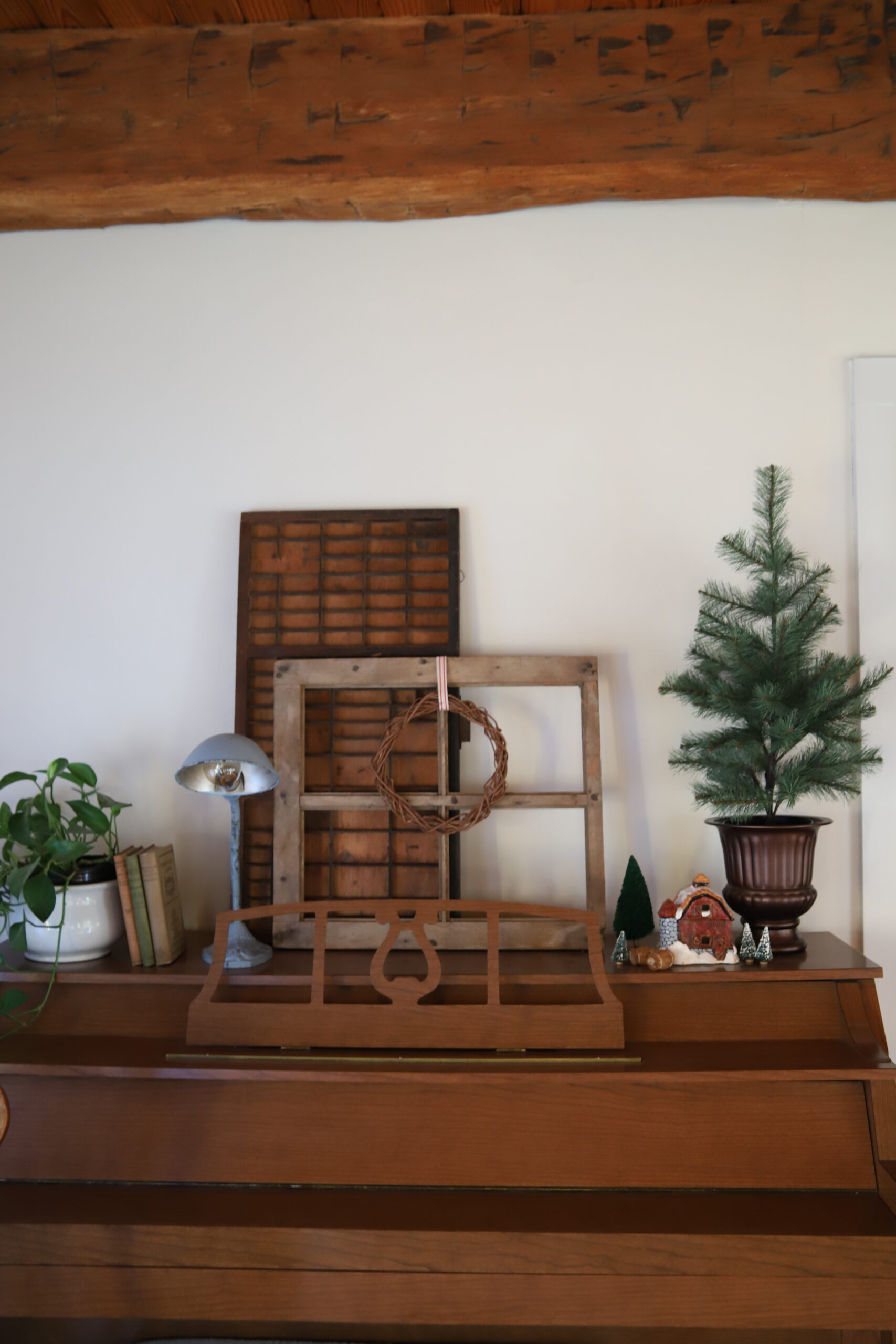 On our piano, I added a small table top evergreen and an old ceramic barn that my husband had painted when he was a teen. It was a gift to his mother, but with her recent move, she was starting to pair down her Christmas decor.
I was happy to take it off her hands. I love homemade gifts! They're the best and have the most charm.
For unto us a child is born, unto us a son is given: and the government shall be upon his shoulder:
and his name shall be called Wonderful, Counsellor, The mighty God, The everlasting Father, The Prince of Peace.
Wishing you a blessed and Merry Christmas from the hollow!